Olympic Climbing has been a lifelong dream for many and now it's finally a reality. The Olympics have been postponed and there were controversial changes to selection – but they will go ahead.
This summer – Sport Climbing will make its debut as one of five new sports at the 2020 Olympics in Tokyo. The event will mix three different disciplines into a combined event for the first time. Competitors will have to do well in Lead Climbing, Bouldering, and Speed Climbing to be in for a chance at a coveted Olympic medal.
Today we'll cover everything you need to know. From the venue, rules, competitors, and times, to our bets on who will take the Gold in Sport Climbing at the 2020 Tokyo Summer Olympic Games.
Tokyo 2020 Olympics Postponed + Changes
The Olympics will take place but have just been pushed back by one full year. Only athletes, their coaches and team, officials, and a very small local audience will be allowed.
That means no spectators from other countries as well as a host of strict health and safety measures. The postponement of the Olympics because of the COVID 19 epidemic marks the first time there's been a delay since World War II.
Tokyo 2020 Olympic Climbing Explained in Two Minutes
Sport Climbing is at the Olympics for the first time in Tokyo 2020 (held in 2021). The event takes places August 3rd-6th at the purpose-built Aomi Urban Sports Park in the Tokyo Bay Area. There are 20 competitors starting in the qualifying rounds for each gender category – narrowed down to eight who will go to the finals.
Medals are given to climbers who do the best in all three disciplines together – not for each category separately. Speed Climbing is climbing the same wall with the fastest time head to head. Bouldering is climbing a short, powerful wall with padding underneath and no rope. Lead Climbing is technical, endurance climbing with a rope.
When Is Climbing On At The Olympics?
Sport Climbing at the 2020 Olympics will take place from the 3rd to the 6th of August in 2021. See the full timetables below – taken from the Olympic website.
Tuesday 4th August – Men's Combined Qualification – JST 17:00 – 22:40
Wednesday 5th August – Women's Combined Qualification – JST 17:00 – 22:40
Thursday 6th August – Men's Combined Final / Awards – JST 17:30 – 22:20
Friday 7th August – Men's Combined Final / Awards – JST 17:30 – 22:20
All times are Japan Standard Time (JST) which means for the USA the qualifying events will start at 1 AM Pacific – 2 AM Mountain – 3 AM Central – 4 AM Eastern and finish around 5-6 hours later. The finals start half an hour late. For the UK this is a 9 AM start for the qualifying rounds and 9:30 for the finals.
View the full Olympic Climbing Schedule here with guides for each timezone.
How Does Sport Climbing At The Olympics Work? – Olympic Climbing Format Explained
Climbers will compete in separate Speed, Lead, and Bouldering events. The order of events is Speed first, then Bouldering, and finally Lead. For each event, there is a qualifying round. The top eight from qualifiers go to the finals two days later.
There are no individual medals for Speed, Bouldering, and Lead – Just a combined medal for performance in all three together. This is controversial.
Scoring works by taking the place the climber gets in each category, then multiplying them together. The climber with the lowest total number wins. The order of the events is Speed first, then Bouldering, then Lead at the end.
Confusing? Here's an example to clear things up.
Climber A places 5th in Speed, then 3rd in Bouldering, then 3rd in Lead, their overall score would be 5 x 3 x 3 = 45.
Climber B gets 4th in Speed, then 6th in Bouldering, then 2nd in Lead, their overall score would be 4 x 6 x 2 = 48.
As the lower number is better, Climber A places higher and wins.
This format really rewards consistent placing, and placing just below another person in one event can really drop a score. It looks like anyone getting 1st in one event had a massive chance of placing high in the combined medals count. This might make sense, but also means a Speed Climbing specialist that wins the Speed round, but then hardly gets off the floor in the other events could get a medal.
It will be really interesting to see how Speed specialists do in Lead and Bouldering, and how famous Lead and Bouldering champs fare in Speed Climbing – which many had never even tried before the qualifying competitions.
Who Is Climbing At The Olympics?
There are 20 spots per gender category and all have now been filled and ready for the event. Only two per gender per country can be invited. Japan, France, and the USA managed to fill all four of their slots.
Climbers Invited To The 2020 Olympics
How Are Competitors Chosen For Olympic Climbing Qualification?
Athletes qualified through a series of qualifying events. The first and the biggest was the IFSC Combined World Championships that took place in August 2019. Eight climbers from each side gained invites to this event and it was a huge deal to many.
Tomoa Narasaki and Janja Garnbret qualified first here and both are still top favorites for Olympic Gold. Famously Adam Ondra stepped on a bolt, was penalized for it, and didn't qualify in this round as a result.
The second big event was the Toulouse IFSC Combined Qualifier in December which invited 24 top placing athletes per gender category to compete for six places a side. Here Adam Ondra and Ai Mori took first place.
Most of the later events were postponed and dates were changed a few times. Finally, all the local Continental events took place – apart from the Asian Championships which were postponed, canceled, rescheduled, then canceled again.
Places for those events instead went to the highest placing athletes from the IFSC Combined World Championships event in Hachioji 2019. This is an updated rule change from the IFSC only confirmed recently.
What Is Lead Climbing?
Lead Climbing is what most will know modern climbing as. Climbers start at the bottom of the wall with a rope tied to their harness, and the other end is managed by a "belayer". As the climber goes up, they clip the rope into "quickdraws" attached to the wall. The points are awarded based on touching and keeping hold of the holds. Holds are given numbers – this is what you see on the scoreboard. Getting both hands on the last hold securely counts as a "Top". Basically – the higher, the better.
If a climber touches a hold and falls straight away they get more points than if they hadn't touched it. Climbers can also be awarded a "+" which means they attempted to move from the lower hold to the next. This scores slightly higher and is why you might see climbers make a desperate jump and take a big fall.
If a few climbers reach the same hold or top, then timing is taken into consideration with the lowest time taking the last place. The people that set the routes are aiming for maybe one or two climbers to reach the top, without a lot of climbers failing at the same point. Consistent hard moves without being too easy or hard in certain sections are prized.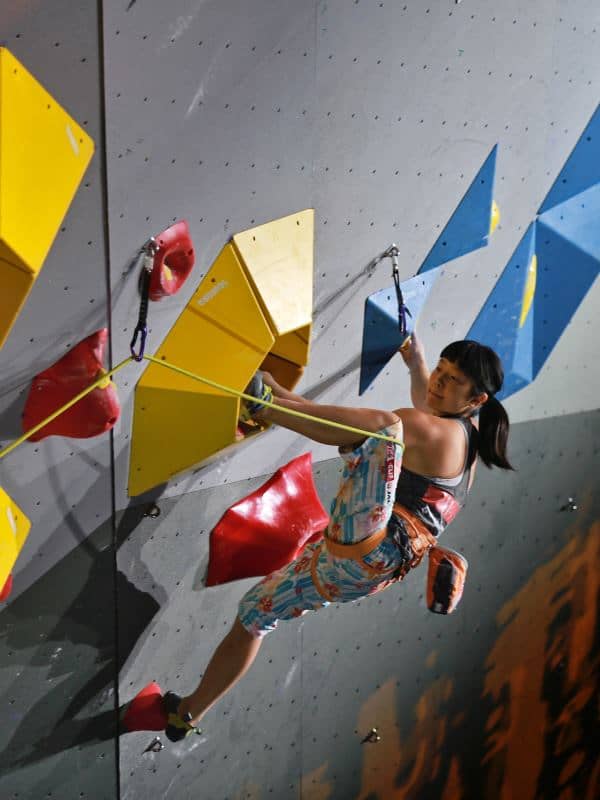 Climbers will be penalized if they step on the bolts that the quickdraws are attached to and must clip into all quickdraws on the route. Competitors aren't allowed to see the route while it is being set (holds drilled onto walls), but do get a few minutes to take a look at the route all together. Once they've seen the route everyone is taken to "isolation" in a room where they can't see how current climbers are doing. They are then brought out to climb alone without any idea of how others have done.
Read the full article – What Is Lead Climbing?
What Happens If They Fall?
Falling inside on fixed quickdraws is relatively safe. The quickdraws are attached to bolts that are securely fixed into metalwork behind the wall and basically never fail. As the climber falls the rope stretches slightly for a softer catch, and the climber will then swing into the wall – often not even touching it. Steep overhanging routes might look scary and dangerous but are generally safer as there is less chance of taking a hard swing into the wall.
Climbing gear is also very well tested and regulated – instances of rope/harness failure are almost unheard of. Falling in climbing is often called "taking a whipper", and the term "victory whip" is when a climber finishes a route and takes a big jump from the top to celebrate – often skipping the last anchor for a bigger fall.
What Is Bouldering?
Bouldering is essentially climbing on a smaller scale – up to around four meters high. Climbers must start with their hands and feet on specifically marked holds at the bottom, without using the floor to push off to the next hold. They then try to get as high as possible – with a finish only counting if both hands are placed on the final hold in a controlled manner. If they can't get to the top, there is a bonus "zone" placed on a hold around mid-way through that is aimed for.
There are four boulders to climb in the qualification round and three in the finals. Generally, there are four or five boulders in IFSC competitions so the Olympic format has a slight reduction. That could lead to more variation in tops and finishes, or lead to a tied situation easier if everyone tops.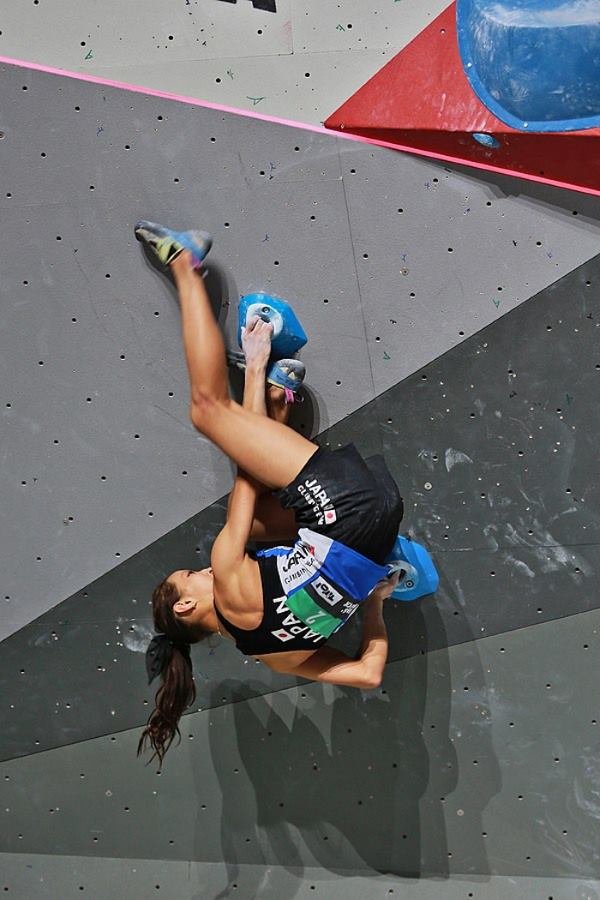 If more than one boulderer reaches the top or a zone, then the one with the least amount of attempts to get there will place the highest. Attempts are broken down into attempts to the top and attempts to the zone. There is also a time limit of four minutes, meaning that tactical route reading, resting properly between attempts, and using fewer attempts are all very important.
Bouldering is intensely physical and you'll see some amazing "parkour" style moves and coordination. A big jumping move is called a "dyno" as in a dynamic movement. Boulderers have insane power and grip strength and the finals are going to be something else to watch.
Like in the Lead event there is a small amount of time where all competitors can look at the route. They must then go into "isolation" and can't tell how others did on the wall apart from by what the crowd sounded like – if they can hear.
Read the full article – What Is Bouldering?
What Is Speed Climbing?
Speed Climbing is always the same vertical 15-meter route, with only two different holds. One big "x" shaped hold and one smaller foothold. Climbers are attached to an autobelay which follows them as they climb, then catches and lowers them safely as soon as they come off the wall. The first climber to press the button at the top that stops the timer wins.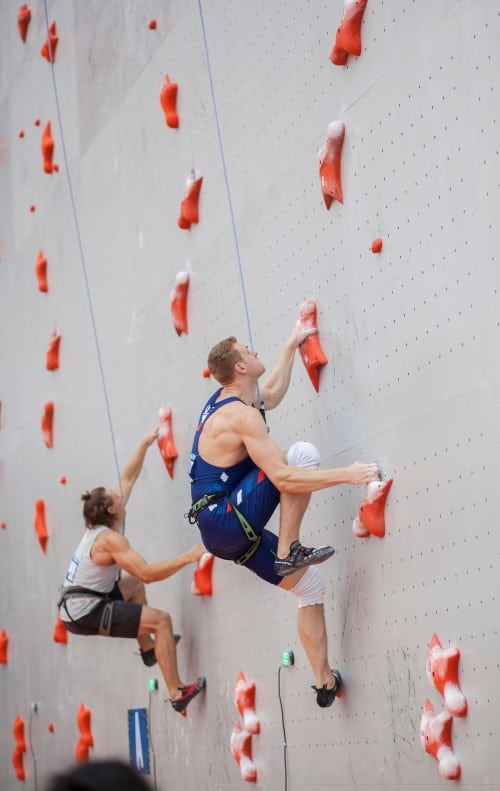 The lowest overall time doesn't actually win, as the climbers will face off one vs one in brackets. The winner of each head-to-head progresses, and the winner of the final gets 1st place. This rewards consistency though often the fastest times are in the finals and semi-finals. Any false start (leaving the touch-sensitive pressure plate at the bottom before the signal) is an instant disqualification so plays a massive role.
Climbers will need to have times under around 6-7 seconds in Men's, and 8-9 seconds for Women to stand any chance of getting into the finals. Though most rock climbers may not have taken Speed Climbing very seriously, the Speed finals are going to be a thing to behold and will likely be very popular with non-climbers.
Read the full article – What Is Speed Climbing?
What Is An Autobelay?
The autobelay is a drum attached securely to the top of the wall. The drum holds a strong, flat lanyard that has a strong carabiner on the climber's end. You clip the carabiner into your harness, then climb. When you fall (you don't have to touch the top for it to work), the insides of the drum sense the acceleration downwards and engage a brake which catches you and automatically lowers you down on the lanyard.
There are no electronics inside, just a magnet or centrifugal brake. The Perfect Descent autobelays are the official Olympics choice. You can buy your own TruBlue autobelay system online.
Where Is The Venue For Olympic Climbing
Sport Climbing at the Olympics will take place at the Aomi Urban Sports Park. This is a temporary venue set up on Tokyo's waterfront and will be an outside venue with amphitheater-style seating. The venue will also host the 3×3 Basketball and Paralympic 5-a-side Football events. It's about 20 minutes walking distance from the "Tokyo Teleport Station" on the Tokyo Waterfront Area Rapid Transit line. Interestingly the sports park is also within viewing distance of the Odaiba Statue of Liberty replica.
You can see the progress of the build on IFSC's instagram here. The main building with the panels and the outer climbing walls are finished, with just a bit of decoration and the seating/inside to go. Route setting won't happen until very close to the event itself.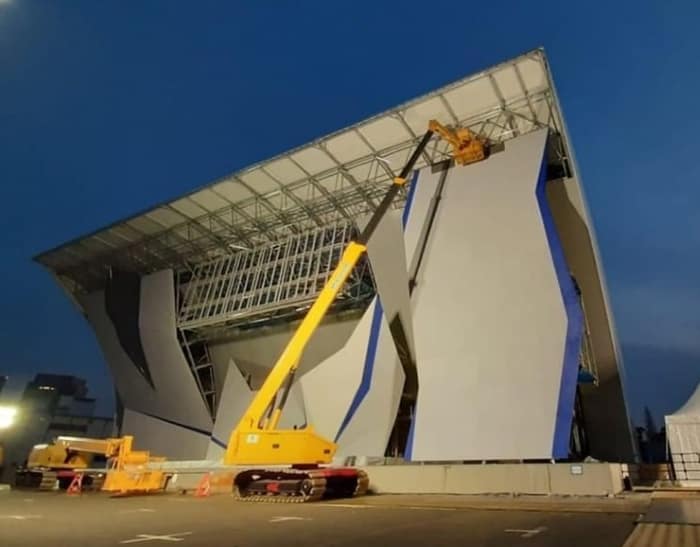 The weather may be a challenge. In August 2019 Tokyo saw highs of above 30°C / 86 °F. The heat, combined with the humidity that is exacerbated by being on the waterfront means friction will be low and competitors will get tired fast. The Olympic Committee has plans to make sure shade is available for the competitors and visitors as well as water and ice chips available – though it's yet to be seen if this will pan out.
Who Is In The Olympic Climbing Team For The USA?
Kyra Condie, Nathaniel Coleman, Brooke Raboutou, and Colin Duffy have all qualified for the Team USA for 2020. Brooke and Nathaniel went through at Hachioji 2019 in the qualifying rounds.
Kyra managed to get an invite in Toulouse to cap the total for the Women's side from the USA. Colin got his invite from the IFSC Pan-Am Championships at only 16 years old!
Brooke has been climbing competitively indoors from a very young age, and living legend Lynn Hill was maybe the first to say Brooke might compete for the USA in the Olympics one day.
Who Is In The Olympic Climbing Team For Canada?
Sean McColl and Alannah Yip are the only Canadians qualified for the 2020 Olympics. Sean is a seasoned veteran and well-loved competitor. This will most likely be his last big competition as he winds down his indoor career. A four-time World Champion, he posts regularly on instagram.
Alannah Yip just won the IFSC Pan-American Championships in LA to get her Olympic spot. This makes up all of the Canadian invites available as there are no more comps they can enter before the main event.
Who Is In The Olympic Climbing Team For Great Britain?
Shauna Coxsey is the only Brit to qualify for the 2020 Tokyo games so far. A legend in her own right as a competitor – taking Gold in Bouldering and Lead in the British championships multiple times, with two Wins at the IFSC Bouldering World Cup. She also holds the British Women's Speed Climbing record of 9.141 seconds, set at the Hachioji 2019 Combined finals.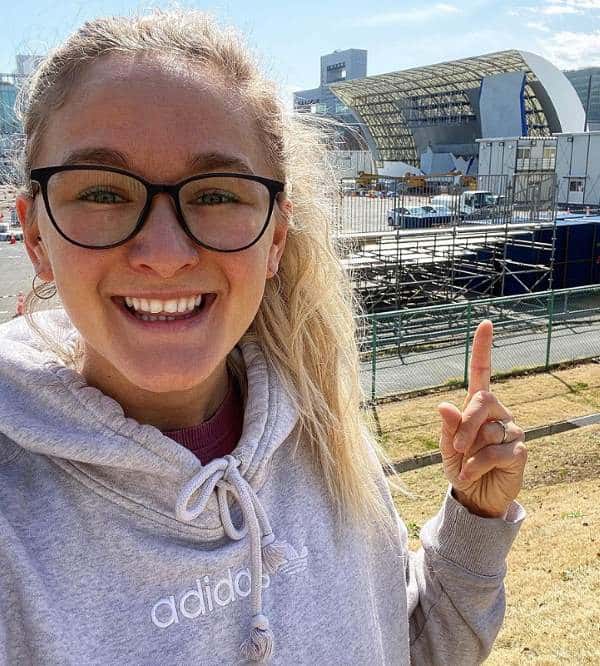 It was genuinely unknown whether Shauna would even be able to compete for qualification after two injuries in the past few years. Even after qualifying Coxsey went straight into surgery for her knee after long-term issues that she wanted to address before training seriously for the Olympics.
It looks like everything has been going great on the recovery front and as this site started in the UK we are fully behind Shauna!
What Is The Tripartite Invite And Who Gets It?
The tripartite invite is an invite given in the "spirit of the Olympics" to athletes who didn't qualify by placing high. Essentially it's there to boost representation from countries that don't have the best training facilities or resources but still have great athletes who could do well given a chance. Sport Climbing has one invite per gender category available.
Athletes must have competed in the Hachioji Combined event though didn't need to do well. The athlete also must be from a country listed on the last pages here. Generally, athletes that have received help and grants from Olympic Solidarity are likely to gain places as the grants match up to the goals of Tripartite invites.
If there are no eligible candidates in Sport Climbing, then the IFSC will send invites to the athletes who placed highest without qualifying from the Combined World Championships in Hachioji 2019.
Because of the lack of countries invited to get those places and the COVID lockdown, the places were given based on the placings in previous events. This doesn't seem to be in the spirit of the Tripartite invitational rules.
Unfortunately, it seems like Zaheer Ahmad of Pakistan could have been invited as he was at Hachioji for Speed – but didn't compete in the Combined event even though he could have. The IFSC's document for invitation places is here.
Who Is Going To Win the 2020 Olympics in Climbing?
Janja Garnbret and Tomoa Narasaki are the favorites for Olympic Gold in Sport Climbing for the 2020 Olympics.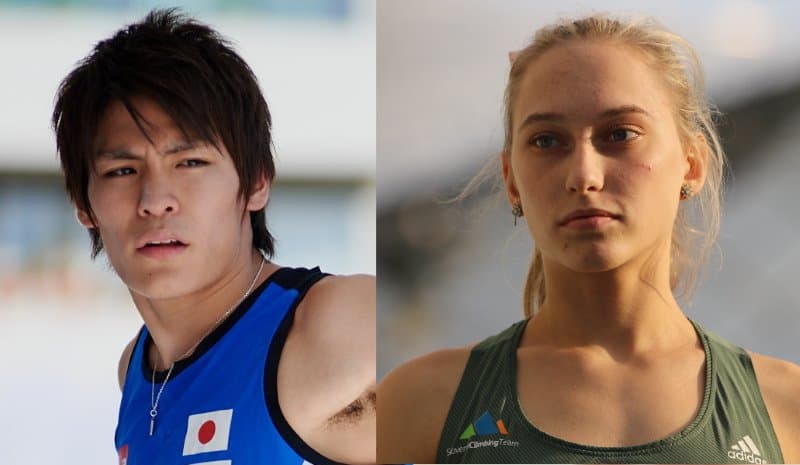 Janja Garnbret has been completely dominant in competition climbing for the last few years. She has taken eight wins in World Cup categories (Lead, Bouldering, Combined) since 2016 and six Golds at World Championship events. Read our full profile on Slovenian Janja Garnbret for tonnes of information on her history, competition wins, training, and more.
Tomoa Narasaki is currently Japan's golden boy. His specialty is Bouldering where he often tops Boulders that others can't even get a zone in. In the last four years, he placed 1st twice and 2nd twice in the Bouldering World Cup, then 1st twice in the Bouldering World Championships. He is also incredibly strong in Lead and – surprisingly – Speed. This consistent quality across the board means he is ranked very highly for Gold. Read our full profile on Tomoa Narasaki for a full rundown on his insane training, career highlights, and much more.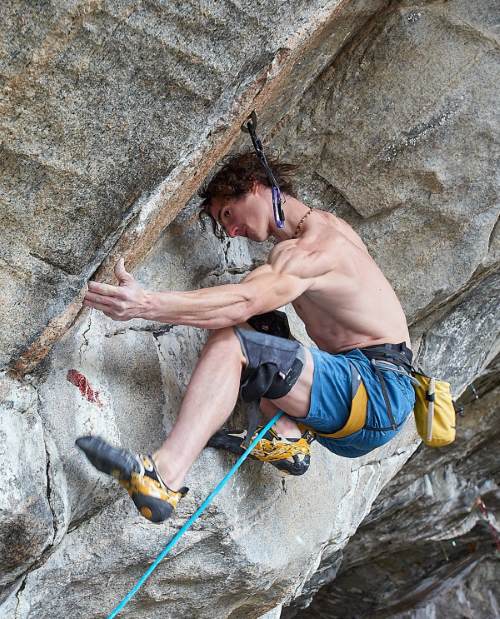 It would be remiss not to mention Adam Ondra of the Czech Republic – without a doubt the strongest outdoor climber in the world. Famous for climbing the hardest route in the world "Silence", graded 9c / 5.15d. He also regularly climbs at the highest levels and climbs onsight (in one go without any planning) routes most of us would take a lifetime to get halfway on.
Adam has been training specifically for the Olympics for a long time, missing the chance of an invite after losing points for stepping on a bolt. He eventually qualified in the Toulouse invitational.
Akiyo Noguchi and Miho Nonaka are two of Japan's powerhouses. Both incredibly accomplished indoor boulderers, they are consistent with results and effort. The Japanese coaching team is the best in the world bar none.
It has been said that if the Olympics was just a competition for the best climbers in the world – not a maximum from each country – then it would be all Japanese climbers. Akiyo is a legendary competitor who is retiring after the Olympics but could well be in with a medal.
Jakob Schubert has been competing for a long time and has taken home many trophies. This may be the biggest climbing competition of all time. This experience of dealing with the pressure, training consistently, and being able to exceed expectations on the day may well get Jakob Schubert an Olympic medal.
Sean McColl also fits perfectly into this category and might bring home some metal for Canada. He's experienced, performs well under pressure, and is at the peak of his career.
Alexander Megos is a young German climber who is well known to outdoor climbers as one of best climbers in the world. He recently climbed a 9c – one of the two hardest climbs in the world.
He suffered a finger injury that held him back in Hachioji – though he had already qualified. With a good mix of outdoor and indoor comp experience, he may just do it for the homeland.
Fancy your chances? Try Rock Climbing today with our full guide on How To Start Rock Climbing? – No experience is required.
What Country will Get The Most Medals In Climbing?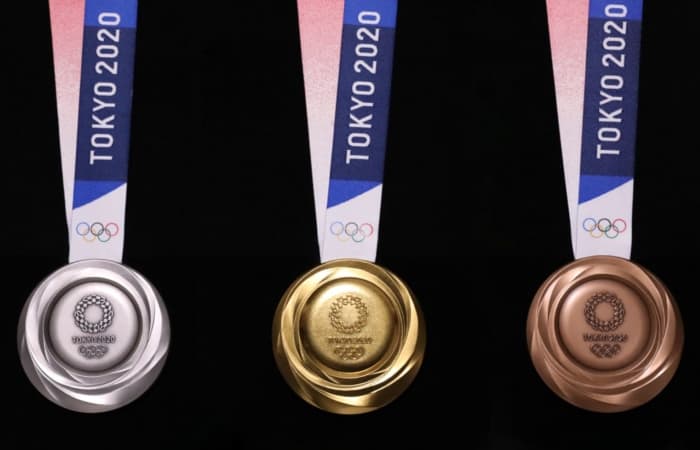 Japan is by far the most dominant team overall. As the hosts, they were guaranteed one spot per gender category but have already hit their maximum of two for each.
Tomoa Narasaki took the top spot at the Combined Climbing World Championships and looks like the top contender for Olympic Gold in the Men's category. Kai Harada also qualified in the same event. Competing for Japan in the Women's category we have Akiyo Noguchi – a Japanese veteran who has competed on the world stage for 15 years. Also, Miho Nonaka's results have only been getting better in the last few years and she is primed to be in top shape for August 2020.
Why Is Speed Climbing So Controversial?
For people unaccustomed to climbing, the big controversy is in grouping Speed Climbing together with Lead and Bouldering. Lead climbing and Bouldering are essentially the same technical sport over different lengths of wall. Though Bouldering rewards strength and power more than the endurance needed in Lead, climbers who are good in one are very often good in the other.
Speed Climbing is totally different in that it doesn't really the others much in the technical aspects. Speed climbing specialists like the previous Men's Speed Climbing World Record holder Reza Alipour Shenazandifard look very different in their build and musculature than climbers. Think of speed climbing as vertical sprinting.
Many Speed Climbing specialists competed in their own separate competitions before now. Speed Climbing was very popular with Russia and ex-soviet nations. Competitions in the '80s were popular – with big payouts for winners. It seems the decision for Tokyo 2020 was made as a temporary one to try and represent all climbing disciplines fairly.
Who Holds The Speed Climbing World Record?
The records for Speed Climbing are being broken at a record pace in the run-up to the Olympics. It's best to take a look at our What Is Speed Climbing – Speed Climbing World Records article for the latest.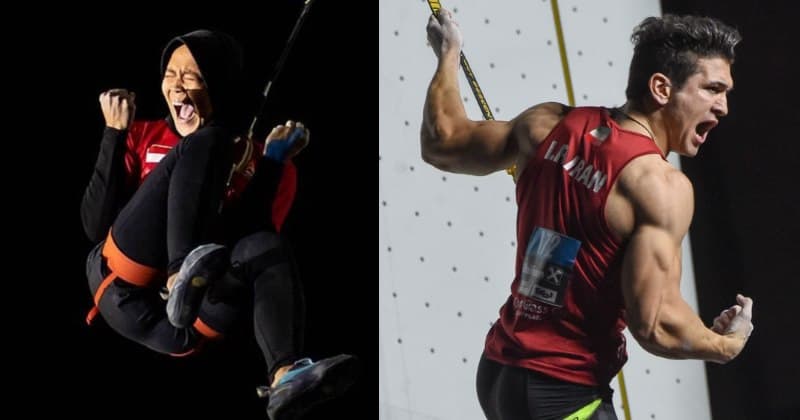 Who Didn't Qualify For The Olympics?
A long list of famous climbers didn't manage to qualify for the Olympics. While many thought that some of the hardest outdoor climbers would be in for top spots, it seems like long-term indoor competitors who have the experience of grueling schedules and intense on the day pressure have done better.
Both Ashima Shiraishi and Margo Hayes didn't qualify for a spot for the US even though they are America's top outdoor climbers.
Sasha DiGiulian isn't competing in the Olympics. She has competed a lot before with big results but nowadays focuses on outdoor climbing. She has done some commentating in competition at Adidas Rockstars 2019 so could be at the games to watch or give an expert opinion.
Sport Climbing Olympics Changing In Paris 2024?
At the next Summer Olympics in Paris 2024, Speed Climbing will be separated into its own category, with Lead and Bouldering grouped together. This means more medals and more chances for specialists to shine. Long-term climbers are generally more excited to watch events without Speed Climbing included as it's not really regarded as "climbing" as Speed Climbing outdoors just isn't a thing.
Is Alex Honnold Competing At The Olympics?
Alex Honnold of Free Solo fame isn't climbing in the 2020 Olympics. The most famous face in climbing doesn't compete in organized competitions (apart from the 24-hour Showdown at Horseshoe Hell and giving speed climbing a go) so didn't even try to qualify. He has even said that he is "too old and too weak" on the Olympic Channel Podcast though will probably be there to watch.
Why Isn't Climbing In The Paralympics?
It is disappointing for many that Sport Climbing hasn't been selected for the Paralympics. The Paralympics committee select sports for their events but hasn't picked up Sport Climbing. It also doesn't seem so far like Paris 2024 will have paraclimbing as an event.
The IFSC was given the status of "Recognized International Federation" for organizing paraclimbing events by the International Paralympic Committee. It could well be that paraclimbing becomes a part of future Paralympic events.
There are 20 categories in Paraclimbing and Abbie Robinson of Team GB does a great job of explaining the Paraclimbing categories and how the events work.
Is Russia Banned From Competing?
Many Russian athletes may in fact be completely banned from competing in the 2020 Summer and Winter events. The World Anti-Doping Agency (Wada) has banned Russia from competing at all major sporting events for the next four years. Iuliia Kaplina has qualified but it is still to be seen whether she is allowed to attend.
In previous cases, athletes have been allowed to attend if they undergo rigorous doping and background checks. Then they would be able to compete under a neutral country's flag without Russia's flag or anthem being allowed.
Who Are The Mawem Brothers? French Climbing Brothers
Two brothers – Mickael Mawem and Bassa Mawem – have qualified together! The French brothers are both Speed specialists who also use that power brilliantly in Bouldering. Check out their instagram for crazy training routines and all upper body feats. They have filled the French quota on the Men's side and will be climbing with Julia Chanourdie who has qualified for France too.
Read our full article on the Mawem Brothers – Mickael and Bassa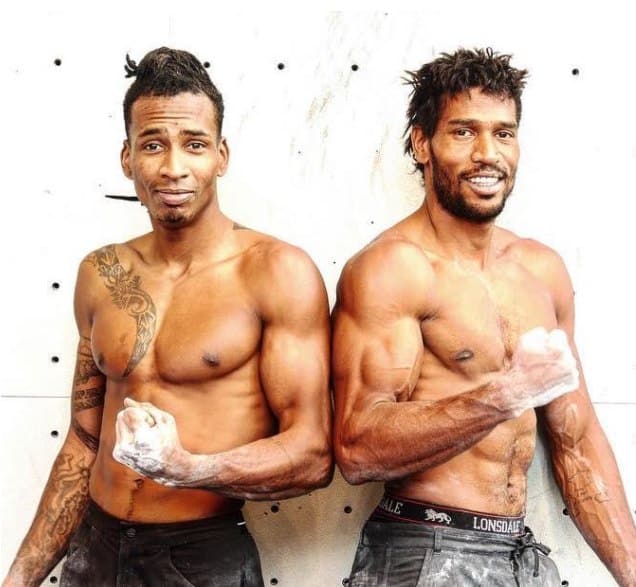 Olympic Climbing Fun Facts?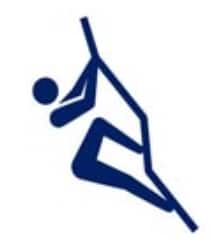 All of the athletes have been busy training for the games, but Adam Ondra has been documenting the run-up on his youtube channel with some great content. He has been training with a few other Olympic athletes Rishat Khaibullin and Alberto Ginés López.
The official Sport Climbing Olympics Pictogram has been chosen – see picture. What do you think?
The golden standard for high-level bouldering indoors is without a doubt the B-Pump Ogikubo bouldering gym in Tokyo. The Japanese team train here with world-class setters and coaching, and national teams and top individuals make pilgrimages regularly.
There is an official Olympics Rock Climbing Barbie that was produced to celebrate Sport Climbing joining the Olympiad events.
There are some great podcasts on the Olympics from the Runout Podcast here and here.
What Shoes Do Climbers Wear?
Climbers wear special climbing shoes to give them the best control and the most grip on the wall. The shoes fit very tight all around the foot, with the sole and toes/sides covered in a super-sticky rubber. This gives great grip and means they can use the smallest holds or even just contact with the wall to stay on.
Find out all about what shoes professional climbers wear. If you are looking to buy your first pair then read our guide to the best beginner climbing shoes. We've also just released our brand new guide to the best climbing shoes available.
How Can I Keep Up To Date?
Follow us on instagram or twitter to stay in the know about the latest updates on who has qualified and for a live rundown of the Olympic events when they are on. We regularly update on what climbers are doing, what new routes and being sent, and the big breaking events happening in the climbing world.