USA Olympic qualified Olympic athlete Brooke Raboutou has just sent "Muscle Car" V14 / 8B+. She posted a pic on her instagram of the route and mellow climbing have since uploaded the full send video, which you can see below! Image from @brookeclimbs taken by @finn.stack
Brooke is incredibly accomplished as an indoor competition climber having become the first athlete to qualify for the 2020 Olympics for the USA. This ascent really solidifies her as a world class outdoor boulderer too. It's also straight off the back of two V13 / 8B problems "Wheel of Fortune" and "Chimichanga" only days before. She was also on the Ellen DeGeneres show climbing her home just a month ago.
Read Full Article – Who Is Brooke Raboutou?
It was last year in the IFSC Combined Climbing World Championships held in Hachioji that Brooke Raboutou qualified for the 2020 Olympics. She and Nathaniel Coleman were the first north American athletes to win a spot and it was a massive achievement at just 18 years old. She was joined by Kyra Condie qualifying for the USA in Toulouse, then Colin Duffy in the recent Pan-American Championships. Find out more about who is climbing at the 2020 Olympics and about Team USA.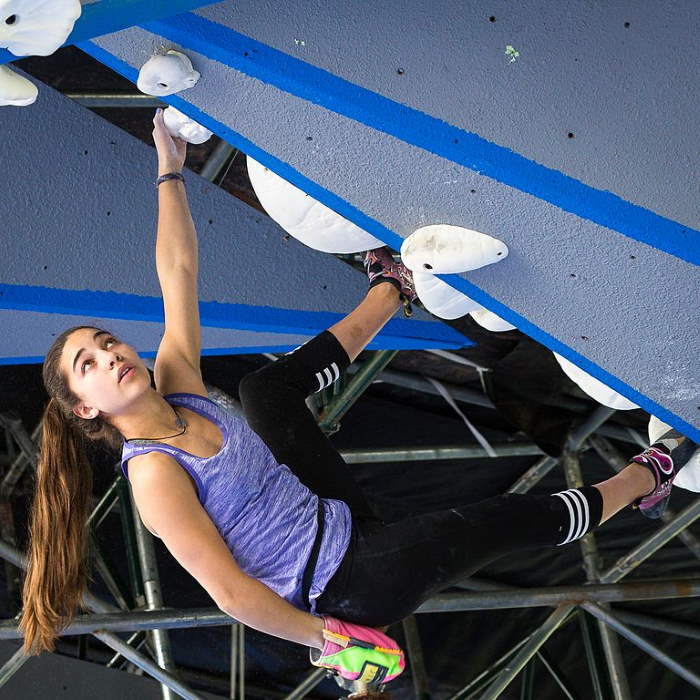 Brooke now becomes one of a handful of women to have climbed the V14 / 8B+ grade. That list includes Alex Puccio who literally just sent her first 8B+ since her injury and getting out of lockdown. Alex's 8B+ route was "Super Low Chimichanga Right" V14 / 8B and Alex might also be working on "Muscle Car" as she made the top of "Muscle Car Light".
All of these routes are on the same boulder found by Chad Greedy and Isabelle Faus in 2019. This video has a bunch of first ascents that including Daniel Woods doing "Muscle Car" for the first time. Shawn Raboutou – Brooke's brother – also climbs the problem. You can also watch a video of Dave Graham climbing of this problem in December 2019.