Indonesian speed climber Veddriq Leonardo has broken the 5-second barrier – finally achieving a time once thought impossible. He achieved a stunning 4.984 seconds in his second qualification climb, setting a new speed climbing world record.
Update: Veddriq's done it again in the finals! Plus Aleksandra Miroslaw broke her record four times today.
In the qualification rounds, Veddriq managed a 4.984, breaking the 5-second mark for the first time. We thought he'd be done there. However, in the quarter-finals, he managed to pull off 4.902. That smashed the previous record and put him well under 5 seconds.
A few minutes later in the half-finals he hit 4.93, not another record but it would have been if he hadn't just broken it. He went on to take gold in an incredible final with 5.01 against Jinbao Long's 5.12. A very well-deserved medal.
Indonesian speed climber Veddriq Leonardo has been in a battle with teammate Kiromal Katibin for the last two years. The pair have traded the Men's speed records back and forth, even breaking each other's records in the same competition.
Kiromal set the previous Men's speed climbing world record of 5.009 seconds back in July last year. Since then both have been getting more consistent – but many others have started to close in and break into their level.
Privately, both Veddriq and Kiromal seem to have already achieved the sub-5 in training, as have one or two other speed specialists. However, it's the performance on the day that counts. The added pressure of the crowd, the travel fatigue, and the hundreds of other factors out of your control take serious training to overcome.
Aleksandra Mirosław Breaks Speed Climbing Record Twice Four Times In One Day
Once again for Poland, Aleksandra Mirosław has broken her own record – this time twice in one day! In her first climb, she got 6.46 seconds, then an incredible jump to 6.37 seconds in her second of the day.
Update: Another record day as Aleksandra Miroslaw hits 6.35 in the half-finals, then 6.25 in the finals for another dramatic finish. That's a full quarter of a second knocked off of her previous record from last year in just one day.
Here was her 6.35 world record (the third of the day) that everyone seemed to miss, then the 6.25 that got her the Gold in finals below.
Aleksandra is really the climber to beat in Speed right now. This is the fifth (update: seventh) consecutive time she's broken the record, starting with her first with 6.99 in October 2019 – the first to break the 7-second barrier for Women.
Aleksandra is far ahead of the crowd right now, and the season is only just starting. We definitely expect more from her over the next few months. She narrowly missed out on Bronze at the 2020 Olympics as it was a combined event.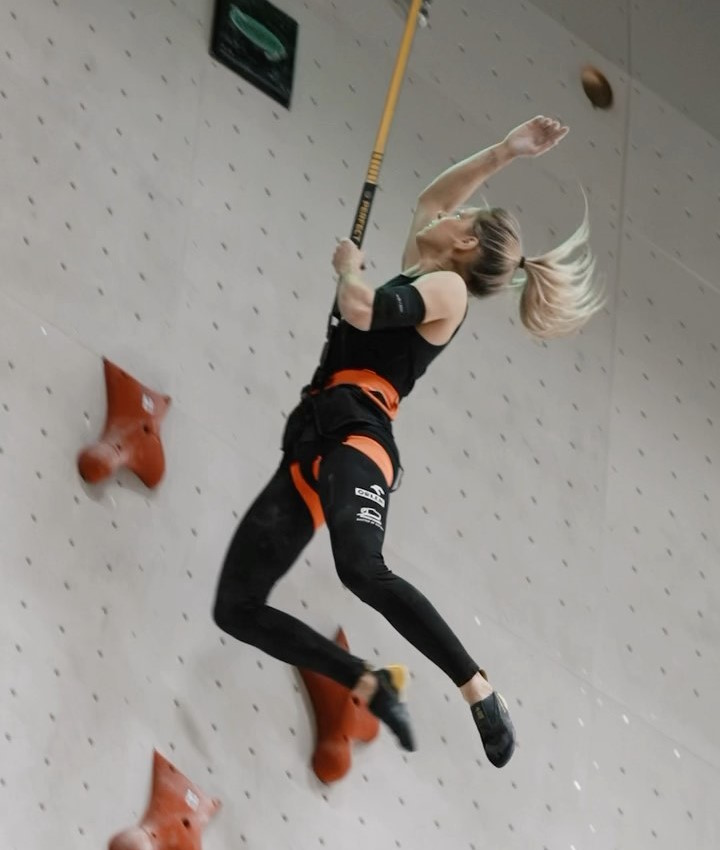 However, she did win the speed climbing part of the event and broke the Women's speed record (again) in the final. It was an amazing competition and in Paris 2024 speed will have its own separate event and medals.
A New Speed Climbing Wall?
One of the athletes commented that this wall in Seoul was brand new – and could well have contributed to the better runs. He said it was "probably the best [wall] in the world right now". It seems that the surface is incredibly "sticky" with really good friction.
That doesn't mean a new type of wall, just a very well made version of the current specifications.
There was also a suggestion that these are newer versions of the same holds that may be slightly deeper. It could also be just a freshly set pack. The one manufacturer with the license to produce official holds is Volx.
Paris 2024 Speed Qualifications
The first chance speed climbers will get to qualify to climb in Paris 2024 will be in Bern, Switzerland on August 10th at the IFSC Climbing World Championships. The top two of each category get an invite. After that, there are five continental qualifiers with a space for each.
Then, there will be another series of qualifier events to be announced in mid-2024. IFSC currently has a suspension on Russian athletes competing at their events. Whether that is still in place for some of the qualifiers, we don't know.
However, not every qualifier event is hosted by the IFSC so there will be opportunities. The Olympics have said Russian athletes can compete but under a neutral flag with no mention of Russia, no anthem, and no flag.
Speed Climbers Closing In
Veddriq's earlier qualification time was 5.361. Teammate Kiromal's times weren't enough to get him into the finals, both being over 6 seconds. Despite that, there were two other Indonesian men in the top ten of qualifiers, Aspar Aspar and Adi Mulyono Rahmad both got under 5.25 seconds.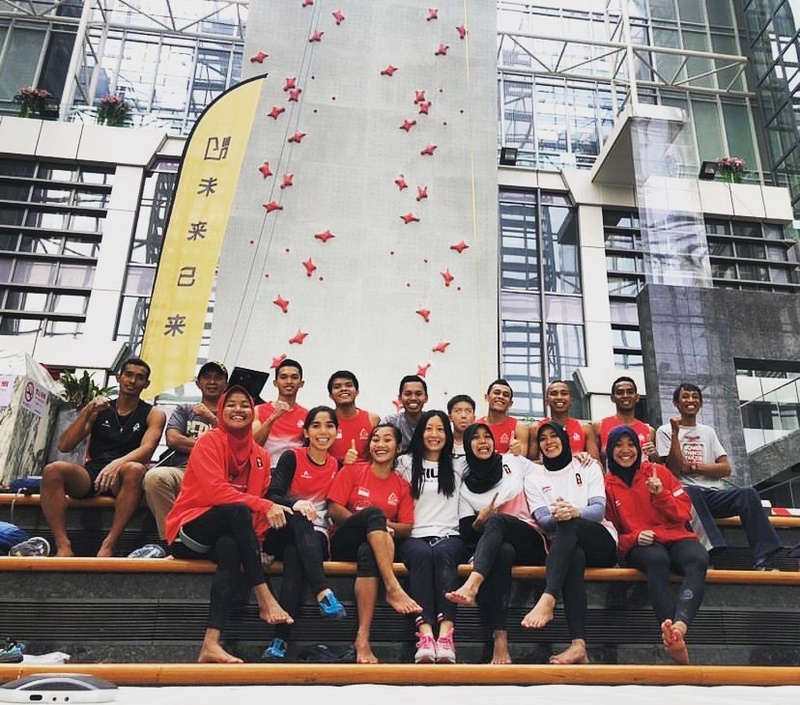 The Indonesian team's focus and training are keeping them well up in the ranks. Aries Susanti Rahayu had the speed record in 2019, but since then Aleksandra Mirosław has taken the top spot over and over. On the Women's side, Poland took the top three spaces in the qualifications round.
Samuel Watson of the USA managed a really strong 5.029 and 5.087 in his climbs. Sam also got a sub-5 in training just a few days before the event. Jianguo Long of China managed a 5.13 and 5.15 – incredible consistency from both considering all of these times would have made world records just one year ago.
The Speed finals will be on later today. However, the records are normally set in the qualifications round due to how they work (Note: This turned out to be wrong). In qualifications, two climbers climb at the same time, but they aren't climbing against each other and being knocked out.
In this round, every climber gets two climbs each – one per side – and your lowest time is the one used in placings for the finals. In finals, the top competitors are then placed into brackets where they climb head to head.
Here, it's not so much about the fastest time overall of the event – but just about beating the person on the other side of the wall. That means that false starts or falls give an immediate loss, and the other climber then focuses more on not falling rather than the fastest time.
What shoes did he wear we hear you ask? Why the La Sportiva Cobra 4.99 of course – named for the target itself. Now technically with 4.984 as the record, these need an updated model.
IFSC actually streamed the qualifier event, though it doesn't seem they'll do this for the final. Technically they have a deal with Discovery and Eurosport to show the events exclusively, but in practice even with a subscription it has been quite hard to actually see the events on their services or channels.
The stream today included no commentary, nearly an hour without sound, and a brief glimpse into the admin panel of the streaming setup that used a default admin password.