Buying your first climbing rope is like getting your first car. It opens up a whole new world of independence, new places, and danger. Making sure you get the right rope is important. Here's our easy to understand guide to buying the best beginner climbing rope.
The best climbing rope for beginners is the one you'll feel safe using. We've kept everything clear and easy to read below so you know what you need. Whether you're looking to top rope indoors, learn to lead, or start on your first routes outdoors – we have you covered.
Quick Top Picks
– Best Beginner Climbing Rope – Overall Best – Mammut Crag Dry Duodess 9.5mm
– Best Beginner Gym Rope – Edelrid Boa Gym 9.8mm
– Best Budget Gym Rope – Black Diamond 9.9mm
– Best Budget Outdoor Rope – Sterling Evolution VR9 9.8mm
What Type Of Climbing Rope Should I Buy?
If you do Sport climbing (lead or top rope using fixed bolts and anchors) then you just need a Dynamic Single rope. This is what we'll cover in this article. Single means you can use the rope on it's own without another.
Dynamic means the rope stretches when you fall, giving a softer fall with less force on your body and the protection on the wall. You can get Static rope which doesn't stretch but this is really just for rigging work like taking photos. For our purposes we'll always use Dynamic.
If you are doing trad climbing you may need two Half ropes to reduce drag. With Ice and Mixed climbing or other styles it becomes a little more nuanced. Twin ropes are used and clipped in to every piece of protection so if one gets cut there is another.

What Diameter Climbing Rope Should I Get?
Single ropes for sport climbing can be anywhere from around 8.6mm to 10.5mm thick. Around the 9.7mm to 9.8mm range is where the best price to performance is. Thinner ropes around 9.1 to 9.4mm offer good performance on long routes but are pricier and won't last as long with repeated use. 10mm to 10.2mm make for excellent long-lasting gym ropes but every year technology gets better and ropes get skinnier.
We don't suggest very skinny climbing ropes for beginners. Ropes like the Beal Joker Unicore at just 9.1mm are amazingly light – but also require a lot of experience and the right device to handle. Older belay devices can struggle to get any grip on skinny ropes – always check your belay device instructions for what rope diameter it can handle. 9.4mm is probably the lowest you should go as a beginner.
What Length Climbing Rope Should I Get?
We'd say take a look at the areas you'll most likely be climbing at. You'll want to double the length of a route plus a few meters extra for safely lowering, to tie in, and spare to cut off when the ends get worn. It's really important you know how long a route is and don't take chances.
For indoors we think 35 to 40 meters is a good option. For outdoors a 60 meter rope covers a good amount of routes in different areas.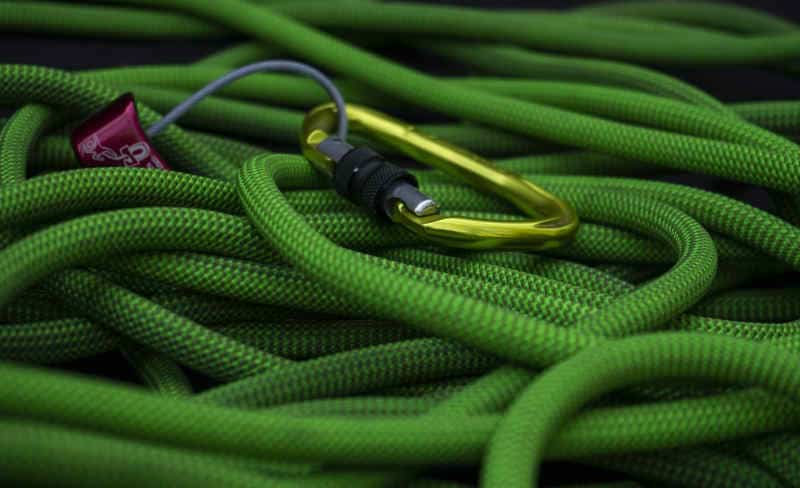 Top Tips For Buying A Beginner Climbing Rope
Rope drag and wear from use are two big factors with outdoors climbing. Thinner ropes will be lighter and give you less trouble with rope drag. Getting a rope with a Dry Coating will help protect it from rain, damp, and dirt – making it last longer. These are both expensive options. We actually think the best option is to buy two ropes – one for indoors, out for outdoors.
Buy Separate Gym And Outdoors Ropes
Getting an all rounder might be tempting but if you climb indoors you won't need the more expensive features and will end up wearing out an expensive rope. We suggest having a longer, thinner rope with dry treatment for outdoors only use, plus a cheaper workhorse gym rope.
Don't lug a big, expensive 70 meter rope to the gym, flake out the whole thing after every 12 meter climb, then worry about ruining it with fall practice.
When you climb indoors you'll generally take more falls so will wear the rope faster. Gym routes also tend to not be as high outdoors. Because of this, rope drag indoors really isn't an issue – so you can get a thicker, heavier rope that is rated to take more falls. In the long term both ropes will last much longer.
Buy A Rope Bag For Your Outdoor Rope
Don't spend hundreds of dollars on a fancy rope just to let it flop about in the dirt. Get a decent rope bag with a tarp that you can lay out below the route. This protect from dirt, moisture, and tiny rocks that get forced into the rope when it runs through the belay device.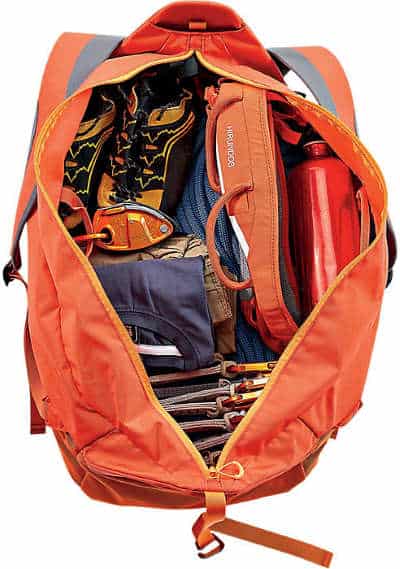 Petzl Kliff Rope Bag
If you want to buy one rope bag and never buy again – this is our pick. A backpack with enough space for a full rope and all of your gear. Middle zip for easy access and a detachable tarp.
Beginner Climbing Rope Features To Look For
Middle Marker + Bi-Pattern
Most ropes have the middle marked in ink. It's really helpful for giving a visual indicator of much rope you've used. Important for when you're not sure of a routes length and might have to bail, or when you're setting up a rappel.
Some ropes like the Mammut Crag Dry below have two different patterns that switch at the middle. This is invaluable for quickly judging how much rope is left. Don't mark a rope yourself as the chemicals can damage climbing rope.
Dry Treatment
Climbing rope strength and elasticity are reduced when wet. It's advised not to take a fall on a very wet rope, and falls on a wet rope damage it more than normal. Dry treatment increases water resistance as well as greatly reducing general wear and fraying.
Climbing ropes are made up of an inner core and an outer sheath. Generally dry treatment is on the outer sheath but it is possible to dry treat both. This ups the water and wear resistance even more.
Dry treatment does cost extra but definitely increases your ropes lifetime. It can also be very reassuring if you get caught in unexpected wet weather. We really recommend dry treatment for outdoors ropes and our best beginner climbing rope pick features this.
Hey! Learn how to uncoil a new climbing rope properly before you take it out of it's packaging.
Best Beginner Climbing Rope 2021 – Overall Pick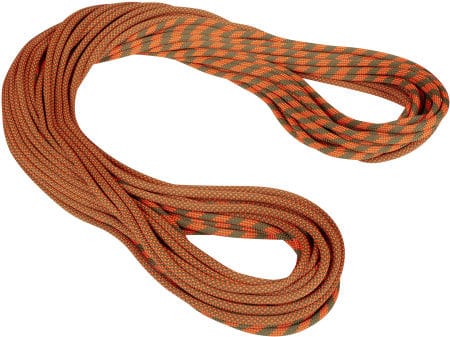 Mammut Crag Dry Duodess 9.5mm
| | | |
| --- | --- | --- |
| Weight Per Meter: 59 grams | Fall Rating: 8-9 | Diameter: 9.5mm |
An amazing rope that is is a great mix of light and durable, will all the extra you'll need. Skinny enough at 9.5mm that it saves a lot of weight but isn't too thin for safe braking. Based on the very popular Mammut Infinity and updated with a higher impact force rating.
It's fully dry treated so will stand up to the elements. Also features a nice looking dual pattern which changes at the middle. This is great for knowing exactly how much rope you have left and for safer rappelling. With a high 8-9 fall rating it is also built to last.
Definitely the best beginner climbing rope for top roping and learning to lead outdoors. It'll last your learning years without holding you back or breaking the bank. This is an outdoor rope but totally usable indoors. It is a brilliant all around climbing rope, but if you can afford it we'd suggest this plus a cheaper Gym rope like one of the below.
Available in 60 or 70 meters and also as a standard Crag Dry – the Duodess just means it's dual pattern though we think it's worth the extra $10-20. It's also the best climbing rope for the money in this range, beating out similarly featured others.
Best Beginner Gym Climbing Rope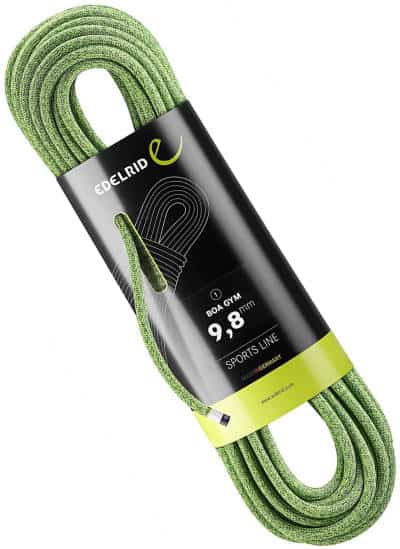 Edelrid Boa Gym 9.8mm
| | | |
| --- | --- | --- |
| Weight Per Meter: 68 grams | Fall Rating: 7 | Diameter: 9.8 |
The Edelrid Boa is a really popular lightweight rope and the Gym version is an excellent upgrade. It features a polyester sheath and a double-braided design that greatly reduces wear. Along with a high fall rating this is a great gym rope that will stand up to long gym sessions and won't get that that frazzled, frayed look most gym ropes have.
Our pick as the best beginner climbing rope for top roping and learning to lead indoors.
At 9.8mm it will have a great feel when handling and won't drag you down on those desperate last moves. This rope is absolutely perfect as a beginner Gym rope that's also suitable for your first outdoors sport routes. A good fall rating of 7 for long term use.
Available in 30m and 40m as well as in Green or Red. Edelrid ropes comes lap coiled so you don't have to uncoil the rope properly on it's first use. Just pull the rope through the packaging and climb straight away.
Best Budget Gym Climbing Rope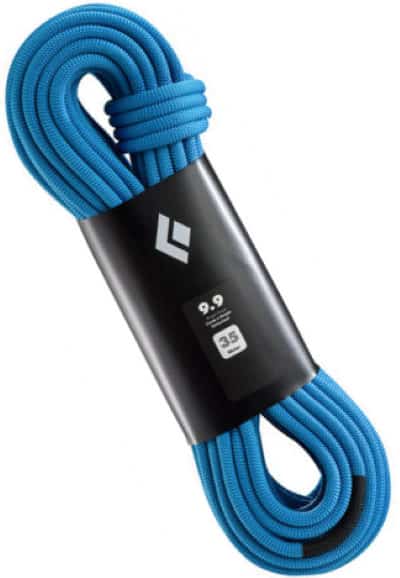 Black Diamond 9.9mm
| | | |
| --- | --- | --- |
| Weight Per Meter: 64 grams | Fall Rating: 6 | Diameter: 9.9mm |
Black Diamond are mainly known for making excellent cams and carabiners. In the past few years they've moved into producing rope and shoes – mainly targeting the beginner market. 9.9mm is great for continuous gym use and will stand up to a lot of wear. It's thick enough that it grips well in belay devices without being too thick for easy handling.
Features a prominent middle mark. Also our top pick for best beginner gym rope on a budget. Coming in at under $100 for 35m this is great value for the quality. You won't find another rope under 10mm this cheap without a sale.
Available in 35m, 40m , 60m, and 70m. BD also make a $20 rope bag with a tarp that fits 35-40m perfectly and is the same color.
Best Budget Outdoor Rope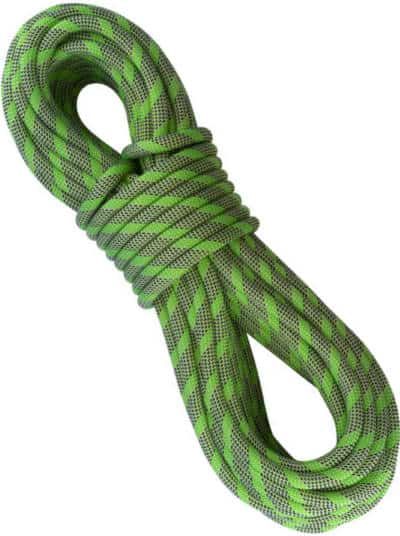 Sterling Evolution VR9 9.8mm
| | | |
| --- | --- | --- |
| Weight Per Meter: 62 grams | Fall Rating: 6 | Diameter: 9.8mm |
The Sterling VR9 is the best beginner climbing rope for learning to climb outdoors on a budget. At 9.8mm it's right on the money for a rope for good bite without being too heavy. It also has Sterling's DryCore technology for an added layer of safety and water resistance, plus a middle mark.
At around $150-160 for 60 meters it's a great climbing rope the money. Totally suitable for gym use or later on as your workhorse when you upgrade to a lighter sending rope. Sterling are renowned as great rope makers and all their ropes are made in the USA.
More Great Beginner Climbing Gear Guides
– Best Climbing Shoes
– Best Beginner Climbing Shoes
– Best Beginner Climbing Harness
– What To Wear Rock Climbing
– Best Climbing Rope
Beginner Climbing Rope Q&A
It's up to you to know how to climb safely and we really suggest getting an experienced guide or taking a course before climbing outdoors for your first time.
A huge amount of climbing accidents come from either being lowered off of the end of a rope on belay, or when rappelling. A big factor in this is knowing how long a route is, how long your rope is, and knowing a safety system. The simplest solution is simply to tie a knot in the end of your rope as a habit. We use the barrel knot with about a foot of tail.
You should also know how many falls your rope can take – measured as UIAA fall rating – and what that means in reality. Read up on how to check your rope for signs of wear, check to see if the core is damaged, and when you should retire a rope.
What Does Fall Rating Mean On Climbing Ropes?
Fall Rating does not mean how many falls of any kind that a rope could take in common situations. Most ropes will go through hundreds of small falls in a lifetime. Fall Rating shows the results of the UIAA testing.
For a Single rope test a weight of 80kg is dropped from 2.3 meters over the anchor, and continues to fall at least 2.5m more. This simulates a huge fall with a fall factor of around 1.7, and generates forces of around 9kN. Five minutes later then drop is repeated and then until the rope breaks.
A rope has to take a minimum of five of these falls without much rest which doesn't allow for stretch to recover. These are once in a lifetime falls – if ever – for most climbers. A rope getting 7 to 8 falls on the test is incredibly strong. Rope failure is generally only reported when run along sharp edges or exposed to chemicals.
Take a look at the harsh conditions a rope goes through in fall testing. As we've said, the best beginner climbing rope is the one you'll trust and feel safe using. A high fall rating or 7 to 8 is reassuring and you know the rope will stand up to repeated big falls.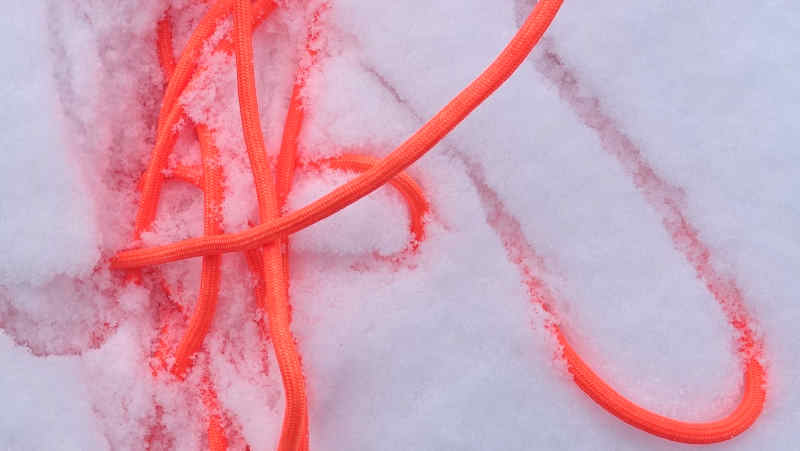 What Does Static Elongation Mean On A Climbing Rope?
This measures how much the rope stretches on the first UIAA fall test. A rope can't pass if it stretches more than 40%. Depending on the situation you may want more or less stretch. More stretch means less force on the protection you are falling on to and a "softer" catch for you. However it also means a longer fall.
In a gym climbing situation where routes are short you might want a less stretchy rope to avoid a ground fall. Outdoors bolts and protection tend to be a little further apart. On a tall route where you're less likely to take a ground fall, a stretchier rope can mean less force on your protection and your body.
What Does Dynamic Elongation Mean On A Climbing Rope?
This simply measures how much a climbing rope stretches over it's total length with the 80kg weight. For Single ropes the max the UIAA allows is 10%.
What Does Impact Force Mean On A Climbing Rope?
This is based on how much the rope stretches and doesn't really measure how "strong" a rope is. It's just a measure of force put on the falling weight – again from the first fall done in UIAA testing. The stretchier the rope the less force. Think about braking in a car and how a quick emergency stop feels. Also why we use dynamic rope.
How Do I Uncoil A New Climbing Rope?
If you're buying your first climbing rope you need to know how to uncoil it properly the first time. If you just open the packaging and start climbing rope you'll put a bunch of twists into the rope. This will end up coiling and kinking up straight away and take ages to fix.
You have to uncoil a new climbing rope in a specific way. It's hard to describe but the below video shows how to do it perfectly.
How Long Can I Use A Climbing Rope?
It depends on use. Most manufacturers recommend 10 years as the absolute maximum a rope should be kept if never used. In general, if you use your rope a couple of times a week then a year max is a good bet. One of twice a month could be anywhere from 2-3 years.
Exposure to sunlight, big falls with high force factors, and rappeling often reduce the lifetimes of a rope. Overall it's hard to tell because these things aren't tested and factors can vary massively.
When To Retire A Climbing Rope?
Without clear signs of damage it can be hard to judge. If you can ever see the core of the rope (sometimes called a core shot) then immediately retire the rope. If there are large areas of fraying, or the rope feels very uneven and lumpy then it's probably ready to go. Any exposure to chemicals is very dangerous even if there is no visible damage.
Ropes often get frayed and bumpy where you tie in and it's common to cut ropes (and seal with heat) down a little at the ends. A "flat spot" where you can press a loop of rope together easily is a clear indication of wear. Some people will cut a rope at these points and use each side as backups, gyms ropes, or for static rigging.
Every few months take your rope and run the entire length through your hands looking for bumps, thin areas, or lumpiness. Pay attention if the core is loose within and not attached to the sheath. This is known as sheath slipping. Sheath fraying is common and isn't necessarily something to panic about – depending on how fuzzy.
Our best advice is to take it to people with experience, let them have a feel, and get a few opinions. There's nothing climbers like to do better than opine about gear.