Buying gifts for rock climbers can be a tough task. They talk about weird things like cams and nuts, come home covered in what they insist is chalk, and then you catch them gazing at their horrific fingertips way too often.
You want to show them you care, but how? Let us help you this holiday season with the very best climbing gift ideas for Christmas, birthdays, and special occasions. Now is also a great time to get good deals – also take a look at the Black Friday climbing gear sales page.
We'll cover every budget from stocking fillers to "big" presents with over 100 climber gifts. We've also narrowed this down to things they may not have and would really appreciate – so you don't end up buying them something they won't use.
There are sections with the best gifts for climbers new to the sport, the best gifts for boulderers, and great gifts for climbers who want to start climbing outside for the first time.
Gifts For Rock Climbers Under $25
Climbing Books
Winter means downtime for most sport climbers, and downtime means planning for big adventures. Pro Tip: It might be tempting to buy some of the classic books about Everest and big mountaineering-style climbs. For most modern climbers this isn't really their thing. As interesting climber gifts – some of the books below would probably be better choices.
Full Climbing Gear Guides
– Best Climbing Shoes
– Best Climbing Rope
– Best Climbing Shoes For Beginners
– Best Climbing Rope For Beginners
– Best Climbing Harness For Beginners
Climbing Films
Inspiration for bad weather days is much needed when stoke is low. Force your newly obsessed husband/wife to take a rest day (yes actual rest. Active rest days don't count) with you and binge these films – equally entertaining for non-climbers. All good climbing gifts under $20.
Best Gifts for Climbers – Customized Water Bottle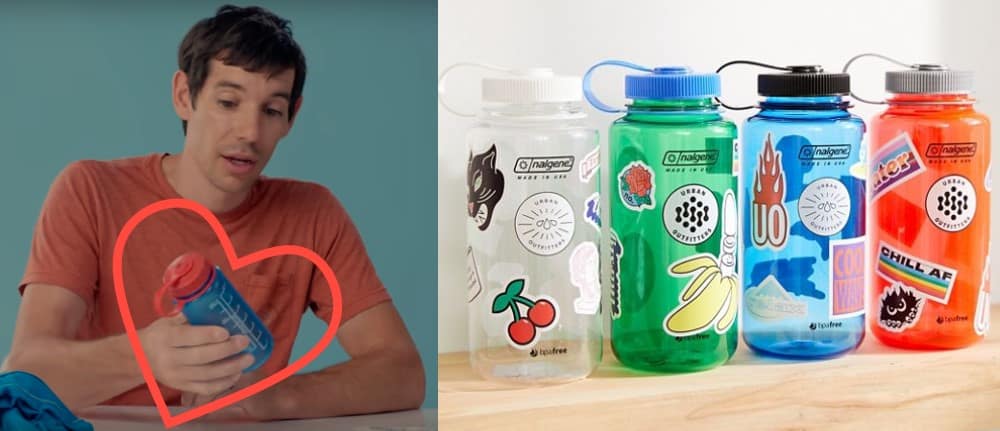 Every climber knows you are only as cool as the stickers on your water bottle. The classic is the reusable, BPA-free Nalgene. Guaranteed to last a lifetime and probably not be accidentally stolen. Available in a wide variety of colors in either the big 32oz or a Honnold Approved 16oz travel size.
For decoration, you can get some fun sticker packs to choose from or check out etsy/local artists for more specific arty stuff. Also consider donating to the enormocast climbing podcast and giving your address to get stickers and support the best climbing podcast in the bromuda triangle.
Neat Climbing Gift Ideas Under $25
---
Best Gifts For Boulderers
---
Bouldering is climbing small boulders without ropes, harnesses, and other gear. Being close to the ground it doesn't require much kit apart from a good pair of shoes, a crash pad, and some chalk. Bouldering inside you don't even need a crash pad.
The best presents for boulderers end up being pretty cheap! A good brand of grippy chalk, a couple of accessories like a chalk brush, and some great skin repair balm will go down as an absolute treat. Most of these are under $25 but some of the chalk bags/buckets work out around $30-40.
Bouldering Crash Pads
For boulderers who climb inside but want to go outside in the new year – a bouldering mat is a great gift. The below crash pads will all fit their needs perfectly as great do-it-all pads. You can also read the Best Bouldering Crash Pads article for a more in-depth guide.
---
Best Christmas Presents For Climbers Under $50
---
Awesome Chalk Bags / Buckets
Chalk bags with a strap are great for climbers and boulderers as you can wear them while climbing or leave them on the ground for bouldering. Chalk buckets are for dedicated boulderers who use a lot of the white stuff. Prices vary from $20-50ish so we've included them here.
Best Gifts for Climbers – Coffee Stuff!
Really, who doesn't love coffee? Your day can only get better with it. However, there will be times out in the middle of nowhere when there is no friendly barista available.
We've got some great climbing gift ideas for out-and-about coffee making that don't take up much space, are eco-friendly, and are perfect for that quick caffeine hit.
GSI Outdoors Ultralight Java Drip – A brilliant pour-over coffee maker that is easy to use and clean, doesn't need throwaway filters and can be packed up light. Just the top drip part and legs, you'll need a mug to go with it.
Check price on Amazon – Backcountry – REI

GSI Outdoors Infinity Backpacker Mug – The perfect pairing for the drip. The perfect size, easily cleanable, keeps your drink warm, packs up easily, and looks good.
Check price on Amazon – Backcountry – REI

Single Origin Pre-ground Coffee – Bonfire Coffee does great, freshly ground coffee from one country. They work with the growers and harvesters and deliver directly. Support local, small businesses and fair trade with Bonfire coffee OR buy from a local provider.
Check out Bonfire Coffee's current single-origin grinds

GSI Outdoors Travel Coffee Grinder – Simple, adjustable to size, packs up small. For those who absolutely must grind their own.
Check price on Amazon – Backcountry – REI
Best Climbing Gift Ideas Under $50 – Training and Recovery Gear
---
Great Christmas Gifts For Climbers Over $50
---
Best Gifts for Climbers – Helmets
Climbing outdoors is – in general – fairly safe. Sport climbing especially means the protection in the wall is already there and falls are normally small and expected. However, if you are a worried relative and want your loved one to be safe then a sleek, lightweight helmet could be of mutual benefit.

Most climbers who don't wear helmets outside give excuses about lack of side protection, weight, or obscuring vision. These modern helmets offer solutions to all of these. Also, rockfall and upside-down falls do happen. We've included our three top picks at different price points.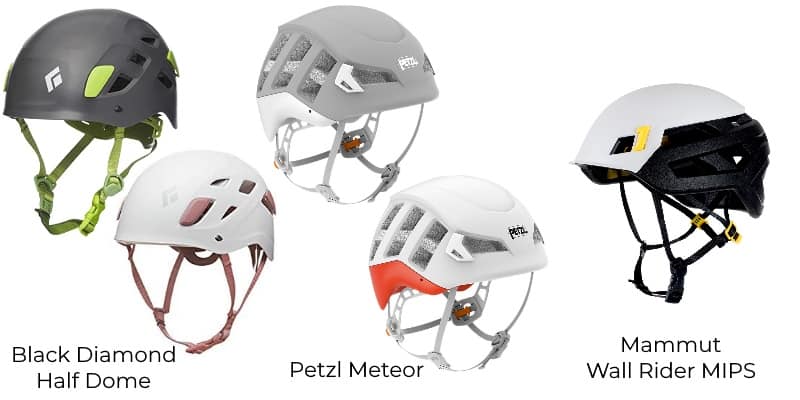 Black Diamond Half Dome – A classic, now redesigned. Offering full top, side, and back protection with a hard outer shell, shock-absorbing inner, and integrated head torch clips. At around $60 this is a no-brainer. Available in Men's, the Women's has a nice ponytail cutout and different sizes/colors.
Check price now on Backcountry – REI – Black Diamond

Petzl Meteor – A step up in price at around $99 brings a light (under 8oz) and slim profile helmet. Still offers excellent protection but with the outer polycarbonate shell more integrated into the inner foam. Ventilated and sleek looking and again available in different sizes and colors.
Check price now on Backcountry – REI – Moosejaw

Mammut Wall Rider MIPS – At $180 this is the best climbing helmet money can buy. Lightweight at under 8oz it features a top hard shell fixed into a foam inner that wraps around the back and sides – offering a large area of protection and great durability for such a light helmet. The design and ventilation mean you hardly know this is on.
It also offers a world-first in climbing helmets – MIPS protection. Most common falls onto the head or from rockfalls cause rotation. MIPS is designed to mitigate this to decrease the chance of brain trauma and neck injury.
Check price now on Backcountry – REI – Moosejaw
Training Gifts – Fingerboards
As a gift for a climber a hangboard (also known as a fingerboard) will be really well received and get a bunch of use. In our rundown of the best hangboards we compared a bunch and found that the Trango Rock Prodigy came out on top.
In the off-season, it makes training interesting and engaging. You will need to get eight wood screws and maybe a wooden board to mount it properly but it's easy to install above a door or in a garage.
Neat Climbing Gear Gifts Over $50
Beta Stick Evo – This clip stick allows you to clip the first quickdraw in, so you can avoid that sketchy high first clip. Cleverly it also allows you to unclip quickdraws safely. Perfect for pushing your grade and keeping your gear. This is a great gift for sport climbers and is our pick for best clip stick. Around $70
Check price on Amazon – Backcountry – REI

New Grigri – The threegri… Basically the best assisted braking belay device on the market. Redesigned to be lighter, safer, and to handle a wider range of rope sizes. Safer than a basic device and more comfortable to lock off when your climber is resting on long sessions. Watch the official video for the right technique and still NEVER take your hand off the brake rope. Around $100-110 and our favorite best beginner belay device.
Check price on Amazon – Backcountry – REI

Edelrid Ohm – Absolutely invaluable device for when a climber is heavier than the belayer. You clip this into the first bolt and it assists braking/increases friction in a fall so the belayer isn't dragged into the first quickdraw. Also helps control lowering. If you are a heavy climber, consider buying one for yourself to assure belayers and vice versa. Around $130.
Check price on Amazon – Backcountry – REI
Backpacks
A great climbing backpack can make adventures so much easier. A pack that is the right size to fit gear while fitting your body and being breathable is a total winner. These packs are brilliant, look good, and have all the features/pockets/straps needed for a great day out on the hike to the climb and going up with gear in tow.
Gibbon Travel Slackline
All Season Jackets
When conditions are perfect, climbing outside is an incredible experience and can create lifelong happy memories. When conditions are bad, things veer over into "type 2" fun. As in it wasn't fun then but at least we got a story out of it. A good jacket can turn a miserable belay into a much more comfortable affair. Nowadays down jackets and synthetic down jackets can be very good gifts for climbers and offer breathable, waterproof protection in all weather.
Best Gifts for Climbers – Big Gifts? Consider Gift Cards
If you are thinking of buying something big but specific – like a rope, climbing shoes, quickdraws/cams, or clothes/hiking shoes that could be ordered in the wrong size – think about a gift card instead.
If you know there is something big that they would love but you don't know the exact size/thing they need, then a gift card allows you to get it for them while they make sure it's what they wanted.
We'd suggest gift cards for REI, Backcountry, or Moosejaw. All of them are big outdoor retailers who have a huge range of outdoor and climbing gear, offer good shipping or pickup options, and will have 99% of what you are after. Gift cards can be e-mailed or sent in the post and are available for $10 and up – a really good rock climbing gift idea for climbers who don't know what they want quite yet.
Our Pick – REI are a co-operative owned by the employees, not by shareholders. They have a great membership where you can earn 10% back on purchases at the end of the year, and make their own brands of well-designed and economic gear. They repair used gear and support outdoors initiatives like their own #OptOutside where they close on Black Friday and pay employees to join cleanups. We like to support businesses that look after employees and the outdoors.
REI Gift Card – E-mail / Post
Backcountry Gift Card – E-mail / Post
Moosejaw Gift Card – E-mail / Post
---
So there is our massive guide to the best rock climbing gifts for climbers. We have way more climbing gear guides available including our top picks for the best beginner climbing harness, best beginner climbing shoes, best beginner bouldering crash pads, best climbing shoes for kids, best beginner climbing rope, and more. Follow us on twitter, instagram, facebook or pinterest for more climbing gift ideas and regular updates on climbing news from around the world.