Getting your first rock climbing harness is a big step in to the climbing world. There is a massive range available and it can be overwhelming to pick, so we're going to lay out everything you'll want to know all in one place. We've included a full buyers guide as well as our top picks for the best beginner climbing harness 2021.
Right now we are spoilt for choice for good harnesses. We've given our top picks here for your perusal, plus further down there is a full buyer's guide. Read all you need to know about buckles, leg loops, the extras you need or that you can skip, and way more.
Just Want The Best Beginner Harness? Our Top Picks at the cheapest places to buy them.
– Best Overall – Black Diamond Momentum
– Best Climbing Harness For The Money – Arc-teryx 395a / 385a
– Best Beginner Climbing Harness For Women – Edelrid Jayne
Best Beginner Climbing Harness 2021 – Our Top Picks
Black Diamond Momentum – Overall Best Beginner Climbing Harness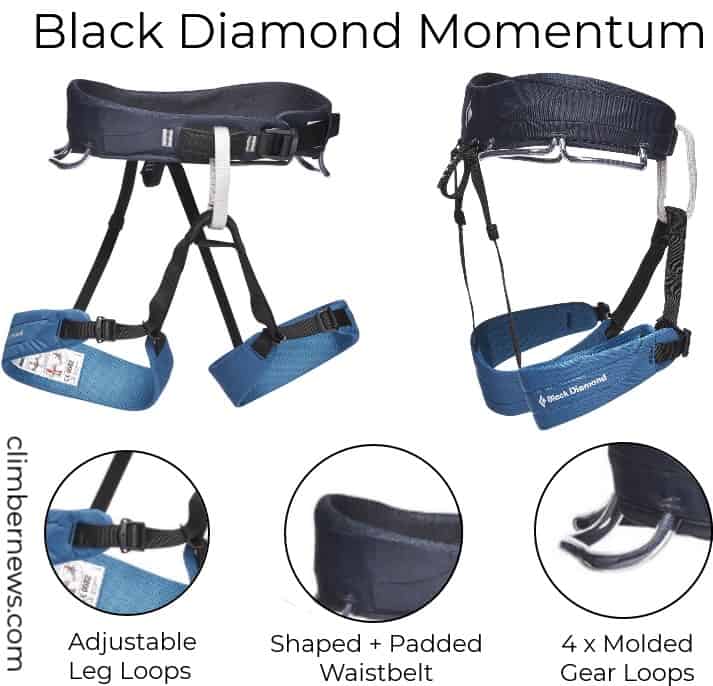 The Black Diamond Momentum is one of our top picks and a very popular choice for a first climbing harness. With it's shaped waist belt there is a lot of padding in all the right places. Great for long days climbing and belaying. Feature wise it has everything you'll need going from the gym to the crag.
The four gear loops are molded for easy gear access, it has unclipping rear elastics and a haul loop. The innovative adjustable leg straps are lighter than standard metal buckles but do the job well. The tie-in points are also reinforced to help with the most common area of wear.
Definitely a top contender for best first climbing harness and at a great price. Comes in gray, green, or blue and can be bought as a package. Fairly lightweight at 11.9oz / 340g in medium. The Momentum DS is almost the exact same harness but with four metal buckles, two at either side of the waist, and one at each leg.
The very popular Momentum Beginner Climbing Kit includes the Black Diamond ATC XP – a very good toothed belay device – and locking carabiner, as well as a chalk bag, strap, and BD's "White Gold" chalk. If you are looking to start climbing in a gym this package will be everything you need apart from a rope and climbing shoes.
Petzl Sama – Great Comfort – Great Price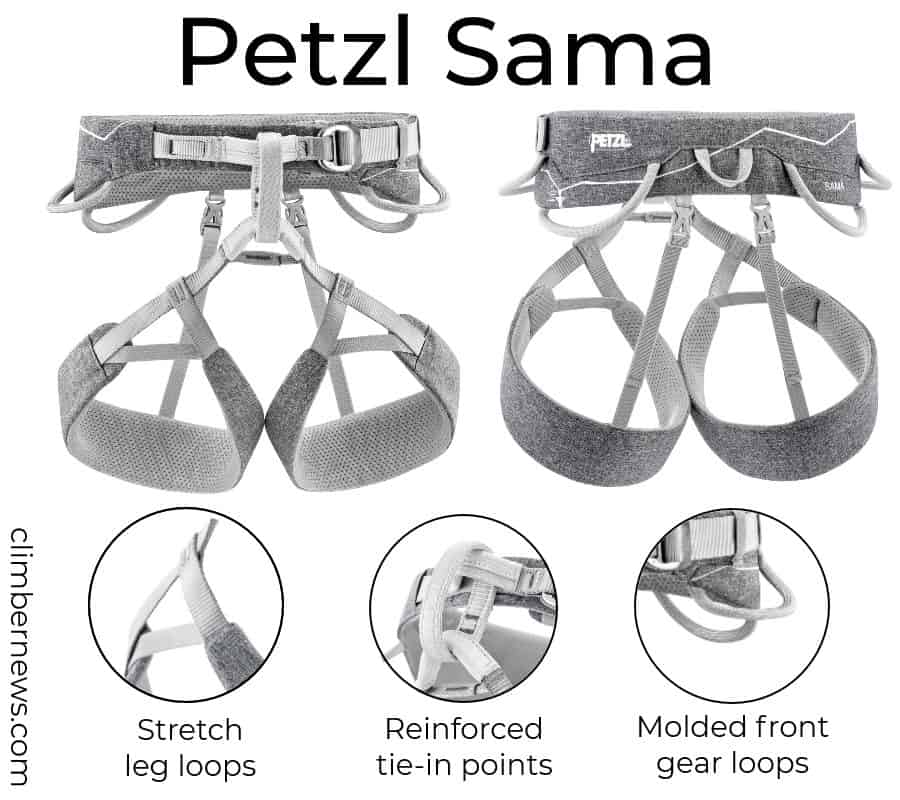 Petzl produce a range of excellent gear – including the well loved Sama. The Sama stands out as one the best all round harnesses that money can buy right now. The waist uses Petzl's "Endoframe" technology for a thin and breathable waist belt. Even with a thinner belt and less padding than you'd expect it is one of the most comfortable climbing harnesses available. Featuring four gear loops – the two closest to the front are molded for easier clipping.
The leg loops are fixed but have a stretchy elastic around the front. There is a big rear haul loop that can be used as a extra small gear loop and the rear leg elastics clip on and off separately. The tie-in points are reinforced with a low-friction material and the lower loop has red stitching underneath that will only show after a lot of wear. These two things mean the place where the most wear will happen will last longer plus you'll know when you need to get a new harness.
Available in a tasteful gray and weighing in at 13.7oz / 390g for a medium. The Petzl Sama could well be the best climbing harness for the money. The women's version is the Selena, but the only real difference is the drop between the legs and waist – the waist loop is the same shape. There are better women's specific harnesses.
Edelrid Jayne III – Best Beginner Climbing Harness For Women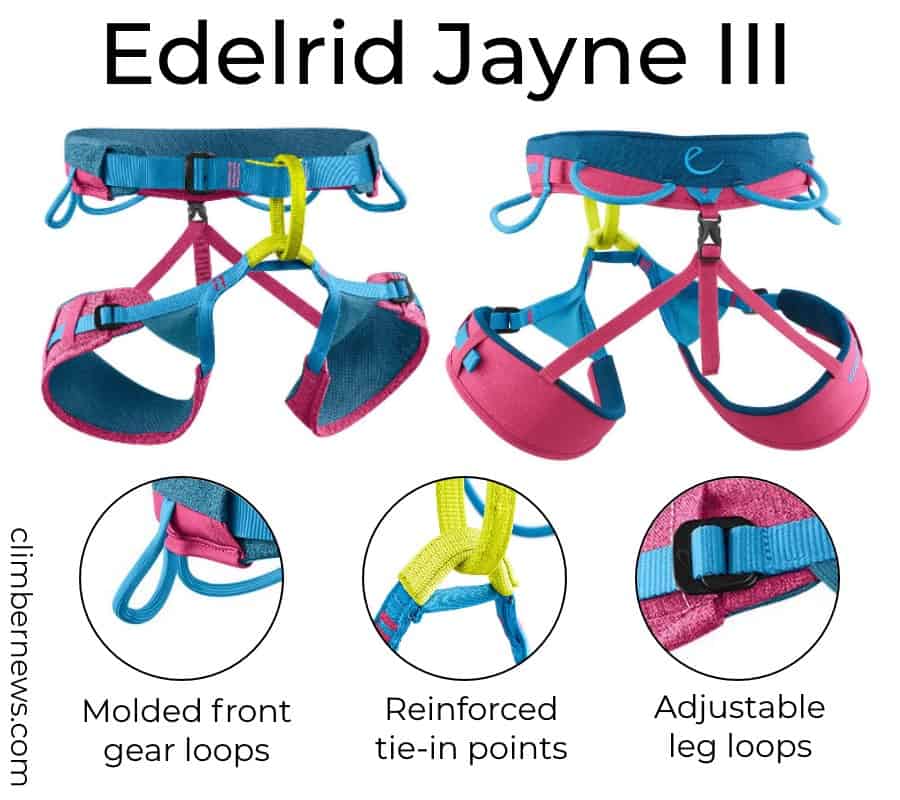 The Jayne (and the men's Jay) is a classic harness that deserves it's reputation and it's updates. The Jayne is tailor made for the female body shape so should feel more comfortable than a standard Men's harness. This means a contoured waist belt that has adjustable and moveable padding, as well as a longer-tie in point and slightly large leg to waist ratio. All mean a more comfortable climbing and belaying experience for Women.
Both leg loops are buckle adjustable with elastic at the front for a good fit. There are four gear loops on the Jayne, with the first two molded and the back two angled out for easy clipping. There is also a rear haul loop, clippable leg elastics and two ice screw clipper points. There is a wear indicator on the tie-in points, so with too much use you will see red thread showing through.
The harness is also bluesign® approved – which means Edelrid significantly reduced their water, chemical, and energy use as well as their CO2 emissions. Well done to Edelrid for putting their money where their mouth is and helping use enjoy the outdoors longer.
The medium weighs 15.1oz / 430g. Probably the best first climbing harness for women wanting to climb different styles. Comes in a refined gray/green and a vibrant blue/pink and other colors at different retailers. The Jay III is also a very decent first harness for men too. The Jayne III is sometimes sold now just as the Jayne – i.e. the newest model.
Petzl Corax – Great Adjustable Starter Climbing Harness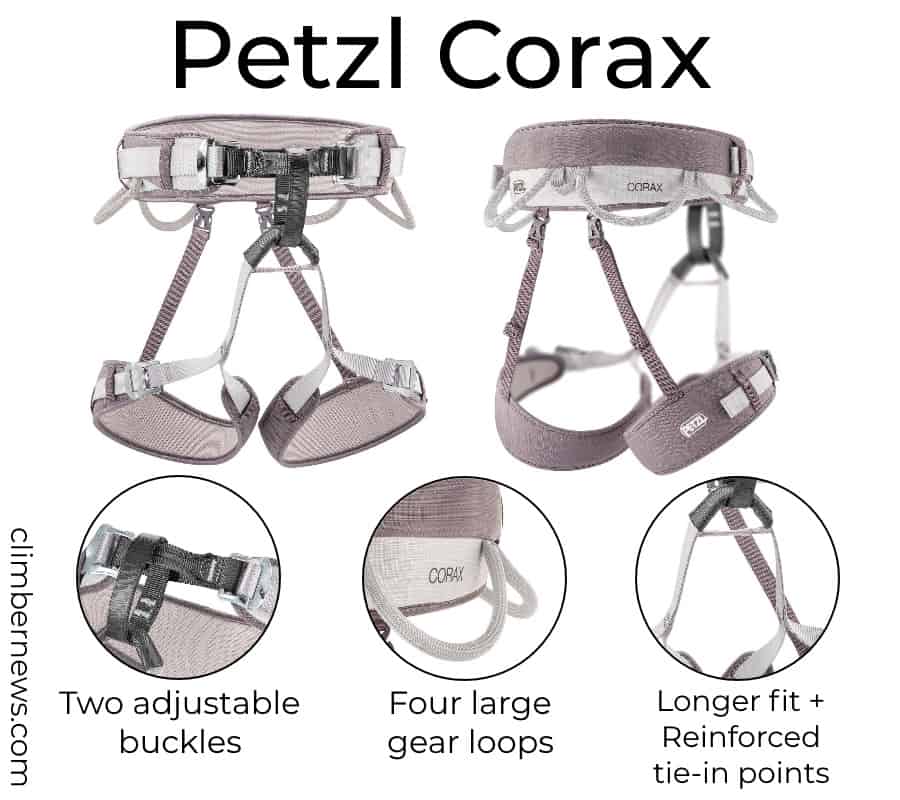 When buying your first climbing harness people often think of comfort first. Gym hire harnesses can be incredibly uncomfortable even when adjusted. The Petzl Corax is a very popular beginner climbing harness for it's adjustability, larger fit and it's price.
The Corax manages to get in at a budget while having quality metal adjustable buckles on the leg loops and either side of the waist. This means it can fit a wide range of body types comfortably. The space between the leg loops and the waist is longer than average meaning that this harness fits larger builds better as the leg loops won't dig in near the crotch. The padding is also thick and wide for comfort.
The tie-in points are reinforced for increased durability. The four gear loops are wide and do stick out but aren't molded. This means they can carry a lot of a gear and transfer well from sport to trad. There is a rear haul loop and the leg elastics unclip for emergency bathroom breaks.
The medium (size 1) weighs 17.3 oz / 490g. This is our personal favorite for the best climbing harness for big guys or larger body shapes – however this harness will be a good choice for anyone wanting two waist buckles.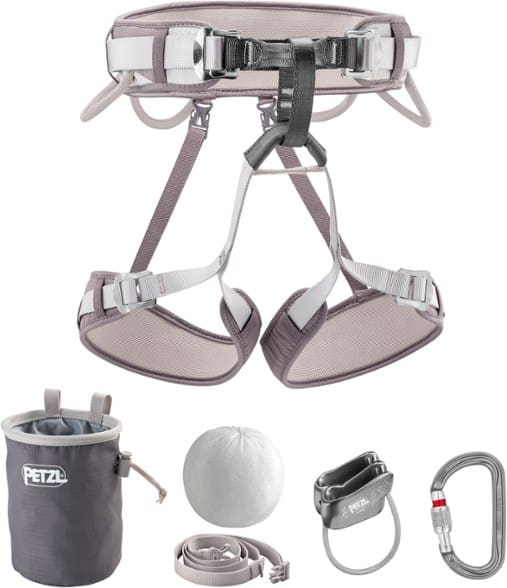 The Corax also comes as probably the best climbing starter kit. The kit comes with a color co-ordinated chalk bag, strap, and pre-filled chalk ball. It also comes with the Verso – a toothed belay device with two rope slots that is suitable for belaying and rappelling, and an Am'D screw lock carabiner perfect for belaying. Overall a great deal for quality kit.
Arc'teryx AR-395a and AR-385a – Best Beginner Climbing Harness For The Money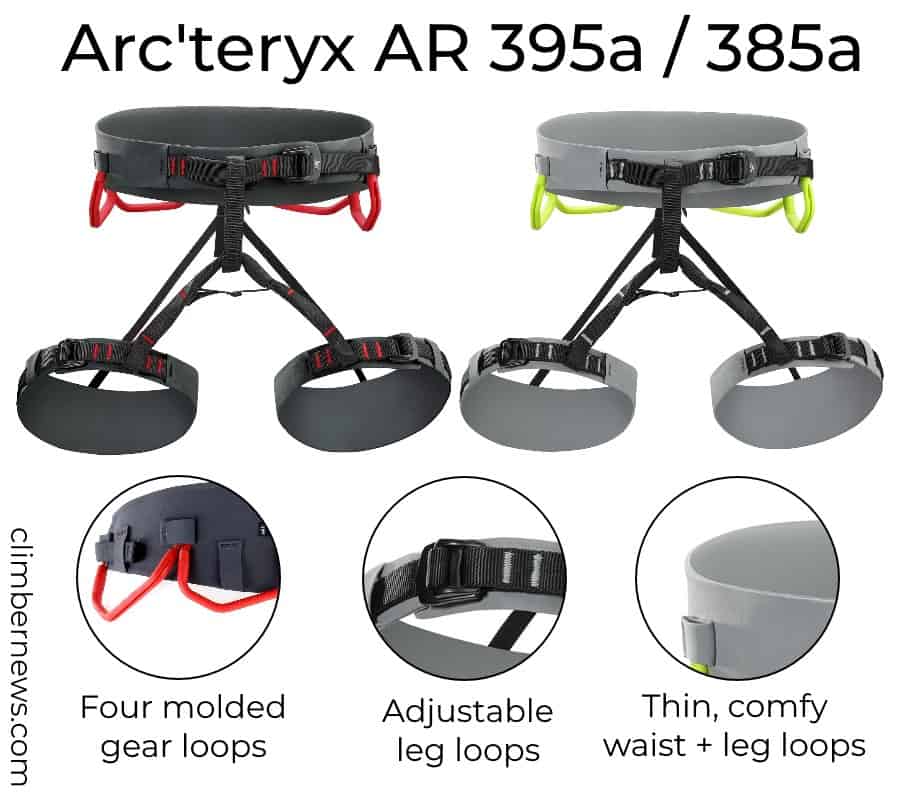 If you expect to be doing this a long time and want the best beginner climbing harness money can buy – these Arc'teryx harnesses are for you. Every bit of Arc'teryx equipment is designed from scratch to perform at the top end. These harnesses manage to combine extreme lightness with top comfort, and don't skimp out of features.
Essentially these are the same harnesses with a longer fit in the Women's – though 10 grams shaved off – as well as different colors. The AR means "All Round" and these harnesses are great jack of all trades. The 395 / 385 is the weight in grams for the Men's / Women's respectively.
The harness has almost impossibly thin waist and leg loops that still manage to be incredibly comfortable. Arc'teryx use their own Warp Strength Technology™ to split one piece of webbing into thin strands at the widest parts of the loops. This spreads out the pressure of your weight and can feel like you aren't even wearing a harness.
The four gear loops are molded and styled to keep gear hanging forward and in reach. Tie-in points are reinforced and the stitching it top quality for longevity. The leg loops are adjustable, the back leg elastics unclip, and there is a rear haul loop. The styling and colors are very understated and this could well be the best looking climbing harness on the market.
For the absolute best beginner climbing harness money can buy the AR 395a for Men and AR 385a for Women are the top choice. However at nearly three times the price of some of the other harnesses make sure you'll get the use out of them first.
Your First Climbing Harness – What To Look For?
First off, it's not worth cheaping out on a harness. Get a harness that fits well, is comfortable to hang around in, allows you to move freely, and has enough gear loops and extras for your personal use. You can get a good five years use out of any decent harness as long as you treat it right. Don't bother with a cheaper harness with one tie in point and seatbelt style material – you'll regret it as soon as get stuck hanging on a route for more than 10 seconds.
Check the image below for all the parts of a climbing harness labeled for ease.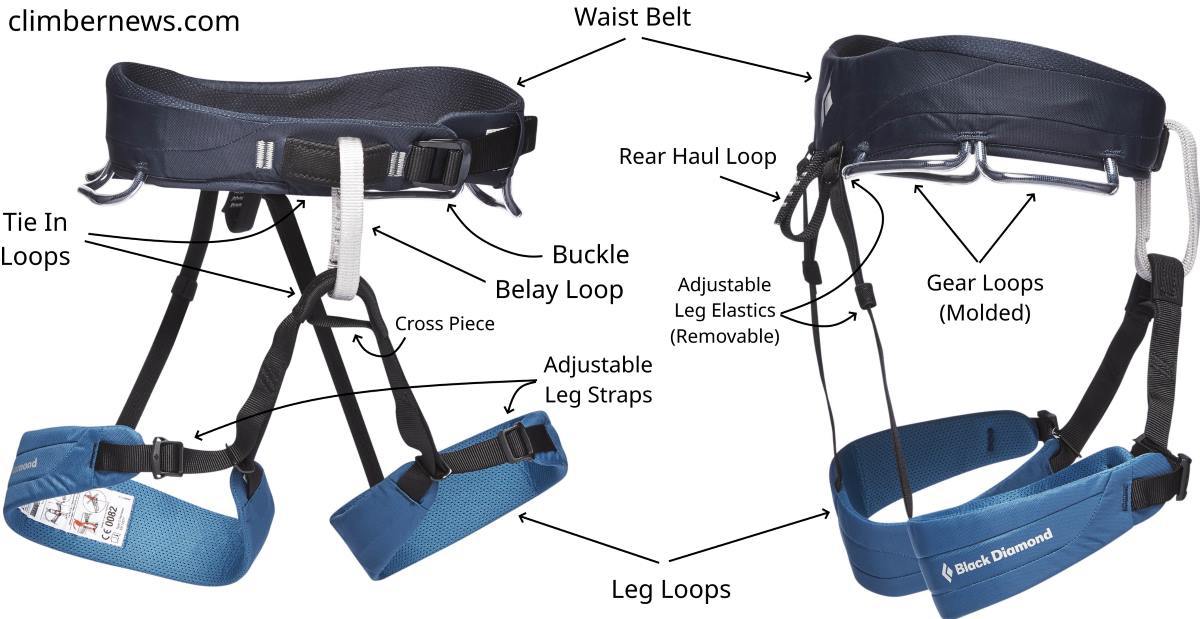 Fitting A Climbing Harness
The right harness is the one that fits you the best and feels the most comfortable to climb and sit back in for you. We are all shaped differently. Different bone structure, fat deposits, and waist-to-thigh ratios effect which harnesses work per person. People can have totally different opinions on the same harnesses – so it's worth trying on a few in a store before buying.
Waist Loop – Buckles and Tightness
The waist belt of the harness should sit at the top of – or just over the top of your hips. This stops you from slipping out if you upside down. The buckle should pull tight enough that you can breathe, while still being able to put a flat hand down between the harness and your back – but not being able to pull a closed fist out.
The perfect fit should still allow room for tightening the buckle a couple of inches more if needed. If there is still a lot more room to tighten the harness may be too big. Vice versa if the harness physically can't go tighter it's too small. Waist buckles can sit on the right or left as it's up to personal preference. Some climbing harnesses have two buckles – one either side of the belay loop for better adjustment.
Speed Buckles, Double Back, Two Part…
Almost all modern buckles are the two part "speed buckle" type shown on the right in the image below. The main advantage of these is that there should be no way that you forget to do them up and they undo or come loose. These are faster to do up and undo and have the end fabric sewn over into a stopper so they can't pull through. Most harnesses also have elastic so you can tuck the loop ends in and out of the way.
Older single piece buckles such as the one below on the right require you to tighten the harness first then double back as seen in the top and bottom parts of the image. Most manufacturers do not sell these as there have been fatalities where climbers forget to double back and the harness comes completely undone i.e. after loosening in between climbs. Be aware of the right way to use these buckles if ever using a harness that isn't yours.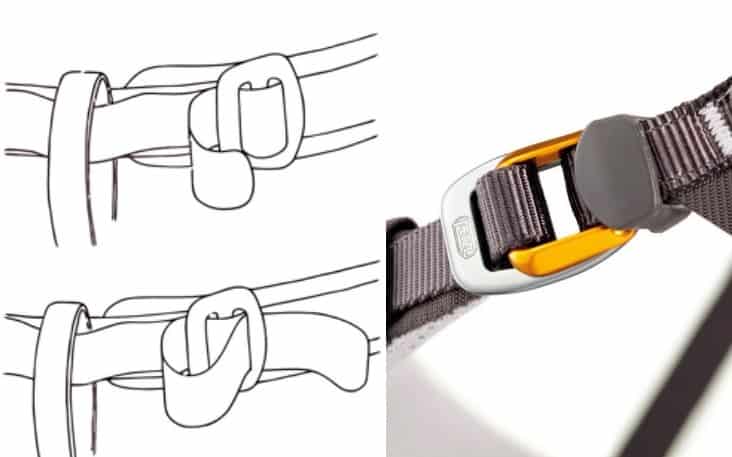 Leg Loops – Adjustable or Stretchy?
Leg loops come in two flavors – adjustable or fixed. Fixed loops are one size but normally have a small elastic component where the buckle would be, meaning they should fit snugly to the wearer. Metal buckles allow for adjustment but are a fraction heavier – though some harnesses like the Black Diamond Momentum in the parts diagram have plastic adjustable pieces that make a good in between option.
It's debatable which you'll prefer and generally up to you. If you wear the same clothes and climb the same style – i.e. sport climbing in jeans or shorts, you'll probably be fine with fixed. If you switch styles and might try some ice or alpine where bulkier, warmer pants will be needed, or you might need to switch clothing between pitches like on a multi day big wall adventure – adjustable will be helpful.
Personally I prefer to have adjustable leg loops as I have larger thighs compared to my hip size. I fit a medium harness for my waist perfectly but fixed leg loops in medium are too tight. If you are a die-hard sport climber with atrophied legs this makes sense – but if you've ever spent a bit of time doing squats at a gym you might need to try adjustable leg loops.
Sit Back And Relax – The Hang Test
Test the fit of a harness by clipping in to your belay loop or tying in to your tie-in points, and hanging on your weight for a while. Most good climbing businesses or gym shops will let you do this before buying. Try sitting back to test the waist loop, then sitting forward to try out the leg loops. Comfort on big falls and long projects is really helpful so take a few minutes and compare different harnesses.
Now also try moving around, lifting your leg up, pushing against a wall, and simulating some climbing movements. Your harness shouldn't restrict you. You can also bring the gear you'll use – typically a set of quickdraws – and test clipping and unclipping from the gear loops to see if they are in a good position without snagging issues. If you are going to use a lot of heavy trad gear this is an important test.
Women's Harnesses – What's The Difference?
Women tend to have shorter but wider hipbones. This normally means that the waist belt is worn around the waist and above the hip bone. This in turn means that with a standard men's harness the leg loops can sit too high and dig in to either side of the crotch – not fun.
To combat this problem, women's climbing harnesses tend to have a larger belay loop and longer straps connecting the belay and leg loops. This means a larger distance between the leg loops and the waist belt for more comfort.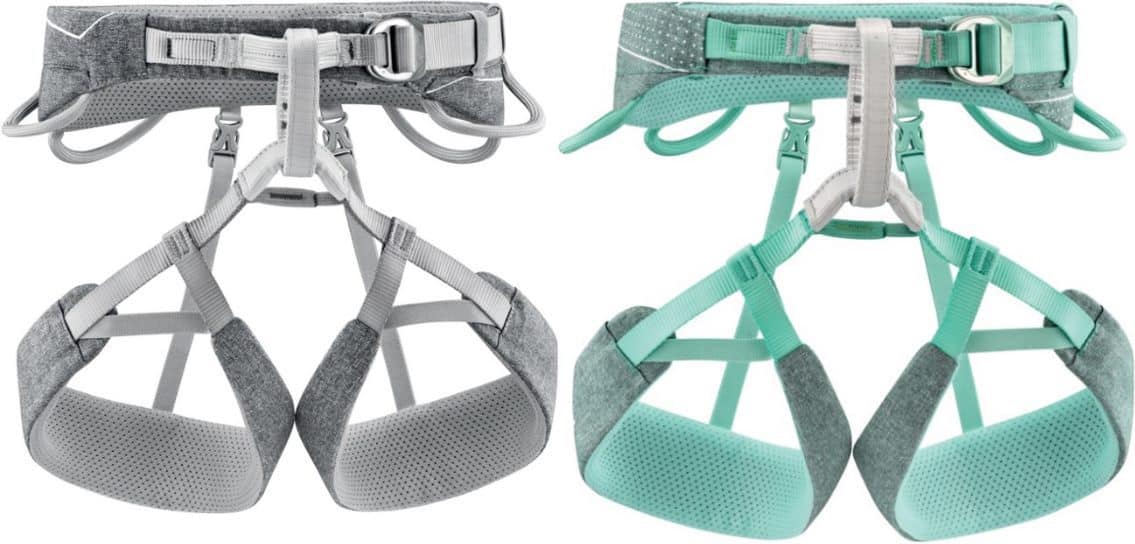 In general, women's climbing harnesses also have slightly larger leg loops and a more contoured waist belt to better fit the body shape. This all being said – whatever fits you is what you should wear and some women's harness colors are way cooler than the men's. Also expect more pink.
How To Choose Features For Your First Climbing Harness?
In terms of extra features, you probably won't need many unless you'll be getting into a specialist form of climbing. Trad (or traditional climbing) is where you take protection like cams and nuts up to slot into the wall for protection instead of fixed bolts and quickdraws. You might need more gear loops and bigger ones to carry the extra equipment needed with trad. You should also think more about comfort as placing gear and setting up anchors takes time. The best climbing harness for gym use is often the best harness for outdoors too.
How Many Gear Loops Should A Climbing Harness Have?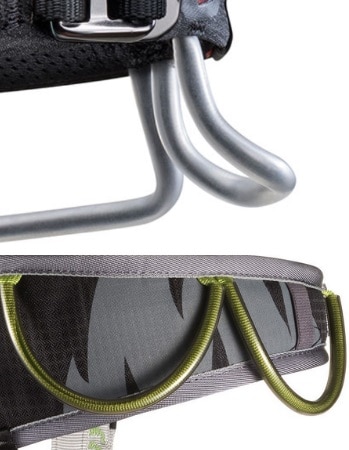 Four gear loops is the standard and will do you fine for most climbing types. Made of nylon and normally covered in plastic, the molded type tend to push out from the harness for easier clipping and unclipping of quickdraws and other gear. Some loops angle forward so gear is closer to hand.
If you are doing trad climbing on big routes with a lot of gear needed then think a bit more about gear loops. Gear loops vary in size, so larger loops and more of them may be needed.
In terms of other handy features a rear "haul" loop can be helpful for hauling gear or popularly to clip a chalk bag on to. Unclippable leg elastics at the back are good when nature calls. Ice gear slots can be helpful if needed, otherwise aren't necessary. Re-inforced tie-in points feature an extra layer of slicker fabric over tie-in points helps to protect an area where wear is common. Some harnesses have red or differently colored fabric underneath the top layer that only shows when wear has occurred. This allows you to know when to look at upgrading from your first harness. Breathable fabric meshes can ventilate air better for long, hot days.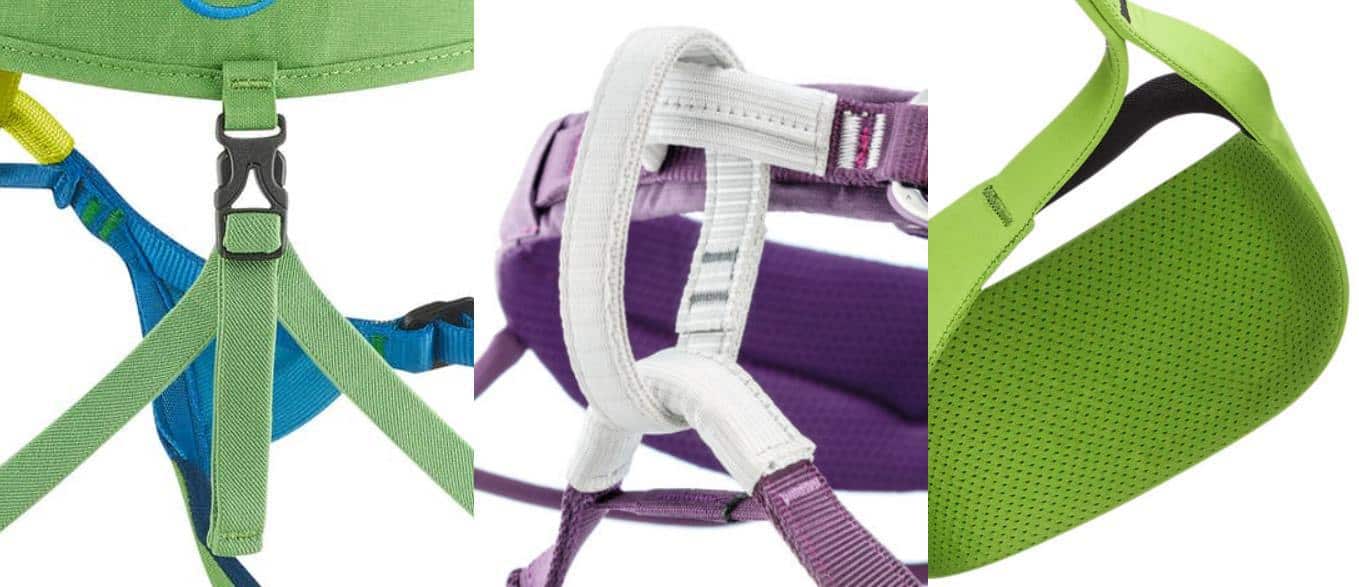 What Is The Safest Climbing Harness?
All climbing harnesses (with the exception of super-light alpine style) are basically as safe as each other and will be rated for safety by the UIAA and possibly CE if in Europe. No one brand or model is inherently safer – i.e. better in a fall or being cut on a sharp rock. Some harnesses will deal with wear better as they have more resistant material – but this is more of a use issue than a safety one. Some harnesses have a wear indicator where red thread will show underneath the main material when it's time to replace your harness.
Remember that the tie-in points should both be used when tying in – not the belay loop. Vice versa only the belay loop should be used for belaying. Don't clip a carabiner through both the tie-in points for lowering or anything else as this weakens the carabiner by pulling it in two directions. Nothing else on your harness – including the elastics, gear loops, leg straps, and cross piece – is rated to be clipped in to or to fall on. If you are looking for a harness where every part is rated, take a look at the Metolius Safe Tech.
Important: Never buy safety gear from ebay or facebook, be wary of "too good to be true" deals online or on Amazon, and buy new. Buy from reputable retailers or in person from a specialist climbing store. It is always up to you to visually inspect gear before use. If in doubt – ask someone knowledgeable or don't use it.
Chosen Your First Harness? – More Beginner Climbing Gear
After reading this exhaustive guide to the best beginner climbing harness you might still be looking to round out your brand new climbing gear collection. Similar to this guide we have a massive guide to the best climbing shoes in 2021, and the best beginner climbing shoes.
You can also find out what climbing shoes professionals wear including Alex Honnold, Tomoa Narasaki, and Tommy Caldwell. If you are planning on bouldering outside soon check out our best beginner boulderingcrash pads and our insanely detailed guide to the best bouldering crash pads.
Looking for your first climbing rope? Read our new guide to the best beginner climbing ropes in 2021 with a full guide on what to look for and top four.
Read more climbing gear buying guides or keep up to date with the latest climbing news by bookmarking this site (Ctrl + D) and following us on facebook, twitter or instagram. If you enjoyed the guide please also consider sharing this with a friend.