These are the routes and the climbers who have pushed sport climbing into new eras. The hardest climbs in the world have seen individuals test the absolute limits of what humans can do – both mentally and physically.
Climbing holds a strange place as somewhere in between a sport and a completely individual passion. While indoor competitions and the Olympics are bigger than ever, there are still many who have no interest in what others are doing and only climb for themselves.
Climbing in many ways is all about persisting through failure. The hardest climbs in the world we've listed here often involve months of tries, full days of not making a single set of moves, and years of effort getting to that level.
Today we'll talk about the hardest sport climbing routes, the stories of how they came to be, and the people who've climbed them. We'll also cover the hardest projects being worked on and the hardest indoor climbing route!
Many of these routes are very different from a standard sport climb and have to push not just difficulty but the length and style. In the last years there has been a flurry of new activity, as well as some big downgrades and rethinking of old classics.
The Hardest Climbing Route In The World
Currently, there is just one climbing route considered the hardest in the world. "Silence" is graded 9c or 5.15d – the highest grade in sports climbing. There was one other climb, "Bibliographie", that was reported first as a 9c but downgraded by the others who repeated it.
First 9c Climb – "Silence" – Hardest Climb In The World?
| | | |
| --- | --- | --- |
| Area: Flatanger, Norway | Bolted By: Adam Ondra (2012) | Climbed By: Adam Ondra (2017) |
Adam Ondra climbed the world's first 9c / 5.15d on September 3rd, 2017, becoming at the time the hardest climbing route in the world. It's a 45-meter-long route that starts immediately overhung and turns into a completely upside-down "cave" route. Originally named "Project Hard", Ondra named it for his uncharacteristically silent finish. Yup – no demonic scream top-out celebration!
Ondra originally bolted the full route in 2012 and 2013. He tried to recreate parts of the route and train specific movements in his home gym, also building a small training wall in Flatanger for more immediate practice. He also trained his calves to be able to hold the kneebars longer.
On the day he sent "Silence" he wore knee pads to make resting with the kneebars easier. He also skipped clipping some of the quickdraws to save energy. Famously he wore two different climbing shoes – a Miura on his left foot and a Solution on his right for their different profiles.
The Beta For Silence
The first part of the route is 20 meters of roughly 8b roof climbing with "okay" holds that is about endurance. This leads into the first and hardest crux of "Silence" which is around an 8C / V15 boulder (the third hardest grade in Bouldering currently). A complicated and precise set of moves that involves leading with an inhuman drop knee foot jam and precisely swapping fingers around in a tight finger crack.
After the infamous crack, there is a "good" kneebar where Ondra rested before a short 8B / V13 boulder problem second crux. The third crux is a 7B+ / V9 boulder problem, then through to comparatively easier holds to the chains.
"Silence" Crack
"Silence" famously has a crack problem midway through. The V15 crux leads straight into it and Ondra's beta was to foot jam into the crack, then drop knee on that leg to move into the crack – on the verge of dislocating his knee. Intrepid crack master Pete Whittaker tried to work out an alternative all-jamming solution to just this section:
Adam Ondra himself actually replied to the video talking about how the beta might work – "I really enjoyed watching this video and I was looking forward to when Pete or Tom would finally check it out. Linking the crux (even though there are harder single moves lower down) was jamming my left foot properly, while being super extended holding the slopey hole with right hand down low, and then getting into the holds right underneath the foot jam. From there on, it was all about this massive drop knee, which makes the "crack section" a one mover, instead of technical jamming and making more moves.
"I would often get into the position where Pete is starting from, with my foot jam sliding half out and there was no way to drop the knee because I was in the air before I dropped the knee. At the same time, if the foot jam stuck perfectly, I would never fall in the drop knee anymore. So, I do not think that the new jamming beta would help me because you still need the foot jam in the correct place in order to move your feet higher."
"In my point of view, I guess the new beta might be similar difficulty for me (I totally agree I still have a lot to learn about jamming though), but new beta requires wearing flat shoes on both feet (instead of soft downturn shoe on my right) which would definitely make the other sections harder for me."
"Great news is that the route is possible without dislocating the knee though, which makes the route much better!"
Since pushing the difficulty of sport climbing up in 2017 with "Silence" no one else has been able to complete the route – though a few have tried. It demands insane flexibility, precision, and endurance on overhangs which are all strong points of Adam's style.
A few people have tried the route, but Stefano Ghisolfi is currently treating it as his main project. Check out his videos of the effort.
Read our full article – Who Is Adam Ondra?
It has been rumored that the route may actually deserve a rating of 9c+ but only time will tell. The first 9c climb in the world remained the only 9c climb completed until recently…
Second 9c – "DNA" – Unrepeated
| | | |
| --- | --- | --- |
| Area: Ramirole, Verdon Gorge, France | Bolted By: Sébastian Bouin (2019) | Climbed By: Sébastian Bouin (2022) |
Séb Bouin is a French climber who is obsessed with bolting new projects and downgrading everything that isn't up to standard. On May 5th, 2022 he sent his long-term project "DNA" at a relatively new crag up in the heights of the Verdon Gorge in France.
Séb had first bolted it back in 2019, and had spent months at a time on it over the course of three years. In fact, he said: "I've spent over 150 days in it (close to 200 I think), and tried the route over 250 times".
DNA Beta
The route is made up of steeply overhanging limestone with a lot of tufas. The route starts off with an 8c+ section through the first five quickdraws into a rest. Then it's straight into an 8A boulder crux with what Séb describes as a "rather special bouldering move. You have to throw a right foot like in the modern bouldering competitions. Then you must propel yourself on a very, very far tufa. The physicality of the move makes it low percentage. It's really random."
From there it's another boulder problem crux he gives an 8A+. This section is very physical with horrific pinches and underclings. If you can get through that there is a rest. The final part of the route finishes with an 8c+ sport section to the top.
It doesn't seem like this route has any easy sections or kneebars. That combination of length of hard climbing plus two cruxes really puts it up there as a real 9c contender.
As the newest proposed 9c, it's pretty obvious that others will be along shortly to try the route and test the grade. However, Séb Bouin is notorious for being very reserved when grading his own routes.
He's also given personal grades for very difficult routes that drop one or two full grades off of the originals. Séb is a serial downgrader. After trying (and not yet sending) Alex Megos' route "Bibliographie" – which was the second proposed 9c at the time – he said it was more of a 9b+.
Before this, he hadn't climbed any 9b+ routes but since then has climbed "Change" 9b+, and "Move" 9b/+ which he gave a personal grade of 9b+. He's also climbed multiple 9b/+ of his own making, including "Nordic Marathon" – all in the Hanshelleren Cave.
Great Climbing Gear Guides
– What Climbing Shoes The Hardest Climbers Wear
– Best Climbing Shoes
– Best Beginner Climbing Harness
Hardest Indoor Climbing Route In The World – "The Project"
Black Diamond worked with the Klättercentret climbing gym in Stockholm, Sweden to create the hardest indoor climbing route ever set. "The Project" was set back in 2017 by Robert Rundin and Jocke Berglund as a route that gets progressively harder as it goes up. It's 46m in total and goes from roof to overhang, to roof to overhang.
The first climber to complete it will win €5,000 which will increase each year that it isn't climbed. The person with the highest point on the project at the end of the year also wins €1,000 until it is completed. It's a permanent route open to anyone to attempt! There have been a few competition-style events where famous climbers come along to try it out and share beta.
It's supposed to be set in five sections set in rough bouldering grades that get harder. The start is a 6A / V3 boulder grade, at the top it's meant to be around 8C / V15 boulder grade. Ondra has said that the roof section before the finish (around late midway) is actually 8C, so could be harder midway than expected.
Climbers that have attempted the route include Nalle Hukkataival, Magnus Midtbø, Alex Megos, Stefano Ghisolfi, Kajsa Rosén, Hannes Puman, Jorg Verhoeven, Eric Karlsson. Adam Ondra had the highest point which he set back in April of 2017 but Alex Megos managed to get one move past that recently. It's likely to be 9c or possibly harder…
9b+ Climbs
There are currently seven 9b+ climbs. Four of them have been repeated and confirmed at the grade. There have been other proposed 9b+ routes but they were downgraded on consensus. Some haven't seen a repeat, despite attempts.
World's First 9b+ Climb – "Change"
| | | |
| --- | --- | --- |
| Area: Flatanger, Norway | Set By: Adam Ondra (2012) | Climbed By: Adam Ondra (2012), Stefano Ghisolfi (2020), Sébastian Bouin (2022) |
Adam Ondra made history when he completed the world's first 9b+ / 5.15c sports route "Change". Though Chris Sharma had bolted and been working on another possible 9b+ "La Dura Dura", Ondra just pipped him to the title of the world's hardest climb in 2012.
The route is the beautiful Hanshelleren Cave in Flatanger Norway, also home to "Silence" 9c and "Move" 9b/+. The 55-meter route is essentially two pitches with the first 20-meter pitch at roughly 9a+ / 5.15a, featuring an 8B+ / V14 boulder problem crux going into the second pitch around 9a / 5.14d.
The beta doesn't involve any resting on the rope between the two pitches but does have a couple of rests including an inverted kneebar. At the first set of chains, there is an OK rest where it's actually better to entirely pull through the rope and reclip to reduce rope drag. You're still attached with a knot to one quickdraw so it's still safe, just a fair bit of extra work.
Stefano Ghisolfi made the second ascent of Change in 2020 after months of work. He documented the process and some alternate beta that he found on his Instagram stories and should be releasing footage of the climb soon.
It took Ondra 29 minutes in total with a 5-minute rest at the kneebar. Stefano reported it took him over an hour to do the route so we're assuming he rested a fair amount of time at each point possible.
In 2022 Séb Bouin made the third ascent, using a knee pad like Stefano. As Séb is known to do, he said that with the pad the route was a 9b/+ in his opinion. He also gave an upgrade to Ondra's "Move" from a 9b/+ to a full 9b+, based on his strengths.
First 9b+ Repeat – "La Dura Dura"
| | | |
| --- | --- | --- |
| Area: Oliana, Spain | Bolted By: Chris Sharma (2009) | Climbed By: Adam Ondra (2013), Chris Sharma (2013) |
For a while Chris Sharma was known as the best climber in the world, having climbed what was considered the first 9a+ "Biographie" and then the first 9b "Jumbo Love". Back in 2009 he started work on bolting this line in Oliana, Spain, and worked on it whenever seasons allowed.
As he continued the project he started to think he might never climb it, introducing an up-and-coming Adam Ondra to the route. After sharing beta and working together on the climb for over a year, Ondra eventually sent it in February of 2013. Sharma managed it just a month later making history with the world's first 9b+ repeat.
The area of Oliana is world-class – much aided by being close to where Sharma lived at the time. He spent a huge amount of time bolting and working on new lines in the area including 9b's Fight or Flight, Mamichula, and 9a+ routes Power Inverter, Pachamama, Papichulo, and Chaxi.
Many have tried it, including Janja Garnbret giving "La Dura Dura" a go, between world cup training sessions.
"Vasil Vasil" 9b+
| | | |
| --- | --- | --- |
| Area: Sloup, Czech Republic | Bolted By: Adam Ondra (2009) | Climbed By: Adam Ondra (2013) |
First climbed in December of 2013 by Adam Ondra and bolted by him five years previously. The route is at Sloup in the Czech Republic and was the world's third 9b+ / 5.15c. It also marked Ondra's third 9b+ and sets him apart from other climbers as the only person to have climbed three 9b+ routes.
It is only 12 meters long and according to Ondra was 15 moves of around 8b / 5.13d to the incredibly difficult 8B+ / V14 boulder problem crux. From there it's just a few very easy moves to the finish. Since then there have been no repeats and we can't find that any climber has been working on it either.
"Perfecto Mundo" 9b+
| | | |
| --- | --- | --- |
| Area: Margalef, Spain | Bolted By: Chris Sharma (2009) | Climbed By: Alex Megos (2018), Stefano Ghisolfi (2018), Jakob Schubert (2019) |
Yet another Chris Sharma route that he bolted on a spree back in 2009. He's worked on it a few times over the years – unfortunately without a send. The route in Margalef starts on a severe overhang that shares the same start as another route. When it splits it moves in the harder section with a boulder crux and a classic big Sharma dyno.
First completed in 2018 by Alex Megos nearly 10 years after being bolted. It soon saw a second ascent by Stefano Ghisolfi the same year, then a third by Jakob Schubert in 2019.
"Bibiliographie" 9b+ – Downgraded from 9c!
| | | |
| --- | --- | --- |
| Area: Céüse, France | Bolted By: Ethan Pringle (2009) | Climbed By: Alex Megos (2020), Stefano Ghisolfi (2021), Sean Bailey (2021) |
In between competing and qualifying for the Tokyo Olympics for the first Sport Climbing event, Alex Megos had been working on a very hard project. Some footage was featured in the climbing documentary Rotpunkt. Back in 2009, Ethan Pringle bolted a route on the same wall as the historic 9a+ "Biographie" in Céüse, giving the proj this name as a nod. He worked it for a while before leaving it as an open project.
Alex first started on the route back in 2017 and spent a few months over the next few years working the route. He was distracted by competition and also held back by an injury sustained at Hachioji 2019 Olympic qualifying event. In 2020 he came back to it and after a total of 60 days of work in all he topped out on August 5th, 2020.
Initially, Megos graded it a 9c / 5.15d for the amount of time he spent on it. However because Céüse is a very popular area for hard climbers to go to, we always thought it would get a good amount of attempts. Stefano Ghisolfi got on it almost immediately after and within three months had sent the route.
Ghisolfi did excellently by reporting his climb before talking about the grade, suggesting he would call it a 9b+. Alex Megos jumped in and agreed, saying he thought it was right – a really cool thing to do considering how big the initial 9c report was.
Since then Sean Bailey was also out trying the route with a couple of others and managed to climb it in October of 2021. Sean has previously only climbed 9a+ routes so completely skipped 9b, and at 25 years old he's also winning Gold medals at IFSC comps. If he were to dedicate his time to the outdoors we'd expect more 9b+ routes from him.
"Suprême Jumbo Love" 9b+ – Another Sharma Project Finished
| | | |
| --- | --- | --- |
| Area: Clark Mountain, California, USA | Bolted By: Randy Leavitt (around 2006), Chris Sharma added bolts in 2008 | Climbed By: Sébastian Bouin (2022) |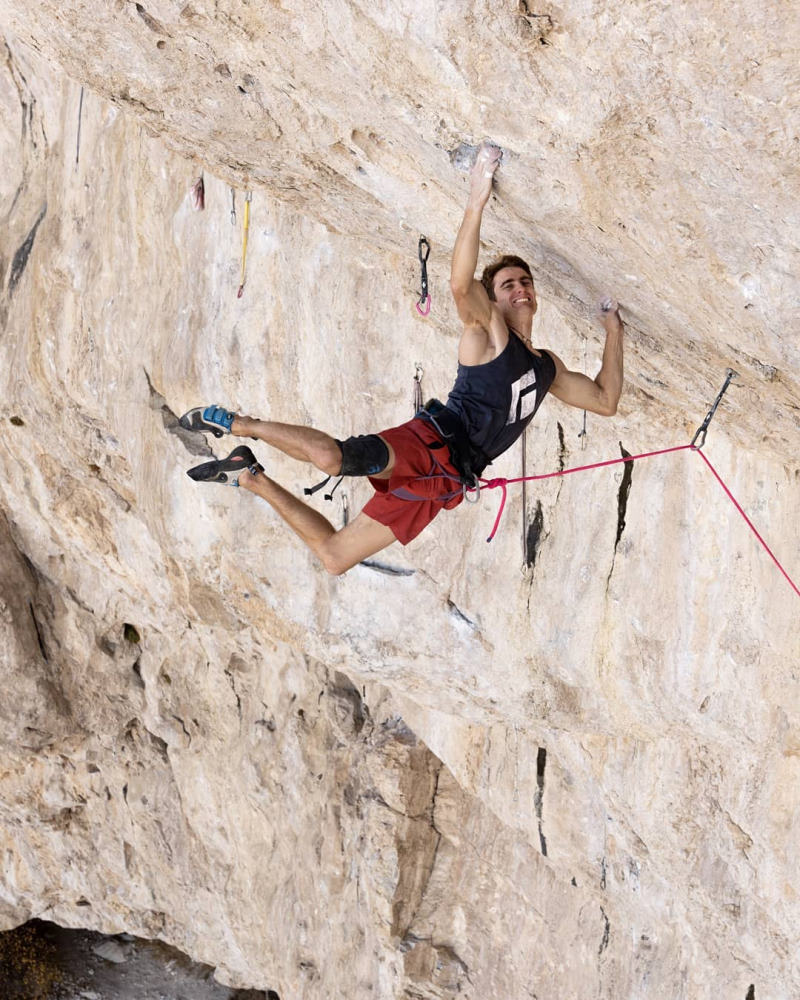 Séb Bouin surprised everyone at the end of 2022 with a new 9b+ that has a storied history. The climb is in a remote area of the Mojave Desert in California, on a formation called Clark Mountain.
Back around 2006, Randy Leavitt bolted a huge 76-meter (250-foot) climb with three pitches. Chris Sharma went out to give it a try, battling the remote drive on terrible roads, followed by an hour's hike in. He also invited Ethan Pringle in, and together they worked the route.
Instead of a three-pitch, they strung it together as one single, giant sport route. Chris sent it in 2008 and it was given a 9b grade and the name "Jumbo Love" – becoming the hardest sport climb in the USA, and keeping the title until now.
It also ushered in the era of the hardest routes being huge, 50 to 70-meter endurance climbs. Ethan Pringle didn't send back then but would return in 2015 for the fabled second ascent. Jonathan Siegrist would make the third in 2016.
However, Chris hadn't finished with it. In 2010 he returned and envisioned a more direct route which would make the starting third much harder, then joining the original at what was the second pitch.
He bolted the first part and added a couple of bolts to join it to the original "Jumbo Love", but never managed to complete the entire thing. That's where Sébastian joins the story.
He went out with the express intent of completing the harder variation. It's actually slightly shorter as it's more direct, still at an incredible 70 meters. Seb managed the original in 10 days of work, while also working on beta for the direct lower section.
After another 10 days of working the route, camping at the base of the crag to save time, he finished the direct. He called the route "Suprême Jumbo Love". After speaking with Chris Sharma, he believes it's a 9b+. That makes it the hardest sport route in the USA, and possibly the sixth 9b+.
Because the route is so long Séb realized that to finish the route, he'd need to finish the first crux third of the route first try. Essentially if he didn't nail the start he'd never have the energy to finish it.
Though it's remote, Clark Mountain is in the USA and full of really good routes. During the winter, the temps should be perfect for any local crushers (we're thinking Sean Bailey) to give it a go and confirm the grade or not. Watch this space.
Read the news article – Séb Bouin Climbs "Suprême Jumbo Love" 9b+
"Zvěřinec" 9b+ – Ondra Strikes Again
| | | |
| --- | --- | --- |
| Area: Moravian Karst, Czechia | Bolted By: Adam Ondra | Climbed By: Adam Ondra (2022) |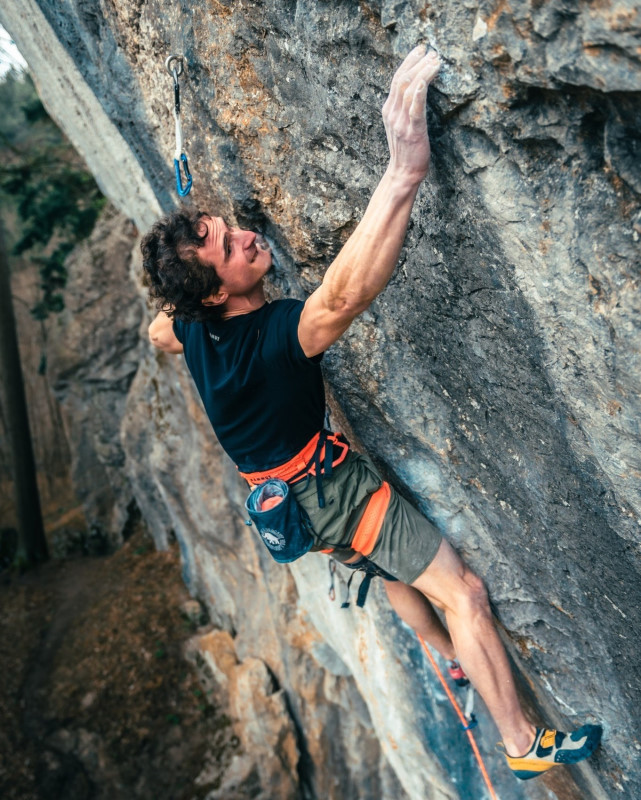 Just weeks after Seb Bouin climbed his second 9b+, Ondra revealed his fourth 9b+ at his home crag at the notoriously sandbagged Moravian Karst. The route means "Menagerie" which is fitting.
It's a harder variation of a route called "Perlorodka" (Pearl Oyster), which was a 9a+ variation of another route: "Perla Východu" (which translates to "Pearl of the East"). This was a 9a Ondra set when he was just 14 years old in 2007.
Adam said this was the "second hardest route of my life" after "Silence", which is a huge thing to say. We'd love to see others try the line, as it's easily accessed with plenty of other good hard routes in a similar style.
Adam has continued to push boundaries and sit at the top of the sport climbing world ever since he climbed the first 9b+, then 9c. In recent years he's got married, had a child, competed in the Olympics, and started a successful YouTube channel.
Read the article – Adam Ondra Climbs New 9b+ "Zvěřinec" At His Home Crag
Possible 9c Projects
There are a few known projects that may be graded 9c or 5.15d. We wouldn't be surprised if others had been bolted and abandoned, or actively worked on but were being kept secret. They are all possibly 9c but after the first ascent might be lower or higher. Even the best climbers in the world still take months to complete 9b+ or hard 9b.
It's more about finding a route they are passionate about rather than just a numbers game. Often these climbers are trying to do their own thing and find their own line.
Stefano Ghisolfi 9c Project – "King Line"
Stefano Ghisolfi was working on a route he called "King Line" up until recently when the area Laghel in Arco was closed to climbing by the landowner. The area is home to some world-class climbing, including "Queen Line" 9b / 5.15b which was first sent by Ondra in 2017, then Ghisolfi in 2019.
Ondra 9c Project
The Moravian Karst area is just north of Brno, Adam Ondra's hometown in the Czech Republic. For years he's been climbing the caves and spying out potential routes. He recently completed an 8C+ / V16 boulder problem "Brutal Rider" that spans a huge section of a roof within a low cave.
That was the hardest boulder problem in the Czech Republic and just up from it may be the future hardest sport climb in the Czech Republic. Ondra bolted the route recently and has sporadically worked on it. He isn't sure exactly what the grade might be but it could be another 9c / 5.15d.
"El Toro Salvaje"
In the "El Labaoratorie" section of Margalef, Spain, there are many hard routes crushed into a short space of overhanging rock. "First Round First Minute" is a Sharma 9b classic, and there's a new project on the same wall.
"El Toro Salvaje" starts off on an 8B+ or 8C boulder section, traverses left across well-known routes in the 9's, then finished on First Round. As a result, it uses bolts from a mix of routes set by Chris Sharma and Dani Andrada.
Adam Ondra has been projecting it for a short while after taking time off from working "Perfecto Mundo" 9b+. Yes, you read that right – Ondra ditched a months-long 9b+ project to try a 9c.
Chris Sharma 9c Project – "Le Blond"
Chris Sharma has had a few projects over the years that he comes back to or has left for others. One of those is "Le Blond", a possible 9c / 5.15d in Oliana, Spain. It's only a few meters over from "La Dura Dura" so would be of a similar style.
He's opened multiple Sharma gyms as well as been involved in Sender One in California. He also has two kids so in between managing them and a business he has less time for climbing than ever.
Chris Sharma 9b+ / 9c Project in Cova De Ocell
Sharma has said little about this one apart from "It'll probably be my hardest climb", so most likely a 9c or hard 9b+. It's closer to his current home Barcelona, only 40 mins so more likely he'll continue working on this than any of his other gems.
Chris Sharma 9b+ / 9c Project in Santa Linya
Yet another Chris Sharma project that may be 9b+ or 9c with little info on it. Again it's close enough that he might actually get enough time to complete it. We'd be really interested to see Chris Sharma on a serious regimented training program. For most of his life, he's just climbed non-stop and done his own thing with insane results.
More Amazing Climbers
– Best Free Solo Climbers Of All Time
– Best Climbing Documentaries
– Most Famous Rock Climbers
Grading and Subjectivity
Grading can be very subjective in climbing and you'll often see routes given new personal grades by climbers making the second or third repeat of routes. Some grades change suggestions are subject to height differences, climbers finding different beta (different ways to do a set of moves), or finding places to rest. Sometimes holds break and make routes harder or easier.
Both "Silence" and "Bibliographie" were completed by two of the best climbers in the world, both of whom have massive experience in climbing many routes of world-class grades. This combined with others trying to repeat the routes has all but confirmed their grade and they're both seen as the hardest sports routes in the world.
"King Capella" 9b+ downgraded?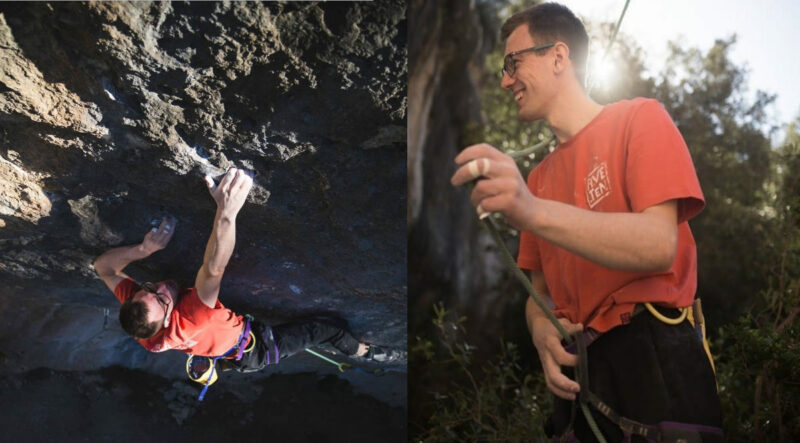 | | | |
| --- | --- | --- |
| Area: Siurana, Spain | Bolted By: David Brasco | Climbed By: Will Bosi, Alex Megos, Jakob Schubert (all 2021) |
Scottish and British climber Will Bosi made the first ascent of this new route, giving it 9b+ in March 2021. It was bolted years back by David Brasco who bolted many of the hard projects in this area. The route is in the La Capella area of Siurana, named for the famous "La Capella" 9b / 5.15b route – which "King Capella" is just 8 meters to left of.
This was Will's first 9b+ and it came a month after he'd climbed "La Capella" 9b. That original route has a bit of grading subjectivity. It was originally climbed in 2011 by Adam Ondra and was his second 9b, but the first 9b he established. Will based his 9b+ grading on the grading of that older climb.
The "La Capella" route is comparatively short at 15 meters when most hard climbs of the grade were 40+. Even then, Ondra suggested 9b but said it could be 9a+. Mostly the grading was thought of in terms of three boulders stacked. The second ascent came seven years later by Daniel Woods – probably the strongest boulderer in the world – who also talked about it more like a set of boulders.
Alex Megos repeated "King Capella" and didn't talk about the grade, he then climbed "La Capella" and said he thought it was the harder of the two. Jakob Schubert then came and did both routes in one day after projecting them for four days, giving "King" a 9b and "La" a 9a+.
Megos wrote an interesting post comparing four climbers' interpretations of the three routes in the sector and how because of the short route, different beta used, and different strengths of each climber, none really agree.
Who Has Climbed 9c? / Who Has Climbed 5.15d?
Just two people have climbed 9c. Adam Ondra on "Silence" and Seb Bouin with "DNA".
Who Has Climbed 9b+? / Who Has Climbed 5.15c?
Adam Ondra has climbed four 9b+ / 5.15c routes.
Stefano Ghisolfi has climbed three 9b+ routes.
Alex Megos and Sébastian Bouin have climbed two 9b+ each.
Chris Sharma, Jakob Schubert, and Sean Bailey have climbed one 9b+ route each.
So just seven people have climbed a 9b+ or higher sport route.
How Many 9c / 5.15d Projects Are There?
At least four that we know of.
There is also "The Project" which is an indoor climbing route set at the Klättercentret climbing gym in Stockholm, Sweden. It doesn't have a grade yet as it's still not been completed by anyone.
Who Has Bolted The Most Hard Climbs?
Ondra found and bolted two 9b+ and one 9c.
Seb Bouin has bolted one 9c and three 9b/+ routes.
Sharma has bolted three confirmed 9b+ climbs, and around five possible 9b+ or 9c projects, as well as a crazy amount of 9b and 9a+ routes. He's also opened up many of these projects and contributed a huge amount to the growth of hard sport climbing.
How Many 9c Routes Are There?
There are just two routes graded 9c in the world. Both "DNA" and "Silence" have yet to be repeated.
How Many 9b+ Routes Are There?
There are now seven 9b+ graded sport routes in the world.
Those are "Change", "La Dura Dura", "Vasil Vasil", "Perfecto Mundo", "Bibliographie", "Suprême Jumbo Love", and "Zvěřinec"