Sébastian Bouin is having the year of his life. In March he put up a new 9c "DNA", then repeated the world's first 9b+ "Change". Now, he's added a new variation to a historic route and established what might be the hardest sport climb in America.
At the end of October, Seb started this adventure by climbing "Jumbo Love" 9b (5.15b). The route was bolted by Randy Leavitt as a three-pitch sport route, but Chris Sharma climbed it in one single line back in 2008.
It took Seb just 10 days of climbing to take it down. He then moved on to trying a more direct variation on the route, which Chris Sharma started working on over 10 years ago. It takes a different start that ends up being a 9a before hitting the hardest part of the original route.
Another 10 days later and Seb had managed to send the direct version, calling it "Suprême Jumbo Love" and giving the grade 9b+ (5.15c) after speaking with Chris Sharma about it. Randy Leavitt had been belaying and helping with beta during the trip. Seb said of the route:
"The first time I made it through the direct start, it was my third try of the day. I was definitely too spent to have any chance on the main Jumbo Love section. I knew I had to do the direct and the Jumbo Love crux on the first try if I wanted to have a chance on the pumpy Jumbo Love section."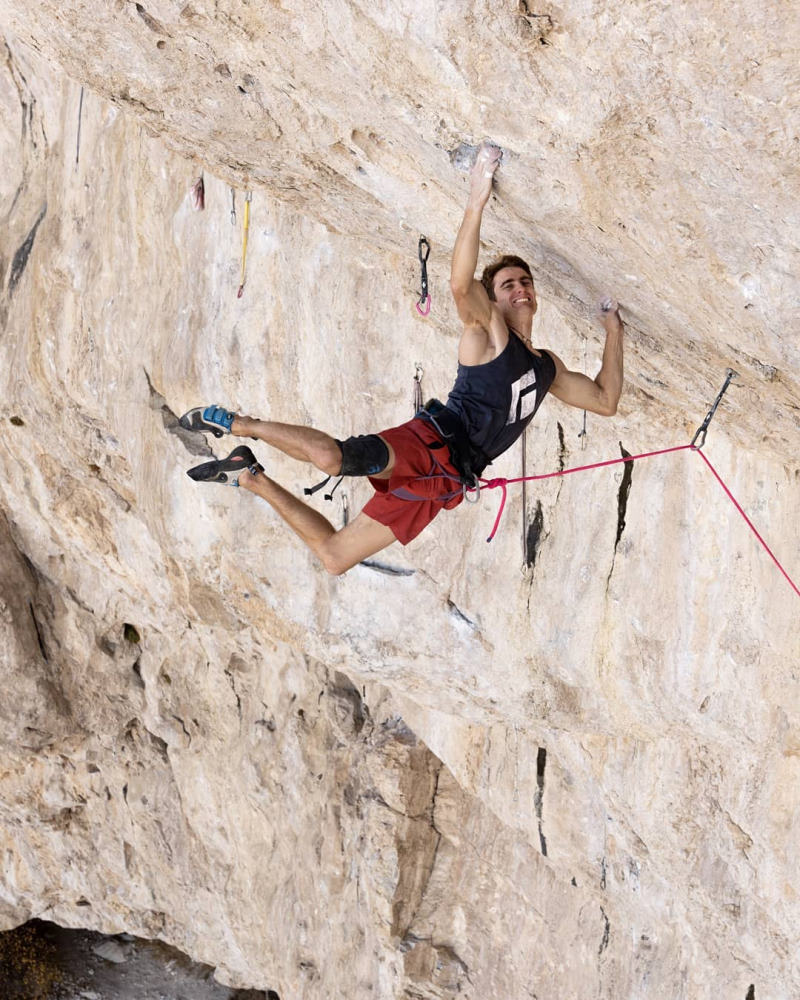 Clark Mountain
The original route has seen only a select few visitors, despite its top-tier status. This is mainly due to its location. Clark Mountain is in the Mojave Desert of California and requires a long, boring drive on terrible dirt roads – followed by an hour hike in.
Seb said of the adventurous area: "We changed our car three times because it was not good enough to get to the crag. We also changed two tires due to off-road driving incidents… The 1h hike really takes it out of you. I am used to climbing for many days in a row. But here, that would be a mistake".
Despite all this, Seb and a dedicated crew spent a lot of time out there. That included a few nights camping in the remote desert to save on travel time, and so that Seb could dedicate himself to the challenge.
The History Of Jumbo Love – America's Hardest Climb
"Jumbo Love" now has a couple of variations that are all doable, and it's now likely we'll see some of the world's best head out to the remote crag. However, the original route wasn't a single pitch. At 250 feet long (76 meters), Randy actually envisioned it as a three-pitch route.
Randy never sent it but invited Chris Sharma – at the peak of his climbing game at this point – to come and work on it. He was later joined by Ethan Pringle. The effort was featured in the film "Progression".
Being such a massive route, the pair used any way they could think of to save energy. That includes skipping up to three clips, leading to massive 100-foot whippers.
Sharma sent the route back in 2008 and it became the hardest sport climbing route in the USA. Apart from a couple of 9b's up in Canada, and maybe Tommy Caldwell's "Flex Luthor" (that some climbers think should be upgraded from 9a+ to 9b), it stood for a long time as possibly the hardest route on the entire continent.
Ethan didn't manage the route, and it became a sticking point in his climbing career until recently. In 2015, he came back for a serious second effort and managed to make the second ascent. You can watch Ethan's work on the route on the Red Bull France website for free – but in English.
Jonathan Siegrist also managed to climb "Jumbo Love" in 2016, making the third ascent.
Seb Bouin's 2022 So Far…
Seb Bouin Climbs "Change" & Gives His Grade
Seb Bouin Climbs New Project "DNA" 9c – Second 9c Route Ever?
"Jumbo Love Direct"
Seb's plan from the start was to do a "harder" variant of the route. In 2010 Chris Sharma envisioned this way of doing the route that takes a straighter line up a much harder start. He bolted this first part, then added a couple of bolts that linked into the original route just below the crux.
Sharma worked the route for a while, but at some point decided not to continue. Not that it slowed him down. He'd just sent "La Dura Dura" 9b+ and was on a rampage of bolting new lines at the 9a+ and higher range all over Europe, and in Spain where he'd eventually settle.
This more direct variant takes a new line up the start of the wall and doesn't use the first pitch (roughly 7c) of the original. According to Seb, that first 20 meters is now a 9a route that links into the crux on the second pitch.
It's still done as one single route, though it's slightly shorter than the original at 70 meters (230 feet) in total. This is the route that Seb worked on and sent, naming it "Suprême Jumbo Love" to give it a little flare.
It's now the first 9b+ (5.15c) in America and sure to see some more action if anyone can handle the hike in.