Getting a good bouldering crash pad can make all the difference on those big days out on the rocks. We've rounded up all of our favorites and pointed out some of the small but significant things you need to know. Plus, what marketing claims you can safely ignore!
If you're planning your first trip outdoors or just updating from an old beat-up pad, let us help. Our guide to the best bouldering crash pads of 2022 features some great new models and updates on classics. There's a lot of competition out there which means some great deals if you know what you're looking for.
The popularity of bouldering is exploding thanks to modern gyms offering a wealth of walls and shapely new holds. As a result, this could well be your first time outside using a bouldering crash pad that isn't a permanent installation. There are a lot of differences in safety, so we'll cover it all in this guide.
Our Top Picks
Best Bouldering Crash Pad – Evolv Drop
Best Crash Pad For Solo Bouldering – Evolv Launch Best Buy!
Best Highball Bouldering Crash Pad – Black Diamond Mondo
Best Bouldering Pad On A Budget – Metolius Session II
Best Taco-Style Pad – Petzl Alto
Best Small Crash Mat – Metolius Shortstop
Best Crash Pad For Home Wall – Evolv Home
While other areas of climbing require multiple methods of protection and various preferences for safety gear, bouldering really only needs one. Bouldering crash pads are also known as crash mats or safety mats but all do the same thing – protect you from the ground.
Whether it's a low-to-the-ground cave or a big drop from a high ball problem, you'll need a bouldering crash pad to help avoid injury. First up we'll offer up our picks for the best bouldering pads of 2022, or scroll down for an exhaustive buyer's guide for everything you need to know about crash mats.
Best Bouldering Crash Pad
| | |
| --- | --- |
| Open Size: 48" x 36" (122 cm x 91 cm) | Closed Size: 36" x 24" x 11″(61 x 91 x 28 cm) |
| Thickness: 5″ (12.7 cm) | Weight: 14lbs |
| Foam: 3″ open-cell middle, 1″ closed-cell top and bottom | Hinge: Straight |
| Carry style: Adjustable padded backpack with chest and waist harness | Fabric: 900d Poly Top, 1000d Kordura bottom/side |
The Drop Pad from Evolv is a brand new offering and manages to cover basically everything you'd want in a bouldering crash pad at a great price. It's a standard pad size but is a thick 5 inches with three layers of foam. That will protect you from higher falls better than others in this price range.
The carry system is a well-thought-out backpack style with good adjustability because of the load-lifter staps, plus a chest and waist harness. This makes a big difference on walk-ins, especially if you add another pad. Luckily the Drop has a big wrap-around section with long straps. That means it's possible to strap another full pad directly to this one!
The wrapped section doubles up as a large carpet section for cleaning shoes. It's also really good to cover the very bottom sit-start of boulders where you'd normally sit in the dirt. It has a handle on the side for carrying it closed like a suitcase, plus three handles for re-adjusting when it's opened.
For the features and thickness, we think it's definitely worth the money, especially as a starter pad to add another in later. It comes in two colors: one blue/grey with a skull design, and one in white/tan. The white will show dirt marks easier but the Joshua Tree print looks amazing.
Alternatives?
At just $20 more than the Mad Rock Mad Pad, the Drop has more features and a nicer carry system. The Mad Pad does have long velcro sides so you can put two together if you already plan on getting two
For a bigger pad with the same design and features, try the Evolv Launch
Deal Alert!
The bigger version of the Drop is on sale for 20% off at Backcountry right now. The Evolv Launch is the same pad with the same features but an extra 10″ wide on both sides for just $10 more! – Check Price
Best Crash Pad For Solo Bouldering
| | |
| --- | --- |
| Open Size: 60" x 48" (152 x 122 cm) | Closed Size: 48" x 30" x 11″ (122 x 76 x 28 cm) |
| Thickness: 5″ (12.7 cm) | Weight: 19lbs |
| Foam: 3″ open-cell middle, 1″ closed-cell top and bottom | Hinge: Straight |
| Carry style: Padded backpack with waist strap | Fabric: 900d Poly Top, 1000d Kordura bottom/side |
If you're out bouldering alone and can bring just one bouldering mat, we think that size is the most important factor. As a result, our choice is the Evolv Launch for the best solo bouldering mat. It's essentially the same as the Evolv Drop we featured above, but a good amount wider on both sides.
At 5 inches thick, it feels safer to use alone if this will be your only pad. It's also possible to hold another full pad plus a thin one in the cover, meaning it's really upgradeable.
It covers a good area while being not too bulky to carry around alone, and some great features make it a really good value buy compared to competitors at this price. It's got the same really adjustable backpack load-lifter straps with a chest and waist harness. As this pad is bigger and heavier this will make more of a difference on long walk-ins where bouldering pads can become very uncomfortable.
The wrap-around closure is big enough to stash things in. It also covers the bottom so you can put things in the middle of the pad without them falling out. The straps are long enough to add a full extra pad on the back too if you are going for tall or wide bouldering projects solo.
Again, the wide side panel can be used to cover the backpack on the floor, or used as a large carpet for sit-starts or cleaning your shoes. There's a side handle for suitcase-style carries, plus three handles for moving it about when opened up.
Overall, this is another great new pad from Evolv. It comes in at an excellent price for the size and 5″ thickness is very reassuring. It comes in the same two colors: blue/grey with a skull design, or white/tan.
Alternatives?
For a wider landing area and a skinnier tri-fold for bushy walk-ins, try the Metolius Recon.
Best Crash Pad For Highball Bouldering
| | |
| --- | --- |
| Open Size: 65" x 44" (165 x 112 cm) | Closed Size: 44" x 32.5" x 10″ (112 x 82 x 25 cm) |
| Thickness: 5″ (12.7 cm) | Weight: 20lbs |
| Foam: Closed-cell top and bottom, open-cell middle | Hinge: Straight |
| Carry style: Backpack straps and padded waist belt | Fabric: PU-coated 1000d Nylon |
For highball bouldering, we think the most important considerations are thickness and size. The Mondo from Black Diamond nails it with a 5-inch, three-layer foam, and massive size. This has been a popular highball bouldering mat for years and has had a few small design upgrades recently.
The fabric is a higher-quality 1000-denier that should hold up well with repeated high impact. Underneath the pad, it has a rubber coating for better stick to surfaces and more water resistance. There are four grab handles around the sides as well as two webbing points (which are also stowable) for re-adjustment.
The buckles are fairly sturdy and overall the pad does great as a big, thick landing spot for those scary highball falls. You can stuff your bits in the closed pad to carry around, but there aren't any real extra features and it's not a pad you can double up on without a separate ratchet strap. However, at this price and thickness, the BD Mondo is the best bouldering crash pad for highballs.
Alternatives?
For an even bigger 5″ thick pad with a tri-fold, carpet, and a comfier carrying system, the Evolv Home is absolutely perfect – but over $100 more.
The Metolius Magnum is a similar size in a tri-fold, with an integrated carpet and straps for extra pads. It's a little cheaper than the Mondo but is 4″ thick.
Best Budget Bouldering Crash Pad
| | |
| --- | --- |
| Open Size: 48" x 36" (122 x 91 cm) | Closed Size: 36" x 26″ x 8″ (91 x 66 x 20 cm) |
| Thickness: 4″ (10.2 cm) | Weight: 9lbs |
| Foam: 1″ closed-call top, 2 1/2″ open-cell middle, 1/2″ closed-cell bottom | Hinge: Angled |
| Carry style: Backpack straps with waist belt | Fabric: 900d polyester outer |
The Session II is probably the most common pad you'll see out and about in bouldering areas – for very good reason. It comes in a decent size with 4″ of three-layered foam, plus some really good features.
The two-part closure system allows you to stash shoes and a chalk bag in the front easily. Or you can get way more in the middle of the folded pad safely without things dropping out of the bottom. The fabric also reverses to cover the shoulder straps when on a dirty floor.
The middle is angled and has velcro inside, meaning the gutter seam in the middle isn't a problem. An extra feature we really appreciate is the carpet diamond in the center, which saves your shoes and soft rock from added wear.
Overall the Session II is a perfect pick for the best budget bouldering crash pad at this price. If you catch it on sale it's even better. It's also a great extra pad to fit in with something like the Launch or Drop, or one of Metolius' larger pads.
Alternatives?
The Session II wins out over the Mad Rock Mad Pad for price and features. However, the Mad Pad is 1″ thicker and if you're going to get two pads, you can velcro the sides of it together for wide coverage at a good budget.
For a little less money and a smaller pad, the Black Diamond Circuit is perfect for fast circuits like in Fontainbleau, where you'll be doing 20 to 30 problems in a few hours.
Best Taco Bouldering Crash Pad
| | |
| --- | --- |
| Open Size: 46" x 39" (118 x 100 cm) | Closed Size: 39" x 26″ x 10" (100 x 65 x 25 cm) |
| Thickness: 4″ (10.2 cm) | Weight: 13lbs |
| Foam: Closed-cell top and bottom, open-cell middle | Hinge: None |
| Carry style: Backpack with padded waist and chest harness | Fabric: Ballistic Cordura with two-side zip |
If you have had bad experiences falling on the gutter seam in the middle of other pads, you might want to go for a taco-style bouldering mat. The Petzl Alto has no seam, meaning you don't need to worry about landing on a seam and your foot hitting the floor or flipping the mat up.
The general disadvantage to this style of bouldering pad is closing the pad and storing it. The Petzl Alto does a great job of closing flat with a burly zip that goes down the side and under the bottom, as well as internal buckles. It keeps the pad flat while you walk and lets you stuff everything you need into the middle to carry safely.
Taco pads should also be stored open whenever possible. Long periods folded up can lead to the mat taking a "U" shape and being uneven. They'll generally be OK after being laid flat and fluffed up a bit if this does happen.
When closed it has a side handle for carrying suitcase-style. The backpack straps are padded and comfy, as is the waist belt. There's also a chest strap for extra carrying security. When open you can hide the straps under the flap to stop them from getting dirty.
On the floor, there are four corner handles for quick repositioning. The design is burly and waterproof, having been built to a high standard. What we really like is that the mat is a little floppier than sectioned designs. That leads to it conforming well to uneven ground or being placed on rocks without slipping, or general awkwardness that sometimes happens with stiff two-part pads.
The Petzl Alto is an excellent, high-quality taco-style bouldering pad. It is a little pricier than others and without many extra features. However, if you boulder over very rocky ground or don't like segmented pads, this is the one to go for.
Alternatives?
If you do a lot of bouldering on uneven or really rocky ground with terrible landings – check out the Mad Rock R3. It's made of recycled foam baffles and is sort of like a really thick comforter. It's a great pad that's a similar size to the Alto but a little cheaper.
Best Small Bouldering Pad
| | |
| --- | --- |
| Open Size: 36" x 23" (92 x 58 cm) | Thickness: 0.75″ (2 cm) |
| Carry style: Side handles | Weight: 2lbs |
Sit-start boulders need you to start as low as possible on the floor. Often your main pad will be positioned further back, and you'll find yourself sat in the dirt with nothing to protect your feet or butt from a misfire at the first few moves.
Here's where the Metolius Shortstop comes in. It's a perfect little addition to your main pads, covers a wide area, and won't break the bank. It'll fit into the middle or strap to the back of every bouldering pad we've mentioned in this article and will make your bouldering days a little easier.
Best Bouldering Crash Pad For Home Wall
| | |
| --- | --- |
| Open Size: 96" x 48" (244 cm x 122 cm) | Closed Size: 48" x 32″ x 16" (122 x 81 x 41 cm) |
| Thickness: 5″ (12.7cm) | Weight: 33lbs |
| Foam: 3″ open-cell middle, 1″ closed-cell top and bottom | Hinge: None |
| Carry style: Padded backpack with waist strap | Fabric: 900d Poly Top, 1000d Kordura bottom/side |
If you are planning to buy a systems board or build your own home wall, you'll need some decent padding to protect yourself. There are a few different options, but our choice would be the new Home Pad from Evolv.
The MoonBoard, Kilter Board, Grasshopper, and Tension Board are all popular options for light-up boards you can buy and install at home. All of them have 8-foot wide options that are a good size for a home wall. Most home boards people make from scratch generally suggest 8-foot as a good option too.
Coincidentally the Home Pad is 8 feet wide so you can use two side by side or top and bottom to protect a large area underneath your wall. You could probably get away with just one sideways, pulled back from the kickboard – though it's not a great option. We've added the widths of the different boards below.
MoonBoard + Mini MoonBoard: 8′ or 96″ wide (244cm) at both 25 and 40 degrees
Tension Board: 8′ or 96″ wide (244cm) in both heights
Kilter Board: 12'x12′ full size is 144″ (366cm) wide, 8'x12′ is 96″ (244cm) wide, 7'x10′ is 84″ (214cm) wide
Grasshopper: Ninja and Master are both 8′ or 96″ wide (244cm)
The Home Pad is just a Launch Pad with another section added. As it has all the added features like a carpet, comfy and adjustable straps, and stash pockets, it also makes for a great outdoor pad for solo bouldering or highball bouldering.
If you're in the market for a home wall pad and a good outdoor pad, or just a great outdoor pad, we think the Home is a great buy. It's definitely expensive, but having compared it to other options it comes out very competitively because it can then be taken outdoors.
Alternative Bouldering Pads For Home Climbing Walls
You have a few different options but all have various up and downsides. The basics are a minimum of 4″ polyethylene foam padding, though we'd suggest 5 or 6″ minimum if you'll be using your wall a lot so you get a long lifetime of use.
You should try to go for a firmer, closed-cell top of around 1-2″, then 3-6″ of open-cell foam. You can firm that up again by adding another thin layer of closed-cell foam on the bottom. This is what a gym setup tends to look like, and this is what most commercially made home pads and thicker gymnastic pads look like.
You'll also want a cover. Climbing gyms and pre-made pads use a type of thick vinyl that's either sewed or heat-bonded together. Covers can actually be the harder part of the build. It's tempting to go without but foam breaks down quite easily without protection and it's not worth it once you see the damage.
Multiple Cheap Pads – The Mad Rock Mad Pad is a simple 48″ by 36″ pad that can be velcro'd together. Two or four of these could be much cheaper than DIY or other pre-made options. It can be taken outdoors too.
Do It Yourself – You can buy your own foam and make your own covers.

Foam – Places like The Foam Factory and others sell open and closed cell foam in different thicknesses and sizes. You can buy full sheets and cut them yourself – or preferably get them to cut it to your preferred size.

Pre-made Pads – Various companies make pre-made pads with tough vinyl covers. Asana do their own drag pads in various size but shipping can be alot. Zebra Athletics do something similar.
Pre-made Covers + Your Foam – You could buy a couple of pre-made covers from Asana and put in your own foam.
Old Gym Mats – Local climbing gyms have to replace their matting every so often. You might find that a single section of a big old commerical pad ( they're often 8-10″) is more than enough for just you at home.
Memory Foam Mattreses – In a pinch, used memory foams mattresses will work as a budget option. Make sure they aren't blown out or too flat, and avoid any with springs.
Whatever you do, please don't use traditional spring mattresses or thinner 1-3″ gymnastics pads. You'll regret using both and probably get injured.
Bouldering Pads Compared
---
What Is A Bouldering Crash Pad?
When you fall, you want to land on something soft to stop injuries to your body and feet. At its simplest, a bouldering crash pad is a thick slab of foam layers with a tough, tear-resistant cover. Nearly all pads will have a rucksack-style set of shoulder straps and at least one carry handle.
Because of their size, most bouldering crash pads will fold up to a smaller size and secure with a locking strap. Optional extras can include a top carrying handle, velcro areas for attaching multiple pads, and pockets for stashing gear. Some pads have an extra fold-out or detachable mat for starting routes or cleaning shoes.
The aim is to always have the pad right beneath you. You should land on it with your feet or body with the aim being to protect either your ankles or head first. Positioning the pad correctly, maybe having a friend (spotter) move it around, or push you to the pad are all very important
Do You Need A Crash Pad To Boulder?
When you are bouldering outdoors, you definitely need a crash pad. It's just not worth going without one because of the risk of an ankle injury and a terrible hike back to find help.
Back in the day, boulderers used towels, beer mats, or just a few cushions. Those were mainly for sit starts and wiping feet plus a tiny bit of protection – but injury was common. Shoes have almost become tighter and more likely to lead to injuries in a fall.
In some areas like Fontainebleau, you'll see old-school climbers known as "Bleausards" using just a beer mat and some pof (sticky pine resin). It's still not a great idea but the ground is sandy and they'll have done circuit hundreds of times before.
Bouldering Crash Pad Buyers Guide – Top Tips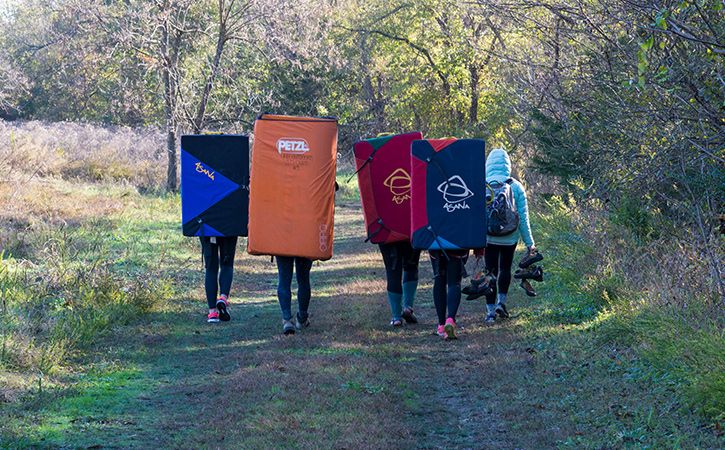 Check a few pads out at a shop to get an idea of size, weight, and features
Get a pad big enough for you but not so heavy and bulky you won't take it
Get the right style of hinge for the areas you use – Consider pads like the Mad Rock R3 or Petzl Alto for uneven ground
Don't cheap out on foam if you want it to last – or to protect you
Don't buy a regular gymnastics pad or a kids foam pad, and don't use an old second hand pad unless you know it's still firm
Consider an extra, small pad for sit starts and covering deadspots – The Metolius Shortstop is a good buy
A spare beer mat or old towel is a cheap way to clean shoes and avoid standing on dirt
Buy different styles of pads as a group to get a good mix if you boulder often with the same crew
If you mostly do one style of bouldering, get the right mat to suit you
Looking for great climbing gear without the fluff?
Read our unbiased, professional guides
– Best Climbing Shoes
– Best Beginner Climbing Harness
– Best Climbing Rope
– Best Beginner Climbing Rope
How Thick Should A Bouldering Crash Pad Be?
Bouldering crash pads are normally 3 to 4 inches thick. Some "fat" pads come in 5 inches or more for more protection in larger falls. Thinner pads of 1 to 2 inches are available – though generally used for sit-starts with a larger pad under the crux. Thin but wider area pads can be used as a cover over a larger area to fill in gaps.
A general rule is a minimum of 3.5 inches. If you climbing in an area with a lot of highballs consider a thicker 5″ pad or stack pads together. Most pads also open up so replacing the foam is possible. Some manufacturers like Organic sell completely new replacement foam pre-cut.
How To Be A Great Boulderer?
Going outside on real rock for the first time? It's a very different game outdoors. These are the most important things you need to know about being a great boulderer out on real rock: –
Buy a bouldering brush

Climbing on dirty holds wears down the rock. Brush holds before you climb to remove grit, save the rock, and get better friction.
Once you've climbed, remove all chalk and tick marks you've made. The rock should look natural before you leave.

Don't go off trail – Trails are set up so only one line of nature is removed. Going off-trail or making new trails can destroy habitats and lead to access problems for everyone.
Take more trash out then you brought in – Taking out your own trash is the bare minimum. We all make mistakes and drop or forget things, so make up for everyone's totally human mistakes by taking a few more things you find out with you.
Don't leave food – Sandwich crusts, banana skin and orange peel should all be packed and taken home. You'd be surprised how long they take to break and what impact they have on local ecosystems.
Take up less space – Large areas around popular boulders get decimated, try to keep your pads and footfall close to the boulder.
Know your area – Most areas have specific restrictions or etiquette. Some areas are closed for certain times, or ban camping or fires in certain spots. Have a quick google, check your guidebook, or ask in the local facebook group before you travel.
Beware wet rock – Climbing on some type of rock – like sandstone – when it's rained in the last day or two can destroy holds. Check the local beta before you get named and shamed without knowing better.
Tunes – Consider leaving the bluetooth speaker at home. If you're totally alone, sure. If there's anyone near you, assume it's annoying them.
How Big Should A Bouldering Crash Pad Be?
The standard size for a bouldering crash pad is around 45-50 inches on the long end and 35-40 inches on the short (115-127cm by 89-101 cm) but most pads will vary. If you are a frequent boulderer and often go out alone to repeat projects, you'll want a bigger pad to cover your falls when no one is around to move it.
Size is really up to you. The most important thing about a bouldering safety mat is that you use it. If it's too heavy, or too large to fit in the car you might be tempted to leave it behind. Make sure you can happily carry the pad with all your extra gear and lunch.
What Type Of Bouldering Pad Should I Get?
There are two main types of bouldering crash pads – two-part folding pads with a split seam down the middle, and continuous "Taco"-style pads that fold without a split. You can also get bigger triple pads with two folds.
Where the two halves join – the hinge – is important on pads as the seam can leave a gap or "gutter" where there is no protection. In basic folding mats where the foam is cut in half at a straight angle, it is possible to land in the middle and cause the pad to fold up. That could result in your foot or body hitting the hard ground below, or the pad moving or sliding out of your fall zone.
There are various solutions to this problem. Most flat hinge pads use velcro in the hinge or a strap along the bottom that keeps the two sides together. Some use a strap across the bottom of the pad. Some manufacturers create an angled hinge to alleviate the gutter problem and some have also tried a "step" style hinge that has the same effect.
Taco pads and pads like the Mad Rock R3 avoid this altogether but can be harder to fold and carry. They also need a little time to expand in the middle once opened for the first time in a while
If you commonly boulder on uneven terrain where there are many rocks or hazards under a fall, consider buying a taco-style pad. If not, make sure you choose a pad with a good joint like a velcro and strap combo.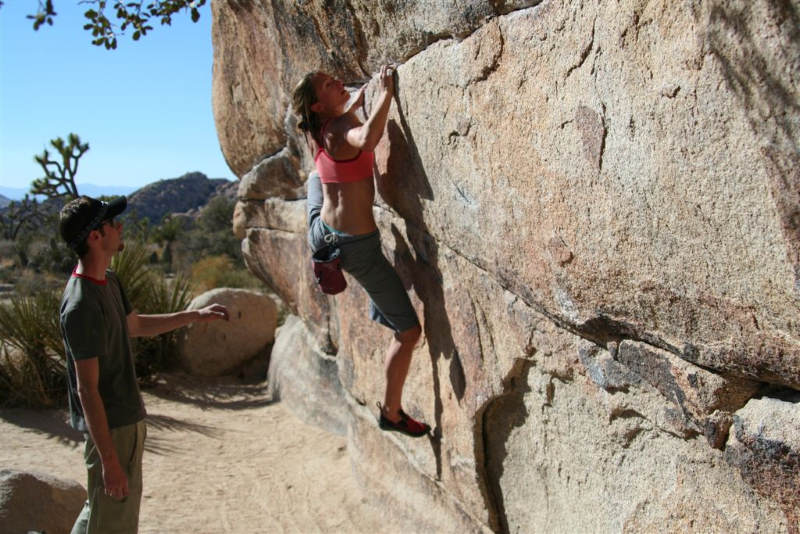 What Foam Is Used In Bouldering Mats?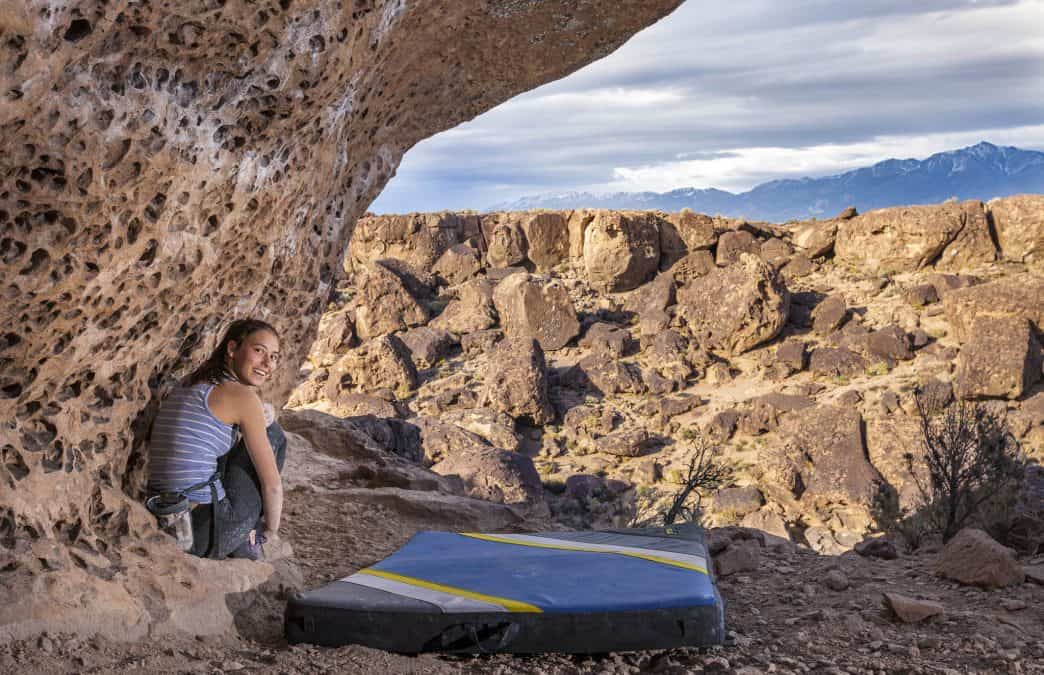 Most pads come with two or three layers of polyurethane foam. They generally use a mix of layers using open-cell or closed-cell foam which have different hardnesses.
The open-cell foam is softer and lighter and is designed to cushion the fall – like sitting back into a couch. It's normally on the bottom or middle of the pad's layers. The closed-cell foam is a more dense, hard, and heavy foam that does the job of spreading the force of the impact.
You might think a softer pad overall would be comfier and easier to land on. However, the hardness of the foam and how long it stays hard are important for actually stopping injury. If you have a cheap soft pad, a pad that's too thin for the height of the fall, or an old pad that's lost its firmness, you risk completely compressing the foam and hitting the ground hard.
A good quality pad like the will have high-quality foam that makes for a good mix of durability and weight. Cheap pads commonly use chemicals to make a cheaper foam harder. This foam can break down faster – leaving you no choice but to get a new pad or risk injury.
How To Fall? Where Do You Land?
You are mainly trying to stop your back and feet from hitting the floor. Ideally, you'll want to land with both feet on the mat with your knees bent – like indoors. However, due to the differences in outdoor bouldering, you'll often find yourself in sit-starts and will mostly fall on your back.
This video is a really good introduction to outdoor bouldering from a pair who are prolific boulderers. Take a look at all the different pad positioning, depending on the area, terrain, and possible fall hazards.
How To Cover Dead Spots Under Boulders?
Use as many pads as you can. Small auxiliary pads like the Metolius Shortstop are great because you can take one or two to protect your ankle on low slips where bigger pads won't fit.
How Many Crash Pads Do You Need For Bouldering?
Depending on the area and the bouldering you are choosing, you might need more than one crash pad. If you are bouldering alone you should be able to carry two pads with a bit of effort. A larger tri-fold pad like the evolve Home or a wide single-fold pad like the Black Diamond Mondo are also good options for just one pad.
If you boulder in groups a lot you can pool your pads and create a large landing area or a stacked area under a high fall. Consider "satellite" pads, usually thinner but larger area pads that cover gaps between mats, and are helpful on very low routes with little ground clearance.
Of course, how many climbing crash pads you need will all depend on what type of bouldering are you doing: –
Solo Boulderer – One standard pad with decent thickness and width should cover most options if you are bouldering alone
Highball – Consider a very thick and wide pad plus an extra standard size, or two or three satndard pads to cover a large area. Double up on the main landing zone and have spotters around to help reposition when needed
Lowball or Cave Problems – Consider two pads to cover more ground
Rocky or Uneven Ground – Try one or two pads with a thin, wide pad to cover breaks between mats. Taco pads can be good here to avoid folding. You may also need some spare rope or slings to secure pads so they don't slide around
Slab Boulders or Tight Spaces – Invest in a thin pad to wedge against the bottom or slab routes or to put against the other side of a boulder in a tight space. Common in places like fontainebleau
The most important thing about a bouldering safety mat is that you use it. If it's too heavy, or too large to fit in the car you might be tempted to leave it behind.
How To Avoid Bouldering Accidents Outdoors
Before you buy: consider how you fall. Most bouldering injuries with a mat come from things like rolling an ankle, or awkward landings. If you fall foot first on the edge of a pad, you run the risk of twisting your ankle as your foot moves from a high and hard big of foam to the ground.
Softer edges can help and extra mats can fill in, but consider how you might fall before every route, think about:
Positioning – Consider how you'll fall. Will you slide down feet first or fall backwards?
Ankles First – Think about where your feet will hit the floor and don't risk any empty spots because you can't be bothered to move a pad.
Hazards – Are there hard roots or rocks you need to cover up? Is there a rock or boulder behind you that your head might hit? Try a thin pad.
Moving Mats – Have a friend move the mat as you move and have a plan before you start. Make sure they don't get hit by you falling as they try to help!
Learn To Spot – Spotters are supposed to protect your head first by catching your head if it's heading towards a rock or the floor. Then their aim is to push you (with flat hands) towards the mat as you fall – not to catch you.
Land Flat – Don't put your hands out behind you, this can lead to wrist and elbow injuries. Instead, land with your back or butt flat on the mat.
Best Bouldering Mat Materials
Most pads come with a durable outer layer of fabric, often a 600D or 1000D (high denier, higher numbers for higher weight means it is more durable) nylon. Cordura is a brand of fabric that is renowned for being very tough, and as it's used for military purposes is often referred to as "ballistic" fabric. Kordura is another brand offering similar material.
Good fabric and good stitching will keep your pad from tearing or wearing out. Some pads have reinforced corners and edges, or rubber bottoms (like the Black Diamond Mondo) to stick to rock and repel water.
You might also want to move rocks or cover up sharp roots under a pad's landing to save some wear and tear. Pads get dragged around a lot and a fall accompanied by a "pop" of a rock going through the fabric of a new pad is common.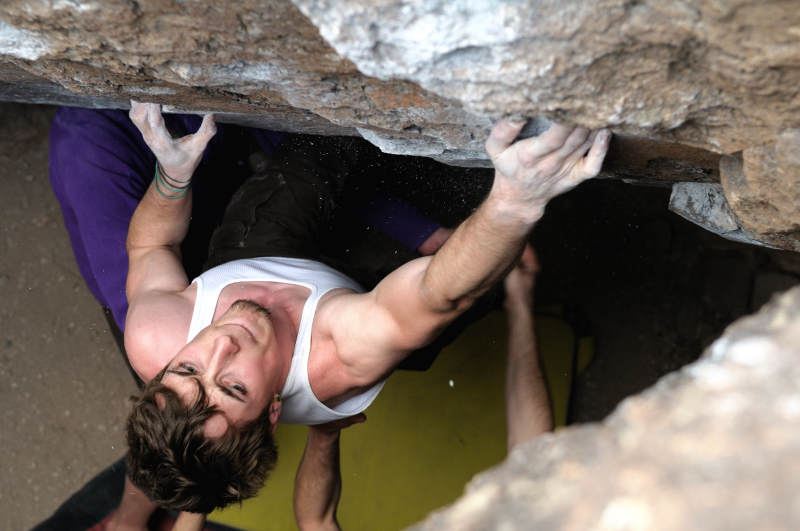 How To Carry A Bouldering Crash Pad?
Bouldering crash pads strap to your pad like a normal backpack, and you can normally bundle two together. Then you can put a small backpack on your front to carry in your shoes, lunch, chalk e.t.c. Some pads have little stash pockets. With most, you can just stuff things into the folded middle.
A big bulky crash pad that won't stay on can ruin an approach. Look for padded straps, plus chest and waist straps to keep the pad in place. A side handle is also helpful for carrying short distances from boulder to boulder.
Some pads can be bought as a set and carried together and attached as one big pad via a velcro system ala the Mad Rock Mad Pad and the rest of the mad rock line. Often you can strap two different styles of pads together if one has a carrying flap and strap – like the Metolius and Evolv pads.
What Features Should A Bouldering Crash Mat Have?
Pockets can be really helpful if you only have a few things to take into the crag but be sure you need one before shelling out extra. Make sure you take items out before climbing if you don't want to stand all your weight on house keys and an expensive phone. Most people just put a backpack on their front to take in the essentials.
A sturdy closure system is important. Plastic buckles can break, and a badly designed closure can mean the pad opens while walking or gets caught. Multiple strong metal buckles can help and some pads include a zip the entire way around the pad or a clever velcro system.
The pad should also have a strap or velcro system than keeps the pad straight when opened out – especially important with a flat hinge. When you land in the middle seam of some cheaper pads, the whole thing closes up like a book, which can lead to your ankle hitting the floor.
Good grab handles make a day out in an area so much easier. Being able to grab a corner handle to move a pad to the next problem in an area like Fontainebleau is so helpful.
A "welcome mat" is a thin carpet fabric used to clean shoes or to stand or sit on when beginning a route. The Evolvs and Metolius pads have these built-in.
Thin "auxiliary" pads like the Metolius Shortstop are for the in-between jobs. Great for fit starts, adding a little extra padding, or covering areas in between pads.
Bouldering Crash Pad Terms Explained
We've used a fair few bits of bouldering slang so we should probably explain them first
Highball – A very tall boulder problem that could result in a nasty fall. Any boulder above 15 feet is generally considered a highball but they can be much taller
Lowball – A very low-to-the-ground boulder. Generally a sit start that finishes fairly low to the ground.
Sit Start – Starting with your butt on the floor and lifting your body up to start. Some boulders have a stand start and a harder sit start.
Sending / Topping – Finishing a route. Some routes end at a specific hold, some require you to mantle and stand on top!
Mantle – The tricky part of bouldering where you climb over the lip of the route to get on top. Like pulling yourself out of a pool.
Dab / Dabbing – When your feet "dab on the floor as you climb, or on other holds indoors. Basically a little cheat. Not the other thing…
Spotting / Spotter – A person who helps to stop a boulderer from falling on a hazard like a rock, or pushing them to land on a pad safely. Also responsible for bringing the hype and tune selection.
Project – A boulder you've been working on for a while. You might project a route for a few weeks or years, coming back and dialling in each move, aka….
Beta – The beta is the specific set of moves you will do, how you'll hold the specific hold, what body position you need e.t.c. Beta is different for different people and depends on your body type, strengths, and style – Read What Is Climbing Beta?
How Long Do Crash Pads Last?
With regular use, you'll get from 2 to 5 years out of most bouldering pads. It's definitely possible to make them last longer if you store them in a nice, dry place and wash the covers in warm water once or twice a year. If you really hammer the pad in an area with rocky terrain you'll find it won't last as long.
Climbing crash pads can get wet but you absolutely shouldn't leave them in puddles or let them stay wet. After a wet day, take the cover off of your pad and let them air out in a breezy, dry area. If you don't they'll get moldy and break down.
You can wash bouldering crash mat covers in warm water with a tiny bit of washing liquid or powder. Hand-wash or use a very short machine wash at a low temp. Anything more can risk ripping seams. It's pretty hard to wash the actual foam but you can wipe it down or leave it wrapped in towels to absorb moisture.
Can You Rent Bouldering Crash Pads?
Yes! In the popular climbing areas, you'll often find a pad rental service for $10-20 a day. Google it, or ask at local gyms and gear shops. Fontainebleau has a couple of services that rent out pads, as do some of the campgrounds and airbnbs. Plenty of areas in the US offer pad rental from gyms and shops.
Can You Sleep On Bouldering Mats?
Years of dirtbagging experience says you can sleep on a boulder mat in a van or when you're camping. However, they're not that comfy. That goes even more so when they're newer and stiffer.
You'll also wear down the pad pretty quickly if you use them constantly. A few weekends a year isn't a problem though.