Seb Bouin has repeated Bibliographie, a 9b+ route in Céüse. This route now has four confirmed top-outs and continues to draw the world's hardest climbers.
On the first weekend of June 2023, Seb Bouin managed to clip the chains. He said in a post that "Bibliographie was a big goal for me this year. Since Alex did the first ascent, I was psyched to try something really hard from someone else here in France. Even if Céüse is very far away from my own natural climbing style"
The route is very crimpy. At 35 meters (115 feet) it isn't the longest of the world's hardest, but the two cruxes being separated means it's a tough nut to crack. Being able to get through the lower crux, then into more endurance climbing – means the top crux threw Seb off over and over.
That's a similar story to Sean Bailey who said he fell off on that top part "12 or something times" when going for his redpoint attempts. Seb says he fell off 11 times.
Having completed it he says "Bibliographie is not a route that particularly suits my strengths, so it was a great challenge to do a 9b+ on tiny crimps. But now it's time to go back to something a little more my style…"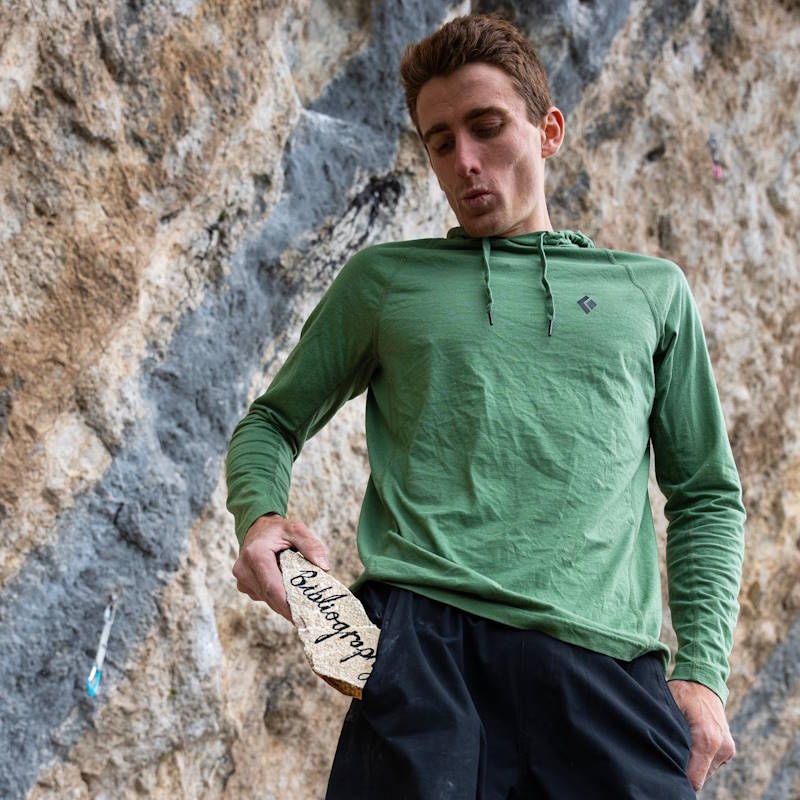 Bibliographie – Most Repeated 9b+
Since Bibliographie was first sent and proposed as a 9c by Alex Megos – it caused waves across the sport climbing world. Being in such a popular area and next to the historic "Biographie" (also known as "Realization") 9a+, we were always going to see climbers give it a try.
Alex Megos climbed it first back in November 2020 after many sessions split up over multiple years. He gave it the grade of 9c, which at the time would have been the second 9c ever after "Silence" 9c. That monumental new grade was set by Adam Ondra in 2017.
Just a year later both Stefano Ghisolfi and Sean Bailey made the first repeats in quick succession. Seb Bouin has been trying Bibliographie on and off and was even belaying Ghisolfi when he finished the route.
Despite the route being such an obvious challenge for Seb, his focus was on another route at the time of those repeats…
Seb Bouin's Recent Routes
Seb has really been on a tear in the past couple of years. In 2022 he proposed a new 9c "DNA". The route is massive at nearly 50 meters long, and situated at the famous Verdon Gorge. It has seen a few of the world's best take a look, but no serious projecting.
It was long thought that Seb would put out his own serious route of the highest level. With "DNA" he did that.
It was followed shortly by him climbing "Change". This was previously given 9b+ by Adam Ondra on his first ascent. Seb gave it a personal grade of 9b, but Stefano Ghisolfi (the only other person to climb it) thinks it's 9b+.
They both climbed it with a knee pad and Ondra didn't use one. Wearing a knee pad or not on climbs at this level seems to have a large impact on grading where rests with a knee make a difference. Seb also then climbed "Move", another Ondra route in the same cave that was a 9b, but Seb thinks is 9b+.
Later in that same year, Seb made the first ascent of "Suprême Jumbo Love". This was an extension of a Sharma route "Jumbo Love" that Sharma had worked on but abandoned. Seb brought it back to life and gave it a grade of 9b+.
That means Seb Bouin now has three consensus 9b+ routes and a possible 9c under his belt. That puts him at the very top level. Given his hints, we think another might be on the way…
Header photos courtesy of Clarisse Bompard