Sick of the crusty hire shoes at your gym? If you've just started climbing and have the bug, you'll want your own shoes sooner rather than later. We've rounded up our absolute favorite beginner climbing shoes plus a full guide to the "need to know" info.
Climbing is an amazing hobby and super fun for beginners as you learn new skills fast. When you start, the most important first bit of gear will be a pair of climbing shoes. Because they're so different from what you'll be used to wearing, it's important to your time to figure out the right fit and the special things you'll need to look for.
First off we'll present our favorites for the best beginner climbing shoes 2023 with some updated classics and new entries to the market. We've also written a really comprehensive but easy-to-follow buyer's guide below. It's definitely worth a read and will really help you get the right shoe for you in the right fit.
In A Hurry? Our top picks for the best beginner climbing shoes at the cheapest place to buy online.
– Overall Best – La Sportiva Tarantulace
– High End – La Sportiva Finale
– Excellent Vegan Shoe – Evolv Defy
– Best Design – Black Diamond Momentum
– Best Budget Beginner Climbing Shoe – Mad Rock Drifter
Choosing and Buying Your First Pair
It's totally possible to get a great pair of beginner climbing shoes for under $100 that will last a long time. Having said that, make sure you get the right pair the first time. The best pair of climbing shoes for beginners is subjective but we would always recommend either: –
Buying a few pairs online from a retailer with a good return policy, so you can try the sizing at home and return ones that don't fit.
Support your local climbing store. Stores often have good walls for testing a few pairs and gyms now often have stores that allow you a good amount of in-house testing. If you find the pair you like you can often get them price-matched (or a small reduction vs online) and you'll support your community.
Best Budget Beginners Climbing Shoes 2023
Our Top Pick – Best Beginner Climbing Shoe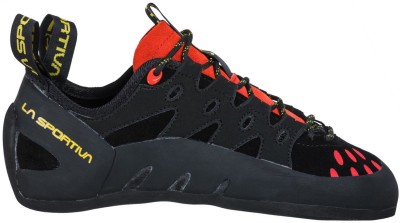 | | |
| --- | --- |
| Rubber: 5mm FriXion RS | Downturn: Flat |
| Shape: Straight | Closure: Laces |
| Stiffness: Stiff | Sizing: One to 1.5 sizes down |
The Tarantulace are the most popular beginner climbing shoes for a reason. These synthetic lace-ups fit many foot shapes comfortably, give decent performance, and fit a budget. Available in both men's and women's, plus a newer velcro style called the Tarantula in men's or women's too.
They're fairly stiff and supportive which will help with reducing any foot pain from small holds. The inner is soft and comfy, with a roomy toe box for no painful toes. The rubber is sticky but fairly tough and is built to last beginners a little longer on sandpaper gym walls.
The excellent design has been touched up only slightly in the past couple of years. New colorways have been introduced, as well as Men's and Women's versions. You can't really go wrong with these as a first climbing shoe.
Best Beginner Climbing Shoe For The Money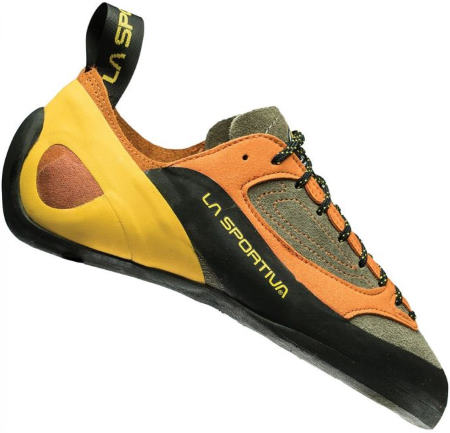 | | |
| --- | --- |
| Rubber: 5mm Vibram XS Edge | Downturn: Very slight |
| Shape: Straight | Closure: Laces |
| Stiffness: Medium | Sizing: One to 1.5 sizes down |
La Sportiva have a really great lace-up offering here that fits snugly and perform equally well on edges and smearing. It's a little more tuned to performance and comes at a higher price point. If you can spring for this shoe then go for it.
They still have good comfort and a toe-box that isn't crammed in. These differ from the Tarantulaces in that they're a little softer, which is good for a bit more versatility and feel on smaller holds.
Featuring a soft leather upper with a comfy breathable tongue. A good all-rounder for slabs and overhangs with a thick 5mm rubber that will last well and perform great. Suitable for both outdoors and indoor gym climbing.
Available in Men's and Women's with the latter being a narrower fit with a smaller heel size.
Excellent Vegan + Budget Beginner Climbing Shoes
| | |
| --- | --- |
| Rubber: 4.2mm Trax SAS | Downturn: Flat |
| Shape: Slightly asymmetric | Closure: Double velcro |
| Stiffness: Stiff | Sizing: Half a size down |
For a long time, these were the top-selling starter shoes. Still a top contender for the best beginner climbing shoes – if you can try a pair out you should. The Defy is a brilliant mix of comfort and performance at a great price point. They've been updated each year with small refinements and they're still a really amazing shoe.
The shoe features an all-synthetic build and vegan glue – so they're completely vegan. The split tongue is padded but perforated for airflow. The rubber is Evolv's highly rated Trax SAS. It's molded to be thicker in the high-use areas so will last a little longer.
Best New Tech + Looks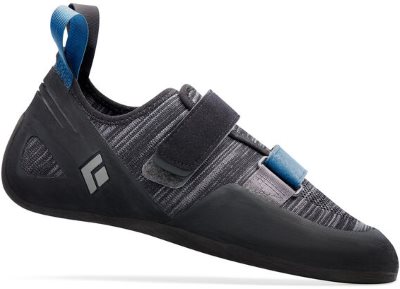 | | |
| --- | --- |
| Rubber: 4.3mm NeoFriction | Downturn: Flat |
| Shape: Straight | Closure: Double velcro |
| Stiffness: Soft | Sizing: Same as street shoe size |
Black Diamond have been making amazing climbing gear for yonks – but never shoes. In the last few years, they've released a range of shoes that feature some awesome new technology and looks. The Momentum is their beginner shoe and it's a fast seller for a few reasons.
The main features are a completely molded rubber instead of a traditional shoe built. It also features a woven synthetic upper like modern street shoes. This means it's super breathable as well as being soft and comfy.
It has BD's new rubber formula for a mix of durability and stickiness. This is the softest shoe of our picks, so it will flex more for more dynamic moves and indoor bouldering. You don't have to size down like other shoes – just go for the same as your street shoe size for this one.
Again available in Men's and Women's, as well as a laced version and a single velcro strap kid's version. These are a great pick for your first climbing shoes.
Best Beginner Climbing Shoe On A Budget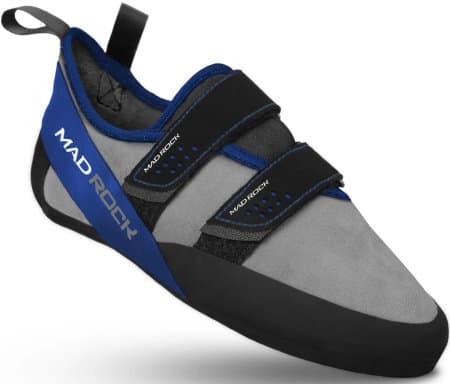 | | |
| --- | --- |
| Rubber: Science Friction | Downturn: Flat |
| Shape: Slightly asymmetric | Closure: Double velcro |
| Stiffness: Medium | Sizing: Same as street shoe size or half a size up |
Mad Rock gets big points here for a shoe that can be found for as little as $60 but offers good performance and comfort. Similar to the others it's got a flat shape, a roomy toe-box, and a padded tongue.
This is a medium-stiff shoe so it's decent as an all-rounder for edges and slabs. As a budget beginner climbing shoe this is a good offering and can even be found on sale for as little as $60.
---
So there is our exhaustive guide to the Best Beginner Shoes. If you want to jump straight into some more advanced shoes, we have a really in-depth article on what shoes professional climbers like Adam Ondra, Alex Honnold, and Tommy Caldwell wear. We also have a full in-depth article on just Alex Honnold's climbing shoes.
We've recently published another similarly in-depth article on the best beginner climbing harness and best beginner climbing rope. If you are thinking about going outside bouldering for the first time, we've got an in-depth article on the Best Bouldering Crash Pads, and a list of our faves for the Best Beginner Bouldering Crash Pad.
Keep up to date on the latest climbing news by bookmarking our page or following us on facebook, instagram, and twitter. Plus we have a yearly round-up of the best black Friday climbing gear sales.
Beginner Climbing Shoes Buying Guide
Some people would say it's not worth getting a basic beginner pair of climbing shoes. Instead they say you should for a mid-range or more aggressive shoe to start working on harder grades faster. We disagree.
We think a good pair of beginner climbing shoes is a much better idea for the following reasons: –
Climbing shoes are meant to be worn very tight. Until you are used to that, you won't know how tight your shoes can go and how much shoes normally stretch. A common complaint for newer climbers is that your first pair feels super tight for the first few climbs but then a month later they are too loose. The best beginner climbing shoes are ones that you will actually wear!
Your feet take time to adjust. If you've spent a lot on a great shoe that is then too loose, there isn't much you can do. If that pair is fairly cheap then it's not too much of a problem and you can wear socks to pad them out. On the other hand, getting an aggressive shoe that is too tight – as you don't know what your foot can handle – can be a nightmare.
If you get into climbing big time and move on to more advanced and expensive shoes, you'll still have a pair of comfy and half-decent rock boots to use on easier climbs or multi-pitches where comfort is important. Having this extra pair you can do some scrambling in – without worrying about wearing through expensive rubber – will be helpful later.
Rubber on climbing shoes wears out fast. It's made for grip and not for long-term use. When you are new to climbing you'll tend to be imprecise with your feet. Scraping them up walls, re-arranging lots on grippy footholds, and using them a bunch will wear off the rubber much faster than usual. Beginner shoes tend to have more rubber on the soles and in key areas like the toe box for this reason. This means the shoes will last much longer and won't need to be retired or resoled as fast as a more expensive, mid-range pair.
Comfort is really important when you are starting to climb. You can injure your feet and hurt your toes really easily at first, and climbing in cramped shoes makes this much more likely to happen. As you get used to the tightness and know more about your foot shape you'll know what to look for in the fit of your next shoe.
If you enjoy climbing a couple of times a month in a more social setting, then a cheap and comfy pair of shoes will be much better in the long term. If you find out that climbing isn't for you at all, you haven't blown a huge amount or can sell/pass them on to other beginners.
Climbing shoes can be really expensive, don't blow a couple of hundred dollars on something you might end up not using. Especially if that money could be better used on other climbing gear you'll need.
Climbing shoes can be really expensive, don't blow a couple of hundred dollars on a pair that won't fit next week or that you might end up not using at all!
Sizing, Fit + Sensitivity
Fit is the most important thing to take into account when buying shoes. There are many different shapes of feet, heel sizes, arches, and levels of comfort people are happy with.
Climbing shoe sizing depends on the brand, but a good rule of thumb is to go at least half to a full size (Euro size) smaller than your street size. Most outdoor retailers have a sizing guide function. Also, read reviews to check sizing in the longer term as some shoes stretch more than others.
"Volume" means how big your foot is. Some shoes have a low volume (commonly LV) version or have a men's and a women's shoe, with the women's being the lower volume. This will mean a slimmer shoe with a smaller heel fit. If your feet fit different gender sizes then give them a try.
Sensitivity is how much you feel when climbing based on the thickness and type of materials used. This is up to you and worth thinking about and testing before buying. If your shoes don't fit and you hate the feel – you won't enjoy climbing.
Stiffness and Downturn / Aggressiveness
Most of the best beginner climbing shoes we'd recommend here will have a fairly flat profile – not aggressive. This means the toe won't be downturned much if at all. Some downturn is common on mid-level shoes and tends to be better for harder sport routes at the price of comfort. Very aggressive or down-turned shoes perform well on overhanging routes where hooking a toe or heel is helpful.
Shoes can have a stiff sole or body which means when you put pressure on a hold, the shoe stays rigid. This helps when all of your weight is focused on a tiny point, so your foot and leg muscles can do less work (and feel less pain).
Softer mid-soles are better if you prefer smearing the toe box on walls while keeping your heel high. Soles could be one long stiff piece, two pieces that connect, or two completely separate pieces for a good flex in the middle
Material and Lining
The material of these shoes varies. Leather and natural materials on the upper will stretch a fair amount, often a half to a full size. Synthetic material stretches less but tends to absorb sweat smells more. Some shoes use a more modern synthetic "knit" that is very breathable and fairly stretchy, though doesn't stretch much in the long term.
If the shoe is lined, that means the shoe has an extra inside layer to try and keep the shape the same and stop the shoe from stretching as much.
Rubber
Harder rubbers work better on small edges and softer rubber works better for smearing. The harder the rubber the longer it will last. We'd also recommend a slightly thicker than normal rubber for beginner climbing shoes for a longer last. You'll want something in between the two for now, and all of our recommendations fit this bill.
Closure – Straps, Laces, Slippers, Gaffer Tape…
How the shoe closes is totally up to your preference. Lace-ups generally give the best fit as they allow you to custom fit for snugness and adjust as your feet swell throughout a session or in hotter climates.
Probably the best beginner climbing shoe option is laced or velcro straps. They're both simple, though we'd say velcro is better for indoors and laces for outside where you will wear a pair for longer stretches.
Straps can give a good fit if they are positioned well, and you can get them super tight for a hard problem and have them off in a second. Some shoes are "slipper" style in that they just slip on with a stretchy opening without any way of fastening – though we don't have any in our recommendations for your first climbing shoe here.