Alex Honnold's climbing shoes seem to be one of the most popular searches for people who have just watched Free Solo and want to start climbing. We have a well updated article on what climbing shoes all of the most famous pro climbers wear right here but think that Alex Honnold's shoes deserve their own page.
An incredible climber in many rights – Alex Honnold's shoes vary depending on the terrain, the length (both in terms of height and how long he is on the rock) and the fit that he wants. Being sponsored by La Sportiva means Alex Honnold's climbing shoes come free and he gets the pick of any pair he'd like.
If you are here looking to find "the best" climbing shoes because he wore them, you might be better off figuring out what suits your foot shape and style first. If you are brand new to rock climbing or indoor gym climbing we'd really suggest reading our full guide to buying new climbing shoes. We feature the best beginner's shoes s well as a full guide on what to look for and why.
If you want to just plough ahead we've linked to all the online stores selling these for the best prices. However – please consider going to try these on in person first and supporting your local climbing store.
What climbing shoes did Alex Honnold wear in Free Solo on El Cap?
Alex wore Tommy Caldwell's signature shoes, the TC Pro. He has gone on record a few times saying he uses the TC Pro's and it is clear in the footage from El Cap Free Solo that he used them. The TC Pro's were designed specifically by Tommy for big wall climbs in Yosemite. Performance on slabs when smearing is a must, as well as good stiffness for the big long cracks of the valley.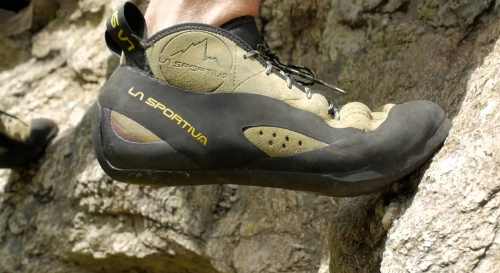 The comfort of these shoes balanced with this performance is where the shoe really shines. It's best to size down enough that when you first wear the shoes they are tight, as the leather of the shoes will stretch up to a size and a half. You can buy the TC Pro's that Alex used in the Free Solo film below.
What were Alex Honnold's climbing shoes on Half Dome and El Sendero Luminoso ?
One of the earlier big breakout solo's for Alex was his ascent of the Half Dome in Yosemite. The famous photo of him stood on the ledge facing out to the nothing below shows he is wearing the La Sportiva Miura Lace.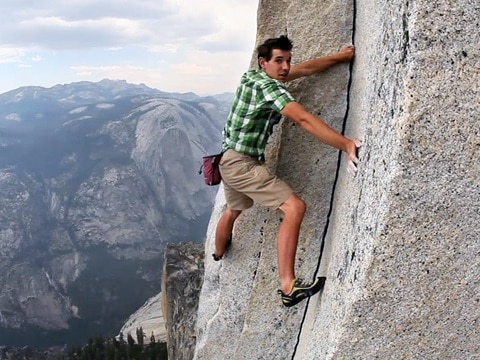 An older favorite for Alex are the La Sportiva Miura Lace. He can be seen wearing these in the North Face mini documentary on this send. Miuras are a great performance shoe, down-turned with a good toe for hooking as well as sharp edges using the Vibram XS Edge rubber. The Miura lace is a laced version which gives a better fit and allows you to wear these on a longer day in a slightly more comfortable size and fit that if you were to go for the easier on/off velcro version.
What Climbing Shoes does Alex wear on hard sport climbs and bouldering?
For bouldering and hard sport climbs Alex is a user of the La Sportiva Solutions. These shoes are well loved by many professional climbers and high performance gym climbers alike. They were one of the first very aggressively downturned climbing shoes. They also use an innovative strap system that gives a very tight fit that is adjustable and specific to the user.
Many other pros like Jonathan Siegrist and Daniel Woods were big users of the shoe. There is a newer updated version out which has almost no changes to this classic except a harder wearing strap system and slight weight reduction. Also available in a slighter slimmer profile with a smaller heel cup as a Women's shoe (also known as a Low Volume or LV shoe) that are fine to use by men with slimmer feet. Alex Honnold's shoes are generally worn fairly tight, so it's common to size down a half to full size over what would be comfortable in rock boots as they will stretch.
You can see him wearing the shoes in the below videos:
What Approach Shoes does Alex Honnold wear?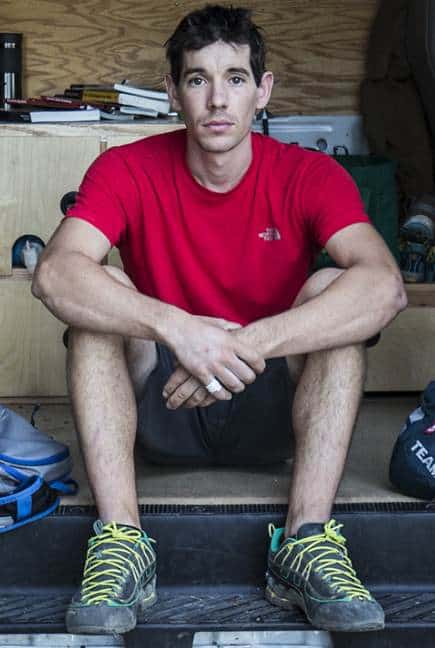 A lot of the big wall solos Alex has done mean you'll need a good approach shoe. Approach shoes are a mix between the comfort, stiffness, and protection that a hiking shoes offers – with the added bonus of a stickier rubber similar to what you'd find on a traditional climbing shoes / rock boot. Alex climbs a lot of easier multi pitches and day outings in just approach shoes – it can be done.
Alex has been seen to use and endorses the La Sportiva range including the TX2 and TX3. These both have a breathable mesh upper combined with the Vibram's Mega-Grip rubber that is seen on the best approach shoes. The TX4 is an updated and heavier duty version of these shoes. Available in both synthetic and leather versions, as well as lower volume Women's version. These are veritable crushers for hard approaches and easier slabs.
What Climbing Harness does Alex Honnold wear?
When he actually wears one, he is known to use the Black Diamond Solution. This harness is a light weight sport climbing design with multi-strand inners for the leg and waist loops, which means pressure on the body is spread over a larger surface.
It also has four molded gear loops that stick out to make clipping easier. The harness doesn't have adjustable leg buckles and eschews anything that adds weight, meaning it a performance-first sports harness for hard sending. The Solution Harness also comes in a Women's sizing which can fit slightly better, it's worth a try.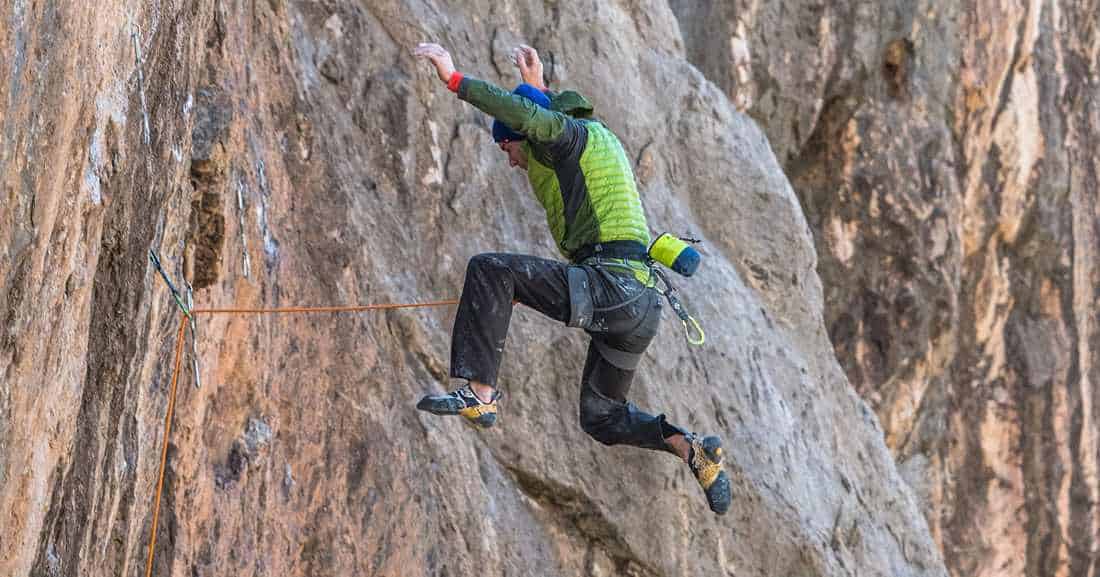 There is also a "Honnold Edition" of the harness, which is exactly the same as the normal harness but in a different color, with Alex Honnold's signature printed on. It costs more but some of the money goes to the Honnold Foundation which is an awesome organization Honnold puts most of his earnings into.
You can also check out our latest climbing gear sales from around the web, updated weekly.