Alex Honnold's climbing shoes seem to be one of the most popular searches for people who have just watched Free Solo and want to start climbing. Our article on what shoes pro climbers wear covers most of the best climbers in the world – but Alex Honnold's shoes deserve their own page.
An incredible climber in many rights – Alex Honnold's shoes vary depending on the terrain, the length (both in terms of height and how long he is on the rock) and the fit that he wants. Being sponsored by La Sportiva means Alex Honnold's climbing shoes come free and he gets the pick of any pair he'd like.
We've also added a big Q&A section with al the most frequently asked Alex Honnold questions. Read more below
Climbing Shoe Buying Tip
– The "best" climbing shoes really depends on your foot shape and the type of climbing you'll be doing. We've got a couple of newly updated articles on the best climbing shoes and the best beginner climbing shoes that might be more helpful. They both have full guides on what to look for in a climbing shoe.
What Climbing Shoes Did Alex Honnold Wear On El Cap In Free Solo?
Alex wore Tommy Caldwell's signature shoes, the TC Pro. He has gone on record a few times saying he used and loves the TC Pro's and it is clear in the footage from El Cap Free Solo he was wearing them. The TC Pro's were designed specifically by Tommy for big wall climbs in Yosemite. Performance on slabs when smearing is a must, as well as good stiffness for the big long cracks of the valley. Almost everyone that climbs in Yosemite wears these.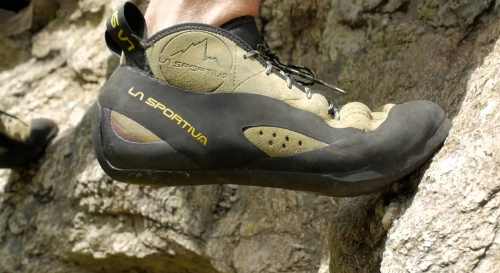 The comfort of these shoes balanced with the performance is where the shoe really shines. It's best to size down enough that when you first wear the shoes they are tight, as the leather will stretch up to a size and a half. You can buy the TC Pro's that Alex used in the Free Solo film below.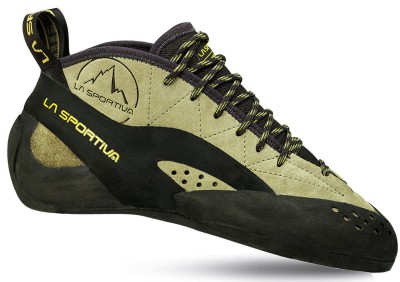 La Sportiva TC Pro – Used by Alex Honnold in Free Solo
What Is Honnold's Shoe Size?
He wears a 46.5 EU (12.5+ US) approach / walking shoe, 41 EU (8.5 US) for hard climbing shoes, and 41.5 (8.5+ US) for a more relaxed fit on longer climbs. EU half sizes are a bit more defined that US sizes so you can get a better fit.
What Were Alex Honnold's Climbing Shoes On Half Dome And El Sendero Luminoso ?
One of the earlier big breakout solo's for Alex was his 2008 free solo of the Half Dome in Yosemite. The famous photo of him stood facing out on the "Thank God" ledge got him featured by National Geographic. That ledge fell off a few years later…
The shoe Alex used for both of these was the La Sportiva Miura Lace. These have been praised for their versatile "all around" style. High performance while still being comfortable, and able to work on overhangs and slabs alike.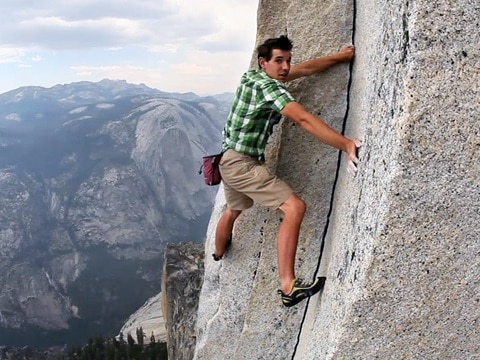 He can be seen wearing these in the mini documentary on Half Dome above and the doc on El Sendero Luminoso below. Miuras are a great performance shoe, down-turned with a good toe for hooking as well as sharp edges using the Vibram XS Edge rubber. The laced version gives a better fit and allows you to wear these on a longer day in a slightly more comfortable size and fit that if you were to go for the easier on/off velcro version.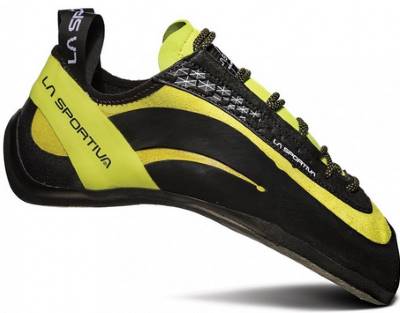 La Sportiva Miura Lace – Worn by Alex Honnold on Half Dome and El Sendero Luminoso
What Climbing Shoes Does Alex Wear For Sport Climbing And Bouldering
For bouldering and hard sport climbs Alex is a fan of the La Sportiva Solutions. These shoes are well loved by many professional climbers and high performance gym climbers alike. They were one of the first very aggressively down turned climbing shoes. They also use an innovative strap system that gives a very tight fit that is adjustable and specific to the user.
Many other pros like Jonathan Siegrist and Daniel Woods were big users of the shoe. There is a newer updated version out which has almost no changes to this classic except a harder wearing strap system and slight weight reduction. Also available in a slighter slimmer profile with a smaller heel cup – sold as Women's shoes but also known as Low Volume (LV).
Alex Honnold's shoes are generally worn fairly tight, so it's common to size down a half to full size over what would be comfortable in rock boots as they will stretch. These were the shoes he wore on his first 9a sport route.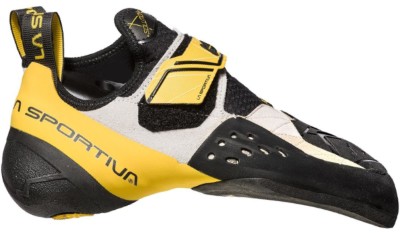 La Sportiva Solution – Worn by Alex Honnold and many other pros for hard sports climbing and bouldering
What Approach Shoes Does Alex Honnold Wear?
A lot of the big wall solos Alex has done mean you'll need a good approach shoe. Approach shoes are a mix between the comfort, stiffness, and protection that a hiking shoes offers – with the added bonus of a stickier rubber similar to what you'd find on a traditional climbing shoes / rock boot. Alex climbs a lot of easier multi pitches and day outings in just approach shoes – it can be done.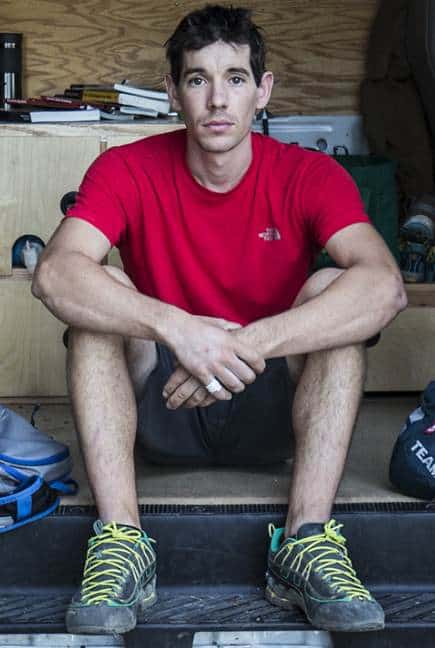 Alex Honnold's approach shoes are generally always the La Sportiva TX range. These have a breathable mesh upper combined with the Vibram's Mega-Grip rubber that is seen on the best approach shoes. The TX4 is an updated and heavier duty version of these shoes. Available in both synthetic and leather versions, as well as lower volume Women's version. These are veritable crushers for hard approaches and easier slabs.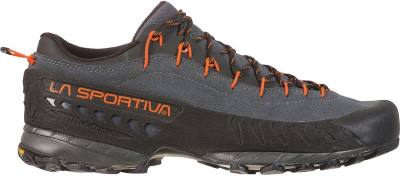 La Sportiva TX4 – Alex Honnold's approach shoe of choice
What Climbing Harness Does Alex Honnold Wear?
Alex Honnold's climbing harness is normally the Black Diamond Solution – when he wears one. This harness is a light weight sport climbing design with multi-strand inners for the leg and waist loops, which means pressure on the body is spread over a larger surface.
It also has four molded gear loops that stick out to make clipping easier. The harness doesn't have adjustable leg buckles and eschews anything that adds weight, meaning it a performance-first sports harness for hard sending. The Solution Harness also comes in a Women's sizing which can fit slightly better, it's worth a try.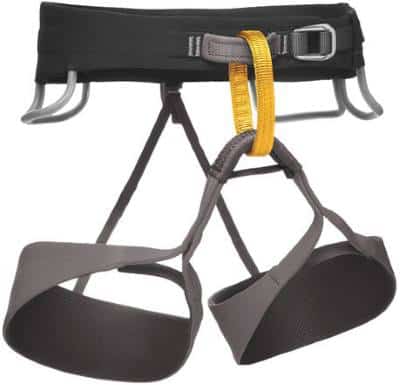 Black Diamond Solution – Alex Honnold's Harness Of Choice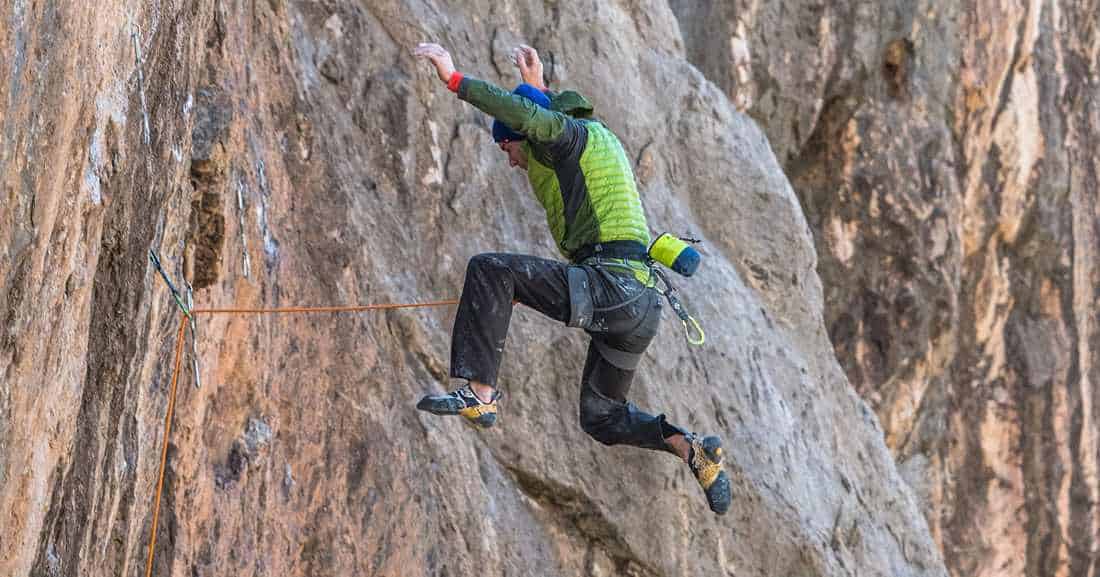 There is also a "Honnold Edition" of the harness, which is exactly the same as the normal harness but in a different color and with Alex Honnold's signature printed on. It costs more but some of the money goes to the Honnold Foundation which is an awesome organization Honnold puts most of his earnings into.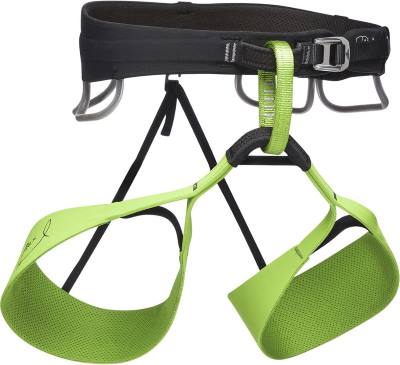 Black Diamond Solution Honnold Edition – Alex Honnold's Harness
What Chalk Bag Does Alex Honnold Use?
Apart from his shoes, the only other climbing accessory Alex used on the Freerider was his chalk bag. As part of his Honnold Collection range with Black Diamond he's released the Freerider Chalk Bag. As a replica of the original it's super lightweight, uses repurposed material, and some of the profit goes to the Honnold Foundation.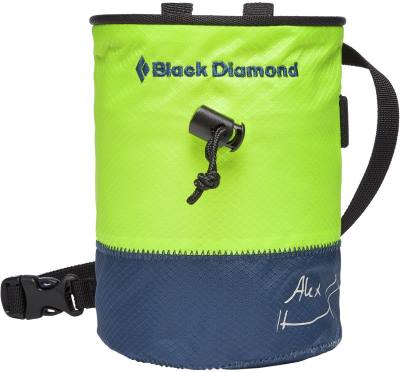 Black Diamond Freerider – Alex Honnold's Chalk Bag
Where To Buy The Alex Honnold Spatula
Yes it's real. After BD saw Alex struggle with his broken spatula in Free Solo they had to help. Now Honnold has the ultimate ergonomic and streamlined tool for free solo success. Plus some of the money goes to the Honnold Foundation – so that's good.

Alex Honnold Signature Spatula
Alex Honnold Questions Answered
What Is Alex Honnold's Height / Weight?
He is 1.8 metres or 5'11" tall. He tends to weight between 155 to 161 pounds, or 70 to 73 kilograms.
Does Alex Honnold Still Free Solo?
Yes, he still free solos. He hasn't done anything quite as big as the Freerider, Half Dome, or El sendero Luminoso but he does still free solo easier pitches quite regularly. Recently he was at Lover's Leap which is a well known easy multipitch that Dan Osman famously speed free solo'd back in the day. Honnold did a tribute to the classic video.
Does Alex Honnold Still Live In His Van?
No, he has a couple of houses in Las Vegas and Tahoe now. He still uses the van pretty regularly for climbing trips though.
When Did Alex Honnold Start Climbing?
He started around five years old when his Mom took him to the local climbing gym. She and later his Dad would belay him up the walls and take him to climbing comps a few years later. He was climbing – with a rope – from a young age and would compete in National Climbing Competitions and the World Youth Championships.
When Did Honnold Start Free Soling?
Around the time he started college he would go out to climb often, but wasn't massively social. He found it easier to boulder (low level climbing a few metres off the ground) or to free solo very easy routes – rather than find climbing partners. It was then he started to gain confidence and would continue into his early twenties.
When he started to visit Yosemite National Park is when the big wall free solos that had been popularized by legends like Peter Croft, John Bachar, and Dean Potter.
How Much Is Alex Honnold Worth?
Some places say from $1.5 to $2 million. He himself said he "might not be far off $2 million". He donates a large portion of his earnings to the Honnold Foundation, it used to be a third back in 2012 when he says he made his first six figure income and in 2017 he has said he gave around $80,000.
He bought his families old cabin in Lake Tahoe for half a million dollars so him and his family could continue to use it. His father and grandparents are also buried in the yard there.
How Much Does Alex Honnold Get Paid?
He has said a few years ago that he made about as much "as a moderately successful dentist". In 2012 he was making six figures, and now it's probably in the range of $200,000 to $400,000. Possibly more – plus appearances for talks and events. He doesn't get any royalties for the Free Solo film.
He is sponsored by North Face who are probably the biggest outdoor activity sponsor outside of a company like Red Bull or Adidas. Any trip or expedition he goes on will have all of the costs, travel, and gear paid for.
Still, he is fairly low maintenance and has said he spends maybe only $2,000 a month on general expenses like eating out, gas, and bills. He owns the Las Vegas house because Nevada doesn't charge income tax.
What Is The Honnold Foundation?
Though he is famous and well paid, Alex doesn't like to hoard money or buy things for the sake of having nice things. You don't often see athletes wearing the same ragged shirt of jacket for years at a time – but see how many videos you can find of Alex in his famous red shirt.
In 2012 he started the Honnold Foundation, giving 1/3rd of his income directly to it. The Foundation funds projects that provide solar energy, off-grid power, and water projects for people who don't have easy access to lighting or electric power. It's a great organization that you can donate to now.
Where Does Alex Honnold Live
He used to live in his van full time, crashing at his Mom's for laundry and a shower every so often. In Free Solo we saw he bought a place in Las Vegas to live with his then-girlfriend Sanni McCandless. They live there primarily because of the amount of good climbing in Vegas and in nearby states.
They also have a place in Tahoe which is again pretty good for climbing, but also for the outdoors trails, biking, and lakes available to explore.
Where Was Alex Honnold Born?
He was born in Sacramento, California on August 17th, 1985. His mother is Dierdre Wolownick, a professor and teacher. She would speak French with her son and daughter at a young age so Alex can speak passable French. His father used to belay for Alex and take him to competitions – though he died when Alex was at
Has Alex Honnnold Ever Fallen?
Yes. In late 2004 when he was 19 Alex hiked up Mount Tallac in Tahoe. He fell slipping on ice and landed in a talus field, breaking ribs and a bone in his hand, with a lot of cuts and other injuries. He called his Mom in a very confused state, and she managed to figure out what had happened. He was airlifted out and made a full recovery.
Also, in recent years he was climbing with his girlfriend Sanni McCandless and family. He was going to climb a 5.9 route called "Godzilla" to put up a top-rope for others. He had a 70m but switched to a 60 to put up someone else's rope instead. No-one checked the length or the height of the climb so when Sanni was lowering him the rope was too short and he fell a few metres – leading to a compression fracture of two vertebrae. He also wasn't wearing a helmet.
Lowering off of the end of the rope is a very common climbing accident and can be avoided by checking the rope and climb length before climbing, tieing a knot in the end of the rope on the belay side as a precaution, lower slowly, and always keeping an eye on the remaining rope as a belayer. It's also both the climber and belayer's responsibilities to check these things. As Sanni had only been climbing a few months at the time and Alex was by far more experienced, he himself says this was more his fault than anyone else's.
He has never fallen doing a free solo since the first early one.
Who Is Alex Honnold Sponsored By?
North Face, Black Diamond, Maxim Ropes, and La Sportiva are the climbing brands that sponsor Alex. He is also sponsored by Stride Health who do life and health insurance. Goal Zero are a solar and battery company that sponsor him and got the solar set up sorted on his van.
He used to be sponsored by Clif bar but they dropped a few athletes from their roster in 2014. They said the climbers and wingsuiters were "taking the element of risk to a place where we as a company are no longer willing to go".
Is Alex Honnold Vegan / Vegetarian?
He sticks to a mainly plant-based diet and would call himself Vegetarian. He doesn't eat meat, and tries to stay away from animal products – though isn't totally strict on this part.
Vegan means no meat, fish, milk or any animal based products. Vegetarian is no meat/fish but things like milk, eggs, and honey (animal products where an animal doesn't die to provide it) would be OK.
Plant-based generally means either of the two, or is often used to mean the diet is based around eating mostly plants and things that grow – but doesn't preclude occasional eating of meat or meat based products.
How Does Alex Honnold Get Down?
Mostly walking down the back of mountains on trails – which is what he did in Free Solo. Climbers are great at finding the hardest possible route on a mountain when there's normally a much easier way. If not, you can set up static ropes and gear hidden in a stash bag at the top of a mountain ready to rappel with.
What Hangboard Does Alex Honnold Use?
In Free Solo, Alex had the Beastmaker 2000 hangboard mounted on the inside above the sliding door of his van – as is the dirtbag tradition. It's a pretty hardcore board, and we'd suggest something like the Beastmaker 1000 or Metolius Wood Grips Delux II instead. They're both nice looking wooden boards with a tonne of variety for holds.
Is Alex Honnold Still With His Girlfriend Sanni McCandless?
Who Is Sanni McCandless?
Alex Honnold's Fiancée Sanni McCandless is a transition coach, event speaker, and event organiser. Learn more about her on her website.
What Route Did Alex Honnold Free Solo In the Film?
He free soloed a variation of the "Freerider" route. It is rated overall as being 5.12d ( the old aid route was graded VI) though the pitches vary in difficulty. The hardest pitches are rated 5.13a and 5.12d.
The hardest single move is the infamous "boulder problem" on the 5.13a rated pitch 20. It's named because it is a short series of tricky moves like you might find on a boulder. The main move is a "karate kick" sequence having the stretch out a leg and move from tiny opposed holds into a finger crack and then a jug. It can be done as a dynamic jumping move but Alex (as would most others) found that a bit much to deal with mentally.
Coming up shortly after on pitch 23 is the "Enduro Corner". Sometimes broken up into two pitches rated 11c and 12b, overall 12d. The whole pitches requires finger and hand jams in an awkward endurance shuffle. After this it get's easier but not easy.
Does Alex Honnold Lift Weights?
Not really. Most climbers practice with climbing a lot of routes in gyms for endurance at a high level, and then using specific moves to practice for certain routes. Outside of climbing most will use a fingerboard regularly, as well as doing core and balance exercises – sometimes weighted.
Who Was The Climber Sleeping In The Unicorn Suit?
REI found him. He's called Tom Evans and he doesn't just sleep in the Unicorn onesie, he climbs in it.
Did Alex Honnold Pee On The Free Solo Route?
Yes, he apparently marked his territory in a few places mid climb. Typically there's somewhere with a bit of vegetation or a tree. If all else fails climbers just pee into the back of a crack if they don't have a bottle handy.
Stasia Honnold – Alex Honnold's Sister
Alex's big sister Stasia Honnold actually went with Alex to climb together on their first day at a climbing gym. She is an occasional climber now and is mainly into long distance cycling and trail running. Stasia joined Alex and Cedar Wright on their biking/climbing/pain adventures Sufferfest 1 and 2.
Stasia runs a great blog Car Free Rambles about her running, cycling, and outdoors adventures. It's definitely worth a read and the articles on integrating fitness, working out, and adventure into life will probably make sense to you as a climber.
Dierdre Wolownick Honnold – Alex Honnold's Mom
Alex's Mom Dierdre Wolownick Honnold is a now retired teacher of languages, who also wrote articles and books, and composed and played music. She used to belay Alex and Stasia at the climbing gym though didn't climb for years.
Diedre took up climbing at 58 after seeing what it did for Alex, and started running at 54 as urged by her daughter. Recently at 66 she became the oldest person to climb El Capitan with Alex, and wrote a book about the experience.
The book is an insightful look into raising her kids and realizing how they were different to others. It's also really insightful into her younger life and her struggles in the marriage to Alex's father. Dierdre also runs and cycles with Stasia too.