Climbing helmets are lighter, safer, and better looking than ever before. Save yourself a trip to the hospital with our picks for the best rock climbing helmets of 2023.
The most important thing about having a climbing helmet is that you'll actually use it. The amount of times we've seen climbers and belayers leaving their helmets on the ground meters from them is insane.
The main reasons people won't wear them are the added bulk, lack of breathability, and purely how it looks. But things have changed. Climbing helmets are no longer bulky eyesores and in fact, look pretty sleek.
No time to read? Our top picks
Best – Black Diamond Vision MIPS
Best Lightweight – Petzl Sirocco
Great Mid-range Option – Petzl Meteor
Best On A Budget – Black Diamond Half Dome
Best For Women – Petzl Meteora
Best For Kids – Black Diamond Capitan MIPS Kid's
Best Climbing Helmet
Black Diamond Vision MIPS
| | |
| --- | --- |
| Weight: S/M 240g / 8.4 oz – M/L 250g / 8.8 oz | Material: EPP foam outer, EPS foam puck, ABS shell |
The Vision MIPS is a new helmet from Black Diamond that has really impressed us, to the point where it's now our favorite climbing helmet to recommend. It blends the latest in safety tech with lightweight materials, with a clever design and simple fit.
The outer is made from lightweight EPP foam to cover the back and sides of the head. With lots of ventilation holes, it's very breathable. Up top, there is a "puck" of EPP foam layered in which helps to absorb force better than EPP alone.
The very top layer is a hard ABS shell that offers more protection and will hold up better long-term from head bonks. You also have an integrated set of clips and a rear strap for holding a head torch.
The biggest draw to this helmet is the addition of the MIPS anti-rotation technology. This adds a thin layer to the helmet that protects against brain rotation on impact. We've expanded further below, but we really think it's worth the extra cost over the non-MIPS version.
In terms of fit, you have two sizes. There is ample padding, a simple front clip, and an easy-to-adjust system at the back for a range of fits. The Small/Medium is designed for 53-59 cm (21-23 in) and the Medium/Large for 58-63 cm (23-25 in) heads.
It only comes in black, which looks great. However, we'd prefer a lighter color version that would absorb the sun's heat less and stand out more in emergencies. You can get a cheaper non-MIPS version so make sure you get the right one.
For the price and the features, the Black Diamond Vision MIPS is the best climbing helmet of 2023. It packs all the safety into a lightweight and breathable package plus it's the best-looking helmet (in our opinion).
Best Lightweight Climbing Helmet
Petzl Sirocco
| | |
| --- | --- |
| Weight: 170g / 6oz | Material: EPP outer, EPS crown, polycarbonate top cap |
The Petzl Sirocco is by far the best lightweight climbing helmet available right now. We've met more than one climber who has said if it weren't for this specific helmet, they wouldn't wear a helmet at all. It's also the choice for many pro climbers.
Everything about the helmet is built to be lightweight and it drops as many extras as it can to do that. You'll notice the main feature is the EPP foam construction outer. This lightweight foam provides good protection on the sides of the head and is more robust than you'd think.
The design has been really well thought out and improved. The top is capped by polycarbonate, but underneath is actually a separate layer of EPS foam, which is better at withstanding top impacts than EPP. It doesn't have MIPS – which is a negative – but that allows a closer and smaller fit.
The features it does have are internal padding for pressure points. These are removable and washable. You can attach a headlight with two front clips and a strap at the rear. The venting is generous and allows breathability and lower weight.
It comes in black or white, both with the fetching Petzl orange top. White reflects heat better so for the type of hot outdoor climbing we imagine you'll use this for, it's a better choice.
The straps are really thin and there isn't much in terms of adjustment available. You do get a couple of extra foam inserts in the box. The clip itself is also a simple but efficient affair with two magnets and a small clip that fastens securely.
The downside is that the helmet isn't super adjustable. However, because the helmet is so incredibly light, you'll find that you don't notice it as much and there aren't the pressure points you'll find in some others.
It's also the best low-profile climbing helmet as the rise from the top of the head to the top of the helmet is very low. If you find yourself accidentally bashing your helmet on outcrops of rock above you might like this.
Overall, the Petzl Sirocco is an excellent pick and the best choice of helmet for people who hate the added bulk, weight, and discomfort of a standard helmet.
Great Climbing Helmet
Petzl Meteor
| | |
| --- | --- |
| Weight: S/M 225g / 7.9oz – M/L 240g / 8.5 oz | Material: EPS foam liner, polycarbonate shell |
As an alternative to the more expensive or lightweight options, the Petzl Meteor is the best climbing helmet in this price range. With good ventilation, a nice adjustment system, plus a light overall weight this really stands out.
The construction here has a full shell of polycarbonate. It'll stand up to damage better than the other lighter, more expensive options over the longer term. Inside it's a light EPS foam.
It's nicely adjustable with a clever back and simple clips, plus clips for a headlamp. The two sizes will fit 48-58 cm in the Small/Medium and 53-61 cm in the Medium/Large.
The Meteora and Meteora below are both CE-certified for ski touring (though not the EN 1077 standard for alpine skiing). It's also designed to be worn with ski goggles. You can find this in orange and white or black and white.
Overall the Petzl Meteor is a great buy at the price. It also doubles as a good alpine climbing helmet that can be used on the snow.
Best Climbing Helmet On A Budget
Black Diamond Half Dome
| | | |
| --- | --- | --- |
| Weight: S/M 330g / 11.6oz – M/L 350g / 12.3oz | Material: EPS inner, ABS shell | One-handed dial adjustment system |
Probably the most popular climbing helmet you'll see out at the crag – for good reason. For less than $60 you'll find the BD Half Dome in an updated, lower-profile version in a range of colors. The Women's version has a cut-out at the back for a ponytail, plus some extra color options.
This is a straightforward helmet with a hard shell of ABS that will last years of abuse. It has a one-handed dial adjust system for fast fitting and lending to friends or groups. The fit is 50-58 cm (19.7-23 in) in the Small/Medium and 56-63 cm (22-25 in) in the Medium/Large.
The Black Diamond Half Dome is a popular option and our best climbing helmet on a budget for good reason.
Best Climbing Helmet For Women
Petzl Meteora
| | | |
| --- | --- | --- |
| Weight: S/M 225g / 7.9oz | Material: Material: EPS foam liner, polycarbonate shell | Ponytail notch |
This is literally the exact same as the Petzl Meteor we recommend above – except for the different headband at the back. If you have long hair and keep it in a low ponytail, the "omega" shaped headband notch is for you.
It just means you can wear a ponytail without having it above the back strap – which gets annoying when you look up and the whole helmet shifts. And of course, being a Women's helmet it comes in a different color – this time in cool gray or a nice purple
As an alternative, the Black Diamond Half Dome Women's comes with a full notch for a ponytail in the back.
Best Climbing Helmet For Children
Black Diamond Capitan MIPS Kid's
| | | |
| --- | --- | --- |
| Weight: 383g / 13.5oz | Material: EPS inner, ABS shell | Comes with stickers! |
This helmet has the MIPs anti-rotation technology we recommend in our top pick for adults. If you're buying a helmet to protect your kids, this added tech is only $20 more than the non-MIPS version. It's also on a decent sale right now.
The really good thing about this is that it's also rated for use as a biking helmet. That means you could actually save some money for once. It comes in one size for 49-55 cm (19.3-22.5 in) heads.
This is the smaller version of the big-boy Capitan. It's a really well-designed conch with dual-density EPS foam and an ABS shell. It has very easy-to-use secure fastening at the back and nice colors.
For kids, it's easy to put on, and breathable with big vents at the back and sides. Plus it can be customized with the included sticker sheets!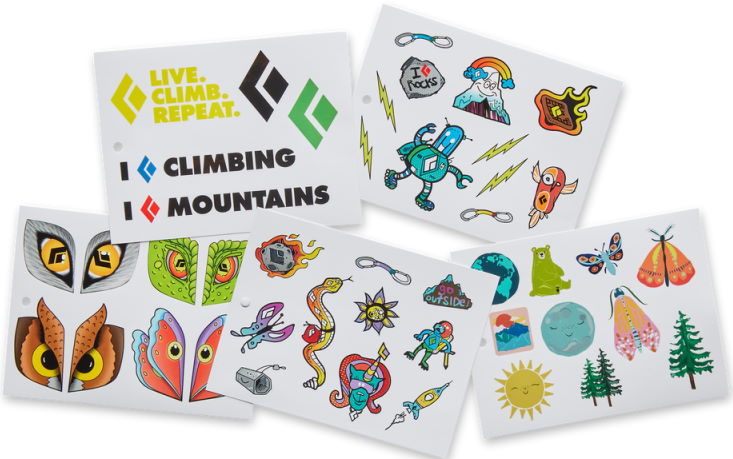 Best Climbing Helmet For Big Heads
All of Black Diamond's range comes in sizes that fit up to 25 inches / 63 cm. Other brands tend to come in at a slightly smaller 61cm max and we can't find anything larger.
So if you want the best go for the Black Diamond Vision MIPS, for a budget option you have the Half Dome, and somewhere in the middle, you have the Vector. Try them on first in-store before buying, if you can.
When Should You Wear A Climbing Helmet?
We'll start with maybe the least obvious – when you're belaying. Falling rock is a major concern at basically any crag. When your climber is reaching for anything, that anything could be a fist-sized bit of debris that could take you out.
Added to that, if your belayer gets taken out and they use a manual belay device like an ATC, they can't provide the friction needed to stop a fall. With something like a GriGri you are more protected but still wouldn't have an immediate way to lower down and help them.
Personally, we think you should always wear a helmet when climbing outdoors. On trad climbs, there is a higher risk of larger falls, gear ripping, and stepping behind the rope – leading to inverting and going headfirst against the rock in a fall.
People will make the argument that on overhung sport climbing, helmets aren't needed. The arguments are that you are less likely to pull rock off on a well-established sport climb that's been cleaned and climbed a lot.
On overhangs, you generally have a clearer fall path and will hit the rock feet first. Plus with sport climbs there is less chance of stepping behind the rope (and inverting) because bolts on sports routes are pretty much in a straight line.
However, this is all "less likely to" stuff. All of those things can and do happen on a regular basis. You only have to watch a few YouTube fall compilations or whippermedia posts to see it all.
Ultimately, wearing a helmet is up to you. But excuses about them being uncomfortable, annoying, or too heavy are all pretty poor. Modern helmets are really light and easy to wear. After a few sessions, you'll hardly notice on is on until it saves you a trip to the hospital.
Do You Need To Wear A Climbing Helmet Indoors?
Not really. Most gyms have quickdraws a meter from each other and in a straight line. That means way less chance of a big fall or stepping behind the rope and inverting.
For kids, it's worth getting them to wear a helmet indoors. They have less control over their body and less understanding of how to stay upright in a fall – even on top rope. If others kids around you are wearing helmets, there is always a chance they come off and hit anyone below them – so consider wearing one.
How Should A Climbing Helmet Fit
If your helmet wobbles or slips, it's too big. If it only just sits at the top of your head without needing to ratchet down the tightness, it's too small.
When you wear them, aim to have the front peak below your hairline. Wearing a helmet too far back or forward leaves those areas exposed in the case of a fall. If in doubt, ask another climber, go to a shop, or ask a climbing gym employee.
Construction + Materials Used In Climbing Helmets – EPP, EPS, Polycarbonate
Most climbing helmets consist of an inner foam, surrounded by a hard shell. The inside of the helmet may sit snugly on top of the head, or have a fit system that slightly raises the helmet away from meeting the top of the head.
EPP foam is more flexible and a little lighter, making it a good choice for the sides of the helmet. EPS foam is a little more brittle and liable to break but holds up better to top impacts with a thinner layer than EPS.
The shell of most helmets is polycarbonate or ABS. They are both relatively thin and hard plastics that withstand a lot of force for their weight. ABS is cheaper and will be a little thicker. Having a hard shell means the helmet will stand up to more bashing about over time.
Having a foam and hard shell combo performs much better than just one layer of thick foam when withstanding impacts.
What Is MIPS?
MIPS is a new technology used in helmets that aims to reduce brain rotation in impacts. MIPS stands for Multi-directional Impact Protection System. Essentially it is a layer that allows the helmet to rotate 10-15mm before your head (and brain) are forced to rotate.
It is believed that rotation of the brain plays a larger force in brain injuries than previously thought. MIPS aims to help reduce rotation of the brain in a simple, easy-to-integrate system. It has been widely adopted in biking, skiing, and other sports with a high risk of impact to the head.
Do You Need A MIPS Helmet?
We recommend getting a helmet with MIPs over one without. From numerous studies it seems that MIPS does have an impact on reducing brain trauma in accidents. It also seems like it would help protect in the case of rockfall – probably the most common thing helmets protect against.
One advantage/disadvantage of MIPS helmets is that the system works by having a layer on your head, connected to the helmet. That extra layer means there is a thin area for airflow but the helmet sits higher.
From personal testing, that little bit of airflow does mean the helmet stays cooler. It also raises the helmet by around 1/5th of an inch or 0.5cm. Some prefer a low profile helmet over anything, others prefer a cooler header. It's up to you.
Types of Climbing Helmets
Most climbing helmets are fairly similar in their overall design, and essentially all of the ones we've suggested can be used for any type of climbing. That being said, if you mainly do one type of climbing, there are a few small things to take into account.
Trad Climbing / Alpine Climbing
On long multipitches, big alpine days, or just spending hours on a single route trying to find the right placements – you're going to get hot and bothered. When you're climbing for a longer period of time, a helmet that has good ventilation makes a big difference.
Sport Climbing
Climbing at your limit also means taking as little gear as possible. If you're pre-hanging all of your draws and stripping to your skivvies to save weight, a lightweight helmet might make the difference. Even if it's all psychological.
If summer trips and European destination climbing is your thing then you'll want vents too.
Ice Climbing
Here, you can do away with vents because of the temperatures. You might choose a helmet based on it being able to fit a beanie underneath for extra warmth.
We'd also suggest something that has foam inside and a larger, harder plastic on the outside. This will help with the constant rain of bits of ice and snow and protect the inner foam a little more for added durability.
Can You Use A Climbing Helmet For Biking?
Apart from the Black Diamond Capitan MIPS Kids, there are no helmets that are rated for both climbing and riding a bicycle. The reason is that the tests are generally quite different and measure different types of impacts.
For climbing helmets, piercing objects are tested to simulate sharp rockfall. Repeated knocks are also expected. There are no side-impact tests for climbing helmets but basically all of them are designed for side-impact.
Cycling helmets are designed for a single, high-impact force against the pavement or a car. Personally,. we'd prefer to have one for each use.
How Long Do Climbing Helmets Last
Climbing helmets can last a full decade of use if taken care of properly. Most manufacturers give 10 years as the expiry date at which they should be replaced. However, you should replace your helmet…
After a big impact. If you think "Wow, lucky I was wearing my helmet", you should probably replace it
If there are visible cracks in the outer shell or inner foam
If it doesn't fit right or stay on your head
You aren't wearing it because it's annoying or too bulky. Wear your helmet people!