The Petzl GriGri totally changed the game for belaying on its release back in 1991. Newer models have slimmed it down and improved upon its features. However, being so different from a regular belay device means that the best carabiner for the GriGri is a bit different than standard.
There are some common problems that happen with carabiners when belaying with a GriGri. The carabiners we've chosen all fix these in innovative ways. We'll lay out our favorites and the different ways they can be used.
No time to read? No problem – Our Top Picks
– Black Diamond Gridlock Magnetron
– Best Carabiner For Original GriGri – Petzl Freino
– Lightest Carabiner For GriGri – Grivel Clepsydra S

Can I Just Use A Normal Carabiner With The GriGri?
Yes. Most carabiners and belay-specific carabiners will work just fine. HMS or pear will work, D shape too. However, if you're willing to pay what a GriGri costs, a decent biner that stops cross-loading is as little as $13-15.
Problems With Carabiners And The GriGri
The first is the most important to avoid and the other two are more annoyances that can be resolved: –
The GriGri slides down the side of the carabiner and the carabiner becomes cross-loaded. When cross-loaded you are using the weakest strength points of the carabiner and are at most risk of the biner failing
The carabiner flips upside down. Most carabiners are designed for the larger end to be smooth and easy for the belay device or rope to move around on. The thin end is normally "cut out" or an I-beam construction to save weight, and rope doesn't handle as well on this end. With the GriGri you can generally use either side – but normally one is preferred over the other
The belayer's end of the rope, known as the brake rope or dead rope, isn't easily held in the specific place it's meant to be at the side when belaying or rappelling with a GriGri. More important for simul-climbing and rope soloing
Luckily there are a few carabiners specifically designed to help with or entirely fix all of these problems.
Best Carabiner For GriGri Plus / Best Carabiner For GriGri 2
All of these carabiners will work with all of the different versions of the device. If you are using the older GriGri with a fairly thin rope, we'd suggest the Petzl Freino to help add friction when lowering and rappelling.
There have been four GriGri designs on the market: –
The original chunkier design in 1991
A much slimmer and smaller GriGri 2 in 2011 – Handled slimmer ropes better
GriGri Plus – Added an anti-panic function, top-rope/lead switch, plus a steel plate to reduce wear
The latest GriGri from 2019 – A wider range of rope widths handled but no functions from the plus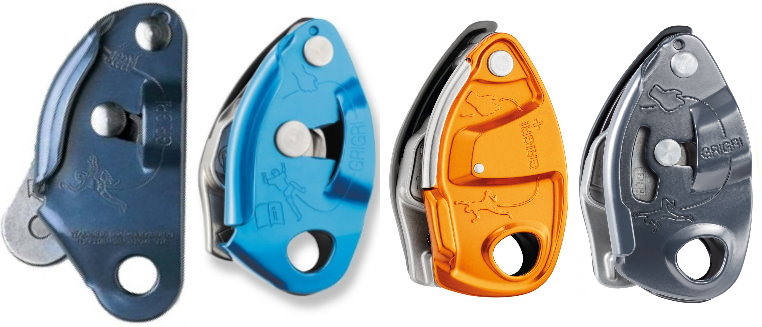 If you are thinking of buying a GriGri we'd suggest just getting the latest one. It isn't called the GriGri 3, just GriGri. Only the new 2019 model and the Plus are currently available unless you can find old stock of the 2. If you are a newer climber we recommend the GriGri Plus as the best belay device for beginners.
The latest one handles a good range of different rope widths from 8.5m to 11m (8.9 to 10.5 are best) which gives it more future-proofing. The GriGri + does have two modes and an anti-panic handle – but we'd only suggest it if you mainly top-rope or work with novices.
What Carabiner Does Petzl Recommend For The GriGri?
As the creators of the GriGri, Petzl obviously have a few things to say about it. They always recommended a locking carabiner, recommending either a D-shaped carabiner or their own Freino design.
We'd say the D shape does tend to rotate and cross load less than a pear or HMS shape biner – but it doesn't solve the issue. The Freino however is a very good option we recommend below.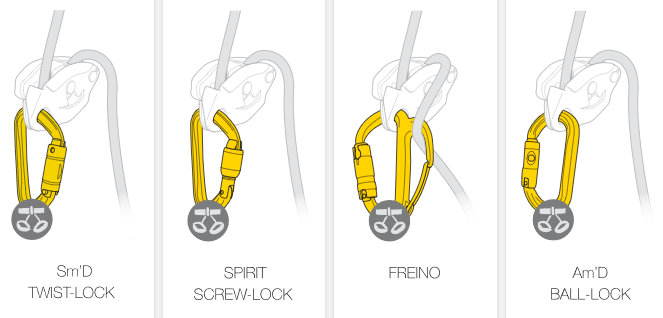 A few things to consider with belay carabiners in general are: –
Use a locking carabiner. It increases load strength and decreases the possibility of unwanted opening
Use the locking method you prefer the best. Twist, double-lock, triple-lock, button push. Whatever you prefer
Consider if you need a multi-purpose carabiner. A dedicated carabiner for belaying is normal and recommended. However, you might consider one that works well with other belay devices or can be used in emergencies
Know the rated loads, read the manuals, know your gear. We've put the kN ratings for the Major, Minor and Open loads.
Buyer Beware
– Be really cautious about where you buy your climbing and safety gear. Stick to well known and renowned brands
– If it looks too cheap to be true – it's probably not passed any safety standards
– We don't recommend buying any climbing or safety gear from eBay, Alibaba, or places like Wish
– Copies of popular brands with the same logo and branding are sold as the real thing. This has even happened on Amazon as one item can be from multiple suppliers
Best Carabiner For GriGri
Black Diamond Gridlock Magnetron
| | | |
| --- | --- | --- |
| Weight | kN Major / Minor / Open | Gate Opening |
| 76g (2.7oz) | 22 / 7 / 8 | 21mm (0.83in) |
The Gridlock is an innovative carabiner that is designed primarily to stop the orientation of the carabiner switching. It works without any extra mechanical parts and you can just open and close the carabiner as normal. You can use it to belay with a standard tube belay device too as long as your belay loop fits in the snug bottom part.
Important: With the Gridlock Magnetron it is specifically advised in the instructions to put the GriGri in the small bottom side of the carabiner, and the larger side clips to the belay loop. This is so the GriGri doesn't cross load. If you use it like a standard belay carabiner it will cross load more than normal.
This is one of our favorite carabiners for the GriGri because of its simple and innovative design. This version uses Black Diamond's proprietary Magnetron closure for the gate. This means it's really easy and fast to open and close manually, but almost impossible to accidentally open.
Two advantages of the Magnetron closure over screwgates are that there are no extra steps to close, and gravity and friction can't eventually open it like can happen sometimes with screwgates. Not even the weirdest looking carabiner on this list.
Best Carabiner For Original GriGri & Rappelling – Petzl Freino
| | | |
| --- | --- | --- |
| Weight | kN Major / Minor / Open | Gate Opening |
| 85g (3oz) | 25 / 10 / 9 | 15mm (0.59in) |
The Freino is designed for one specific purpose – making it easier to lower and rappel with the GriGri. The extra spur and wire gate on the side are for clipping the brake rope in to. This gives extra friction on lowering or rappelling whilst also stopping the GriGri from getting cross-loaded.
This is really helpful for skinny ropes and/or where the climber is heavier than the belayer. In those situations, it can be hard to get control when lowering. This is really helpful when using the first-generation GriGri with modern thin ropes, or with a GriGri Plus where lowering control is finer. Still great with the 2019 and 2 versions.
This somewhat replicates a trick that some people have used when lowering with the GriGri and wanting more control. You can clip an extra carabiner to your belay loop or tie-in point and redirect the rope through it to get the extra friction you need. The Freino does that for you though it is fairly expensive.
Watch out for the Freino Z which flips the orientation of the spur – which is better for some other devices – as the standard one is the best carabiner for Grigris.
Lightest Carabiner For GriGri – Grivel Clepsydra S
| | | |
| --- | --- | --- |
| Weight | kN Major / Minor / Open | Gate Opening |
| 67g (2.4 oz) | 20 / 9 / 8 | 22mm (0.87in) |
The lightest carabiner here, maybe the best design, definitely the weirdest looking. With the Clepsydra, Grivel have used their innovative double gate system which makes it almost impossible to accidentally undo the gate. It also makes it very easy to load and unload. Surprisingly easy to use though might take a little practice.
The bottom wire gate means the carabiner won't flip upside down. The bump on the right side prevents cross-loading easily. This really is a great design that works perfectly for belaying with a GriGri and avoiding any issues. Because of the smaller size (97 x 66mm), it might not fit a very wide belay loop.
It also works especially well at keeping the GriGri in front of you in the correct orientation. The smaller size and lack of movement are key in allowing you to reach down to take in slack very easily. Many find that having a GriGri in the upright positions is very handy for route setting, cleaning and establishing new routes, simul-climbing, and rope-soloing. Some use a maillon or two for a similar purpose.
Great Multi-Purpose Carabiner – DMM Rhino
| | | |
| --- | --- | --- |
| Weight | kN Major / Minor / Open | Gate Opening |
| 73g (2.6oz) | 27 / 9 / 7 | 20mm (0.79in) |
The Rhino is designed with a simple horn on the spine that stops the GriGri cross-loading on that side. Great as a multi-purpose carabiner as the top part is nicely rounded for standard tube style belaying. Big enough for a munter or friction hitch or as an anchor point too.
We've shown the screw-lock version but also available in DMM's Kwiklock and Locksafe gates (both 19mm gate opening and 81g weight, same strengths).
An issue we've experienced with this carabiner is our belay loop getting caught on the top of the screw gate on the left and the GriGri on the right against the horn. It generally only happens with thinner belay loops but this does mean the carabiner is cross-loaded. A quick jiggle fixes this but also consider the very similar Ceros below.
DMM Ceros
| | | |
| --- | --- | --- |
| Weight | kN Major / Minor / Open | Gate Opening |
| 86g (3oz) | 25 / 7 / 7 | 20mm (0.79in) |
The Ceros is another DMM biner designed with a horn but with the extra wire gate at the bottom to completely stop cross-loading. Again it has a wide and rounded top bar that works well for tube belaying and hitches. Easy to put on and set up for belay. Also available in the Kwiklock and Locksafe versions (92g and 93g respectively, 19mm openings for both).
First the Rhino, then the Ceros. Get it?
Best Carabiner For GriGri On A Budget – Metolius Gatekeeper
| | | |
| --- | --- | --- |
| Weight | kN Major / Minor / Open | Gate Opening |
| 70g (2.46oz) | 22 / 7 / 7 | 22.5mm (0.9in) |
A popular carabiner designed specifically for use with the GriGri. A wide spine prevents cross-loading and a wire gate for your belay loop keeps the carabiner in the correct orientation. Really great value for something that does its job so well.
Not very versatile but as a GriGri carabiner it's perfect. Video of the Gatekeeper in use.
DMM Belay Master 2
| | | |
| --- | --- | --- |
| Weight | kN Major / Minor / Open | Gate Opening |
| 93g (3.28oz) | 25 / 10 / 8 | 20mm (0.78in) |
The Belay Master 2 takes a different approach with a separate plastic guard that solves three issues in one. Once closed it stops the carabiner flipping, stops cross-loading, and stops the screw gate from undoing. A neat solution that works effectively when belaying.
The plastic is solid and smoothly rounded to stop friction. It does remove from the carabiner itself but takes a good bit of force.
Great as a belay-specific carabiner for extra safety for both GriGri and tube-style devices. A great choice to give to a novice as the plastic clip will not close unless the screw gate is done up – an extra safety check which is hard to miss. Can also be great in an all-day top rope set up though not very versatile for other purposes.
Petzl Am'D
| | | |
| --- | --- | --- |
| Weight | kN Major / Minor / Open | Gate Opening |
| 75g (2.64oz) | 27 / 8 / 7 | 24mm (0.94mm) |
Petzl suggests using a D-shaped carabiner in their own manual – including the Am'D specifically. Grigris are less likely to cross load with D's than a standard HMS or Pear-shaped biner – though it can still happen. This is a cheaper choice that can also be used for other things like rigging anchors though wouldn't be great for tube-style devices.
The Am'D we've featured has the Triact-lock gate – a triple lock system that auto locks on closure. It requires a push upwards, a twist, then a pull to open. Also available in the Twist-lock and screw gate variants.
More Climbing Gear Articles
– Smallest Climbing Carabiners
– Best Belay Device For Beginners
– Best Climbing Shoes
– Best Beginner Bouldering Crash Pads
– What Is A Carabiner?
Let us know your top pick for best carabiner for GriGri use by following us and commenting on facebook, instagram, and twitter.