Belaying is the most important thing you do as a climber – apart from having fun. Getting the right belay device as a beginner climber can make a world of difference as you learn the ropes. Feel safer and belay better with our top picks.
As a beginner, there are a tonne of varied and confusing options out there for every bit of gear you need. Belay devices come in a massive range of options so we're here to simplify it and give you easy answers and the best solutions. We think the best beginner belay devices should be: –
Easy to learn and easy to use
Support thicker and thinner ropes for now and your climbing future
Have specific designs for safe and easy use
Be common enough that most climbing partners will be able to use them
No Time? Our Top Picks At The Cheapest Prices
– Best Assisted Braking Device For Beginners – Top Roping – Grigri Plus
– Best Assisted Braking Device For Beginners – Lead Climbing – Beal Birdie
– Best Beginner Tube Style Belay Device – Black Diamond ATC Guide
– Cheapest Beginner Belay Device Set – Black Diamond ATC XP Package
Why Get A Beginner Belay Device?
As you learn climbing it will initially feel very unsafe. Once you learn to belay and climb a little you'll feel much safer and more confident in what you're doing. It's at this point where nothing has gone wrong yet that most mistakes happen. Unfortunately with climbing, a couple of simple mistakes when belaying can lead to devastating results.
A beginner belay device that has safety features like an assisted brake or teeth can really help when catching a fall or when those small mistakes happen. We also think that there is no point in getting a cheap belay device that you'll soon grow out of. Fortunately for such a crucial piece of safety equipment, there are some great options on a budget.
Ultimately the best things you can do as a beginner belayer are to get proper instruction, be open to criticism and changing of your technique, and to get practice in soon after learning.
Best Beginner Belay Device For Top Roping Or Lead Climbing
Every device we recommend works well for both lead climbing and top roping. If you're learning to top rope now and are thinking about lead climbing or trad climbing in the future they are all suitable. We do however recommend the Grigri Plus for mainly top roping and the Beal Birdie for mainly lead climbing.
Belay Device Types
What Is A Tube Style Belay Device?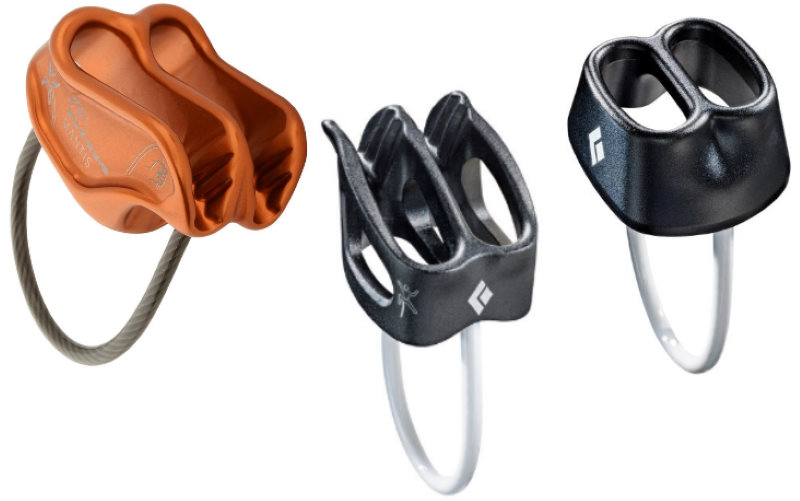 A tube-style device is a simple device that relies on friction and always requires one hand to be on the rope. The belayer must move the rope to the right position to "brake" and stop the rope from sliding though. They come in a range of styles but are normally a single piece of metal for the rope to run through, with a wire (normally coated in plastic) for clipping into a harness.
They are called tube devices because they have tube-like holes for the rope. Also commonly known as an ATC or ATC style device after one of the first and most popular tubes on the market – the Air Traffic Controller by Black Diamond. The ATC is still made with a few minor changes though there are better versions like ATC XP we recommend.
What Is An Assisted Braking Belay Device?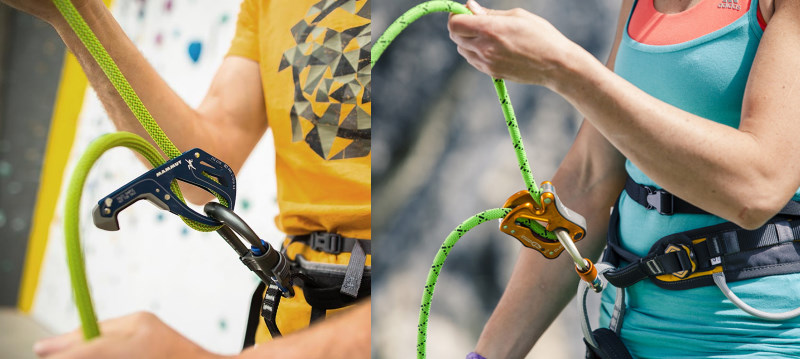 There are various options out there but they all help the belayer to catch a fall by helping the "braking" of the rope. They are much more common because of the added safety in a few different areas. They can be expensive but then so can hospital visits and months of recovery. The best belay device for beginners is the one you feel safe and confident using.
The most famous of these is the Grigri by Petzl. Others include the Beal Birdie, Edelrid Mega Jul, Mammut Smart, Climbing Technology Click Up, and the Black Diamond Pilot. Some like the Grigri and Birdie use mechanical parts to actively "cam" against a moving rope, the others work passively by guiding the rope into a locked position.
Advantages Of Using An Assisted Braking Belay Device
The device helps to brake the rope when your climber falls
Much easier to catch a heavier climber
Much less work for the belayer when a climber is hanging on the rope while working a route
Lowering is easier and more controlled
Can lock in the case of an accident where the belayer loses control of the rope
Psychological Factor – Feels safer to use for the belayer and climber
It is important to note that these are not auto-belay or auto-braking devices. You still need to keep your hand on the brake rope at all times even though they are all hugely helpful when catching a fall. You must also learn to use each device by device as they all function differently.
Should I Learn With An Assisted Braking Device Or Tube Style Device?
It's somewhat similar to the decision on learning to drive a manual (stick shift) or automatic car: –
If you learn with a tube style device you can use basically any other tube style device straight away, and can normally adjust to an assisted braking device pretty easily with a little practice.
However, if you learn using an assisted braking device you can't just pick up a tube style device and use it safely.
We recommend learning to use a tube-style device first with an instructor but then switching to an assisted braking device for your regular climbing. This way you'll use the safest option most of the time but if you forget your device or need to use an ATC or similar, you'll be able to do it safely.
Gyms normally provide a tube-style device for the courses, but you can get specific instruction for an assisted braking device too by bringing it along to your introduction. Gyms generally prefer assisted device usage and some are even making the move to ban tube devices.
How To Use A Belay Device
Don't attempt to learn how to belay from a video or an online source. Get a qualified climbing instructor to teach you at a gym or outdoors, then practice regularly soon after with someone who knows what they are doing. An intro to climbing can be taken over 3 or 4 hours at a reasonable price at most climbing gyms.
It's definitely tempting to get a friend to teach you but they may have bad habits or have learned an older style that's unsafe. With an instructor, you get up-to-date techniques and the confidence to know what you, or a new climbing partner, are doing wrong or right.
Our Recommendation For Buying A Beginner Belay Device
Get an assisted braking device as a beginner for climbing indoors or out. We think the Grigri Plus is an excellent choice. They are safer when used correctly and in the rare case of accidents or some mistakes. They are also very helpful as your try and project harder routes. If you find yourself wanting to try multi-pitches or trad climbing, then get a tube-style device too – we'd recommend the ATC Guide as a great all-rounder.
If you just want a manual tube device get the ATC Guide as it'll last you years of use for many styles of climbing. If you are on the strictest of budgets then the ATC XP Package is the best belay device for beginners without cash to splash.
Best Beginner Belay Device – Assisted Braking Device
| | | |
| --- | --- | --- |
| Weight: 200g | Rope Sizes: 8.5-11mm / Best with 8.9-10.5mm | Safety Features: Assisted braking, anti-panic handle, top rope and lead modes |
One of the reasons we recommend using a Grigri over other assisted braking devices is that it's really commonly used. It was the first real assisted braking device on the market and most climbers will have used it a few times even if it's not their regular device. This means you can hand it over to a climbing partner and they'll most likely know how to use it safely.
Like all Grigri's the main function is assisted braking. When the climber falls or weights the rope while resting, the internal "cam" rotates and squeezes part of the rope. This effectively blocks the rope from going through and helps catching a fall and locking off the rope. You still need a hand on the brake rope at all times but this is incredibly helpful and massively ups the safety of belaying. You should get a qualified instructor to show you how to use a Grigri.
Why Is The Grigri Plus The Best Belay Device For Beginners Over a Standard Grigri?
The Grigri Plus is the best beginner belay device because it adds a couple of extra features. The most common accident with other Grigri's is on lowering. To lower you must pull a handle back to actively disengage the, and the control of the lower is done with the brake hand. This is important as most people use just the handle to control the lower – it should really be brake hand plus a little of the cam.
What mostly goes wrong is when the belayer just uses the handle to control lowering speed and just has a loose hand on the brake rope. As the climber gets lower the force required to hold the handle open is less, and the climber drops faster. The belayer panics and instinctively grabs the handle more or doesn't close it – then the climber falls to the floor. It happens to beginners and people who are over-confident alike.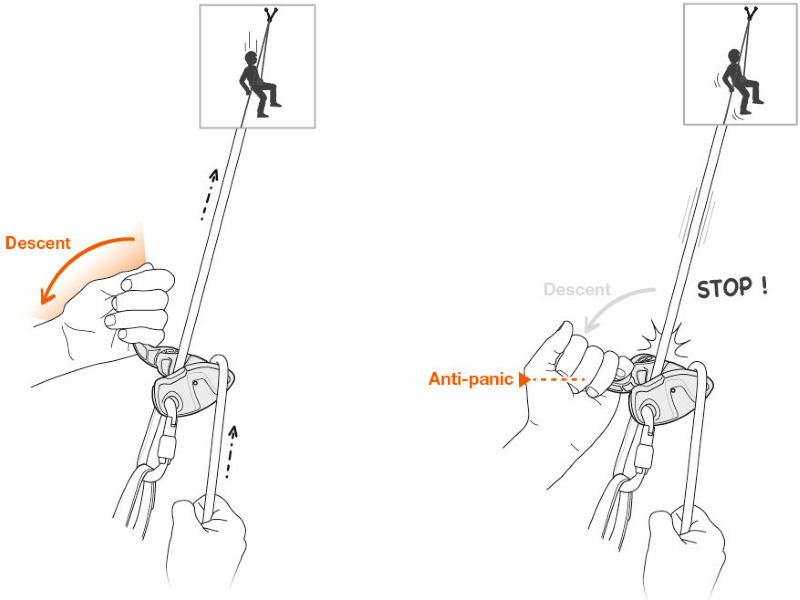 Best Beginner Device For Top Roping
The Plus has an anti-panic function that disengages the lowering handle and locks the device if the rope is going through too fast. You can either let go of the handle, reset and pull back again to continue lowering – or keep pulling back to override the function and lower. This adds an extra layer of safety.
The disadvantage of this is that lowering is a little more fine-tuned and you can find yourself engaging the panic function accidentally but it's easy to overcome and get used to. Personally, we find this device is amazing for handing to someone who is fairly new to belaying. It really ups the confidence of belayers and climbers by adding those fail-safes.
For top roping it's excellent. If you are newer to climbing and just want to feel more confident, spend less energy on pulling in and holding the rope, and want a safety measure for lowering with a newer partner – the Grigri Plus is the best belay device for top roping.
Grigri Plus Extra – Modes + Steel Plate
The Plus also has a couple of extras that are great for a beginner belay device. On the back is a switch for top rope or lead mode. In lead mode paying out slack is a little easier, on top rope the cam is a little grabbier meaning it's much easier to take in and hold rope as the climber goes up. You can also lock the mode in so a younger climber can't switch it easily.
Where the rope runs over the side when lowering, the part of the Grigri that takes the most wear is actually a steel plate. This will last much longer than the other aluminum Grigri's and we don't know why this isn't standard for all models. The device also has instructions for which end of the goes where on the front, back, and inside so it's much less likely it'll be loaded wrong.

The downsides to the Grigri Plus are that it's the most expensive belay device, and can only take single ropes. Unless you do two-rope trad like in the UK, or belay two people, this won't be an issue. It also works with a good range of ropes from 8.5 to 11mm though works best with 8.9 to 10.5mm. The device will last years, will hold good resale value if you ever want to switch, and is great as you start to project and rest on longer routes.
As a beginner device, it's amazing at stopping common mistakes but does take a little time to get used to. If you've belayed for years it probably won't be your cup of tea but this article isn't for you. Consider the new Grigri from 2019 if you don't need modes or an anti-panic function.
Comes in three colors – orange, purple, and grey. Pair with the Gridlock Magnetron carabiner for the perfect belay pair. This carabiner is specifically designed for use with a Grigri and has a couple of cool features that make belaying safer and easier. We recommend it as the Best Carabiner For Grigri use.
Alternative Assisted Braking Belay Device For Beginners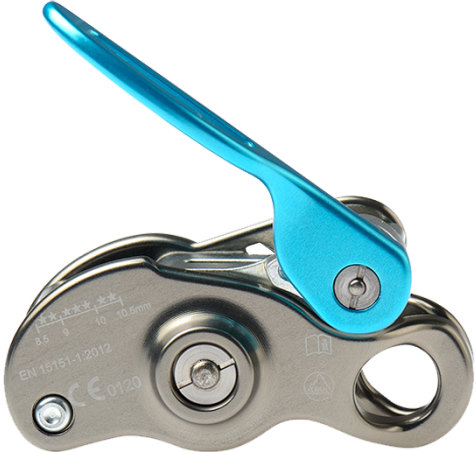 Beal Birdie
| | | |
| --- | --- | --- |
| Weight: 210g | Rope Sizes: 8.5-10.5mm | Safety Features: Assisted braking |
If you are looking for an assisted braking device similar to the Grigri Plus but don't need all the extras then you should consider buying the Beal Birdie. We recommend it for beginners over the standard (non Plus) Grigri because it's closer to a standard tube device when belaying.
The Birdie is cheaper than a standard Grigri, a little smaller (though a little heavier at 210g vs 175g), and a bit more intuitive for paying out slack and lowering with. This is mainly because the brake rope runs through the front of the belay device when taking in slack or lowering, rather than to the side for lowering and certain ways of taking in on the Grigri.
It's nice and simple to use if you've come from a tube or ATC style device. This means you can hand it to a partner who normally uses tube-style devices without much of a learning curve. It has an assisted braking function that actively "cams" against the rope and helps to brake a fall. The Birdie does this very well, same with holding a resting climber when they are working a route.
Best Beginner Belay Device For Lead Climbing
If you've top roped a bit and are jumping into lead climbing we think the Beal Birdie is the best beginner belay device for lead climbers. It's similar to an ATC to use, pays out slack easier than other assisted braking devices, and is easy for most to pick up.
As with all belay devices, you must always keep a hand on the brake rope and learn to lower safely still. Your brake hand controls the speed of the descending climber, not the handle. Once you're used to it this works like a dream. It's got a slimmer range of rope at 8.5 to 10.5mm but we suggest around 9.5 to 9.7mm as the best choice for beginner climbing ropes, so it shouldn't be an issue.
The Birdie comes in three different colors and we'd suggest Gridlock Magnetron or another of our picks for the best belay carabiners to pair it with.
Best Belay Device For Beginners – Tube Style
| | | |
| --- | --- | --- |
| Weight: 80g | Rope Sizes: 8.1-11mm | Safety Features: Braking teeth |
If you aren't going to get an assisted belay device we totally recommend the ATC Guide from Black Diamond for a few reasons. It's got everything you need in a manual tube-style device as a beginner. It's light, straightforward to use, handles a good range of rope thicknesses, and has well-designed teeth on one side for extra grip when locking off for a fall. Plus it'll be there for when you new styles of climbing!
Yes – it's not the most basic belay device and it's got a couple of extra holes in it that you might not use straight away. However, belay devices last for years and there's no point saving $10 now and needing an upgrade when you want to climb more than one pitch or try some trad climbing. It's definitely the best beginner belay device with a tube-style design and you'll see it on most experienced climbers' harnesses.
The two extra holes are for belaying and lowering in guide mode. You don't need to know much about these as a belay beginner but it's for when you belay from above when doing multi-pitches, it's a slightly easier way of bringing up a climber. One day it'll come in super handy and this is actually our favorite multi-pitch device for that reason.
Best Budget Belay Device For Beginners
| | | |
| --- | --- | --- |
| Weight: 64g | Rope Sizes: 7.7-11mm | Safety Features: Braking teeth |
The ATC XP is essentially the perfect basic tube-style device. It's simple to use, has teeth for safer locking off, it's light, handles a good range of ropes, and comes at a bargain price. We recommend getting the Big Air XP package which includes the ATC XP and a nice pear-shaped carabiner that's perfect for belaying with.
You'll see this kit all over the place in climbing gyms as it's such good value for well-designed gear. It isn't very versatile but if you climb single pitches routes in the gym or at sports crags it'll last you years.
The kit can be had for less than $30 when it's on sale or $20 for just the device. However, the carabiner in the kit is $14 on its own so as a package you'll save money and it's a good biner on its own.
---
More Great Articles For Beginners Climbers
– Best Climbing Rope For Beginners
– Best Beginner Bouldering Crash Pads
– Best Climbing Harness For Beginners
– Best Climbing Shoes For Beginners
Header image by Neil Dalphin on Flickr.