A good climbing rope is your most important piece of gear. It can make or break a route either by inspiring confidence or weighing you down. Our top picks for the best climbing rope of 2021 will help you push your limits at the gym and the crag.
We're here to make sure you get the right rope that will inspire confidence on those hard send attempts. Read our straight forward and easy to read guide to buying the best climbing rope for you. Featuring the important things to look for – plus what you don't need to worry about.
No Time? The Best Climbing Ropes Of 2021 At The Best Prices
– Overall Best Climbing Rope – Mammut Crag Dry Duodess
– Best Redpointing Rope – Mammut Crag Sender Dry
Best Gym Climbing Rope – Edelrid Boa Gym
– Best Climbing Rope On A Budget – Sterling Evolution VR9
– Best Gym Climbing Rope On A Budget – Black Diamond 9.9
How Do I Choose A Climbing Rope?
For sport climbers (lead or top rope using fixed bolts and anchors) you just need to look for a dynamic single rope. This means a stretchy rope that you can use on it's own. If you climb indoors or use just a top-rope or quickdraws outside, this is what you need and what we'll cover today.
A dynamic rope stretches when you fall and will give a softer "catch" with less force put on to your body and the bolts. A static rope is for photography, rigging, or hauling and shouldn't be used for taking falls. Climbers nearly always use dynamic rope.
The only times you'd need something other than a Single rope would be if you are doing trad climbing (mainly UK-style trad) or Ice/Mixed climbing. Sometimes to reduce drag on winding routes you'll use two Half ropes that get clipped into different pieces of protection. You can also use two Twin ropes that both clip into the same pieces and serve as backup for a severed rope.

What Diameter Climbing Rope Should I Get?
From 8.6 to 10.5 millimeter (mm) is normal for Single ropes in sport climbing. The 9.7 to 9.8mm range is where the best price to performance lies.
Thinner ropes from 9.1 to 9.4mm (and thinner!) can be had at a price premium and excel on long, hard routes but wont bear up quite as well in the long term. At the cheaper end 10mm+ ropes can take a beating and work well for gym training and top-roping.
If you are looking for a beginner climbing rope we don't recommend anything under 9.4mm. Thin ropes can be harder to handle and a little more experience is important for catching falls, especially in older belay devices. Always read belay device instructions for ideal rope diameter.
What Length Climbing Rope Should I Get?
A popular question that boils down to this: where are you most likely to climb? Simply put you want to double the length of the taller routes you'll climb and add 5-10 meters extra. So if your local areas have a few 22 to 25 meter routes you'll want something like a 60 meter rope. 25 x 2 = 50 plus 10m extra.
The reason for the extra is that you never want to misjudge and be lacking. Rappelling or lowering off of the end of a rope is so common that Brad Gobright died from it and Alex Honnold broke two vertebrae doing it. Also over time you'll wear out the ends where you tie-in and can cut those ends off and still be fine.
A 35 or 40 meter rope for indoor climbing is a great option. A good 60m rope will cover most routes outdoors – but check every route before you climb. If you travel to Europe or Spain for holidays then a 70 or even 80 meter rope opens you up to some huge routes.
Tips For Buying A Climbing Rope
If you climb outdoors then rope drag, general use, and dirt/moisture all add up to wear out a rope. Thinner ropes help to avoid rope drag on longer routes. Dry Coating is excellent for protecting the rope from the elements and wear long term. Both of these can add up to an expensive buy. Our top tip is actually…
Buy Separate Gym And Outdoors Ropes
It's tempting to get a good all-rounder and be done with it. However, if you switch between gym and outdoors you'll find in the long term having two separate ropes will probably end up cheaper. Climbing indoors on an expensive skinny rope will wear it out and a dry coating for the gym just isn't needed.
We suggest having a longer, thinner rope with dry treatment for outdoors only use, plus a cheaper workhorse gym rope.
Don't lug a big, expensive 70 meter rope to the gym, flake out the whole thing after every 12 meter climb, then worry about ruining it with fall practice.
A thicker gym rope can take more falls and will almost never need to be more than 40m so you can chuck it in a backpack. You don't need a dry treatment for a nice, air-conditioned gym either. When one needs to be replaced you can still use the other! In the long term both ropes will last much longer.
Buy A Rope Bag For Your Outdoor Rope
When you've shelled out a lot on a fancy outdoors rope – don't ruin it by letting it roll around in the dirt. A decent rope bag with a tarpaulin for the floor can be had for as little as $29.95. Even the dirtbag classic IKEA bag and a dollar store tarp will save you ruining the sending rope.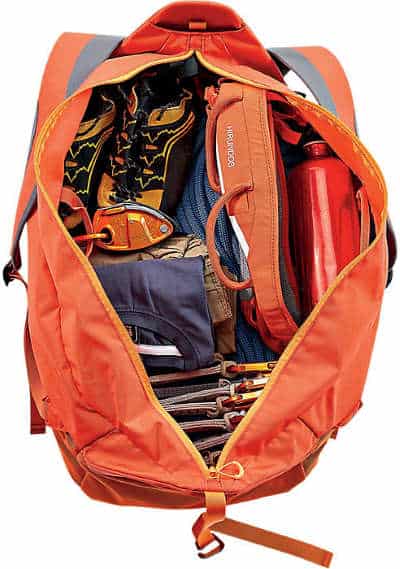 Petzl Kliff Rope Bag
If you want to buy one rope bag and never buy again – this is our pick. A backpack with enough space for a full rope and all of your gear. Middle zip for easy access and a detachable tarp.
Best Climbing Rope 2021 – Mammut Crag Dry Duodess
| | | |
| --- | --- | --- |
| Weight Per Meter: 59 grams | Fall Rating: 8-9 | Diameter: 9.5mm |
The Crag Dry Duodess is absolutely the best climbing rope for the money in 2021. As an all-rounder it has the features you need but without a massive price tag. At 9.5mm it's thin enough to save weight without losing durability. With a high 8-9 fall rating it's also built to last.
This literally has all the features you need for an outdoor rope. It's dry treated to weather poor conditions. The Duodess version we recommend is dual pattern and switches at the middle. This makes it way easier to figure out where the middle of the rope is for safety. Much better than a middle marker plus it looks pretty cool.
This will last through a lot of use – especially when paired with a nice rope bag. Because of the length and dry treatment it's perfect as an outdoor climbing rope. It's still great indoors though we recommend buying a cheaper gym climbing rope to save money and time in the long run.
You can get this in 60 or 70 meter variants or the normal Crag Dry version with just one pattern. The Duodess is only $10-20 extra though. The Mammut Crag Dry Duodess is still our pick for the best climbing rope of 2021.
Best Climbing Rope For Hard Lead – Mammut Crag Sender Dry
| | | |
| --- | --- | --- |
| Weight Per Meter: 54 grams | Fall Rating: 5-6 | Diameter: 9mm |
When it comes to pushing your grade and working at your limits, you'll want a rope that won't hold you back. Thinner, lighter ropes getting more affordable as well as safer in 2021. The Mammut Crag Sender Dry is an excellent new rope for 2021 that ticks all the boxes at only a small price premium compared to thicker ropes.
At 9mm and only 54 grams per meter this the best climbing rope for pushing your grade. It's totally certified as a single, half, or twin rope and for such a thin rope is surprisingly burly. Full dry treatment will save you in bad weather and protect from dirt. It's also got a middle marker for safety.
You can really feel the weight difference when clipping draws and where your protection zig-zags. You'll need a Grigri 2 or newer, or a manual device that's suited to thinner ropes to handle this well. We don't recommend such a thin rope for beginners – see full article on the best beginner climbing rope for why.
If you're starting to work routes and redpoint more then this rope can make that little extra difference you might need. Definitely the best climbing rope 2021 for hard climbers and improvers. Again, this will work at the gym but a dedicated gym rope is actually cheaper.
Best Gym Climbing Rope – Edelrid Boa Gym Climbing Rope
| | | |
| --- | --- | --- |
| Weight Per Meter: 68 grams | Fall Rating: 7 | Diameter: 9.8mm |
Getting a dedicated gym climbing rope is a such a good idea and we recommend it throughout this article. You don't extra length, super thin diameter, or dry treatment – so end up saving money. Don't worry about ruining your high-end sending rope with endless indoor fall training and hangs!
The Edelrid Boa Gym is the best climbing rope for the gym hands down. It has an ingenious design with a polyester-weaved sheath and thermal resistance. What does that mean? Adding polyester to the outer sheath means the rope resists wear better and will fray less.
Polyester isn't really great at getting rid of water so it's not recommended to use this outdoors – though you could get away with it on a dry day.
Heat resistance is super helpful indoors with the constant lowering and pulling through of the rope. The Boa Gym has a good fall rating of 7. Essentially this rope doesn't have what it doesn't need and is designed for long-term, consistent gym use.
Best Climbing Rope On A Budget – Sterling Evolution VR9
| | | |
| --- | --- | --- |
| Weight Per Meter: 62 grams | Fall Rating: 6 | Diameter: 9.8mm |
If you need a great all rounder for indoors and out but also have bills to pay – try this rope. The Sterling Evolution VR9 is the best climbing rope on a budget. A well-loved classic that you'll probably have already seen out and about.
The VR9 comes in a range of lengths so you can size to the crag's you'll use most. At 9.8mm it's a good middle ground for wear versus weight. The core is dry treated but the outer isn't so it's meant to last but won't look the best after a few years. Comes with a middle mark.
For the price it's an absolute bargain climbing rope. Great weight, handing, and features from a high end US rope maker. Will work great for the gym too if you can just afford the one rope.
Best Gym Climbing Rope On A Budget – Black Diamond 9.9
| | | |
| --- | --- | --- |
| Weight Per Meter: 64 grams | Fall Rating: 6 | Diameter: 9.9mm |
For those who just want a cheap gym climbing rope – this is just the ticket. At 9.9 diameter it's a little thicker than you might want for outdoors but for indoor top roping it's perfect. It should last for at least a year of weekly sessions in the gym and won't set you back too much.
Black Diamond make a great range of beginner climbing gear including the Momentum Harness and Momentum Shoe. This fits in perfectly with the range and buying all three together along with a good beginner belay device and carabiner means you're all set for indoor climbing.
With a big and obvious middle mark it's easy to stay a little safer if you're ever unsure on the gym's height or if you take this outside. At under $100 for the 35m version it's excellent value and basically impossible to beat unless on sale.
Available in 35m, 40m , 60m, and 70m. BD also have a $29.95 Burrito rope bag with a fold out tarpaulin that fits 35-40m perfectly matches.
Common Questions About Buying A Climbing Rope
What Does Fall Rating Mean On Climbing Ropes?
Fall Rating does not mean how many falls of any kind that a rope could take in common situations. Most ropes will go through hundreds of small falls in a lifetime. Fall Rating shows the results of the UIAA testing.
For a Single rope test a weight of 80kg is dropped from 2.3 meters over the anchor, and continues to fall at least 2.5m more. This simulates a huge fall with a fall factor of around 1.7, and generates forces of around 9kN. Five minutes later then drop is repeated and then until the rope breaks.
A rope has to take a minimum of five of these falls without much rest which doesn't allow for stretch to recover. These are once in a lifetime falls – if ever – for most climbers. A rope getting 7 to 8 falls on the test is incredibly strong. Rope failure is generally only reported when run along sharp edges or exposed to chemicals.
Take a look at the harsh conditions a rope goes through in fall testing. As we've said, the best beginner climbing rope is the one you'll trust and feel safe using. A high fall rating or 7 to 8 is reassuring and you know the rope will stand up to repeated big falls.
What Does Static Elongation Mean On A Climbing Rope?
This measures how much the rope stretches on the first UIAA fall test. A rope can't pass if it stretches more than 40%. Depending on the situation you may want more or less stretch. More stretch means less force on the protection you are falling on to and a "softer" catch for you. However it also means a longer fall.
In a gym climbing situation where routes are short you might want a less stretchy rope to avoid a ground fall. Outdoors bolts and protection tend to be a little further apart. On a tall route where you're less likely to take a ground fall, a stretchier rope can mean less force on your protection and your body.
What Does Dynamic Elongation Mean On A Climbing Rope?
This simply measures how much a climbing rope stretches over it's total length with the 80kg weight. For Single ropes the max the UIAA allows is 10%.
What Does Impact Force Mean On A Climbing Rope?
This is based on how much the rope stretches and doesn't really measure how "strong" a rope is. It's just a measure of force put on the falling weight – again from the first fall done in UIAA testing.
The stretchier the rope the less force. Think about braking in a car and how a quick emergency stop feels. Also why we use dynamic rope.
You might want a less stretchy rope indoors because of the shorter height, and a slightly stretchier rope on long trad runs where you want as little force on the gear as possible. Honestly there isn't really much point worrying about this though.
How Do I Uncoil A New Climbing Rope?
If you're buying your first climbing rope you need to know how to uncoil it properly the first time. If you just open the packaging and start climbing rope you'll put a bunch of twists into the rope. This will end up coiling and kinking up straight away and take ages to fix.
You have to uncoil a new climbing rope in a specific way. It's hard to describe but this video shows how to do it perfectly. Some ropes like Mammut's are coiled ready to climb, and Edelrid's come in packaging that allows you to pull the rope through a hole and be good to go.
How Long Can I Use A Climbing Rope?
It depends on use. Most manufacturers recommend 10 years as the absolute maximum a rope should be kept if never used. In general, if you use your rope a couple of times a week then a year max is a good bet. One of twice a month could be anywhere from 2-3 years.
Exposure to sunlight, big falls with high force factors, and rappeling often reduce the lifetimes of a rope. Overall it's hard to tell because these things aren't tested and factors can vary massively.
When To Retire A Climbing Rope?
Without clear signs of damage it can be hard to judge. If you can ever see the core of the rope (sometimes called a core shot) then immediately retire the rope. If there are large areas of fraying, or the rope feels very uneven and lumpy then it's probably ready to go. Any exposure to chemicals is very dangerous even if there is no visible damage.
Ropes often get frayed and bumpy where you tie in and it's common to cut ropes (and seal with heat) down a little at the ends. A "flat spot" where you can press a loop of rope together easily is a clear indication of wear. Some people will cut a rope at these points and use each side as backups, gyms ropes, or for static rigging.
Every few months take your rope and run the entire length through your hands looking for bumps, thin areas, or lumpiness. Pay attention if the core is loose within and not attached to the sheath. This is known as sheath slipping. Sheath fraying is common and isn't necessarily something to panic about – depending on how fuzzy.
Our best advice is to take it to people with experience, let them have a feel, and get a few opinions. There's nothing climbers like to do better than opine about gear.