The Air Traffic Controller is the classic climbing belay device that most climbers have used at some point. It's simple design made its debut in 1993, quickly becoming the most popular belay device on the market.
The ATC is a belay device used by a person on the ground – the belayer – to manage the rope attached to the climber and catch falls. With it you can belay on top rope and lead in sport and trad climbing, as well as rappel from the top of a route.
What Does ATC Stand For In Climbing?
ATC stands for Air Traffic Controller. It's named as a sort of joke as if the falling climber dropping in the air is traffic and you're the person controlling them. The ATC is produced by Black Diamond and they now have a range of ATC devices with different features.
What Are Manual / Tube Style / Tubular Belay Devices?
Any belay device that uses one or two tubes or elongated holes is a tube style or tubular device. Most have two tubes or slots so that they can be used to belay with two ropes or rappel on a doubled rope. Most tube style devices also have teeth for added grip on the rope.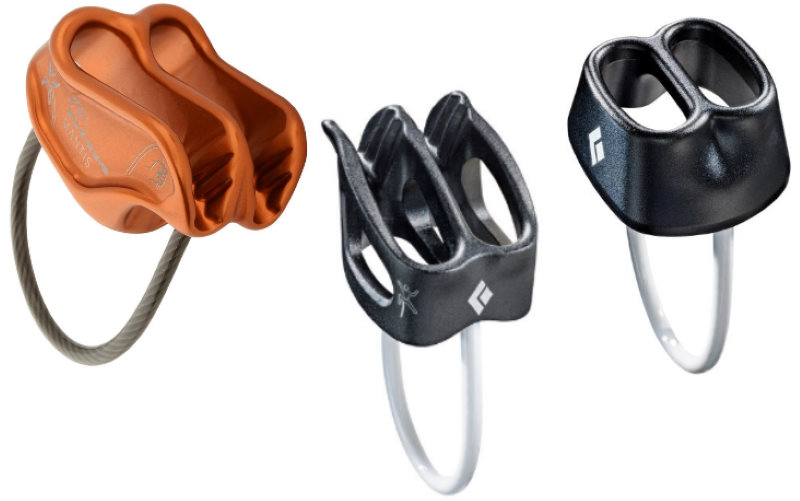 Most tube style devices are also manual belay devices – meaning that stopping a fall must be done manually by holding the rope. There aren't really any automatic devices, but assisted braking devices. The Edelrid Jul range and Black Diamond's ATC Pilot can both be considered "tube style" but also assisted braking devices.
Are All Belay Devices ATC's?
No, but the ATC is such a popular and standard belay device that climbers often refer to all "tube style" devices as ATCs. It's like the way Americans use Kleenex – a brand name – to refer to tissues, and Brits call vacuum cleaners a Hoover – also a brand.
It wasn't even the first tube style device, that was the Latok Tuber in the 80's. Since then many companies have produced their own simple two hole manual belay devices. The designs have been updated to include teeth and other extras while still retaining the original function.
What Is The Best ATC/Tube Style Device?
If you are buying your first belay device we'd recommend either getting an assisted braking device, or a good tube style device with teeth. It doesn't have to be an Air Traffic Controller, similar belay devices for climbing are common. We recommend the Black Diamond ATC Guide as the best manual belay device.
It can be used with or without teeth, on multipitch to belay from above or directly from an anchor, it's very good for rappelling, and it's very easy to use. If you've learned to belay using an ATC then you can belay using the Guide straight away.
The ATC Guide is pretty light at 80 grams and is designed to work best with 8.9 to 11mm single ropes or 8.1 to 11mm half and twin ropes. It's very smooth to belay with and the teeth catch well for big lead falls, plus it holds well on top rope.
After a few years of use, it still holds up well and gets regular use in many situations. The anchor hole works well extending a rappel or clipping direct to an anchor point for belaying, and a smaller front hole helps to aid lowering from above as an autoblock release.
If you don't know what any of those are, don't worry – buying this will cover you when you try them. For only $14 more than a bog-standard ATC, and $7 more than the ATC XP (with teeth) you might as well get the Guide and save yourself money later on. Pair it with a reasonably priced Black Diamond RockLock Carabiner and they'll last you years of all-round use.
The ATC Guide was also our top pick for manual belay devices in our Best Belay Device For Beginners article
If you really don't want to shell out on a Guide, then you can get an ATC XP. It's a great tube device with teeth and we still wouldn't recommend one without unless you really have a reason for it. You can also get the ATC XP with a good belay carabiner for around $30 – called the Big Air XP package.
Black Diamond ATC XP
Big Air Package – ATC XP + Carabiner
How To Use An ATC For Climbing?
Get an instructor to teach you in person. Don't learn to belay from the internet. There are actually plenty of really good resources online that do a great job of showing you the basics and some of the key concepts. However, in-person teaching will catch you when you make mistakes or misinterpret something.
Belaying properly is really important, whatever device you use. Knowing how to belay properly is the cornerstone of being a good climbing partner and it'll make both you and your climber much more confident.
More Climbing Gear Explained
– What Is A Carabiner?
– How Many Quickdraws Do I Need?
Are ATC/Tube Style Devices Safe?
When used properly, any belay device is safe to use. That being said, the newer assisted braking devices (ABDs) do offer an added level of safety in the case of simple user error, medical emergencies, or climbing accidents. While you shouldn't rely on a belay device's safety features entirely, there definitely are situations where tube style devices wouldn't be as safe.
ATC vs GriGri
Mechanical devices likes the GriGri and Birdie offer a braking system that can hold a rope in a locked position if the belayer were to let go of the rope. That could be because of a simple mistake – like a newer belayer mishandling the rope, a large fall, and a loose belay with a lot of slack causing a rope burn.
The GriGri+ was our top pick for assisted braking devices in our Best Belay Device For Beginners article
Emergencies and accidents do also happen. A belayer could be knocked out by a falling rock, have a medical seizure, or have their own anchor point fail. We know climbers with epilepsy, Ehlers-Danlos Syndromes, or who have one arm that prefer to use an assisted braking device for additional support when belaying. We also personally trust a good belayer with an ABD over a tube style device.