Climbing tech has advanced super fast in the past few years. What used to be a clunky piece of steel is now a sleek bit of thoughtfully crafted aluminum. Shed weight and save space on your rack with the smallest and lightest carabiners on the market.
Having micro carabiners available in your climbing gear rack or for general use can be super helpful. Whether you're climbing El Cap and want to haul less gear, threading a tiny hole to rig up a sweet hammock, or attaching survival gear to a bug-out bag – having a micro carabiner is always handy.
Just Want Some Small Biners? Our top picks at the lowest price online
– Smallest Carabiner – Edelrid Nineteen G / Six Pack
– Best Looking Microbiner – Black Diamond Miniwire / Six Pack
– Smallest Locking Biner – DMM Phantom Screwgate
– Smallest Auto Locking Biner – Petzl Sm'D Triact-Lock
Why Buy The Smallest Climbing Carabiners?
The smallest carabiner normally also means the lightest carabiner. When you're facing a big multi-pitch that needs a tonne of different protection, racking efficiently with lightweight gear that takes up less space is crucial. If you have to separate your gear it's best to have different colored small carabiners so you can find the right gear quickly without rearranging mid-route.
Just one clip in anchor point but five things to clip in? – Smaller carabiners fit easier
Like to attach your water bottle, rain shell, crack gloves, approach shoes PLUS gear to your harness? – Less bulk, more stuff per gear loop
Traveling with gear on expeditions? – Less space and weight
What Is A kN rating?
We've listed our favorite small carabiners here for multiple purposes though they are all rated for climbing. Rated means they have a kN (kilonewton) rating for each axis, have been tested to UIAA and CE standards and can be relied on. For climbing gear, there are certain standards – though they are often designed for worse case scenarios
The minimum ratings for the type of carabiners we'll be showing are 20kN for the Major axis and 7kN for both the Minor axis and for the open gate rating. All of the featured lightweight carabiners are offset D shape i.e. they look like a weird letter 'D'. Why? That's generally the best design for this size for normal use and so the gate can open enough.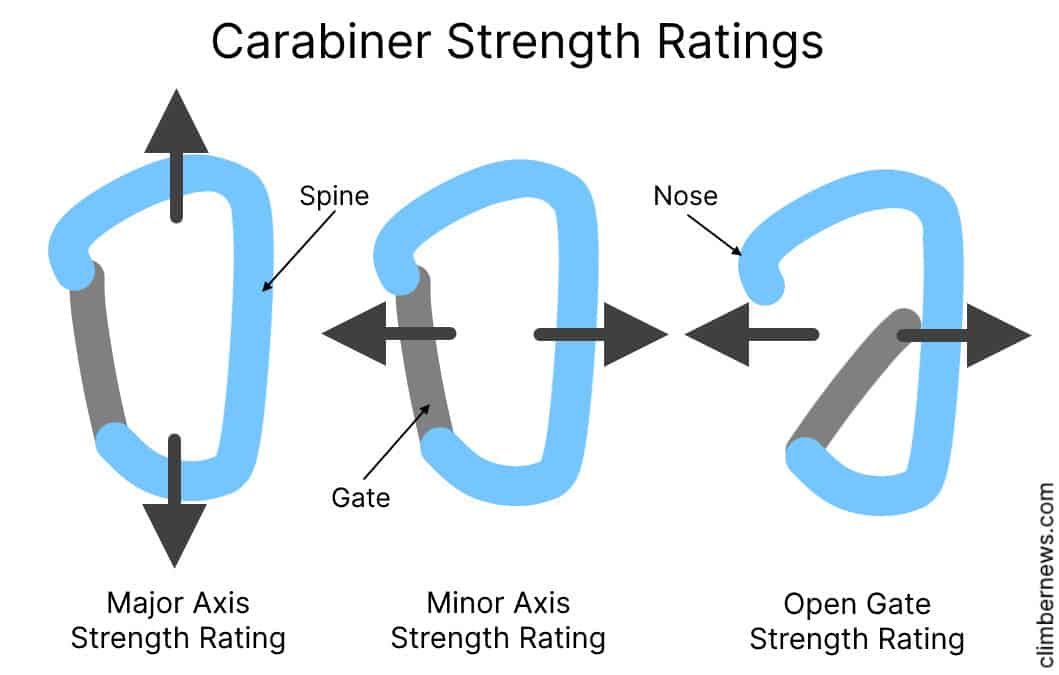 Why Get A Rated Carabiner?
If you're a climber it's a good idea to never own a carabiner that isn't rated. Cheap carabiners are often used for keys or other uses and can be mixed up with actual gear. There have been instances where a piece of unrated gear has made its way onto a real rack and then failed and broken.
Read – How Strong Are Climbing Carabiners? Reading kN ratings
Don't buy carabiners from Amazon, eBay, Wish, or other similar "everything under one roof" sites. Fakes are out there and it's easy to supply a fake to the general marketplace supply and sell it as if it's real. Only buy micro carabiners and other safety gear from legitimate outdoors suppliers that buy direct from the manufacturer.
Check Your Gear – Check to see that the UIAA and/or CE ratings are printed or embossed on the biner. If you ever buy gear that has damage or a manufacturing defect send it straight back and contact the manufacturer so they can check others on the same production line.
Smallest Climbing Carabiner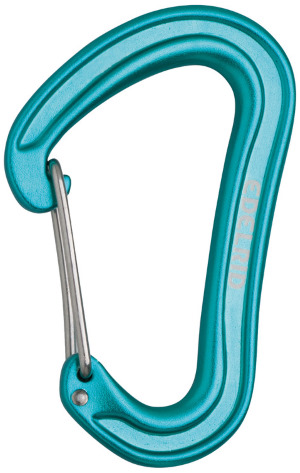 | | | |
| --- | --- | --- |
| Weight: 19g | Shape: Offset D | Gate: Wire 18mm opening |
| Major Axis Rating: 20kN | Minor Axis Rating: 7kN | Open Gate Rating: 7kN |
The Edelrid Nineteen G is the smallest carabiner for climbing available right now. It's also the lightest climbing carabiner – breaking the 20-gram barrier. The first carabiners for climbing weighed 4.5 ounces or 128 grams which is about five of the Edelrid Nineteen G's!
At 78mm tall and 50mm wide it makes it about as long as my pointer finger – easily fitting in most people's palms. Even with the minuscule size and weight, it is still totally usable though might take a little time to get acquainted with.
The 6-Pack comes with 6 distinct colors that match well with your standard Black Diamond and DMM cams/nuts. You can also buy singles but a multi-pack on sale is a great bargain for carabiners that you'll always find a use for.
Smallest Climbing Carabiner Alternative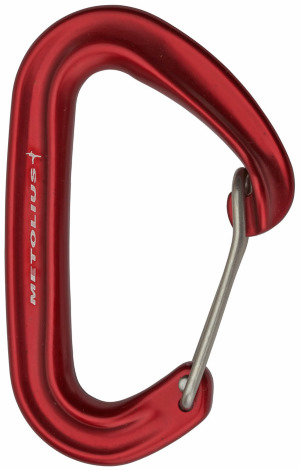 | | | |
| --- | --- | --- |
| Weight: 25g | Shape: Offset D | Gate: Wire 17.5mm opening |
| Major Axis Rating: 22kN | Minor Axis Rating: 7kN | Open Gate Rating: 7kN |
As an alternative the Metolius FS Mini II comes in at the same measurements – just 78mm tall and 50mm wide and weighing only 25 grams each. As a bonus, the Major Axis strength goes up to 22kN while keeping that slim and small design.
These budget carabiners are by no means cheap in terms of their quality or design. If you want to try out a micro carabiner to see how they handle these can be had for under $5.
Best Looking Small Climbing Carabiner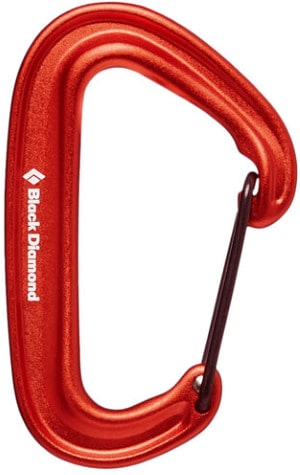 | | | |
| --- | --- | --- |
| Weight: 23g | Shape: Offset D | Gate: Wire 21mm opening |
| Major Axis Rating: 21kN | Minor Axis Rating: 7kN | Open Gate Rating: 7kN |
If you're just here because you want a cool-looking carabiner for your keys and water bottle we aren't going to judge you. Well, we are but not openly. The BD Miniwire is straight up the coolest looking small climbing carabiner about. At just 85mm long by 53 wide and only 23 grams these still qualify as micro carabiners, are fully rated, and are by no means heavy.
Being designed by BD means that attention has been paid to looks. There are 12 colors in the range, the six in the Rack Pack cover your standard cam colors. You can also expand a little into a nice purple, a couple of oranges, goth black, and – of course – hot pink. The best carabiner for backpacks and survivalists.
Smallest Locking Carabiner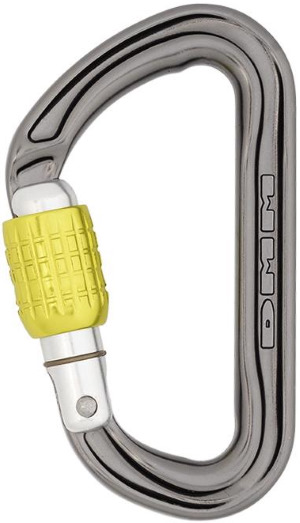 DMM Phantom Screwgate
| | | |
| --- | --- | --- |
| Weight: 42g | Shape: Offset D | Gate: Screwgate 15mm opening |
| Major Axis Rating: 24kN | Minor Axis Rating: 9kN | Open Gate Rating: 9kN |
The DMM Phantom Screwgate is the smallest locking carabiner for climbing available on the market and is often used for clipping into and building anchors. A well-loved small trad carabiner that also comes in a screw gate locking version. As far as micro locking carabiners go this is our best buy.
At just 42 grams, 94mm tall, and 54mm wide it's tiny and light. One of its best features is the nose profile at its thin enough to slip into most bolts and chains easily. The I beam construction also keeps it safe with a few kN more than the wire gates featured for all axes. It's also the lightest locking carabiner for climbing out there.
What Carabiner Locking Method Should I Choose?
It depends on the purpose and your personal preference. Auto-locking carabiners are great for clipping in fast when you want the gate shut without wasting energy. Some don't like them because of the possibility that they can be opened by accident and prefer a screw gate that you manually confirm as locked by doing it yourself.
However, screw locks can come undone if you lock them upwards so that gravity and vibration slowly lower the screw gate. The Triact-Lock is probably the least likely to open out of the three small autolocking carabiner options below (Triact, Twist, and the button push of the slider). Again, it's all up to your use and preference.
Smallest Auto Locking Carabiner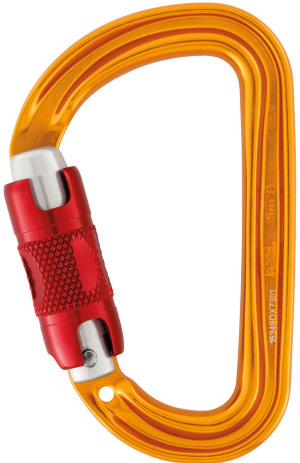 Petzl Sm'D Twist-Lock
Petzl Sm'D Triact-Lock
| | | |
| --- | --- | --- |
| Weight: 51g Twist / 55g Triact | Shape: Offset D | Gate Opening: 20mm Twist / 18mm Triact |
| Major Axis Rating: 23kN | Minor Axis Rating: 8kN | Open Gate Rating: 7kN |
The Sm'D from Petzl is the smallest auto-locking carabiner available and overall an excellent small carabiner for a bunch of different uses. For building anchors and tying in it's perfect as it has the thin nose profile that won't snag. There is also a tiny hole under the gate for threading cord to attach a Tibloc, Micro Traxion, or other ascender and descender devices.
The Sm'D comes in two different locking options. To open the Twist Lock you twist the gate round and it opens, this can be done easily with one hand. With the Triact-Lock you have to pull it up, then twist, then open. It can still be done with one hand but it's a litter harder.
It's a little bigger than some of the others here at 102mm tall and 58mm wide and comes in at 51g for the Twist-Lock and a little weight premium at 55g for the Triact-Lock. Even with this little bump in stats, both versions are the lightest and smallest autolocking carabiners for climbing that are available right now.
You can also get the Sm'D in a standard screw gate locking version but we'd recommend the DMM Phantom above as it's smaller.
Alternative Small Auto Locking Carabiner – Lightest Auto Locking Carabiner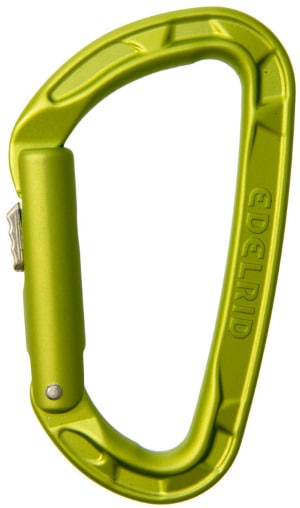 Edelrid Pure Slider
| | | |
| --- | --- | --- |
| Weight: 42g | Shape: Offset D | Gate: Locking 17mm opening |
| Major Axis Rating: 23kN | Minor Axis Rating: 8kN | Open Gate Rating: 8kN |
If you aren't a fan of the Twist Lock or Triact-Lock then take a look at the Edelrid Pure Slider. It's only a tiny bit bigger at 100mm long and 58mm wide but has a different gate closure. You press a button to release the lock when opening and when the gate snaps shut it automatically locks. Again it has a thin nose for clipping and also comes in at a lower weight – just 42 grams, making it the lightest autolocking carabiner on the market (with a solid gate).
Disadvantages Of Using The Smallest Climbing Carabiners?
Using small, light carabiners can have many advantages though can be limiting in certain situations. Really the main use will be for racking trad climbing gear like cams and nuts and saving weight for big days. For multipitches and big walls where speed isn't an issue but weight is – these micro carabiners will be perfect.
The above all goes for alpine climbing where micro carabiners are the standard. If you're trying to break speed climbing records like Honnold and Caldwell in Reel Rock 14 we'd also suggest these. Here are some of the things to think about before buying small climbing carabiners: –
There is a learning curve when clipping and unclipping such small gates
Limited use – Ultralight carabiners and micro carabiners aren't normally used for belaying or large anchor points for multiple hitches
Cost – They're normally at least a couple of dollars more per biner than a standard small carabiner
For belaying take a look at our in-depth guide to the best belay carabiners for all types of devices.
Would We Recommend Small Climbing Carabiners?
Absolutely yes. Pretty much any climber will find a use for these, even just for long days where you want a few extra bits attached to your harness. Lovers of long multi-pitch days, big wall dreamers, and alpinists alike will all find these becoming an integral part of their climbing racks.
While we always recommend buying specific carabiners for specific uses, having a few micro carabiners about is always going to be handy. Plus they look pretty neat on your Nalgene when you absolutely need everyone at work to know what you do at the weekend.
More Great Climbing Gear Articles
– Best Carabiner For Grigri
– Best Climbing Shoes For Beginners
– Best Belay Carabiner
– Best Climbing Rope For Beginners
– Best Gifts For Rock Climbers
– What Is A Carabiner?