Alex Honnold climbing 3,000 foot up El Cap without a rope in "Free Solo" caught the world's attention. The controversy over free soloing has been around since it's beginnings – but it's hard not to be captivated by the unique style of climbing
Free Soloing is the act of climbing without any rope, harness, or safety equipment. Using just their hands and feet in some sticky-rubber climbing shoes, these free soloists focus everything they have on pure climbing. It's hard not to be captivated when watching something this compelling.
Detractors say it's irresponsible and creates horrible possibilities for family, friends, and potential first responders. Free soloists motivations vary but most would say that it's the closest thing to fully living in the moment as can be. Whatever your moral position it's hard to argue that some of these feats are groundbreaking.
Read on to learn more about free soloing and the best free solo climbers of the past century, or check our Q&A for more about this dangerous sport.
What's The Difference Between Free Soloing and Free Climbing?
Free Solo climbing is climbing with no rope, or any form of protection, completely alone. If you fall there is nothing to catch you. It's the simplest and most obvious form of climbing but the most dangerous. Free Climbing is climbing using only your hands and feet to progress – but using a rope to protect from falling. Both Sport climbing and Trad climbing are Free Climbing and these – along with Bouldering – make up the majority of modern climbing.
Free Climbing is basically safe – though there are always risks. For safety you periodically clip the rope into protection along a route. If you fall, you only go just below the last piece of protection you clipped in to. With Trad climbing you take things called cams and nuts with you and place them in cracks or seams, then clip in to them. With Sport climbing there are bolts pre-drilled into the rock that you clip quickdraws into.
Why Is It Called Free Soloing – Not Free Climbing?
Climbing used to be just about getting to get to the top of a mountain any way possible. You might use your hands and feet on the easier stuff, but when it got hard use what we now call "Aid" to pull on. Aid climbing is when you use devices like cams or nuts to pull on with your hands, and using a thing for your feet called an "aider" – which is like a small fabric ladder for you to walk up.
Because most climbing was done in this way, when people started to climb with just their hands and feet on the rock but using protection just to protect from falls – they called this style "free climbing". When mountaineers would climb mountains alone it would be called "soloing", so to "free solo" something became the slang.
What Does "Free'd" Mean In Climbing
Sometimes you'll hear people say something about someone "free-ing" a route – which can mean a couple of things. Nowadays it generally refers to free soloing a route. In the 60's or 70's, if someone "free'd" a route they'd probably mean it was free climbed with a rope, not free soloed. This is because in that time period there were many climbs that had only been aid climbed that were now being tried free of aid. Lynn Hill "freeing the Nose" is a great example of this.
Is Free Soloing Dangerous?
Yes, even a fall on a short route can end terribly and no-one can guarantee they won't fall. Many who choose to free solo are extremely good climbers and will choose grades that are well within their limit. They might practice the route many times and figure out how to down climb if it's even possible, justifying the danger by eliminating as many variables as they can.
However – anything can happen. Holds break, sweaty hands slip, footholds crumble, birds get territorial, and it's easy to mess up a crucial sequence when stressed or overconfident. Free solo climbing deaths aren't common but they do happen regularly, even to the best free solo climbers
Famous Free Solo Climbers
Alex Honnold – Star Of "Free Solo" Movie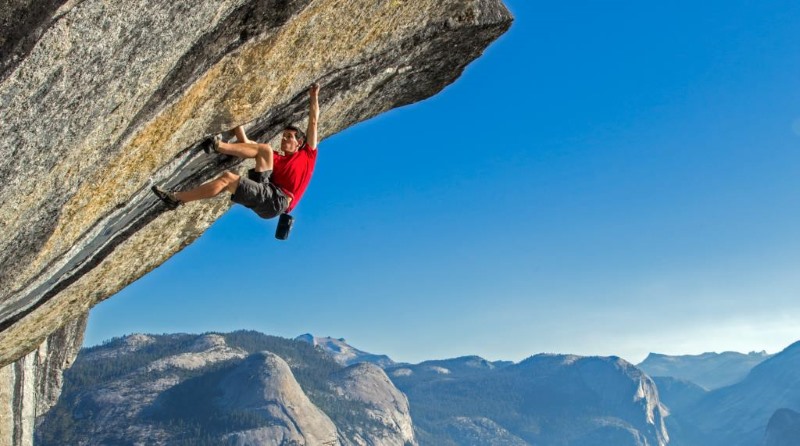 You probably already know Alex Honnold as the best free solo climber in the world. Also, the most famous climber as the star of the incredible "Free Solo". The documentary captured his journey towards climbing the "Freerider" route on El Capitan with just shoes and a chalk bag. It was the first free solo of El Cap and the movie gained an Oscar nomination and seven Emmys for it's creators, as well as thrusting Honnold into the limelight.
Ale Honnold Free Solo's "Freerider"
The route that made his name known across the world was "Freerider" on El Capitan in Yosemite National Park, California. At around 33 pitches over 3,000 foot it's rated 5.12d / 7c overall, with the hardest (crux) pitches being 5.13a / 7c+ and 5.12d / 7c. El Capitan is the main imposing rock face in the park and is idolized by climbers worldwide.
The famous boulder problem is on the hardest pitch and breaks down to a handful of painfully precise moves including the "karate kick" high leg. The alternative to that was to jump for a ledge – a move Alex couldn't justify taking the risk on.
This route was considered the hardest free solo ever completed and will probably still be so for many years. Though it wasn't the hardest single pitch free solo, it was the longest hard multi pitch route ever done as a free solo by a good margin.
In his younger years Alex climbed a huge amount and moved into doing free soloing around the time he joined college. He found it was easier to climb alone than have to find a partner, so would often boulder or free solo easier routes. Eventually free soloing became his passion and he would climbs many harder single pitches and bigger walls.
Free Soloing Astroman & The Rostrum In A Day
In 2007 Alex free solo'd both "Astroman" and "The Rostrum" (both 5.11c / 6c+ multi pitches) in Yosemite – putting his name out there in the climbing world. He did the hardest variations on the routes which are regarded as classics that hold huge importance in free soloing history. The first person to free solo each route was Peter Croft, who did first them separately then both in one day in 1987. This was a huge nod on Alex's part as he considers Peter Croft a hero.
Free Soloing Moonlight Buttress
In 2008 Alex Honnold again blew up in climbing news when he free solo'd the Moonlight Buttress in 1 hour 23 minutes. Another absolute classic big wall rated at 5.12d / 7c that spans 1,200 foot over 10 pitches. It's an almost perfect line of finger cracks and corners. Honnold is a big fan of finger-width crack climbing, saying of the route "All of it was locker. Really good, solid fingers". The route in Zion National Park, Utah became arguably the hardest free solo climb on a big wall.
Free Soloing Half Dome
Later in 2008 Alex free solo'd the Regular Northwest Face route of the Half Dome in Yosemite. The route is another Yosemite classic at 2,300 foot and normally 23 pitches rated 5.12a / 7a+ overall, with the crux pitch being rated 5.12a with a few 5.11 slabs. Though this route overall is rated lower than Moonlight Buttress, Alex said this was harder for him "Moonlight is pumpy, and that's all—if you don't get pumped, it's no issue. Moonlight I had totally dialed, but this was more of an adventure."
Alex said later that he didn't feel totally secure on the route, made some mistakes, and felt like he "got away with something". To avoid climbing a 5.12a pitch he took an easier 5.10 loop variation that he hadn't climbed before. This ended up being bad because less people had climbed it so there was questionable rock quality, no chalk marks to show holds, and more dirt. It also added on a lot more climbing.
Despite the difficulties he made the whole route in 2 hours 50 minutes. In 2012 he went back after dialling in the route further, free soloing it again in 1 hour 22 minutes. There is a famous photo of Alex on Half Dome facing out from a ledge – the ledge fell off in 2015.
Free Soloing El Sendero Luminoso
In 2014 Alex did his hardest free solo to date on the route "El Sendero Luminoso" in El Potrero Chico, Mexico. The route is a huge 1,500 foot wall made up of 15 pitches graded 5.12d / 7c overall with the hardest single pitch being 5.12d. He sent the whole thing in 2 hours 50 minutes. It's known as being an endurance wall of technical climbing on small crimps and delicate foot placements.
This was another step up in difficulty and became the hardest free solo climb on a big wall at the time. Alex worked the route over a few days with Cedar Wright who also filmed the whole thing for The North Face. It's insanely technical and insecure for a solo and – as with most of Alex's free soloing – the route hasn't seen another solo ascent.
Free Solo Film Deaths Controversy
Near the start of the Free Solo movie there is a section that mentions five famous free soloists who died. It amps up the drama a little by implying that they all died while free soloing – which wasn't the case. Dean Potter, Sean Leary, and Dan Osman all free solo'd regularly but didn't die doing it. Only John Bachar and Derek Hersey did die while free soloing.
Read more about Alex Honnold and other Famous Rock Climbers
Find out What Climbing Shoes Alex Honnold Wears plus a full Honnold Q&A
Brad Gobright – Dirtbag Dreamer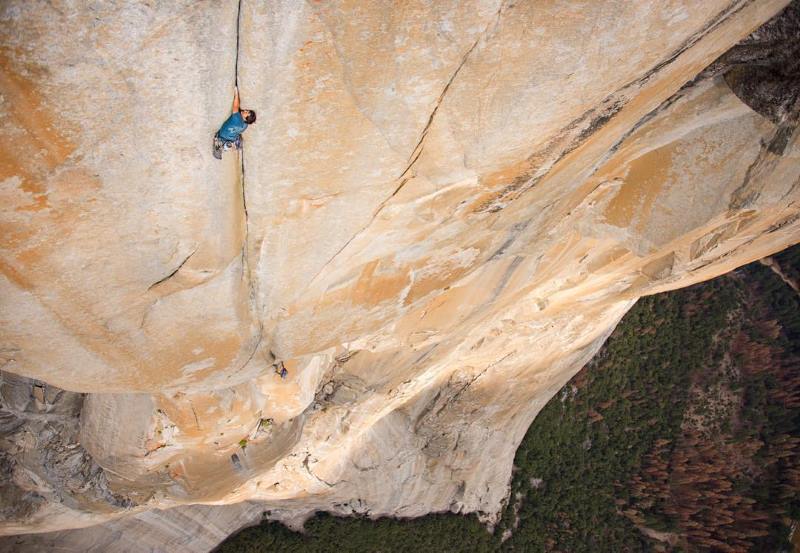 Brad was the climber's climber. He based his life around climbing and would do it whatever the cost to his health, sleep schedule, and personal life. He notched up a huge amount of big wall climbs in trad style as well as some notable free solos. As many famous dirtbag climbers do, he worked on YOSAR while climbing many of Yosemite's big walls, racking up speed records along the way by running out the gear.
Doing all this he broke his toes falling off of the famous "Midnight Lightning" boulder in Yosemite, broke his ankle three times, broke an elbow, and broke his back falling from "Viceroy" 5.14a R / 8b+ (R means hard to protect or a big runout) before he had been able to place any good protection. Each time he came back stronger and more stoked.
Brad has free solo'd the Yosemite classics "The Rostrum" and "Nabisco Wall" both 5.11c / 6c+, as well as "Epinephedrine" 5.9 / 5b in Red Rocks – breaking the speed record at under 59 minutes. Gobright's most notable free solo was of the route "Hairstyles and Attitudes", a 5.12c / 7b+ multi pitch in Eldorado Canyon, Colorado. The Safety Third documentary shows the scary footage of that free solo including him nearly peeling off. He was also featured in Reel Rock 14 on the Nose Speed Record.
Brad Gobright died in 2019 in a rappeling accident. He was descending from El Sendero Luminoso in El Potrero Chico after completing the route. His death was a big blow to the climbing community and he'll be greatly missed.
Austin Howell – Naked Cowboy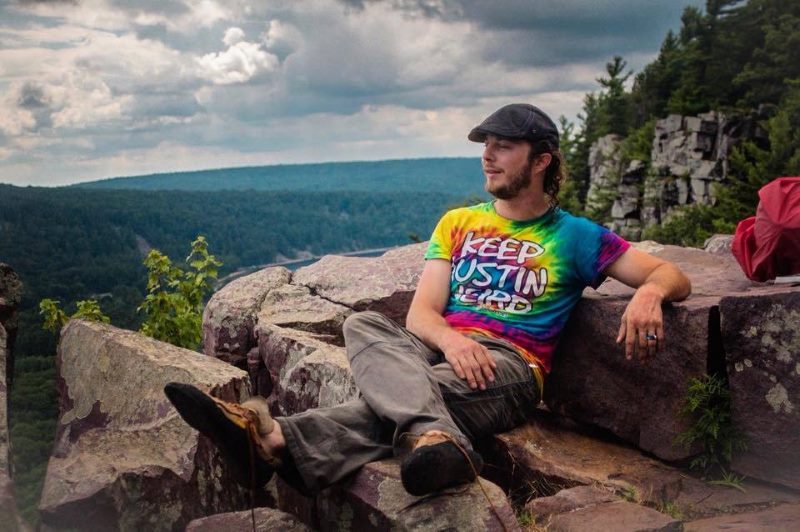 Austin Howell was a well loved climber who was known as freesoloist on instagram and had a podcast called "The Process". He talked honestly about his struggle with mental health and said that free soloing saved him, giving him a purpose and connection with life. He'd climb with his shoes untied for comfort and even had a pair of cowboy boots resoled to climb in.
Austin was a prolific free soloist who would spend days at a crag up and down climbing routes for practice. The down climbing was key to his soloing and he would often reverse routes when he felt in over his head. He said that he'd "climbed more pitches without a rope than I have with one".
In 2015 he fractured some vertebrae on a fall from the first pitch of the Nose on El Capitan – which set him back a few months of climbing. Over the years he managed to climb 19 unique 5.12 rated routes, some multiple times. His hardest free solo climb was a 5.12c / 7b+ route "Dalai Lama" and he had onsight solo'd 5.12a / 7a+.
In 2019 Austin Howell died falling during a free solo climb in North Carolina. He was trying a few different climbs in the area and doing laps free solo for practice. Other climbers in the area believe a hold broke and he fell from near the top of an 80 foot route.
Read More
– Free Solo Climber Falls In Yosemite And Lives
Hansjörg Auer – Bold Adventurer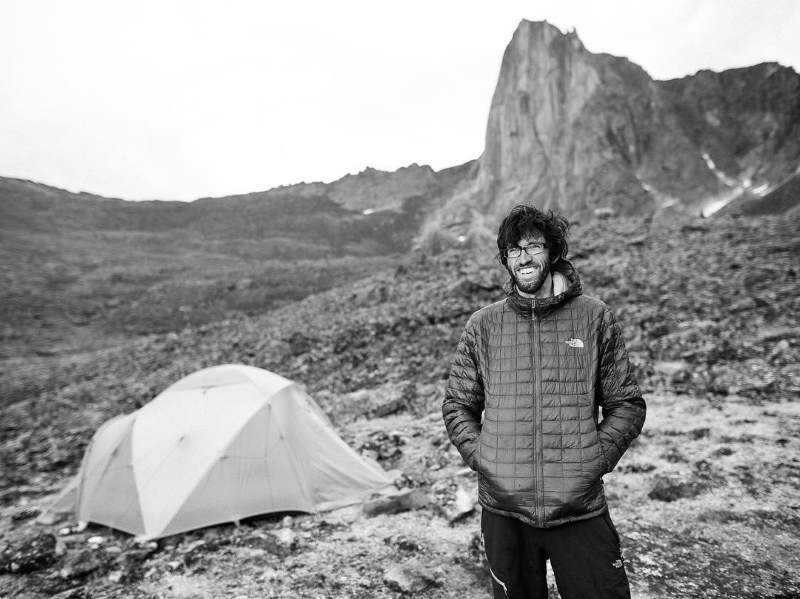 In April 2007, a couple of German climbers were doing the route "Don Quixote" on the famous Marmolada peak in the Dolomites. Looking across the mountain they were shocked to see a figure climbing completely unroped. The climber was Hansjörg Auer on the classic – and hard – 37 pitch, 2,800 foot long route "The Fish" graded at 5.12c / 7b+. It took him just under 3 hours at 2:55.
If it weren't for that photo, people may not have believed anyone could have free solo'd the route. For a multi pitch it was the hardest free solo climb ever done at the time, and he hadn't told anyone he was going to do it. Even more incredible was that he'd only climbed the route with a rope once before. The day before the free solo he rappelled in to work on a few of the harder pitches, then decided to climb it fully the next day.
He said of the route "On the summit I felt total emptiness, combined with an unimaginable sense of fortune". Hans made a number of other free solo's including "Tempie Moderni" 5.11d / 7a+, a a huge 2,800 foot multi pitch on the same Marmolada range. You can watch a short documentary on Hans called "No Turning Back" on Vimeo. You can also watch Auer making the sketchiest rappel ever from a few centimetres of rock.
In April 2019 along with David Lama and Jess Roskelley, Hansjörg Auer died after summiting Howse Peak, in Banff National Park, Canada. They had completed the route and were returning when evidence suggests they were hit by an avalanche. They took a photo at the summit.
Hazel Findlay – Globe Trotter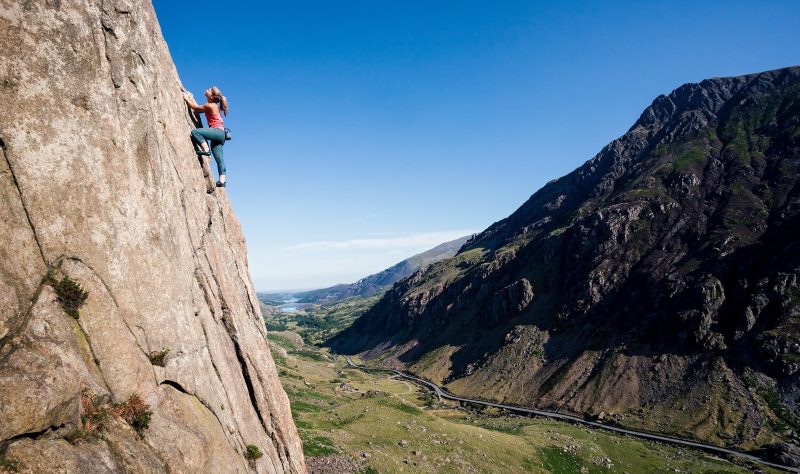 Hazel Findlay is mainly known for her hard trad climbs and was the first Woman in the UK to climb E9 with "Once Upon a Time in the South West". She's not just into scary trad but has done a bunch of free soloing in Wales and the rest of the UK. The excellent video below shows Hazel in flow while free soloing in North Wales. Click here for more, some older soloing in Froggat, plus an awesome Deep Water Solo on "Soap On A Rope" over a nice, cold lake.
Outside of free soloing Hazel is known for huge range of hard trad, sport, and bouldering. She was featured in Reel Rock 8 as well as Pretty Strong. She also sent a famous Yosemite 5.14c trad route "Magic Line" and is an inspiration to many from the UK.
Dean Potter – The Raven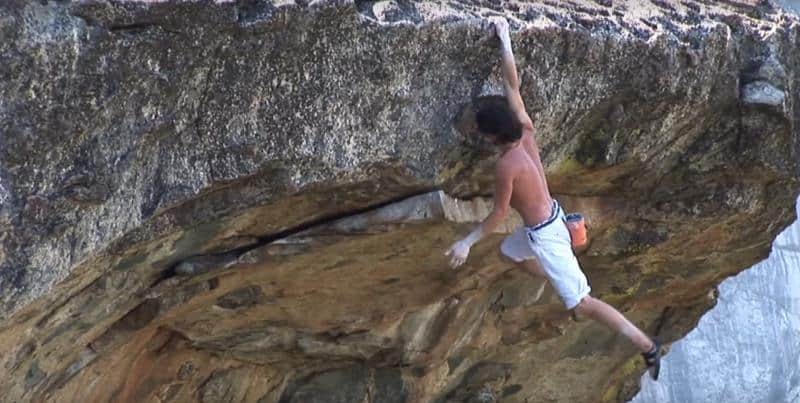 For a while Dean Potter was the center of attention for the Climbing community. He was one of the new era of Yosemite lifers known as the Stone Monkeys. Harking back to the days of the Stonemasters this new generation would again push the limits of free climbing and free soloing. They would also introduce even more "extreme" sports to the mix.
In his first few years of hanging out In Yosemite, Dean got the free soloing bug. In 2002 along with Timmy O'Neill he did a two person free solo of the "Steck-Salathe", a big wall featuring some very uncomfortable corners and squeeze chimneys. It didn't go perfectly.
At first Timmy had a wobble which nearly pitched him off but was saved by Dean reaching out to steady his foot. Then Dean freezes up in a tight spot and is saved by climbing Timmy's leg. Timmy O'Neill tells the story here – for sure worth a watch.
In the next few years Dean would take down many of Yosemite's big wall classics Astroman (second person after Peter Croft to free solo the route), The Rostrum (both 5.11c / 6c+), and Blind Faith completely ropeless. In 2002 he took this ethic and style to Patagonia where he climbed the 5,250 foot Supercaneleta route on Fitz Roy completely alone. This was the first free solo of Fitz Roy, he then followed it with another 7,000 foot route on the Fitz Roy he called the "Californian Roulette".
In 2006 he free solo'd "Separate Reality" 5.12a / 7a+, made the first free solo of "Dog's Roof" 5.12b / 7b, and then his most difficult single pitch free solo on "Heaven" 5.12d / 7c. All three are in Yosemite and considered free solo classics. Dean was the first to free solo "Heaven" and it stands out because the route itself starts 2,500 foot above the Valley floor so any fall would be fatal. Alex Honnold is the only person to have repeated this route free solo.
For years people were talking about who might be the first person to free solo El Capitan, with Freerider being the obvious choice as the easiest route. Until it was eventually free solo'd by Alex Honnold, many actually thought Dean might try it.
In 2006 Dean did free solo a variation of the El Capitan wall by a route he'd call the "Easy Rider". He started by hiking to the top of a route at the left side called "Lurking Fear". He downclimbed to around midway on the wall, traversed right along the Thanksgiving Ledge and continued up the last few pitches of the "Freerider". He did this to avoid the blank "Freeblast" slabs at the bottom where a foot slip could happen at any time, and to skip out the dreaded boulder problem crux pitch.
Dean was also a master of the slackline and loved BASE jumping. Jumping in particular was illegal in Yosemite so after a jump he'd immediately be on the run from park rangers. He combined two of his passions by climbing with just the BASE jumping rig for safety in case of a fall – calling it "freebase".
He also did huge slackline crossings across Yosemite and even China. Sometimes with a parachute, sometimes without. BASE jumping turned into wingsuiting for Dean and a few others. At one point Dean took his dog Whisper along for a fly in his own custom suit.
In 2015 Dean Potter was attempting a wingsuit flight from Taft Point in Yosemite with Graham Hunt. The route that they had both flown through multiple times before would take them through a natural notch in a formation across the valley. They made the initial jump but Graham hit the side of the notch. Dean made it through but crashed immediately after – both died.
Steph Davis – Flying Monkey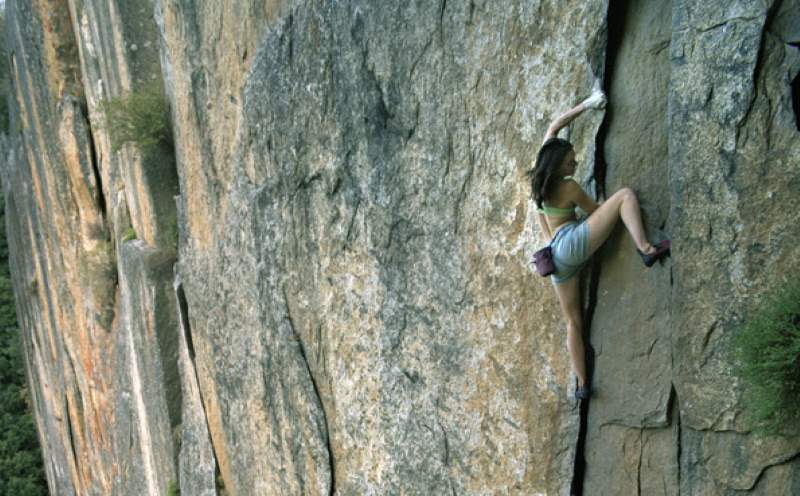 Steph Davis was one of the famous Stone Monkeys era of climbers in Yosemite who left their influence on the park. Known for many hard ascents in different styles of climbing, as well as wingsuiting and BASE jumping. In 2007 Steph climbed "Pervertical Sanctuary", a 750 foot 5.11a / 6b+ route on the famous Diamond in Rocky Mountain National Park. She'd done the slightly easier "Casual Route" 5.10a / 5c on the same wall twice, then repeated Sanctuary for the camera later. As you do.
Steph Davis has also free soloed as hard as 5.13a with "Conception", a huge 220 foot crack in Day Canyon. In 2008 Davis free solo climbed the 375 foot high North Face of the iconic Castleton Tower 5.11b / 6c. At the top she strapped on a parachute she'd stashed on her practice climbs, then BASE jumped off. Pretty cool, right?
As well as her daring free solos, Davis has also climbed all of the peaks of the iconic Fitz Roy range in Patagonia as well as Torre Egger. Her Yosemite ticks include becoming the second Woman to climb El Cap in a day (after Lynn Hill) and the first Woman to climb the Salathé wall. Until recent years Steph Davis also BASE jumped and wing suited regularly.
Matt Bush – Spandex Soloist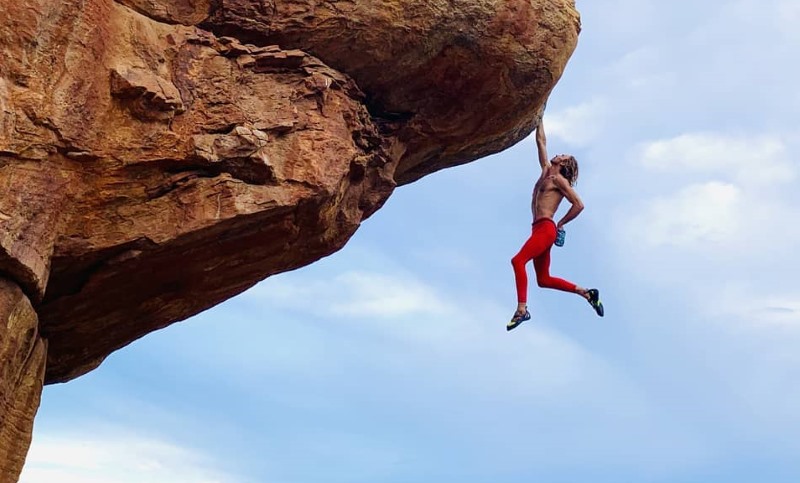 Known as @mattclimber on social media where he posts videos of many of his free soloing and highball ascents. Based in The Republic of South Africa Matt has free solo'd the famous Table Mountain in Cape Town. He does a huge amount of bouldering and especially love the picturesque high balls that can be found in Rocklands and Llandudno Bay.
Matt Bush's free soloing has reached as high a grade as 5.13d / 8b and he's also done V11 highball boulders. You can watch a tonne of videos on his youtube and instagram, where you'll never find him without a bright pair of spandex tights.
Dan Osman – Extremist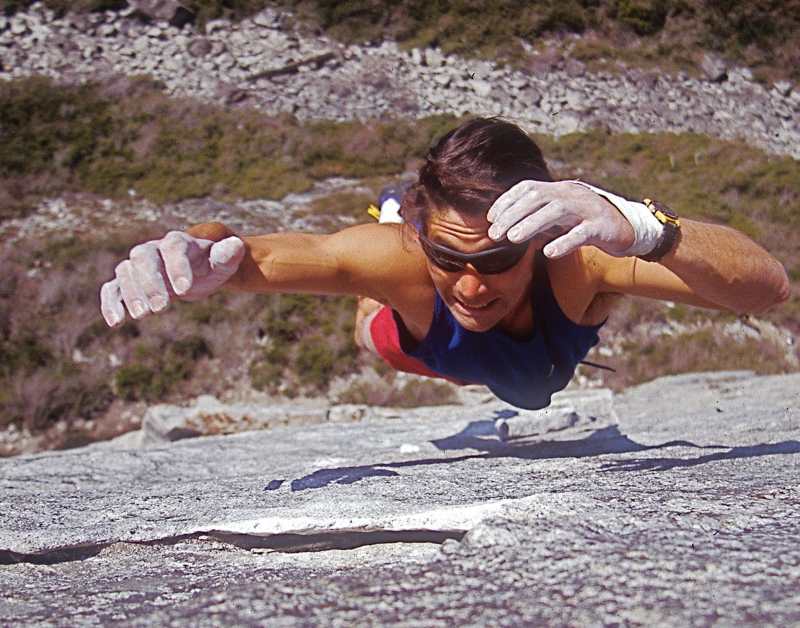 Dan Osman was one of a kind. Risk and exhilaration were what got him up in the morning… or afternoon. His friends would often joke about being on "Dano time". Free soloing was his thing for a good while though eventually he would start to enjoy falling on rope. This lead to him doing huge roped jumps in Yosemite, which he called "controlled free-falls".
Dan Osman became semi-famous for a while with the video of him free soloing "Lover's Leap". He climbed the route as fast as he could, doing over 400 feet in 4 minutes 25 seconds. At one point he leaps up with all limbs off the wall to grab a big flake with two hands. The video was all over TV stations and is still to this day featured in "extreme" compilations. Honnold repeated in tribute – wig, shades, headband, and dyno included.
Dan's hardest free solo was "Gun Club" 5.12c / 7b+ in New River Gorge. Photographer Jay Smith was with him on the day and saw him fall off of the crux two times out of his five practice go's on rope. The sun was directly on the rock and Dan was complaining about the heat and humidity just before the crux. Jay and the videographer urged him to just come back down but Dan Osman saw a cloud was coming, waited a minute for it to cover the crux, nailed it then topped out.
He once onsight free solo'd a 5.11 which he called "Bolder Display of Power" as featured in Masters of Stone II. You can watch him free soloing the 250 feet of "Blues Riff" 5.11c / 6c+ in Yosemite and here he is taking an intentional gear ripping 192 foot whipper for the camera. The repeated falls are what got Dan into controlled free falling, leading to bigger and bigger jumps.
In 1998 Dan Osman died while doing a large rope jump from the top of the Leaning Tower in Yosemite. This time he was supposedly going up to clean up the ropes from previous jumps but tried one more at a slightly different angle and the rope broke. The why wasn't conclusive but weather exposure or rope on rope friction were both possibilities. His body was found by Dean Potter.
Julian Lines – The Unknown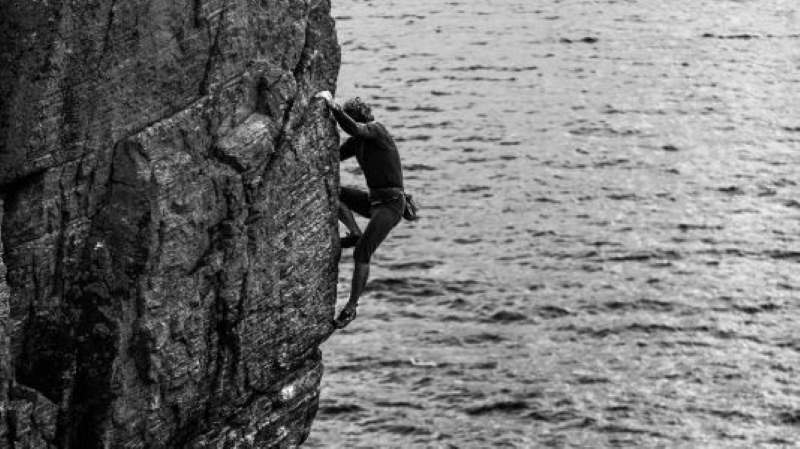 Described as the "Dark Horse" of British climbing, Julian Lines is one of the rare hard climbers who doesn't really put himself out there publicly. He isn't sponsored, doesn't use social media, and rarely sprays about his ascents. Julian has actually taken a big fall while free soloing and walked off without injury. He fell on the route "Hold Fast, Hold True" which is graded E10 7a.
British grading includes how dangerous a fall would be, plus a technical grade. Essentially this route is around 8a/+ (5.13b/c) difficulty, you can place an unhelpful skyhook about 8 feet up, and sometimes you can place a runner a good way off to the side. But that's it apart from stacking bouldering mats as it's basically a free solo either way.
Dave McLeod originally put up the route, but when Julian finished it he climbed a more direct finish, so Dave went back to try it again. McLeod fell on the route near the same spot and there is a video. There is also a video of Charlie Woodburn falling from about 40 feet up on the route too. So everyone that's climbed this route has also taken a nasty ground fall.
John Long – The Original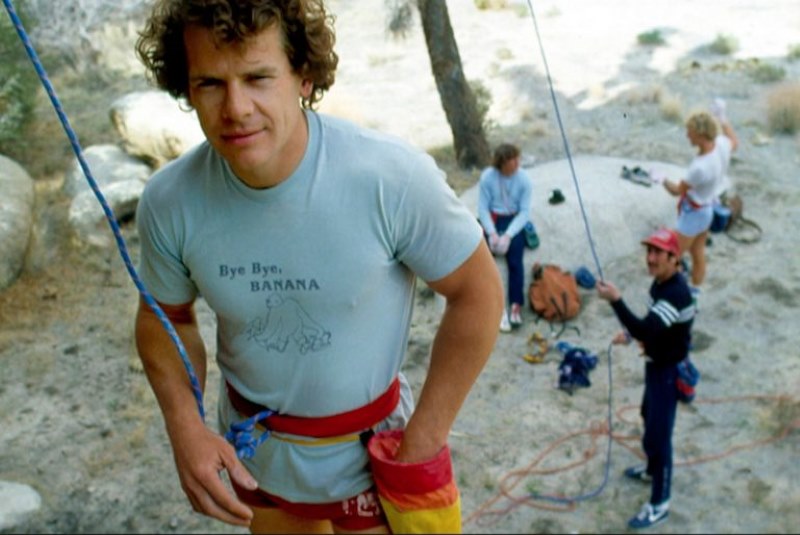 John Long was one of the group of Yosemite climbers known as the "Stonemasters". The legendary group was known for free climbing some of the famous big wall routes that had previously been done in aid style. John also popularized bouldering and high balling, and was one of the first Stonemasters to start free soloing and introducing it to others.
Long would solo a lot of the pitches in Yosemite and Joshua Tree that would now be called moderate or easier but his influence would be legendary. The video below is of John Long himself narrating a brilliant piece he wrote about a day soloing with John Bachar – who Long originally introduced to free soloing.
His novella "Rogue's Babylon" was actually used as the basis for the infamous Cliffhanger. The Stallone movie also featured Wolfgang Güllich doing the free solo climbing stuntwork. John Long also produced and starred in the amazing VHS that got many into rock climbing "Basic Rockclimbing".
John Bachar – Yosemite Lifer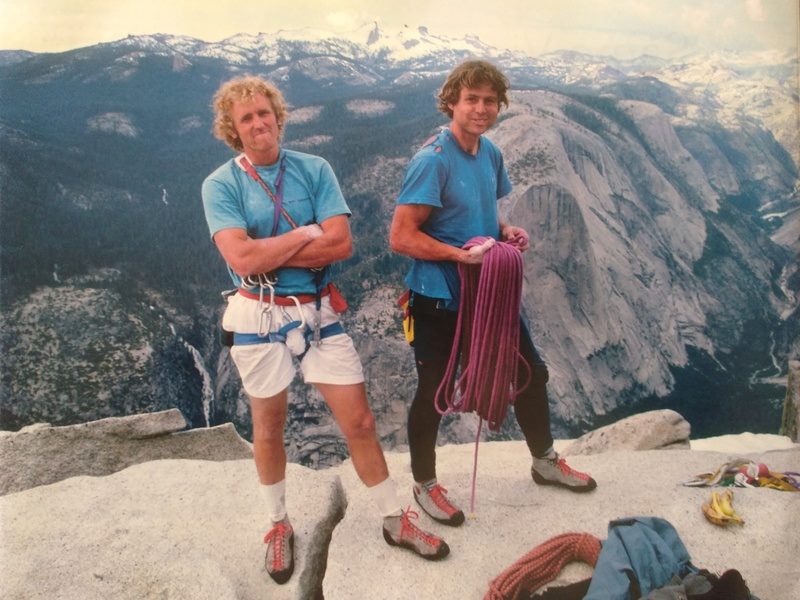 John Bachar was one of the climbers to look up to back in the 80's. He climbed big walls, boulders, and free solo'd regularly. As one of the constants at Camp 4 as part of the Stonemasters group he set up a lot of the training equipment. Fitness and training were integral to his climbing philosophy and he invented the bachar ladder training tool.
Bachar was known for his daring free solos of some of the hardest climbing routes in the USA at that time. His hardest free solo's include "Enterprise" 5.12b / 7b, "The Gift" 5.12c / 7b+, and "Father Figure" 5.12d / 7c. He would go on show his great mental control by free soloing the 400 foot "New Dimensions" 5.11a / 6b+ and the "Nabisco Wall" 5.11c / 6c+ in Yosemite.
His training has influenced generations and many of the routes he bolted and climbed are now classics. Free climbing "Astroman" on the East Face was a huge indicator to many about what could now be achieved with hard work. He also started the craze of link-ups in Yosemite by climbing Half Dome and El Cap with Peter Croft in under 14 hours.
Half jokingly and half serious, Bachar put up a note on Tuolumne Meadow's message board reading "$10,000 reward for anyone who can follow me for one full day". No one took him up on the offer and it's fairly clear why. Probably the riskiest thing he did was his onsight free solo of the 400 foot 5.11b / 6c route "The Moratorium". He got to a point where he wanted to downclimb but couldn't and had to push through, saying at the top he "felt like a hollow shell".
He continued to climb and free solo for many years. In 2009 at age 52 he fell while free soloing on the Dike Wall near the Mammoth Lakes, in California near his home. He died shortly after while being treated in Hospital. Bachar leaves a lasting legacy on climbing.
Peter Croft – Humble Legend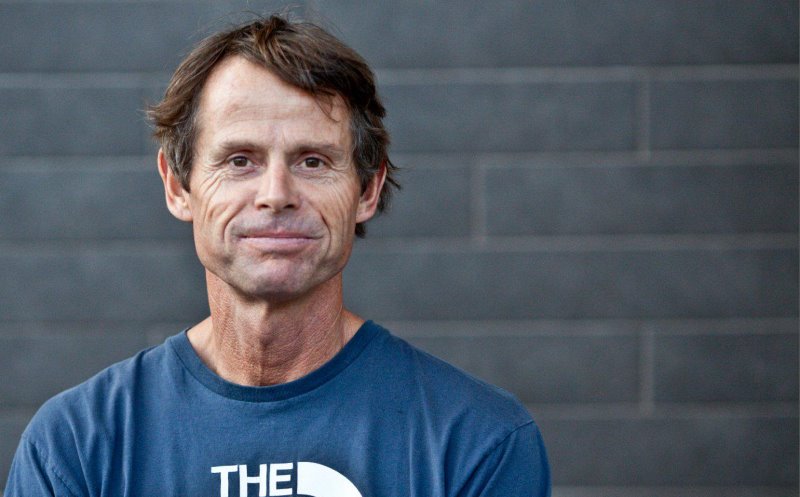 Peter Croft is the climber that all free soloists aspire to be. He first tried rock climbing without knowing much about it. His first climbs were near where he lived in Departure Bay, Nanaimo where he went out with plimsolls and not much else, scrambling and soloing what he found. Soon after he found other climbers in Squamish, where he would learn the ropes while living hand to mouth and camping up in caves.
Most of his climbing was roped and involved free'ing some of the last generations aid climb classics. He had made his name in Canada and much of the climbing press had covered the achievements, as well as being known in Washington for his hard ascents. However it wasn't until his arrival in Yosemite that things really kicked off.
On one of his first visits in 1985 – straight after an overnight drive – he free solo'd the Northeast Buttress, Braille Book, and the Central Pillar of Frenzy – during a rainstorm. All huge 5.8 to 5.10 multipitches in the Cathedral Rock area. Just days later he made the first free solo of "The Rostrum" 5.11c / 6c+. The 800 foot climb was a ground-breaking free solo for it's difficulty and size.
A couple of years later in 1987 he also free solo'd "Astroman" 5.11c / 6c+, another massively hard route that to this day has only been free solo'd by three people. Later in the year Croft would climb both "The Rostrum" and "Astroman" in one day without a rope.
In 1992 he free solo'd the Steck-Salathé route on the south side of the park. The famous route was first climbed in 1950 and the gruelling effort was well known. It had only been free climbed in 1988 and the grade is roughly 5.10b / 6a. Well known for a horrific squeeze chimney that puts even the best climbers on the back foot.
You may have already seen him in the movie "Free Solo". He was the guy speaking to Alex Honnold at the Yosemite parking, telling him he didn't have to do Freerider if it wasn't meant to be. Peter Croft is a living legend that still climbs and free solos to this day.
Derek Hersey – Doctor Death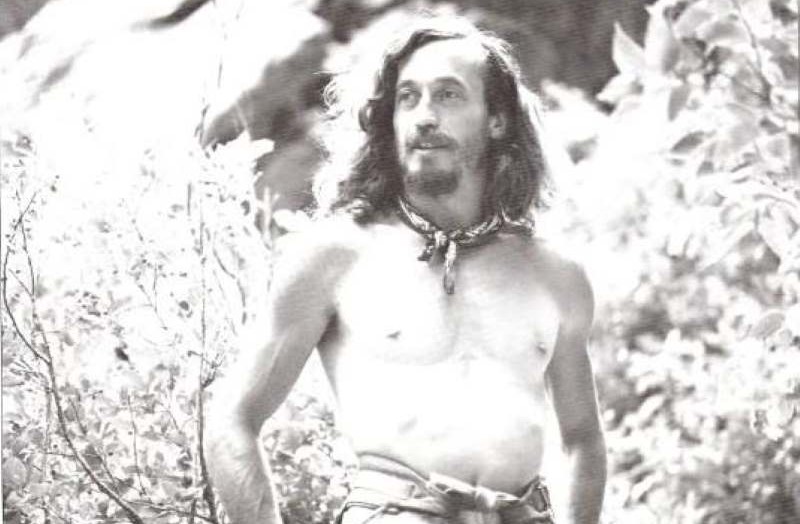 Derek Hersey was affectionately known as "Doctor Death" and was a legend in the climbing community of Boulder, Colorado. He first started free soloing in the quarries and gritstone near his home in Manchester, England – "I was about 13 years old and I had no money for equipment. So while other kids were out playing cricket or whatever, I just went by myself and began scrambling over the limestone."
As a young man he worked odd jobs to save up and travel to the US. There he'd climb by any means, camping out wherever he could then earning just enough doing café or bar jobs to keep going. He traveled and climbed much of the US – often taking trips to Yosemite – but would eventually settle in Eldorado Canyon near Boulder.
One of his most famous free solo's was the American classic "The Naked Edge", a 460 foot 5.11b / 6c that was local to him. For Derek though it wasn't about the difficulty or the fame. He'd often solo for the whole day, sometimes climbing up routes like "Outer Space" 5.10c / 6a+ (a route he believed he'd solo'd over 100 times) and downclimbing "Hair City" 5.9+ / 5b.
Derek Hersey was the first person to free solo the 750 foot "Pervertical Santuary" 5.11a / 6b+ route on the Diamond in Rocky Mountain National Park, and he did it a few times. One time on the Diamond he climbed the "Yellow Wall", downclimbed the "Casual", then did "Sanctuary" to finish up. Another time in 1991 he solo'd up "Sanctuary" and down the "Red Wall" 5.10a / 5c.
He never told anyone about his big solo's and even this last one would have gone unknown if it weren't for a friend bumping into him on the approach. He said of his ropeless climbs, "There's nothing that makes me feel so alive. You're thinking – but not in words. You're thinking in movement, in rhythm".
In 1993 Derek died from a fall while free soloing the Steck-Salathé wall in Yosemite. What happened and at what point he fell from is unknown but rainfall may have been the cause. He was just 36 years old. Watch a decent tribute to Derek here and look out for him getting hit in the face by a bird during a solo 5 minutes in.
Jimmy Jewell – Northern Hardman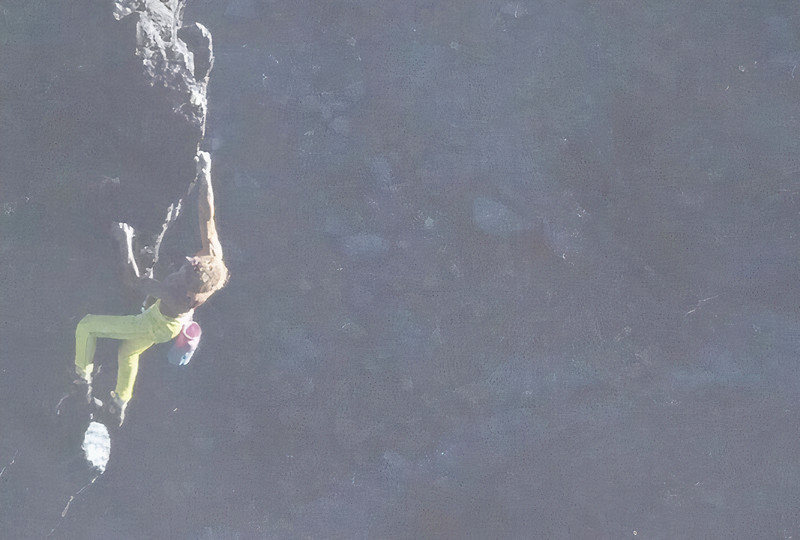 South Wales is known for it's unending quarries, meaning a tonne of climbing potential on wonderfully loose rock. These quarries are where Jimmy Jewell would start his climbing and soloing as a young child. As a young man he moved with his family to to Birmingham and started climbing in earnest as well as training to match.
As a free soloist Jewell had a long list of classic hard routes "Shrike" E2 5c and "The Axe" E4 6a in Clogwyn Du'r Arddu, "Silly Arete" E3 5c and "Vulcan" E4 6a in Tremadog. He would do laps of "Vulcan" and others with a weight vest for training. The cover of the Clogwyn Du'r Arddu guidebook from 1989 famously featured him in dayglo yellow pants and wild blonde hair soloing "The Axe".
For the filming of the video below he climbed the "Left Wall" (E2 5c) of Cenotaph Corner in Dinas Cromlech. He actually solo'd the route three times for the camera so they could get the right shots. A friend found an old copy of his Llanberis guidebook with an impressive list of Jewell's free solo ticks including numerous E3's.
In 1987 Jimmy was coming back from a day out in Tremadog, North Wales and took a shortcut back to the climber's club hut. He was free soloing the route "Poor Man's Peuterey" in his trainers. He slipped and died from the fall.
Michael Reardon – The Joker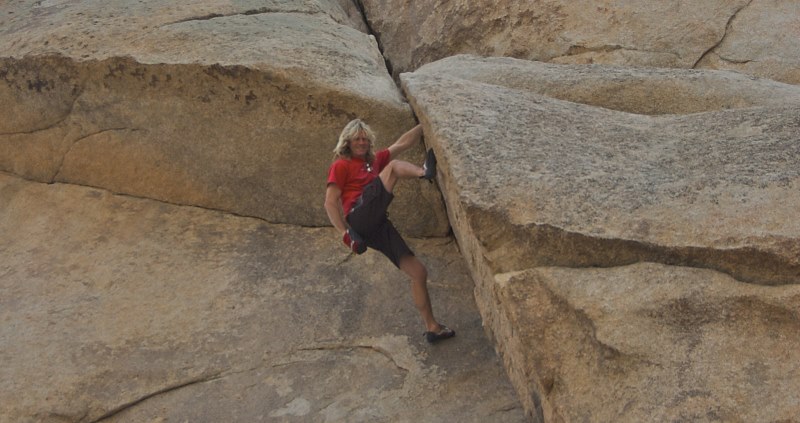 Michael Reardon was one of the best free solo climbers of his time – and the unroped style is what he climbed for. He initially started as a sports climber, where the long hair and spandex from his rock band days blended into the scene. Eventually after getting into bouldering trad, he started on the classic high balls of Joshua Tree – which led to his soloing career.
Reardon was one of the first free soloists to treat it as a profession and publicize his ascents. Some of his feats include doing 280 free solo routes in one day at Joshua Tree, onsight soloing 240 pitches in Ireland, onsight soloing 214 routes in England, and 1,000 solos in 30 days in Joshua Tree. Some of his hardest free solo routes include "Equinox" 5.12c / 7b+, "Ghetto Blaster" 5.13b / 8a, and "Lateralus" 5.14a / 8b+.
His most famous free solo was "Romantic Warrior", a 1,000 foot 5.12b / 7b multi pitch in the Needles. He onsight climbed the route – i.e. he hadn't practiced or even tried it before. It earned him the National Geographic Adventurer of the Year award and stokes controversy and disbelief that something that hard could be onsight solo'd.
He said of the climb, "There was no past, no future, no physical limitation, no extraneous mental garbage, no thought of death, no thought of life, merely the next move and the singular goal of performing that next move in that present time".
Though the climbs he did has serious consequences he never took himself too seriously. Often the joker of the crag he was known for leaving "presents" to be discovered on routes, including plastic dinosaurs, panties, and once a tube of Vagisil. His trademark was the blue jeans and red shirt combo but he also free solo'd naked with just a chalkbag to cover his dignity on occasion.
He had climbed in Yosemite but was unaccustomed to the granite vs the sandstone and quartz he was used to. He was planning a trip to practice some of the classic, hoping to do a solo repeat of "The Rostrum", as well as working towards free soloing the infamous "Freerider" which Alex Honnold would later solo.
In July 2007 Reardon was climbing on the Fogher Cliffs of Valentia Island on the south west of Ireland. He had been free soloing, climbing both up and down a few routes and having photos taken. At the bottom of a route he was hit by a stray wave that pulled him into the sea. Coastguard and rescue teams were unable to find him.
Alain Robert – French Spider-Man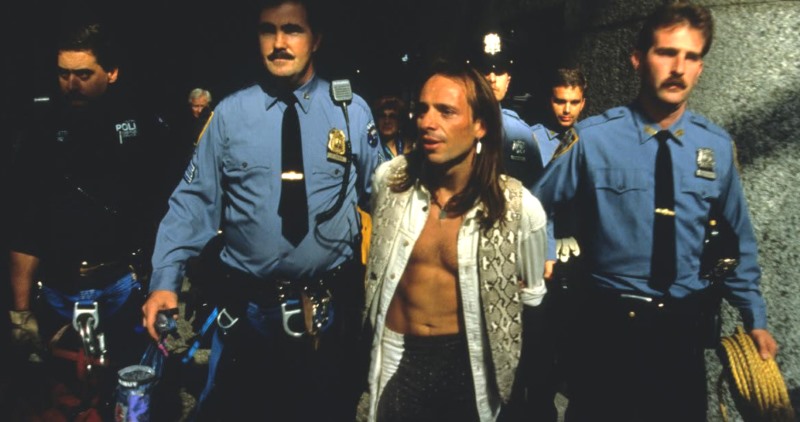 Famously known as the "French Spider-Man" you may have seen Alain climbing some of the world's most famous building free solo over the years. He has climbed the New York Times Building, the Burj Khalifa (tallest building in the world at 2,700 foot) in Dubai, the Petronas towers in Malaysia, and the Empire State Building
Alain started off on real rock and still climbs to this day, even being invited by China to free solo Tianmen mountain – even after being banned from China previously …for climbing. He was known for free soloing many hard routes in France, including "La Nuit du Lézard" 5.13c / 8a+ in Buoux in 1991, as well as "Pol Pot" 5.12d / 7c in the Verdon, among many other 5.12 routes.
In 1982 he fell while rappelling because of a poorly tied knot and was in a coma for a week. He broke his nose, elbow, wrist, hip and heels, and suffered skull fractures. He made a near complete recovery and still to this day climbs and scales buildings without a rope.
Free Soloing Common Questions
Is Free Soloing Legal?
Yes. It's hard to legislate for people not to climb without a rope – but it's still possible for people to be charged with any medical call outs, or for endangering others. For instance in Yosemite National Park, camping without a permit and BASE jumping and wing suiting is illegal but climbing ropeless isn't.
What Is The Hardest Free Solo In The World?
Hardest Single Pitch Free Solo – either

5.14a / 8b+ (was previously thought to be 5.14b / 8c) "Darwin Dixit" in Margalef, Spain – Dave McLeod 2008
5.14a / 8b+ "Kommunist" in Schleierwasserfall, Austria – Alex Huber

Hardest Multi Pitch Free Solo

5.12d / 7c "Freerider" in Yosemite National Park, USA – Alex Honnold 2017

Hardest Mixed Climbing Free Solo

Cerro Fitz Roy 5.10c / 6a+ (5,000 feet) – Jim Reynolds 2019 – Solo'd up and down
Hardest Single Pitch Free Solo – Darwin Dixit – Dave McLeod
The hardest free solo single pitch climb could be the 5.14a / 8b+ by Dave McLeod in 2008. The 50 foot route "Darwin Dixit" in Margalef (originally graded 5.14b / 8c but since downgraded on consensus) is a steeply overhung route which is harder at the start and gets easier towards the end. At the start a fall might not be terrible, but near the end the wall veers up and over a road – meaning a long and hard fall.
Dave did that route while he was mentally preparing to climb a scary traditionally protected route called "Echo Wall". The practice involved running out (climbing past protection or skipping bolts) hard routes for a larger possible fall. Featured in the "Echo Wall" movie.
Hardest Single Pitch Free Solo – Kommunist – Alex Huber
In 2004 Alexander Huber also climbed a 5.14a / 8b+ route free solo. "Kommunist" is a 70 foot route, with a 15 foot endurance crux that starts 35 foot up. There are broken boulders below the route, meaning a fall could be very bad. Alex Huberbaum was interestingly also the first person to find the variations on the Salathé wall on El Cap that he would name the "Freerider". AKA the route on El Capitan that Alex Honnold would eventually free solo.
Hardest Multi Pitch Free Solo – Freerider – Alex Honnold
The hardest free solo multi pitch was when Alex Honnold solo'd "Freerider" on El Cap. The route is rated at around 5.12d / 7c. The pitches vary in difficulty with the hardest being 5.12d and 5.13a with the "boulder problem" crux of just a few incredibly specific moves.
At over 3,000 feet and four hours of continuous climbing this was almost a superhuman feat for continuous climbing alone. Most climbers take days or weeks to complete the route and will spend a fair bit of time working and falling off the hardest routes. It will probably not be repeated in our lifetime.
Hardest Mixed Climbing / Alpine Free Solo – Cerro Fitz Roy – Jim Reynolds
The hardest free solo mixed climb probably belongs to Jim Reynolds. In March 2019 he free solo'd up and down the Cerro Fitz Roy via the Northwest ridge route aka the "Afanassieff" way. Though the technical difficulty of the climb isn't the hardest, it is the pure style in which he did it which is impressive. Note: Mixed climbing is switching between rock and ice/snow.
Jim had taken a rope to rappel with if desperate, but he forgot his harness and belay device. He also forgot the guidebook, but still managed to climb the 5,000 foot route completely alone. He switched between rock shoes for the harder technical climbing to approach shoes for the easier parts, and used crampons and an ice axe where there was ice and snow nearer the summit.
It took Jim 6 hours and 38 minutes to get to the top – setting a record that may never be beaten. The harder part would prove to be the descent. He was determined not to use the rope to rappel even though it would be very hard to use without the harness and belay device. He also made the decision not to wear a helmet, which we think was the riskiest decision because of the common ice and rock fall.
It is much harder to see routes going down, especially as he down-climbed much of the route at night. He did make it safely even after going off route and backtracking. It took him 8 hours and 30 minutes to get back, with a healthy 15 and a half hours total of climbing. This was an incredible feat for so many reasons and could well be the hardest free solo ever done.
Free Solo Deaths
With the nature of the sport there have sadly been a few deaths from free soloing. Because most solo climbers will go out alone with the intent for others not to see, usually the exact cause of the fall isn't clear, or the route wasn't known. A hold breaking or a foot slip are the most likely causes in most.
We've also excluded deaths from ridge traverses, mountaineering while solo, or more alpine style climbs. All of these were from the steep, technical style of free soloing.
Austin Howell, 2019 – Free soloing in Linville Gorge, North Carolina
Robert Dergay, 2019 – Free soloing in Eldorado Canyon
Angus Moloney, 2015 – Free soloing in the Flatirons, Colorado
John Bachar, 2009 – Free soloing at Dike Wall, California
Michael Reardon, 2007 – Swept out to sea by waves at base of Fogher Cliffs, Ireland after free solo descent
Jimmy Ray Forrester, 2006 – Free soloing in Potrero Chico, Mexico
Derek Hersey, 1993 – Free soloing the Steck-Salathé route in Yosemite
Jimmy Jewell, 1987 – Free soloing in Tremadog, Wales
Films & Books On Free Soloing
There have been a few films and documentaries about free soloing over the years though none as popular as "Free Solo". Honnold wrote his own book "Alone on the Wall" about his solo climbing. Mark Synott wrote a book about his experiences with Honnold as well as his own climbing experience – tying together the two to help explore why Alex climbs how he does.
Julian Lines – aka the guy who fell free soloing – had a short doc made on him, his life and philosophy. It includes some free solo climbing and talk about why he feels compelled to do it. You can watch the full thing on Vimeo.
Below is a great video of John Long narrating a day of Free Soloing with John Bachar. The story is taken from his book "Gorilla Monsoon" over photos of him and some of the other Stonemasters.
"The Rapture of Free Soloing On Acid" is a short of Dean Fidelmann talking about his climbing and photography. It also recounts his taking acid and free soloing with some of the Stonemasters of the 70's. You can watch it now for free with Amazon Prime or watch a quick trailer below. Dean was part of the Stonemasters and took many of the legendary photos of that era in Yosemite. He also makes the famous Stones Nudes calendars.
Jordie Sala is a Spanish free soloist we haven't heard much of. This film covers his climbing and why he does what he does. Featuring big names Chris Sharma and Dani Andrada.
Dave McLeod has a really insightful talk about why he free solo's in video on his YouTube channel.
What Is Deep Water Soloing?
Sometimes called DWS for short, or "psicobloc" this is a form of free solo climbing over a body of water. If you fall, you go in the drink. It's been popular at beaches and cliff sides for a long time and made very popular by Chris Sharma. Chris has put up some of the hardest and most beautiful DWS climbs in the world in places like Mallorca. Watch Chris fall 100 foot into water.
Who Has Free Solo'd El Capitan?
The only person to have climbed from the bottom to the top of El Cap completely free solo is Alex Honnold on the "Freerider" route. Dean Potter once did a variation on the wall he called "Easy Rider" where he downclimbed lurking fear, traversed the Thanksgiving ledge and finished the last six pitches of "Freerider". This route skips the scarier slabs at the bottom and the boulder problem so doesn't really count as a full ascent but was still incredible for the exposure and risk.
What Is The Highest Free Solo Climb?
The "Freerider" route on El Capitan done by Alex Honnold in the movie Free Solo is roughly 3,000 feet or 915 meters and is the highest free solo route to date. Others include "Astroman" at 1,000 foot and "The Rostrum" at 800 foot, both of which Alex has also climbed free solo style.
"The Fish" route in the Dolomites that Hansjörg Auer climbed was 2,800 foot / 850 meters and graded at 5.12c / 7b+.
Who Is The Best Free Solo Rock Climber?
Of course is has to be Alex Honnold. Even without doing "Freerider", his other climbs on Half Dome, El Sendero Luminoso, and Moonlight Buttress are all up there as the hardest continuous free solo climbs.
Most Famous Free Solo Routes
Big wall free soloing is the dream because of how much climbing can be done without ropes, systems, and hauling. Yosemite probably holds the claim to most of these with "Astroman", "The Rostrum", the "Nabisco Wall" link and the Steck-Salathé routes beings long and fairly mid-range for difficulty.
Aside from the big wall routes that Alex Honnold has now proved as being possible to solo, the more likely free solo routes are all more moderate or easy climbing. Probably the most commonly free solo'd routes are the Flatirons. This huge set of sloping slabs offer a bunch of long routes that are commonly solo'd by the pro's as a big day out. They are still dangerous and people have died soloing them – this isn't a recommendation in any way.
Who Were The People Mentioned "In Loving Memory" in Free Solo – Frank Taiping Chin, Ann Krcik, Ueli Steck
As the end credits roll the "Free Solo" In Loving Memory section mentions Frank Taiping Chin, Ann Krcik, and Ueli Steck. Frank was one of the director's, Jimmy Chin, father. Ann Krcik was a much loved senior employee at The North Face who sponsor both Jimmy Chin and Alex Honnold. Ueli Steck was a very famous climber and mountaineer who died during a fall on Everest.