Pete Whittaker of the Wide Boyz has just made the first free solo ascent of the 800 meter / 2,600 foot Kjerag mountain. He climbed via the Renshaw / Foulkes route with no rope or protection, taking two hours and 25 minutes.
Pete had been climbing and rope soloing in the Rogaland area of Norway and climbed this same route with a rope in previous days. The Renshaw / Foulkes route is rated 6+ by Norway's grading, which works out to around 5.10c / 6b. It starts up the right of a column, then converges onto the Littlejohn / Jones route for the last few pitches.
It's a hugely impressive feat that shows the free solo potential on the famous mountain. 800 meters of continuous climbing with that much exposure is hard as is. Adding the thought of what would surely happen from a fall of that height brings this to another level.
The route was originally climbed in 1985 over 20 pitches by Adam Renshaw and Lyndsey Foulkes and features multiple 5.10c / 6b pitches. Pete isn't especially known for his free soloing though has done a number of scary trad routes in the UK where there is little protection from a fall.
Read more about free soloists and the most famous free solo ascents
– Free Solo Climber Falls In Yosemite And Lives
The send was originally reported by the Norwegian climbing site Norsk-Klatring. Local Stavanger newspaper Stavanger Aftenblad featured the ascent on the front page of their print edition and website. The mountain is popular with BASE jumpers and well known for the Kjeragbolten wedged boulder that is a popular photo opportunity.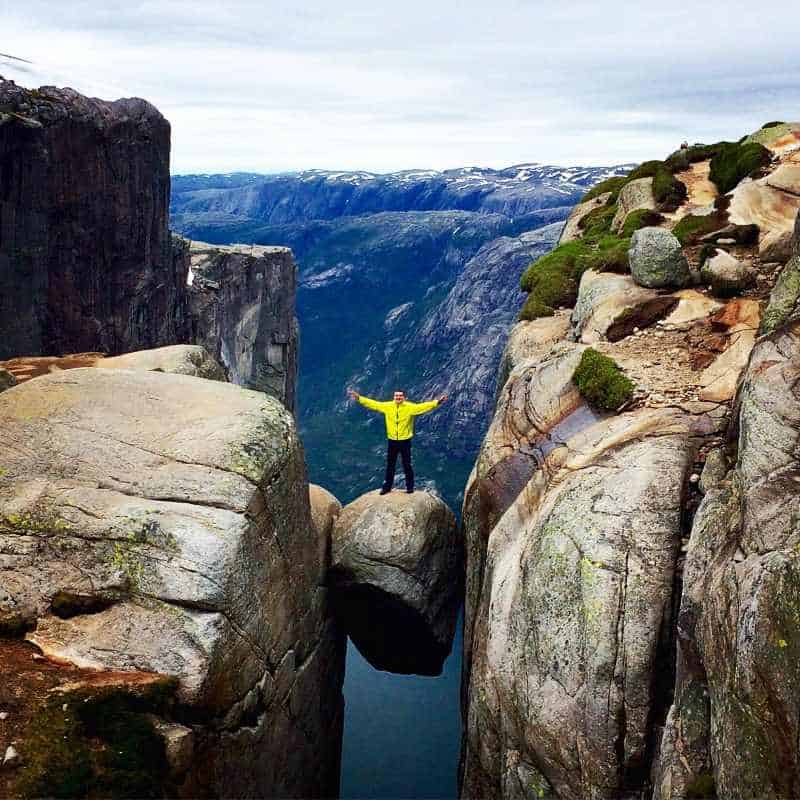 Pete Whittaker has been doing some amazing ascents in the past few years. He managed to top out on "Recovery Drink" 5.14d / 8c+, one of the hardest crack climbs in the world. Pete and Wide Boyz climbing partner Tom Randall have a long term crack project that could be 5.15a / 9a+ they've dubbed "Crucifix", watch their progress below.
With all the rope soloing and free soloing Pete's been doing, it harks back to his climbing El Capitan by rope soloing. He managed to climb El Cap by himself using the rope solo method in under 24 hours a couple of yeas back. Whether this free solo is the start of something for Pete Whittaker we can't quite say yet. But free solo's on big walls generally lead back to one place.