Bad movie nights are the highest form of home entertainment and I will not be convinced otherwise.
Amidst the huge swathe of terrible movies that come out year after year, only a select few merit the "bad good" title. Breaking through from "just plain bad" all the way through to being "good" again is a rare achievement.
As climbing is so often misunderstood by the mainstream we are lucky to have a few incredibly "bad good" climbing movies. Apologies to anyone who saw these as a child and was somehow still inspired to climb. Also apologies to anyone who watches these and decides never to climb again.
If you'd like to watch a good climbing movie for some reason try the Best Rock Climbing Documentaries On Amazon Prime and Netflix – Reel Rock 14 is streaming or downloadable as well as Pretty Strong.
Vertical Limit
Picture the scene. You're halfway up a mega multi pitch on a desert tower climbing as a three. Loading up your gri gri to belay your follower up and having a casual conversation – you hear the pair above you clearly in trouble. They first drop a bag and your partner sees and reports this within clear hearing distance.
You do the only thing your years of training tell you. You blow a whistle.
The climbers above then also manage to blow three bolts and fall directly on to the party. This basically sums up how accurate the climbing in this movie is. The father then hitting the floor on screen after a tense, quiet moment sums up how well this movie does as an emotional drama.
Cliffhanger
Action hero Sylvester Stallone stars in Cliffhanger. This time his enemy isn't the vietcong, arm-wrestling truckers, or a corrupt police force – but gravity itself. Or bank robbers or something like that. Either way the plot isn't important.
Loosely (and we mean gri gri belaying at a gym loose) based on the Yosemite weed smuggling plane crash story. Absolutely worth the watch if you like loud noises and pretty explosions. This is Die Hard without Nakatomi Plaza.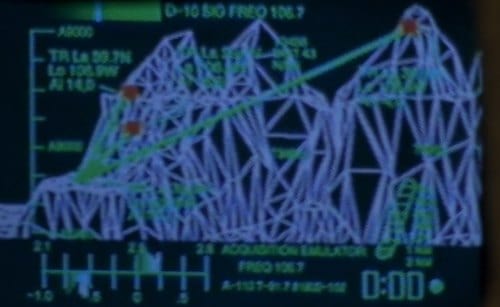 This movie was based on climbing legend John Long's own writing. The novella Bablyon's Rogue was apparently a best seller in Spain though is no longer in print for some reason. You can instead read John's more serious work including "The Trad Climber's Bible", tell all "Stories from the Dirt: Indiscretions of an Adventure Junkie" and of course the seminal "Attacked!: By Beasts of Prey and Other Deadly Creatures, True Stories of Survivors".
In researching this we found out that this movie was only made because two other film projects Stallone was tied to didn't get off the ground. The first was to be about "a genetically created monster who gets loose on a high speed runaway train", and the second about "an ex Navy SEAL who has to fight against a group of modern pirates who attack a coastal town during a large, catastrophic hurricane" which was rewritten into "an erotic thriller". Whether Cliffhanger was the better option only God will know. Literally couldn't make this up.
The Eiger Sanction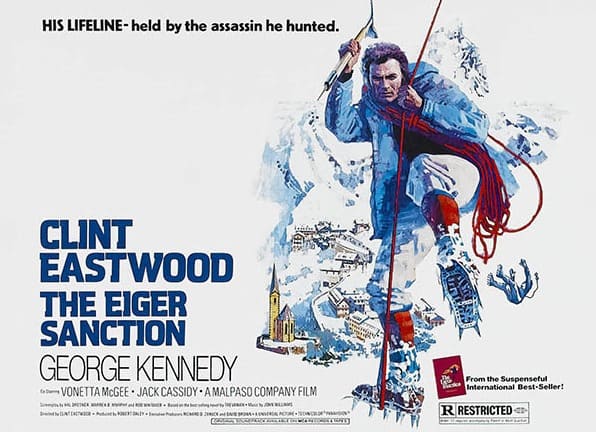 The Eiger Sanction is "The Room" of climbing movies. Before you watch it please understand that the only part of this movie we condone is the climbing. Honestly it might as well be called "Toxic Masculinity: Now on VHS".
You also should understand that this movie was Clint Eastwood's baby as Director, Co-Producer and Lead Actor. It seems to represent his ideal version of a man and is basically laced together with hate for any person or group that isn't him. Honestly we can't stress how nasty this movie is.
However, the climbing photography itself is pretty amazing. Climbers Eric Bjornstad and Ken Wyrick summited the "Totem Pole" in Monument Valley and then the stars were helicoptered in to film. The climbing on the Eiger isn't real but was done at nearby locations.
You can also play the Eiger Sanction drinking game so you can pay less attention as the movie rolls. You may have heard some of the quotes from the movie in the intro to the Enormocast climbing podcast.
Most of these are on Prime or available to rent on Amazon, now is probably the best time to get a free Amazon Prime month trial for the climbing videos they have.
Hopefully these terrible climbing films will keep you occupied for a few evenings. COVID-19 means the Olympics games are postponed and most people are stuck inside right now. We think it's important to try and have a bit of fun. A bad climbing film means we can keep in touch with our favorite activity at the same time.
You can use services like Discord Go Live, twoseven, or Netflix Party to group watch some of these films