Shawn Raboutou was long rumored to have sent a V17 / 9A problem months ago, but never publicly confirmed it. It seemed that he was waiting for a full video documentary to come out – here it is.
The story behind the boulder is longer than most, and the documentary from Mellow is well worth the watch. The boulder itself is a gargantuan block sitting in the amazing boulder fields of Eldorado Canyon, Colorado.
The route evolved from the stand start of "Tron", a V14 / 8B+ on the same boulder, first sent by Daniel Woods back in 2017. The sit start adds around seven full moves, with the crux being the throw into the start of "Tron" – which according to Drew Ruana is "one of the hardest moves I've ever done".
Watch the full video below or read on if you're at work and trying to stay on the down low.
Shawn Raboutou
Shawn is the brother of Brooke Raboutou, who competed in the 2020 (2021…) Olympics in Tokyo. He used to be mainly an indoor competition climber but in recent years has done incredible things on real rock – mainly in Bouldering.
The siblings benefit from their parents being talented rock climbers of their day: Robyn Erbesfield-Raboutou and Didier Raboutou. Both met on the competition scene and still climb. In fact, the entire family has climbed at least 8b.
Robyn now coaches for Team ABC in Colorado, who have produced climbers like Margo Hayes, Natalia Grossman, Colin Duffy, and Megan Mascarenas.
After shifting his focus to the outdoors and Bouldering, in particular, he has managed six 8C+ routes. Back in April 2022, he announced he'd climbed "Alphane" in Chironico, Switzerland. He graded the route V17 / 9A at the time, and it has since seen a lot of others on the route.
He actually sent the route before but didn't tell anyone outside of his group of friends. He'd later go on to reveal a video of the process and also casually let everyone know he'd also climbed a bunch of other hard boulders.
"Alphane" would be one of less than a handful of V17s if confirmed, and would be probably the third or fourth proper V17. It has seen two fairly quick repeats, both by Brits. First up Aidan Roberts topped out, not commenting on the grade.
Will Bosi was the third to climb it, with around 13 days of work. He said of the grade when compared to another route "Honey Badger", a V16 which "was more of a challenge for me and proposing a grade for that at the time was daunting as it was my first 8C+. Is it 9A? (V17) Honestly, I do not know".
So Alphane may or may not be confirmed as a V17, though we'd expect more attempts because of it's location and the local climate.
The first V17 was "Burden of Dreams" by Nalle Hukkataival, which has never been repeated. Multiple world-class boulderers have tried, even specifically training for the route used 3D-printed replicas of the holds. None seem to have come close.
The second would have been "No Kpote Only" by Charles Albert. It has since been repeated a few times with others giving it a V15 to V16 grade. However, those climbers seem to have found better beta and wore shoes. Yes, Charles Albert climbed at least a V15 barefoot.
Simon Lorenzi topped out a route called "Soudain Seul" in Fontainebleau and gave it a V17 grade. The first repeat by Nico Pelorson left it with a suggested grade of V16, then another repeat by Camille Coudert who said it was a V17 in his opinion.
Early this year Daniel Woods managed to climb his long-term project "Return of the Sleepwalker", giving it the fabled V17 grade. That was another sit start variation, this time on the V16 "Sleepwalker" first sent by Jimmy Webb.
"Megatron"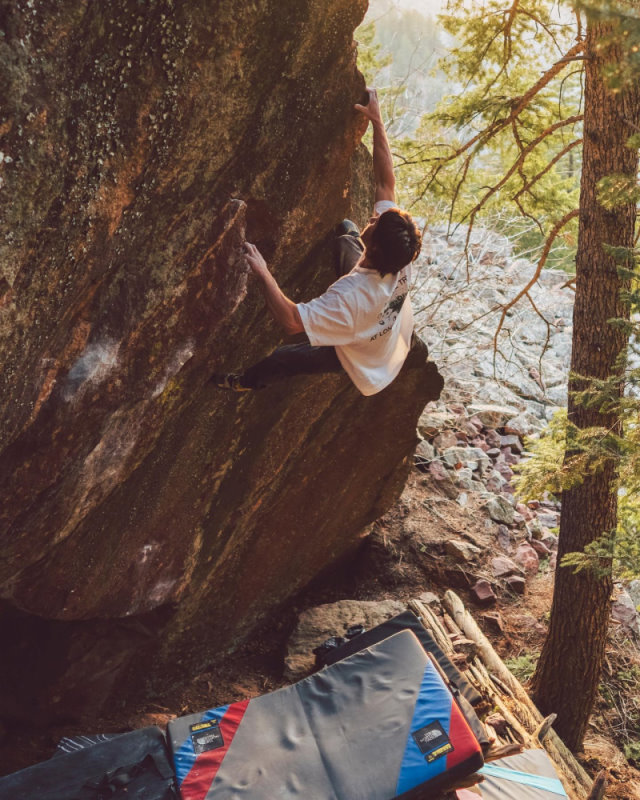 If "Alphane" and "Megatron" are both confirmed at V17, Shawn would be the first person to have sent two V17 / 9A routes.
This route might well have the best claim to V17 of recent proposals. That's simply because the route has been known about and attempted for years. We know Daniel Woods, Jimmy Webb, Drew Ruana, and more have all given it a go.
It's also in a fairly easy-to-access location, and Colorado is literally full of climbers. For so many to have a climb of this level anywhere near them, then decide to fly out to Europe and camp under other boulders speak of its "next level" nature.
Drew Ruana has worked the problem a lot. He actually dropped into /r/climbing on Reddit to talk about his experiences, saying he has put at least 75 sessions of work into this route without a send.
Shawn has definitely put in the hours on the route too. Despite all that time on the route, he didn't have much to say outside of the documentary. We like his words on the sending day, so we'll leave you with them:
"It didn't feel like a good day, I didn't feel like I was going to do it. This one try, I just f-ing kept going, I don't know what happened." – Shawn Raboutou