Who Is Brooke Raboutou?
Brooke Raboutou is one of America's strongest young climbers and will be representing the USA at the 2021 Olympics. She is without a doubt one of the top contenders and over the past year has grown much stronger. She's also a keen outdoor climber and has many records and hard sends under her belt.
Brooke comes from a climbing heritage with her Mom, Dad, and Brother all being decorated champions. Everyone in her family has sent a 5.14b / 8c route – possibly the only family to have done so!
Brooke Raboutou is sponsored by Adidas Terrex, La Sportiva, Petzl, Climb On, Organic Climbing, Friction Labs, and Chipotle! She's also featured on the Today show and Ellen.
How Old Is Brooke Raboutou?
Brooke Raboutou is 20 years old. She was born on April 9th 2001.
Brooke Raboutou Height
Brooke Raboutou is 5 foot 2 inches tall or 158 cm.
Brooke Raboutou Ape Index
Brooke Raboutou has a +1″ ape index. That means her fingertip-to-fingertip wingspan is 1 inch more than her height.
When Did Brooke Raboutou Start Climbing?
Brooke started climbing as young as two years old! She was born in Boulder, Colorado which is probably the single best place to getting started climbing in the USA. As both of her parents are climbers it was them that introduced her.
As a kid, she climbed nearly every single day. Boulder and the surrounding area is awash with great Bouldering, Sport, and Trad. There are also a variety of climbing gyms to choose from plus the family's own home wall and training area. Brooke and her family also vacation in France every year and spend a lot of time climbing near the birth of Sport Climbing itself.
Is Brooke Raboutou In The Olympics?
Yes, Brooke Raboutou is competing at the 2021 Olympic Games in Tokyo. She was the first climber from the USA to qualify back in the 2019 IFSC Combined World Championships where she performed excellently, placing sixth in qualifiers and eighth in finals.
Will Brooke Raboutou Win The Olympics?
There is a chance that Brooke will take a medal for the USA – but she'll have to pull out all the stops. Her strongest category is Lead where she generally places well but will be up against Janja Garnbret who rarely takes less than 1st place.
She will likely do well in Bouldering too as this is where most of her training is focused. Speed will be probably her weakest overall but for a Lead/Boulder specialist she isn't bad at all. She seems to have gotten stronger given the year's extra training so we'll have to see if others have done too.
Paris 2024 is also a likely goal for Brooke as she is in a great position to train and focus for then. She'd also be able to drop practice for Speed Climbing if she wanted as it will be its separate category in 2024.
More Competitor Profiles
– Who Is Miho Nonaka?
– Who Is Ashima Shiraishi?
– Who Is Shauna Coxsey?
Brooke Raboutou Training Program, Diet + Nutrition
Brooke is now studying business at College at San Diego while training. She usually trains most days straight after studying, taking a few hours in the gym. She did take one semester off to focus on training and is taking another off now for the Olympics.
Training is fairly intense for Brooke but really revolves around climbing as much as possible. She'll be at the gym 5 to 6 days a week mostly on the wall but does incorporate board work – whether that's woodies, campus boards, or hangboards.
Her training peaks in intensity before competition and she will spend all day working on routes and doing mock competitions. She splits her time between the local world-class gyms in Boulder, her home wall, and the Team USA training facility in Salt Lake City.
Team ABC was a big part of Brooke's training. ABC is both a Youth team and a specific Youth training climbing gym started by Brooke's Mom and Dad – much of the coaching done by her Mom Robyn. The team has produced some of the USA's best climbers and both Brooke and her older Brother Shawn were there from Day 1.
Brooke Raboutou Competition Results
Brooke started competing in Local and National comps from a young age. In IFSC Youth World Championships she took six medals over Lead, Bouldering, and Combined with her most consistent placing being Lead – where she never took less than Bronze.
As a senior she hasn't had much chance to get around on the circuit as she only just started at Hachioji before the current crisis. However, her only events have been good with that first in Hachioji leading to the Olympic qualification and her latest in 2021 featuring a few medals and no bad results.
Brooke Raboutou Bouldering
Bouldering is just under Lead as Brooke's strongest category. It's also where Brooke made her name outside by climbing V10 when she was 9 and V11 when she was 10. She generally trains on indoor Bouldering walls though that translates very well to Lead.
In the 2021 World Cup so far she has taken two Bronze medals at Bouldering events and otherwise not placed very low. It's going to be interesting to see how she does in the next couple of events leading up to the Olympics.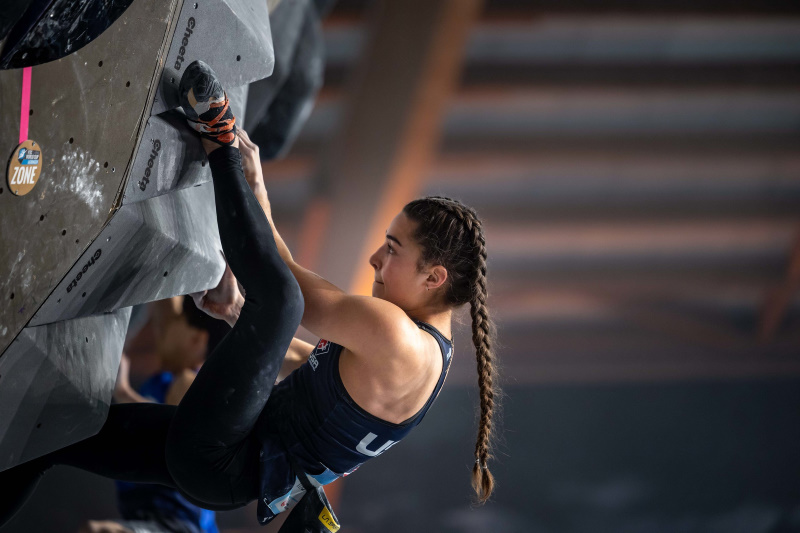 Brooke Raboutou Lead Climbing
Lead Climbing is where Brooke shines. She has the ability to just keep holding on and going for that extra move when it looks like she's completely pumped out. Being one of the shortest climbers in most competitions you'll see her struggle to reach foot and hand holds but still hold on.
Often she'll have to dyno or make jumps where others don't. She'll also have to "campus" certain sections (climb without feet, pulling up with arms only), use unconventional upside-down moves, or even use push her toe into bolt holds when she can.
In the latest 2021 IFSC World Cup season she's taken Silver in the one event she's been at so far – behind Janja Garnbret of course.
Brooke Raboutou Speed Climbing
Before Sport Climbing at the Olympics was announced in 2016 Brooke has only dabbled in Speed Climbing for fun. Though it isn't her favorite event she's still putting up respectable times and in US Nationals has done better than some others who've done it longer. Still she can be inconsistent – which is a big problem as Speed climbing is one on one and a fall or slip means a loss.
Brooke Raboutou Outdoor Climbing
Brooke has been climbing hard outdoors routes since she was a kid. When she was just 9 years old she climbed a V10 / 7C+ boulder – not far off Ashima Shiraishi who climbed the same grade at 8. The next year at 10 Brooke then climbed V11 / 8A and 5.14a / 8b+ Sport Climb. At 11 she climbed 5.14b / 8c Sport route and become the youngest person to climb the grade at the time.
Brooke Raboutou's Mom + Dad
Robyn Erbesfield-Raboutou and Didier Raboutou are Brooke's parents and both are celebrated climbing champions of the '80s. Brooke's Mom Robyn is a four-time Lead Climbing World Cup champion – winning four times in a row from '92 to '95. She's also a five-time US Champion.
Brooke's Dad Didier was also a comp climber who took second at the 1989 Climbing World Championships. The two met at a competition in France where Didier lent Robyn his "pof" – a tree sap used to give extra grips for hands and shoes – which used to be very popular with French climbers. Didier had a girlfriend at the time but a year later the two started dating.
Brooke Raboutou's Brother
Brooke's Brother Shawn Raboutou is also a sponsored high-level climber. He was one of the co-founders of mellow climbing who put out amazing Bouldering videos and are building their own brand. He's climbed multiple V18 / 8C+ Boulders and competed internationally but now focuses on the outdoors and building mellow.
What Climbing Shoes Does Brooke Raboutou Wear?
Brooke Raboutou almost exclusively wears the La Sportiva Solution Women's as her main shoe for indoors, outdoors, and competition. The Solution is probably the single most popular shoe at the high level because it's tuned to just that. It performs excellently with a sharp downturn, tight toe box, and suction-fit heel.
The Women's version has a slimmer midfoot and heel but otherwise is functionally the same as Solution for Men.
La Sportiva Solution Women's
Brooke Raboutou Injury
Brooke has never had a major injury from climbing – which is incredibly rare for someone who's climbed so hard for so long. This has something to do with her strict and structured routine, as well as having parents who know exactly how far you can push before injury.
Brooke Raboutou Instagram + Social Media
Brooke has over 190 thousand followers on her Instagram and that is growing by the day.