In his heyday, Alex Lowe was known as "The Mutant". He pushed the limits of what was thought possible, establishing new routes on unclimbed peaks across the globe. In a new film on Disney+ we see an untold side of his story.
Of all the recent documentaries on famous climbers and their ascents – none is more personal than "Torn". The film is directed by Alex's oldest son Max and features interviews with his brothers, all of whom were young children when Alex Lowe disappeared in 1999.
Who Was Alex Lowe?
Alex Lowe was a prolific mountaineer and climber who was widely considered the "best" climber of his day. Throughout the 90s he traveled the world making first ascents of undocumented mountains, pioneering new routes on notorious peaks, and pushing the limits of just how much a person could do.
He was the rare crossover climber who loved rock and ice equally. He also tackled high-altitude mountaineering as well as skiing back down. He seemed completely at home in the mountains though nearly always returned to his hometown of Bozeman, Montana.
Alex Lowe First Climbs
When he was a young boy Alex lived in Montana, an incredible area for hiking, climbing, and exploring the wilderness. His parents would regularly take him out on hikes to the national parks in areas like the Absaroka–Beartooth Wilderness.
After these early formative experiences in the outdoors, he started technical rock climbing as a teen in high school with friends. With tennis shoes and static rope, he learned most of the skills they'd use from books the early greats had written. It wasn't long before he headed out to Yosemite, the mecca for North American climbing.
There, he stayed at the infamous Camp 4, the home to the "Stone Masters" and repeated many of the classic big wall climbs of the time. This is where he honed his big wall climbing skills and learned to live on the side of huge faces.
Alex Lowe's Climbing Achievements
Grand Teton New Routes + Records
Many of Alex's earliest adventures were had in the Grand Teton National Park in Wyoming. Over his lifetime he said he'd climbed the 13,774 ft (4,199m) peak of the Grand Teton over 100 times.
In 1984 he made the first winter ascent of the north face along with Jack Tackle. In 1991 Alex would go back to do the same winter route completely solo. For 12 years Alex also held the record for the fastest traverse of all 10 of the major peaks in the Tetons at 8 hours and 15 minutes.
Alex loved the Tetons so much that topping it became a family tradition. He climbed it with his wife shortly after meeting her, then years later with his eldest son Max when he was just 10 years old!
Great Trango Tower
One of Alex's most famous climbs was the first ascent of the Northwest Face of the Great Trango Tower in Pakistan with Jared Ogden and Mark Synnott. The 6,286m tower is known as "the biggest big wall" and features a Yosemite-like granite face of long vertical cracks.
As a team of three with Jared Ogden and Mark Synnott, they conquered the wall over 28 days of climbing and hauling, sleeping in portaledges overnight until the grueling job was done. Synnott describes the team nearly bailing multiple times from illness, terrible weather, and an early avalanche – but deciding to battle on.
The climb was widely reported, with live updates and pictures from the climbers via the early internet. Back in 1999, this was a wild and original way of reporting climbing news. It was also filmed by a team from the North Face and featured an introduction by Sting – really.
Mount Everest
Lowe climbed Mount Everest successfully from the Nepalese side via the South Col in 1990, then again in 1993 when he acted as a guide. He also attempted a route on the harder and more technical Kangshung face on the eastern side, though the team had to come down before a summit.
Alex Lowe's Notable Climbs + Awards
Lowe was such a prolific climber and adventurer that it's an almost impossible task to catalog even just the notable routes he'd climbed. Here is our best effort: –
South-west buttress of Taulliraju, Peru – 5,830m – 1983 – Second ascent with Jeff Lowe.
South Face of Huandoy Este, Peru – 6,000m – 1984 – Solo'd a new route for the first ascent. Also made the first solo of another route on the south side of Ocshapalca nearby.
K2, Pakistan – 8,611m – 1986 – With a large team from the American Alpine Club. Alex and Steven Swenson made it as far as 8,100 meters but no-one summited.
Kwangde Nup, Nepal – 6,033m – 1989 – Established a new route on the north face buttress with Steven Swenson – Rated 5.10 A3.
Kusum Kanguru, Nepal – 6,367m – 1990 – Solo'd via a new route.
Mount Everest – 8,848m – 1990 – Summited via the South Col route from Nepal.
Gasherbrum IV, Pakistan – 7,925m – 1992 – Attempted but didn't summit, turned back at 7,000 meters.
Khan Tegri, Kyrgyzstan – 6,995m – 1993 – Won an annual competition of 18 invited climbers, setting a time of 10 hours 8 minutes, beating the previous record of 14 hours 30 minutes.
Pik 4810 in Ak-Su, Kyrgyzstan – 4,810m – 1993 – Made the first free climb with Lynn Hill via "Mirror Route", a 5.12b previously climbed by Russians using aid gear in 1988
Mount Everest – 8,848m – 1993 – Guided a team via the South Col route from Nepal
Aconcagua, Argentina – 6,961m – 1993, 1994 – Worked as a guide on the highest on the American continent, summited twice.
Mount Everest – 8,848m – 1994 – Attempted the Kangshung face, no summit.
Underhill award given to Alex by the American Alpine Club – 1995
"Troubled Dreams" on Mount Rundle, Alberta, Canada – M7 – 1996 – First free ascent of this mixed ice/rock climb.
Annapurna, Nepal – 8,091 – 1996 – Attempt to make first climb of southest pillar of Annapurna III with Conrad Anker. At first they acclimatised to 7,200m on Annapurna IV before becoming trapped in a snow cave for a week and had to abandon their main attempt.
Rakekniven Peak, Queen Maud Land, Antartica – 2,365m – 1997 – First ascent with Conrad Anker, Mike Graber, Jon Krakauer, and Rick Ridgeway.
Grand Traverse of the Tetons, Wyoming – 1998 – Set speed record of 8 hours 15 minutes of the ten major peaks of this range
Great Sail Peak, Baffin Island, Canada – 1,617m – 1998 – Made the first ascent of a new 5.10 A4+ route with Greg Child, Jared Ogden, and Mark Synnott. Gordon Wiltsie and Mike Graber filmed.
North Face of Great Trango Tower, Pakistan – 1999 – 6,286m – First ascent of the the northwest face via a new 5.11 A4 route with Jared Ogden and Mark Synnott.
North Face of the Matterhorn, Swiss/Italian Alps – 4,478m – Solo
"Supercouloir" on Mont Blanc Du Tacul, French Alps – 4,248m – Solo
Naked Edge, Colorado – Alex free solo'd this 460ft 5.11 classic.
Hardest sport climbing onsight grade was 5.12d, including "Supercrack", a classic splitter crack in the Shawnagunks.
Established many new, hard M7/M8 mixed routes.
Repeated many of Yosemite's classic A4/A5 aid routes.
Skiing
First Ski Descents

Peak 10,031 (later renamed Alex Lowe Peak), Montana – 1997
Northwest Couloir, Middle Teton, Wyoming – 1992
Enclosure Couloir, Grand Teton, Wyoming – 1994
A Young Family
Alex first met his wife-to-be Jennifer in a bike shop in Missoula but she was married at the time. Just a few years later they met again in Boulder, Colorada. At the time Jenni was wanting to leave her marriage, and Alex was a young and free guy looking for fun and adventure.
In "Torn" Jennifer plainly says that at the time she never considered Alex real relationship material – but soon their love grew. Both were fiercely independent (Jennifer is still an artist to this day), and at first they hopped between oilfield and geological survey jobs, then traveled to Europe and spent time climbing different US states
They later settled in Bozeman, Montana, and decided to get married. After seven years together and knowing the risks of Alex's climbing, the two had their first child Max. Though this was a big change, Jenni knew that Alex still needed to climb, never stopping him from his goals.
As his career took off he was invited to climb Everest. From this success, sponsors came in and Alex was given the budget to fund adventures to new, remote locations and attempt undiscovered routes. This didn't stop the couple and they went on to have two more children – Sam and Isaac.
With a young family and the ever-present possibility of Alex getting injured or dying there were always struggles. Alex spent much of his time away from home on expeditions. Back in the 90's, there wasn't much communication outside of weeks-late letters and eventually short satellite phone calls.
Denali Rescues
Mount Denali in Alaska is the highest peak in North America at 6,190m up in the remote and wild landscape. In 1995 Alex and friends made a summit and they were planning a series of climbs in the area.
On the same peak, a group of Spanish climbers they'd encountered on their descent had become trapped for four days in freezing conditions because of a wind storm. They were suffering from Acute Mountain Sickness and only just managed to contact help on the last day.
The Army High Altitude Rescue team sent in a helicopter with Park Service "VIPs" Alex Lowe, Scott Backes, and Marc Twight to mount a rescue. One of the Spanish team attempted to come down before they arrived but slipped and died in a 4,200ft fall from the side of the mountain.
The team was brought in via a chinook in a record 19,600ft landing, with the rescuers climbing down a steep, technical face to free the climbers from a small ledge. One Spanish climber's hands were frostbitten, so Alex gave him his own gloves and literally carried him on his back up to the helicopter.
Days later Conrad Anker arrived to climb with the group when he and Alex again were asked to assist another party. Near the summit, three Taiwanese climbers had broken from their team. When Alex and Conrad got to them, one had already died and the others were frostbitten and hypothermic, "lying out in the snow with no gloves or shelter" according to Alex's wife Jennifer.
The climbers were saved by being dragged down to a lower altitude so another helicopter could take them to safety. Once back at base camp Alex and Conrad swiftly went off to attempt Moonlight Buttress on Mount Hunter. They later visited both teams of recovering climbers in hospital – all survived.
Shishipangma
In 1999, Alex planned an ambitious climb with close friend Conrad Anker and a small documentary team. The plan was to climb the 8,013 meter peak of Shishipangma in Tibet, and descend on skis. They aimed to become the first American team to ski down from any peak over 8,000 meters.
Alex and Conrad went in a team with cameraman David Bridges to make an exploratory climb to find a good route, planning to come back down on the same day before a full attempt. Another pair from the crew were also scouting on a different part of the mountain.
Suddenly a large block of ice and snow broke off thousands of feet above the first team, barreling towards them at high speed. The three scattered and ran in different directions but were all hit by the snow. Conrad Anker was knocked back to one side and partially buried, suffering a wound to his head, a dislocated shoulder, and two broken ribs.
Alex and David had been dragged down close by but were completely buried in an unknown location. Conrad found the other group and their support team and mounted a search and rescue attempt to find Alex and David. However, with miles of snow and another sheet of ice threatening to fall again, after 20 hours the team had to call off the search.
Alex Lowe and David Bridges were trapped and assumed dead. In an avalanche situation, victims are buried without access to oxygen. Unless it's possible to escape almost immediately, the chances of surviving are incredibly slim.
"Torn" – Alex Lowe Film
Warning – Contains spoilers for the film!
Over twenty years since Alex's death, his son Max started working on a documentary about the man and his family. The film is very personal, and while it chronicles Alex's life and achievements it does it mainly through interviews with his sons, wife Jennifer, and close friends – including Conrad Anker who survived Shishipangma.
"Torn" reveals itself as an excellent film, capturing the deep impact that Alex's death had on his young family. Max was just ten years old when Alex was lost. His brothers were even younger, and candidly state their memories are mostly from stories about their father and not experiences.
The film also shows the impact on Conrad Anker as a survivor, suffering heavily from the weight of living when his friend didn't. Without his own family or partner, he felt in some way it should have been him.
As Conrad returned he found himself in a similar state of despair as Jennifer. He traveled to the Lowe family house and spent Christmas with them, attempting to reconstruct his life and support Alex's young kids.
In a massive twist to their lives and the film, Jennifer and Conrad found themselves falling in love. They soon became a real family, and the pair would marry less than two years later. Exploring the deep love the kids had for Conrad as a father, with his complicated and tragic relationship to their early life, is key to the film.
If you are looking for a piece on mountaineering, a tribute to the life of Alex Lowe, or just an excellent documentary by itself – we really recommend watching "Torn". Check out our list of the Best Mountain Climbing Documentaries for more suggestions.
Where To Stream Torn Online
You can stream Torn online exclusively on Disney+ here.
You can also find other great climbing films like Dawn Wall, Free Solo, The Alpinist, and Valley Uprising on other streaming services in our list of the Best Climbing Documentaries on Netflix and Amazon Prime.
'The Rescue' is a documentary on the 2018 Thai cave rescue that was also recently released on Disney+. It's definitely worth a watch.
Alex's Body Found
In 2016 Ueli Steck and David Goettler – two famous mountaineers in their own right – were acclimatizing on Shishipangma before attempting a new route they were trying to establish. On the way, they encountered two bodies in the same area as the avalanche that took Alex Lowe and David Bridges.
Coincidentally, Jennifer Lowe-Anker and Conrad Anker were nearby in Nepal. The pair were contacted by Steck and Goettler who described the gear they'd found on the bodies. Conrad was able to confirm it was them based on the description, plus the fact there had been hardly any other mountaineers in the area.
It was only because of the huge amount of ice thawing that this was possible. Normally in the summer, there is some reduction in the amount of ice on the mountain but nothing significant. Due to climate change and globally warmer weather, in this season there was a large thaw. It was previously thought that the bodies would never be recovered.
In the next summer season, the entire surviving family flew out to identify and recover the bodies. As documented in the film, it was clear the bodies were that of Alex and David. Almost frozen in time their features were still recognizable.
As shown in the film "Torn", the family had an emotional reunion with their lost father before saying goodbye. Jenni held Alex's hand one last time and found the wedding band she'd placed on his finger years ago. She took this one thing as a keepsake to remember him by. The bodies were laid to rest in a traditional Buddhist ceremony by being burned on a funeral pyre.
Alex Lowe's Legacy
Despite being called "the World's Best Climber" by Outside magazine, Alex Lowe was notoriously humble and always ready to climb with anyone who could keep up. When asked about how he felt he ranked himself he famously shrugged off the moniker, saying… "the best climber in the world is the one having the most fun".
Alex Lowe's Intense Training Routine
Alex Lowe was famous for his extreme tenacity as well as his intense training regime. If there was a place he could do pull-ups he would do hundreds of them. At home, he'd compulsively jump on a pullup bar every time he passed it, and at airports, he'd use sets of stairs.
According to stories, he'd do 400 to 1,000 pullups a day in sets of 50. If there wasn't a place he would make one. Once in Antarctica he dug a five-foot hole in the snow, laid a ski across the top, and used this to complete his daily workout.
He'd also run outdoors most days, doing laps around dedicated trail runners in his hometown of Bozeman. Alex was known to do a lot of bodyweight work including dips but also trained using free weights.
Jennifer Lowe-Anker
Alex and Jennifer were together for 18 years before his death and had three sons: Max, Sam, and Isaac. Jennifer studied Art History in the UK before returning to the US where she had various jobs to fund her travels.
When Jennifer and Conrad married she changed her surname to Lowe-Anker, as did two of the sons. Jennifer has always painted and still does, painting animals, landscapes, and views near to her home and as far as Nepal.
She wrote a book about her time with Alex – Forget Me Not. It's a really well-written and warm piece on their relationship, with detailed and personal knowledge about Alex's trips from his hand-written letters.
Conrad Anker
Conrad Anker is to this day a non-stop climber and explorer. He's also got a list of achievements long enough for his own article. He's summited numerous high-altitude peaks like Everest (three times), Mount Hunter, and the "Shark's Fin" route on Meru.
Anker climbed Meru with Jimmy Chin and Renan Ozturk after previously being turned back and suffering injury and an avalanche near-miss. The film "Meru" was made from the endeavor and won the US Audience Documentary Award at the 2015 Sundance Film Festival. it's one of our favorite Mountaineering Movies.
In 2016 while climbing Lunag Ri in the Himalayas, Conrad suffered from a heart attack. The specific type is called a "widowmaker" because of its high death rate. However, Conrad managed to bring himself back down to advanced base camp with his partner David Lama. They were choppered off and he had emergency surgery aged 53. He made a full recovery but doesn't do mountaineering at higher altitudes anymore.
Max Lowe – Son + Director of "Torn"
Max Lowe is a successful filmmaker who works with National Geographic. He's directed shorts for big brands as well as traveled the world for remote documentary pieces. His short film Adventure Not War shows three veterans of the Iraq war returning to hike, climb, and ski and try to experience the country in a different light.
"Torn" has gathered much praise from the climbing and film world for showing both Alex Lowe's climbing and the deep impact his death (and life) had on the family. It was the Winner of the Best Feature Film at BANFF Film Festival 2021 and can be streamed on Disney+.
Alex Lowe Peak
In 1997 Alex Lowe with Hans Saari climbed and then skied down what was called "Peak 10,031" in the Gallatin Range, Montana. In 2005 the US Board on Geographic Names renamed it "Alex Lowe Peak" in his honor.
After Alex's body was found and cremated, the family kept some of his burnt remains and scattered them on different peaks. Jenni, Conrad, and all of their kids climb to the top of the peak to do this at the end of Torn.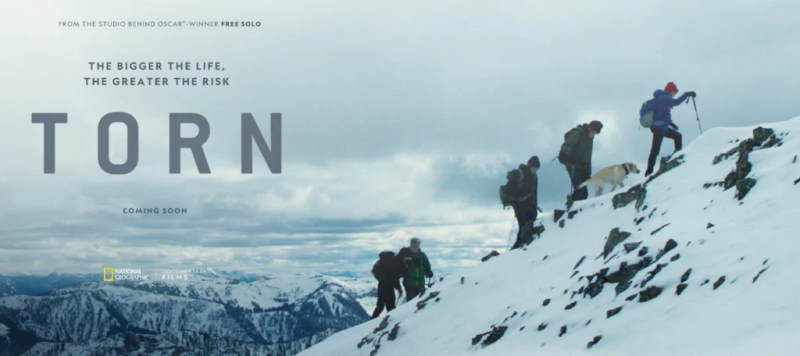 Alex Lowe Charitable Foundation
After Alex's death, the family set up the Alex Lowe Charitable Foundation. Its primary goal is to help with the training and safety of local guides and porters near the world's biggest peaks. It funds the Khumbu Climbing Center, giving training to local Himalayan guides.
The center now also features a school for providing local children education, as well as a local community center. Initially, the training for mountaineering safety and techniques was done by some of the Western world's best climbers. Now those skills have been passed on, its primary teachers are local Sherpa.