Janja Garnbret is an absolute beast. The outright top contender in the 2019 events held in Hachioji, Japan has come away with another Gold in the IFSC Combined Climbing World Championships. After winning the IFSC Bouldering World Championships, followed by the IFSC Lead Climbing World Championships, she then took the highest place of any non speed specialist in the Speed Climbing World Championships. This comes all in the space of ten days.
Read More – Who Is Janja Garnbret?
IFSC Combined World Championships Qualifiers
The qualifiers started off with Speed. Speed specialist Aleksandra Miroslaw – hot off her Gold in the Speed Climbing World Championships – took clear first with 7.321 seconds. Previous joint world record holder Anouck Jaubert of France came in second at 7.514. These two were the only competitors in quals under 8 seconds. In third was Di Niu of China. Impressively Brooke Raboutou of USA came sixth, a great result for her and the USA.
Five climbers managed to top all four boulders in the Bouldering round. Miho Nonaka, Futaba Ito, and Akiyo Noguchi all for Japan came sixth, fifth, and fourth respectively – again proving Japan are stronger than ever on home turf. The top three all flashed W1, W2 and W3. Petra Klinger of Switzerland took four goes to top W4 and came in third, Janja Garnbret two goes for second. In first place – incredibly flashing all four problems – came Shauna Coxsey for Great Britain.
While the boulders all got topped they were really high quality. The settings for the Women's side really was a great mix of classic bouldering body movement, co-ordination as well as the newer "parkour" setting worked in well without causing any rounds of boring "can't get off the floor" takes.
Going into Lead Janja had first place in Combined but faced strong competition. Ai Mori of Japan was the only climber to top out all 42 moves in a great showing to take first. Five other competitors all managed to get to hold 36, but all move off and fell in the exact same place. In order from fifth to fourth – Jessica Pilz of Austria, Chaehyun Seo of Korea, Mia Krampl of Slovenia, Shauna Coxsey, and Akiyo Noguchi of Japan.
Janja Garnbret only made eighth in Lead but still come out well based on her other results for qualification.
Remember that the results for the qualification into the Combined Finals give the list of invitations for the 2020 Olympics – not the Finals rankings. The Qualifiers rankings for the top 10 are as follows, though only the top eight go through to compete in finals. Why have we listed the top 10? Read below…
1st Shauna Coxsey – Great Britain
2nd Akiyo Noguchi – Japan
3rd Janja Garnbret – Slovenia
Joint 4th Ai Mori – Japan
Joint 4th Petra Klingler – Switzerland
5th Futaba Ito – Japan
6th Aleksandra Miroslaw – Poland
7th Miho Nonaka – Japan
8th Brooke Raboutou – US
10th Jessica Pilz – Austria
2020 Olympic Qualifiers for Women's Climbing
The rules state that the top seven are to be sent invites (which they have to accept) to the 2020 Olympics. However only two athletes from each country can be invited – plus an extra invite for Japan as the host country. As a result, these are the confirmed athletes for invitation direct from the IFSC so far. Bear in mind that Japan can invite their last guaranteed athlete at any time up until the Olympics and they don't have to have made Combined finals as far as we can discern.
Update – Looks like the same thing that happened in the Men's happened in the Women's too. Japan have decided to keep their invitation for another event so Jessica Pilz of Austria is in. It also means that despite finishing higher than Miho Nonaka, her Japanese teammates Ai Mori and Futaba Ito aren't confirmed as being in the Olympics unless they win another competition and Japan decides to invite them.
Janja GARNBRET (SLO)
Akiyo NOGUCHI (JPN)
Shauna COXSEY (GBR)
Aleksandra MIROSLAW (POL)
Miho NONAKA (JPN)
Petra KLINGLER (SUI)
Brooke RABOUTOU (USA)
Unconfirmed – Jessica Pilz (AUS)
IFSC Combined Climbing World Championships Finals
After a full day's rest the IFSC Combined Finals started off with a bang. In Speed Petra Klingler performed well to take third. In the final roundsSpeed climber Aleksandra Miroslaw took first over Shauna Coxsey who did brilliantly to get to the final – a well deserved result for the UK legend.
In the finals we switched to three problems instead of the standard four. Ai Mori in fifth and Miho Nonaka fourth performed well with one top and two zones each, though Nonaka needed less attempts. Another impressive run from Shauna Coxsey brought her third place in bouldering and first overall so far. Janja did the same tops/zones with less attempts to take second. Akiyo Noguchi did great to take two tops and come out first – to be in second place overall before the Lead round.
Shauana Coxsey steps on a bolt in Lead – Penalised
In Lead we had another situation where a bolt was stepped on. This time it was Shauna Coxsey who stepped on a bolt. She seemed to touch the 27th hold, but was penalised down to the 20th for the bolt step. From the camera angle it isn't completely clear but the judges are there to watch keenly. It didn't affect her final placing in the Combined result, though did bump up others in Lead.
Janja Garnbret again stepped up to top the lead wall and took first, with Ai Mori also clipping the last draw 40 seconds behind her. In third was Akiyo Noguchi. Akiyo was so close to topping out, literally getting her hands on both of the last holds, and would have clipped around 50 seconds faster than Janja did. It does look like the rope from the belay may have been a little bit tight – if so this is such a huge tragedy. Akiyo would have taken the Combined Gold if not for this last fumble.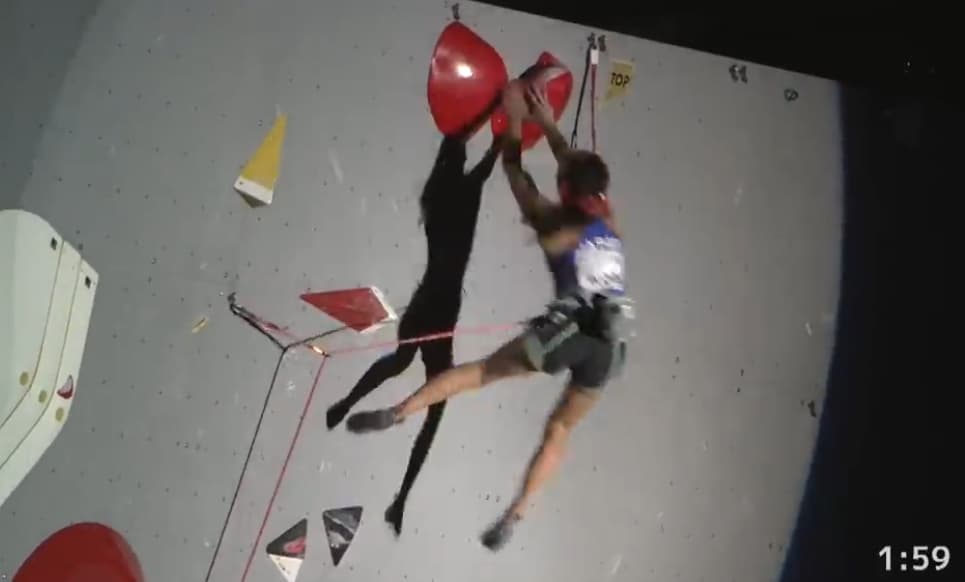 So in 2019 Janja Garnbret wins the IFSC Combined Climbing World Championships, breaking records with the IFSC. In second place is Akiyo Noguchi of Japan, and in Third is Shauna Coxsey for Great Britain.
With four climbers in top eight for both Men's and Women's Finals – Japan has been so strong and should really be proud. The training, the effort, and the quality of the event have all shone through.
Who Will Win the 2020 Olympics?
While Janja looks like a shoe-in, Akiyo Noguchi is a competition veteran that has come so close to Gold so many times. Shauna Coxsey seems to have recovered well from a catalogue of hand and arm injuries. If she keeps up this form she is an absolute contender for hardware in 2020.
Some of the younger hopefuls don't seem to have shown up for this contest as much as expected. Competitions of this size are a different beast to smaller regionals and the event itself has been a long and grueling challenge. 2020 beckons – who will step up?
Remember to bookmark us (Ctrl + D) or follow us on twitter, facebook, instagram or pinterest and we'll keep you up to date on the latest news in the climbing world.