Who Is Akiyo Noguchi?
Akiyo Noguchi is one of Japan's best competition climbers and a legend in the world of competition climbing. She's been on the comp scene for nearly 20 years and literally needs multiple trophy cases to hold all of her medals and awards.
Her climbing style summed up in a word is elegant. While modern Bouldering may be a very physical sport she excels in making insanely hard problems look easy. Akiyo's main strength is her ability to figure out the correct way to solve the route aka getting the beta right. She takes her time and uses her incredible flexibility to dial in moves and take the path of least resistance.
Much of this comes from her years of experience under the spotlight and a dedication to climbing nearly every single day. Her accolades include eight Golds in Bouldering and Combined IFSC Climbing World Cups, an consecutive nine years of winning the Climbing Japan Cup, plus seven podiums in the World Championships.
As a result of this intense dedication to the sport she loves she is a role model for aspiring young climbers and a figurehead of the Japanese national climbing team. Younger teammates like Ai Mori, Miho Nonaka, Futaba Ito, Sohta Amagasa and more all regularly cite Akiyo as being an inspiration.
As a result Akiyo has graced the pages of GQ and Japanese health and fitness magazine Tarzan, and has over 130 thousand Instagram followers. She is also one of the stars of the official Tokyo 2020 video game plus features in the first episode of the Climbing anime Iwa Kakeru. She is sponsored by The North Face, La Sportiva, Petzl, au, and has been involved with Chanel and other household name brands.
She is also known as Noguchi Akiyo as Japan swaps the order family and personal names from how the US and Europe is generally used to.
How Old Is Akiyo Noguchi?
Akiyo Noguchi is 32 years old. She was born on the 30th of May 1989.
Akiyo Noguchi Height
Akiyo Noguchi is 167 cm tall or 6 foot 5 inches.
Akiyo Noguchi Ape Index
Unknown
When Did Akiyo Noguchi Start Climbing?
AKiyo Noguchi was raised on a cattle farm in Ryugasaki-shi, just an hour or so north of Tokyo in the Ibaraki prefecture. There she'd climb trees, get up on the roof of the cattle barn, and was a constantly active kid according to her father.
When she was 11 her family went on a trip to Guam – a US island territory far south of Japan. There she found an Arcade with a small artificial climbing wall and an old autobelay. This chance encounter with her family in 2000 would lead to her becoming one of the strongest in the Sport.
Coming back home her family started taking her to a small local climbing gym where she'd learn and start competing. After early results in Youth comps and showing strong enthusiasm her father built her a small training wall in a barn – where she still has a wall to train on to this day.
Is Akiyo Noguchi In The Olympics?
Yes, Akiyo Noguchi is competing at the Tokyo 2021 Olympics where Olympic Climbing will feature for the first time. She qualified at the first event possible – the IFSC Combined Climbing World Championships in 2019 along with teammates Tomoa Narasaki, Miho Nonaka, and Kai Harada. There she took second overall just under Janja Garnbret.
This win was crucial in allowing her to start focusing on training to try and cement her career. That being said, the competition will be her last as she has decided to retire after the games. With the postponement to 2021 she has continued to compete in IFSC events for the practice, saying the delay wasn't a big problem for her.
Will Akiyo Noguchi Win The Olympics?
There is a strong chance she could take a medal for her home country at the Tokyo 2021 games. If the Boulders play to her strongest suits – flexibility and problem solving – then she could take first in that event. If she does well in Lead she could have a chance though Speed will likely be her worst placing.
Honestly Akiyo Noguchi is a bit of a wild card. She performs very consistently in Bouldering but the other two events depend on her performance being good and other favorites not hitting the top level. There's definitely a world where she takes Gold but taking any medal home would be a huge achievement.
Read more about Climbing at the Olympics 2021
What Is Lead Climbing? – What Is Bouldering? – What Is Speed Climbing?
Akiyo Noguchi Retirement
Back in 2016 Sport Climbing was first announced for Tokyo in 2021. At that point Akiyo made a personal decision to qualify and make it her last professional event. In the 2016/2017 period she says she'd struggled to keep motivated and competing with the newer generation.
Even at a fairly young age of 32 Akiyo is one the oldest climbers in the IFSC competition circuit. It takes a huge amount of dedication to travel and train basically all year round, as well as deal with minor injuries and the possibility of long-term damage from a large health issue.
Akiyo Noguchi will retire as one of the all-time greats with a solid track record. The Japanese team has grown along with her and we're sure she'll have a place in their coaching or even with her own young squad. From 2021 we wouldn't be surprised if Akiyo turns her eye to international travel and outdoor bouldering – come for retired competitors.
One of her biggest rivals over the years has also decided to go the same route. Shauna Coxsey of the UK recently announced her own retirement after nearly twenty years of competition. Shauna and Akiyo have graced many podiums together and Shauna posted a tribute and nice photo of them back in 2014 to her Instagram.
Akiyo Noguchi Training Program, Diet + Nutrition
Like much of the Japanese climbing team Akiyo's training involves huge amounts of climbing. The focus is on getting as much experience as possible and training the muscles and tendons by doing the work instead of exercises or boards.
Stretching and warming up are very important as part of her every day routine. Being able to climb this long without injury is very much down to being in top condition year round.
In terms of diet again it's nothing complicated or specific. High quality and protein focused is the goal. She's said her favorite meal is grilled beef in the traditional Japanese shared grill style. Her go-to food is a simple microwaveable rice pack and she eats a lot of organic meat.
Akiyo Noguchi Competition Results
Akiyo's first major competition was the IFSC World Championship in 2005 where she took 3rd place in Lead. Since then she's competed in every Championship and World Cup, missing only a few individual events over her 16 year career.
That third place in Lead was her highest result for Lead in this series as she found Bouldering to be her strongest suit. In the Championships she's taken Silver three times and Bronze once. In Bouldering World Cups her lowest placings in 13 events were 4th and 6th. Every other time she has placed in the top 3!
At the Asian Games in 2018 Akiyo took first place at the combined event. Though she placed last in Speed her results in Lead and a first in Bouldering took her to the top. She also won the Asian Continental Championship in 2016 and 2017 and has taken podium places in many Asian Championships.
Akiyo Noguchi Bouldering
Bouldering is undoubtedly Akiyo's strongest suit. From 2008 she won Gold at four different World Cups, Silver at 6 and Bronze once. In the last full World Cup she took Silver, finishing just after Janja Garnbret. Over the years some of her biggest competitors are Britain's Shauna Coxsey and Austrian Anna Stöhr.
In 2018 her teammate Miho Nonaka was the one to put Akiyo into second place. Having such a consistent run at this high a level and competing year after year really prove Akiyo's worth as an all-time climbing legend.
In the Bouldering event of the Climbing Japan Cup Akiyo has an incredible record of eleven wins in sixteen years. For the first nine years she was first place – a feat which will probably never be achieved again. She's also won the lead portion four times, the Speed once, and the Combined once as well.
Noguchi has also competed in the Adidas Rockstar's bouldering comp regularly, taking 1st place in 2014.
Akiyo Noguchi Lead Climbing
While LEad isn't Akiyo strongest suit, it's where she got her first big result when she took 3rd in the Climbing World Championships in 2005. Since then her results overall have been up and down. In World Cups she regularly takes at least one medal from events over a season but still Bouldering is where she stands out.
Akiyo Noguchi Speed Climbing
Speed Climbing is probably where Akiyo falls down over the three disciplines. She never really attempted Speed until the announcement of the combined Speed/Lead/Bouldering Olympic Climbing format. Her pace has picked up notably though and it's not impossible she places in the top handful of the Speed portion in 2021.
Akiyo Noguchi Beta Break
As a seasoned competition climber Akiyo knows the rules – and when they can be bent. The below video is a great example of where a seemingly small mistake by the setters lead to Akiyo finding an unconventional way to top a boulder. The whole beta break series is well worth a watch for similar fun beta breaking situations.
Akiyo Noguchi Outdoor Climbing
Outdoors climbing was never really Akiyo's focus but for the short amount of time she's dedicated to it she has some impressive ascents. On a trip to Oliana, Spain she took down the famous 8c+ "Mind Control". She has also bouldered as hard as 8A+ / V12 on "Mandala" and "A Maze of Death" in Bishop, as well as "Aguni" in Mizugaki, Japan.
What Climbing Shoes Does Akiyo Noguchi Wear?
Akiyo Noguchi's climbing shoe of choice in the last few years is almost always the La Sportiva Skwama Women's for both Lead and Bouldering. They are a great shoe for performance climbing with a lot of sticky toe rubber for big smears, toe hooks, and weird foot placements. For Speed Climbing she uses the lightweight slip on La Sportiva Cobra which is very popular for Speed.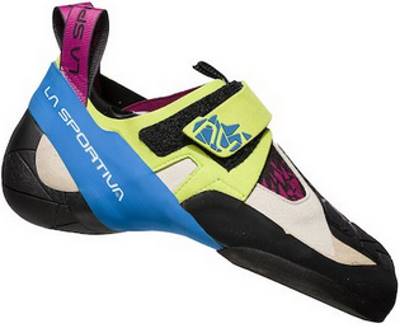 La Sportiva Skwama
Akiyo Noguchi Injury
For such as massive career Akiyo has very rarely had any sort of injury. This is both incredibly lucky but also down to a strict training regime the focuses on climbing first. The Japanese team don't tend to much fingerboard or campus work and it seems to work well. Akiyo talks about taking care of her fingers in the below video.
Akiyo Noguchi YouTube
Akiyo has her own YouTube channel that she shares with Tomoa Narasaki and Yudai Ikeda. They cover a bunch of climbing topics in a really fun style. There is a lot of technique talk, Q&S's, and general fun stuff. Watch below for Akiyo talking about her skin care.
Akiyo Noguchi Instagram + Social Media
Akiyo is pretty popular on social media, her Instagram alone has over 130 thousand followers.
Featured header photo courtesy of Henning Schlottman.