Netflix have just released a stunning new mountaineering film "14 Peaks: Nothing Is Impossible". The film's star Nirmal "Nims" Purja was a relative unknown in the Mountaineering world until he decided to do something once thought impossible.
Who Is Nims Purja?
Nirmal Purja is a record-breaking Nepali-born mountaineer who has a background in the British military. His nickname is Nims or Nimsdai, most know him as Nims Purja. In 2018 he was given an MBE by the Queen for outstanding achievements in high altitude mountaineering.
He was born in a small mountain village in Nepal so was used to living at elevation. His family lived in relative poverty and there was an emphasis on helping financially – something that would cause rifts in years to come. His father and all three of his brothers had joined the Gurkhas to do this and for young Nims this was his clearest goal.
Nims Purja Joins The Gurkhas
The Brigade of Gurkhas is a historic British Army Unit made up of Nepalese soldiers. Becoming a Gurkha is seen as a big achievement in Nepali communities as it allows for a decent wage, the possibility of a good pension, and – recently – the ability to settle with family in the UK after service.
Though the Gurkhas are technically trained to the same standard as standard British Army troops, they are highly regarded and almost seen as an elite force. This is largely because most years see up to 10,000 applicants with only 200-400 places available, meaning the Army can be very selective.
Nims Special Forces Time
He proved himself in the Army and in 2009 became the first Gurkha to join the Special Boat Service, an elite unit that carries out classified and highly dangerous missions. He spent 10 years in the SBS though he can't talk about specific missions or even where he served.
Nims was injured in one mission where he was hit in the face by a sniper's bullet, then fell 10 feet from a roof. He was pinned down and had to keep fighting for 24 hours with just a pistol to defend himself and his team.
After 16 years of service, Nims wanted to retire to focus his energy completely towards mountaineering. His family was adamant that he should continue in the forces for just a few more years to get a large pension payout that would support his family.
He thought hard about staying and was even offered an invitation to join the Special Air Services, the most secretive and high-level special forces unit in the British Army. However, in 2019 he'd made his decision.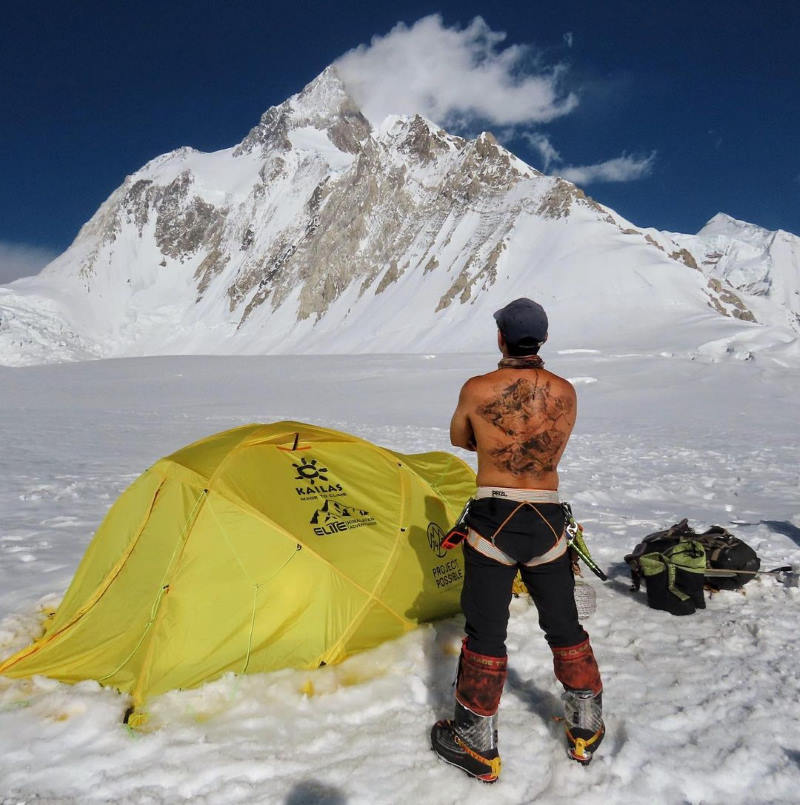 What Has Nims Purja Climbed?
Nims' first expedition was a trek to the Base Camp of Everest in 2012 while he was on leave from the SBS. Though this was initially just a trek he fell in love with the mountain range, setting out to learn and experience as much as possible with Everest as his longer goal.
His first big summit was Lobuch East in Nepal, a 6,119 peak. It gives an incredible view of many of the Himalayan peaks he would go on to climb, as well as a chance to see the deadly Khumbu Glacier Icefall that claims many lives low on Everest.
In 2016 he made his first summit of Mount Everest, in itself a notable climb. The next year he went back for a second summit as part of an all-Gurkha team.
Project Possible
The film "14 Peaks: Nothing Is Impossible" chronicles Nirmal's attempt to make history. He aimed to summit all fourteen of the eight-thousanders. These are the only mountains in the world over eight thousand meters tall, an altitude which is referred to as the "death zone"
Above this height, the atmosphere is so thin that there there isn't enough oxygen available to keep the body alive. Climbers say that at this point the body is actively dying.
Most mountaineers might summit two or three in a lifetime of dedicated climbing. Around forty people have climbed all fourteen, Reinhold Messner being the first. He managed all of them without oxygen over the space of sixteen years. Previously, the fastest time to climb all of them was just under eight years.
To climb them in one year was assumed impossible for many reasons. For that reason Nims decided to start what he deemed "Project Possible".
For a start, most of these mountains are only possible to climb in very slim weather windows. Everest and K2 only have sometimes two or three days of weather window, some years nothing. As a result, it's basically not possible to climb them spaced out over a year so some need to be climbed within days of each other.
Organization became a massive part of the attempt. The use of helicopters, multiple teams of experienced Sherpas, and the right equipment being ready to go at any point were key. Nims was also adamant that the Sherpas should be paid more than any normal expedition because of their importance.
Lastly and most importantly the climbers have to be at their physical peak as well as naturally inclined to handle extreme altitudes. Nims Purja's training involved waking up at three in the morning to run 20 kilometers with 75 pounds on his back, followed by a day of work, then a gym session. This was his daily life for six months.
Climbing 14 Peaks In Seven Months
In the end, Nims managed to achieve his dream goal. Starting in April of 2019 he completed the first six peaks in less than a month. The second phase of three went down in one month, including the first summit of K2 in Winter.
After struggling to get a permit for Shishapangma from the Chinese government, the team had to leave it until last. After changing plans and switching summits, Nims and his team finally achieved their goal on the 29th of October 2019.
Annapurna (8,091 meters) – 23rd April 2019 – After getting back to base camp, Nims and his team went back up to Camp 4 to aid in a rescue.
Dhaulugiri (8,167 meters) – 12th May 2019
Kanchenjunga (8,586 meters) – 15th May 2019 – Climbed in one day from base camp to summit – Again aided in two rescues when they found stranded climbers on their descent.
Everest (8,848.86 meters) – 22nd May 2019 – Was part of the rope fixing team. Summits despite a seven and a half hour queue at the top – resulting in his infamous picture. His fourth summit of Everest.
Lhotse (8,516 meters) – 22nd May 2019 – After returning to Everest's Camp 4 they traversed across to this nearby peak before returning to base camp.
Makalu (8,485 meters) – 24th May 2019
Nanga Parbat (8,126 meters) – 3rd July 2019
K2 (8,611 meters) – 24th July 2019 – First summit of K2 in Winter.
Broad Peak (8,047 meters) – 26th July 2019
Cho Oyu (8,188 meters) – 23rd September 2019
Manaslu (8,163 meters) – 27th September 2019
Shishapangma (8,027 meters) – 29th October 2019
14 Peaks: Nothing Is Impossible
The film about Nims and his team was released in November of 2021 and can be watched now on Netflix. If you're a fan of mountaineering documentaries this is really one to watch.
– Best Mountain Climbing Documentaries
– Best Climbing Documentaries
Nirmal Purja's Records
Fastest ascent of all the eight-thousanders with supplemental oxygen – Six months and six days
Fastest triple summit of the highest eight-thousanders – Three days (two days and 30 minutes!) – Everest to Lhotse, then Makalu two days later. Beating his own record of six days
Fastest time to climb the top five eight-thousanders with supplemental oxygen – Seventy days – Everest, K2, Kanchenjunga, Lhotse, Makalu
First Winter summit of K2 – 16th January 2021 – An all Nepali team of Mingma Gyalje Sherpa, Nirmal "Nims" Purja, Gelje Sherpa, Mingma "David" Sherpa, Mingma Tenzi Sherpa, Dawa Temba Sherpa, Pem Chhiri Sherpa, Kili Pemba Sherpa, Dawa Tenjing Sherpa and Sona Sherpa
On his team was also Mingma Gyabu "David" Sherpa who became the youngest person to climb all of the eight-thousanders – At 30 years old, Mingma was part of Nims' team for nine of the summits, he'd climbed the other peaks before. He has climbed Everest five times and K2 three times.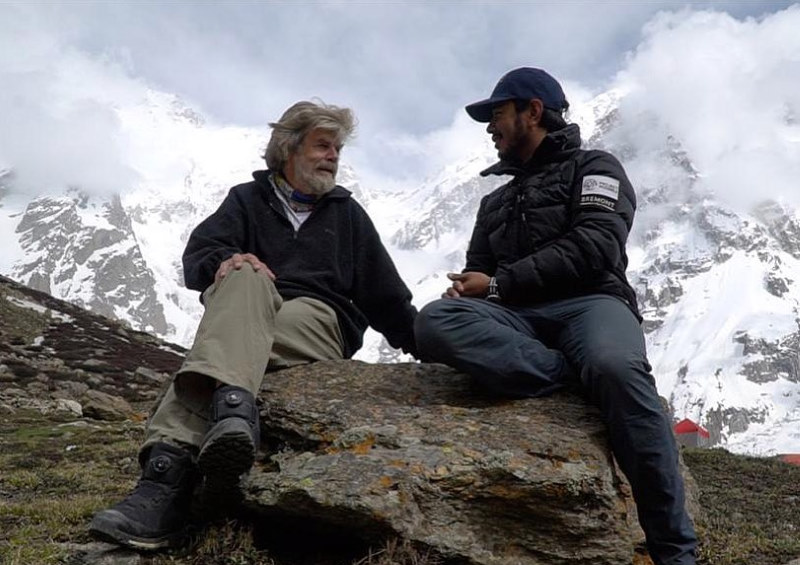 Nims Everest Queue Photo
On his return from the peak of Everest, Nims turned around and took a photo of the queue that still trailed to the top. His infamous photo showed over three hundred people queuing, all waiting to make that historic summit.
The photo made the front page of the New York Times and was featured heavily by news organizations worldwide. For many it summarized how much the mountain had become commercialized, with far too many inexperienced climbers all paying for their world-topping selfie.
Rescue On Kanchenjunga
On their way down from the summit Nims and his team found two climbers far above camp four who weren't moving and were struggling to breathe. The team gave them oxygen and stayed with them, radioing for help and asking for oxygen for climbers they knew were at camp four below.
After waiting hours and using up all of his oxygen, eventually Nims realized no one was going to come. His team urged him to come down before he too perished. Eventually, after being without his own oxygen for eleven hours he started his way back down without the stricken climbers.
On his way down he encountered yet another climber who was struggling and lost. Both of them were experiencing HACE – High-altitude cerebral edema, "a medical condition in which the brain swells with fluid because of the physiological effects of traveling to a high altitude… causing disorientation, lethargy, and nausea among other symptoms". They both struggled through and made it down together.
Nimsdai Book
Nims also published a book about his project and the struggle along the way. "Beyond Possible: One Man, Fourteen Peaks, and the Mountaineering Achievement of a Lifetime" is now available to buy online.
Nims Purja Wife
Hear what Nims' wife Suchi Purja thinks of what Nims was doing in this BBC interview. Purja's father was also a Gurkha and she was heavily involved in the fundraising which allowed the project to happen in the first place.
What Is Nims Purja's Next Project?
Nims along with Mingma "David" Sherpa and Mingma Tenzi Sherpa runs Elite Exped. It's an elite guiding company that takes mountaineers on different expeditions, from Everest base camp treks, to full summits of lower peaks, and even to Everest and K2