Who Is Shauna Coxsey?
Shuana Coxsey is one of the UK's most famous climbers and an absolute legend in the world of competition climbing. She will be competing at the Tokyo 2021 Olympics and has made the announcement that this will be her final competition before retiring.
Shauna has won many competitions – including 11 Gold Medals in Climbing World Cup events and two overall wins in 2016 and 2017. For her service to Sports she was awarded an MBE – a prestigious medal with it's own title, given by a member of the Royal Family.
In the past few years Shauna has been dogged by big injuries that have put her out of action for months at a time. Despite many huge fans (including the editor of this site) writing her off she has managed each time to pull herself back and compete at a high level again.
The latest recovery ended with her becoming the only person from the UK to qualify for Sport Climbing at the Olympics in 2021. She's in the strongest form she's been in for years and has had time to practice Speed Climbing – an almost completely new sport for her.
Shauna Coxsey is sponsored by Red Bull, Adidas Outdoor, FiveTen shoes, Entre Prises climbing walls and more. From being a part of Team GB she's also been sponsored by Yoplait yogurt(!), Aldi, Toyota, and a couple of camper companies that have funded her sweet camper conversions.
How Old Is Shauna Coxsey?
Shauna Coxsey is 28 years old and was born on the 27th of January 1993
Shauna Coxsey Height
Shauna is 5 foot 4 inches tall or 163 cm tall
Shauna Coxsey Ape Index
Shauna Coxsey has an ape index of +8.5cm. That means her wingspan in 8.5cm wider than her height
When Did Shauna Coxsey Start Climbing?
When she was just four years old she saw a film of Catherine Destivelle – one of the most famous climbers of her day – free solo climbing in Mali. Her father took her to the local climbing gym and she never looked back from there.
Shauna was born in Runcorn in the Northwest of England. It's an excellent area for climbing as it's close to Sheffield (the UK's climbing mecca) and the Peak District and North Wales. The easy access to world class crags and training gyms as well as her passion have led to an incredible career.
Is Shauna Coxsey In The Olympics?
Yes, Shauna Coxsey qualified for the Olympics in style by taking third place at the 2019 IFSC Combined Climbing World Championships. She was first in the Qualifiers and third overall. The result came after recovery from a hand injury and was well deserved.
Will Shauna Coxsey Win The Olympics?
There is a strong chance that Shauna could take home a medal for Team GB at the 2021 Olympic Games. Bouldering is her strongest suit and if she can manage to clinch a high position or even first in Bouldering over the favorite Janja Garnbret then she could do very well.
In Lead climbing she generally does well and shouldn't place badly against the field in Lead. Getting a decent result in Lead would be very helpful as Speed isn't her strongest suit at all. She has been getting better with training and her power is definitely a boon in the category.
Why Is Shauna Coxsey Retiring?
Much like her long-term competitor Akiyo Noguchi Shauna has decided to step back from the pressure and intense training of competition. However, it's definitely not the last we'll hear of her. Shauna loves climbing and being outdoors and has said she has a mental list of boulders and routes she'd like to try.
Only in the last month Shauna announced her retirement from competition climbing. After over 10 years of competing in IFSC tournaments and 20 since her first youth comps we think she deserves a break.
Shauna Coxsey Training Program, Diet + Nutrition
Shauna's training involves a lot of indoor board work either at her home wall or at local gyms. Woodies (walls with wooden holds) allow her to train more without ruining her skin – also strengthening her grip on hard-to-hold grips.
Weight training for both the big classic lifts and antagonist exercises also play a big role. She has a full set of weights at home but also hit up a larger classic gym for a squat and power rack.
Of course as her husband Ned Feehalley owns Beastmaker she has the 2000 ready to go. Weighted max hang and repeater routines make up a big part of her weekly routine. Shauna trains six days a week, multiple times a day with her coach, training planner, and long time friend Leah Crane.
She's also a big fan of cold water outdoor swims. She does them all the time and the science around cold dips and baths seems to show it can really help stimulate the nervous system and increase resistance to stress.
On the diet side it's fairly basic. Protein as the building block and carbohydrates for energy and recovery. Banana pancakes are her standard breakfast and she tends to snack while training to keep her energy levels up.
Shauna Coxsey Competition Results
Her international comp career started back in 2008 when she joined the Youth tour of the Climbing World Championships where she took 9th in Lead Youth B. Over the next few years she became a regular fixture on the IFSC Climbing World Cup and toured the world competing.
Shauna Coxsey Bouldering
Boulder has always been her strongest category and she's taken a huge 30 medals home over her years in the World Cup circuit – 11 of those being Gold. In 2016 and 2017 she won the World Cup back to back after two back to back second places in 2014 and 2015.
In her latest climbing World Cup she took Bronze – which is how she qualified for the Tokyo Olympics in 2021. Recently she's taken a break from competing in order to recover from a knee surgery, train at home, and practice at her local gyms. Team GB has also not allowed much travel because of the current situation.
Shauna Coxsey Lead Climbing
Lead Climbing isn't where Shauna stands out but she still competes and has done fairly well in recent competitions. In Hachioji 2019 she took 17th place. While that doesn't seem great it was one of the most stacked competitions of the last decade because it was the first Olympics qualifier.
Shauna Coxsey Speed Climbing
Having only taken up Speed Climbing after it was announced as part of Tokyo's combined format she's done pretty well. Speed involves a lot of concentrated power – which Shauna has plenty of. We'd love to see how her training has gone recently and
Shauna Coxsey Outdoor Climbing
Outdoor climbing is big part of Shauna's life. She's lived right next to many of the UK's best climbing venues and dirtbags it up in her converted vans whenever she can in order to get out and about.
She sent the 8B+ / V14 Boulder "New Base Line" in Magic Wood, Switzerland back in 2014 though hasn't had much time outside to try hard routes since.
We're really looking forward to seeing what she has in mind after retiring. An 8C Boulder from a British Woman would be amazing and we're sure Shauna would do well on Sport or Trad too.
What Climbing Shoes Does Shauna Coxsey Wear?
Shauna Coxsey wears the Five Ten Anasazi Pro LV. They're a Low Volume or Women's slimmer fit of the Anasazi Pro which Shauna actually helped design. The Anasazi are a classic FiveTen design that are simple velcro boot that are comfy but perform.
The Pro adds more rubber around the toe and fore-foot for modern bouldering toe hooks and as a result works great for indoor comps. For such good performance it's a surprisingly comfy shoe.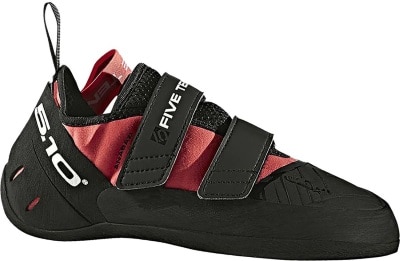 Shauna Coxsey Injury
Coxsey has had far more injuries than the average climber – yes somehow recovered well from all of them. Her first was a broken leg just a few months into her international climbing career.
A shoulder injury in 2016 set her back a while but the biggest was a torn pulley in her finger in 2017 that led to a long recovery. Finger injuries in climbers can be career ending as well as debilitating in daily life. After seemingly recovering Shauna found her in pain again the next year and took an extended time off to fully heal.
She did return to form however and managed to qualify for the Olympics in 2019. Straight after qualifying she went into surgery for a knee injury she'd been suffering from long term. She'd been hoping to get the surgery and recovery over as fast as possible in order to get training for the games.
It looks like the recovery has gone perfectly and given an extra year to train she's fitter and in better condition that ever. We really hope nothing comes up in between now and the games. Seeing Shauna at full power in her final event would be an amazing send off.
Shauna Coxsey's Husband
Shauna and her boyfriend just recently got married after a long delay caused by the lockdown. Ned Feehally has been Shauna's partner for a while and they train and climb together in Sheffield. He is one of the people behind the Beastmaker fingerboards.
Ned himself is a very strong Boulderer and has sent two 8C boulders – "Jour de Chasse" and "The Big Island" in Fontainebleau, France. He's also one of just a handful of people to have flashed an 8B+ problem in Font with "Trust Issues"
Shauna Coxsey YouTube
Shauna started her own YouTube channel in 2020 and it has a bunch of great videos about her home training. If you wanted to know how a climbing champ warms up, trains her core, increases her mobility, and holds the tiniest crimps then you'll find something for you there.
Shauna Coxsey Instagram + Social Media
Shauna has over 420 thousand followers on Instagram as well as 190k plus on Facebook.
Header photo courtesy of Henning Schlottman.