When it comes to the most famous rock climbers of all time there are quite a few contenders. The best climbers here have made some world first ascents, ground-breakingly difficult routes, and death defying climbs that may never be attempted again.
We're featuring some famous climbers known for their skill and grit, as well some who've broken boundaries in the climbing world and beyond. Books and documentaries about these climbers have made their way into popular culture, and some even have their own memes.
It would be impossible to say for sure who the best climber of all time is. It's even hard to pin down who the current best is because there is so much competition. We like what Alex Lowe had to say about it, "The best climber in the world is the one that has the most fun".
Alex Honnold – Free Solo Legend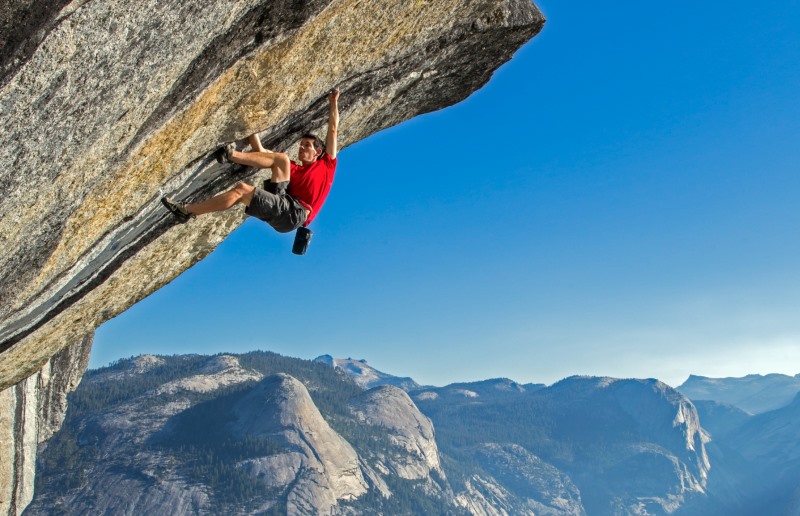 Climbers and normies alike gripped their armrests watching Alex defy gravity and all common sense in the Free Solo documentary. The historic free solo (no ropes, just your hands and feet) ascent of the 3,000 ft face of El Capitan in Yosemite was the hardest big wall climb ever done – and will probably stay that way.
The climb and the documentary easily made Alex Honnold the most famous climber of this generation. The documentary was Oscar nominated and won seven Emmy's for it's direction, editing, and cinematography. The technical and ethical issues with filming, the climb itself, and how they captured Alex's intriguing and often enigmatic personality were are all masterfully done.
As well as El Capitan, Alex has a number of other very hard free solo big walls to his name, plus a huge range of feats in different areas of climbing. He was recently featured with his good friend Tommy Caldwell attempting to break the Nose speed record in Reel Rock 14. He's climbed as hard as 9a / 5.14d sport, 8a+ / V12 boulder, and done high ball boulders like "Too Big To Flail".
In recent years with Tommy they completed the Fitz Traverse – a huge linkup traverse of the seven ridges of the Fitz Roy in Patagonia. It's hard to see Honnold being topped as the most famous climber in the world right now, and will probably be the most famous free soloist ever. He's had books written on him and written his own, featured on 60 minutes, the New York Times, and Nat Geo, done a TED talk, did a terrible rappel with Bear Grylls, and even trolled ABC about rappelling down El Cap with Tommy's baby in a backpack as his alter ago Alex Honnlove.
Read more about the best free soloists and the hardest free solo climbs
Lynn Hill – Took Free Climbing To A New Level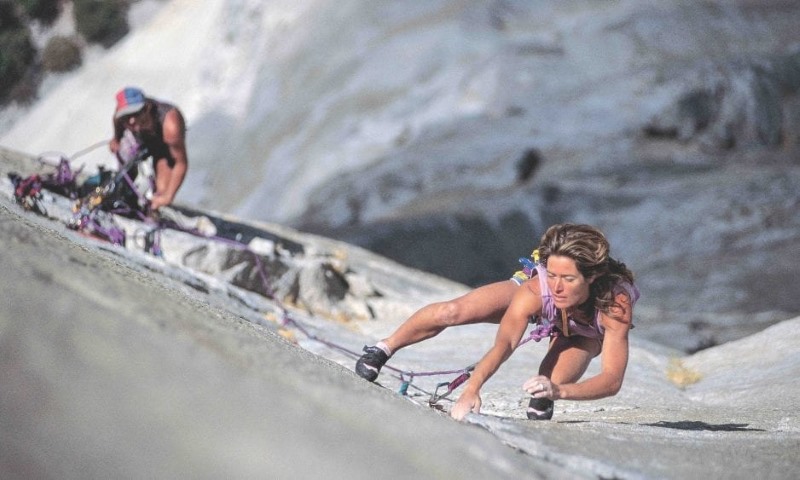 Lynn Hill undoubtedly changed the face of climbing in many ways, and to this day is an enduring icon for many climbers. Climbing went through an identity crisis in the 80's with the birth of climbing competitions, indoor climbing gyms, the first sticky rubber soled boots, and of course spandex. With this change came a fresh cast of stars – and Lynn Hill was maybe the brightest among them.
Lynn started climbing outdoors as a teen and instantly took to it. At 16 on a trip to Yosemite National Park she discovered big walls and a passion that would define much of her career. It was here she first climbed on El Capitan, and would climb with Mari Gingery on the first female-only ascent of "The Shield".
As competition climbing started in the 80's, Lynn was the big American name and would go on to win the Arco Rock Master event five times along with many other televised comps. Sport Climbing had started to become big and brought in new, controversial practices. Bolting routes by rappelling in from the top of the cliff, and hanging on routes to try hard moves until they were dialed in were controversial. However – this pushed the difficulty of climbs to a higher levels and made many rethink what was possible.
In 1993 Hill shook the climbing world when she free climbed the Nose on El Capitan. The Nose had been climbed but only in an "aid" style with the help of devices like hammered in pitons. The Nose was previously though impossible in a "free" style – and Lynn broke the news with the infamous "It's goes, boys". This melding of the newer techniques and difficulty with the old trad style of ground up ascent was a huge leap forward.
A year later she would complete the Nose in just one day. To this day the Nose is a groundbreaking achievement at 3,000 ft of continuous climbing. It includes the famously hard "Changing Corners" pitch at around 5.14a or b (8b+/8c) that still spits off famous rock climbers on the regular.
For a while Lynn was a mainstream name – appearing on Late Night with Letterman and the Today show, the IMAX film "Extreme", in the pages of Time, Vanity Fair, Vogue. In recent years she still climbs hard and does workshops and coaching. In 2011 she casually predicted Brooke Raboutou being in the 2020 Olympics. Her book "Climbing Free" is a brilliant read and covers large parts of her career plus her near death fall.
Tommy Caldwell – Dawn Wall Visionary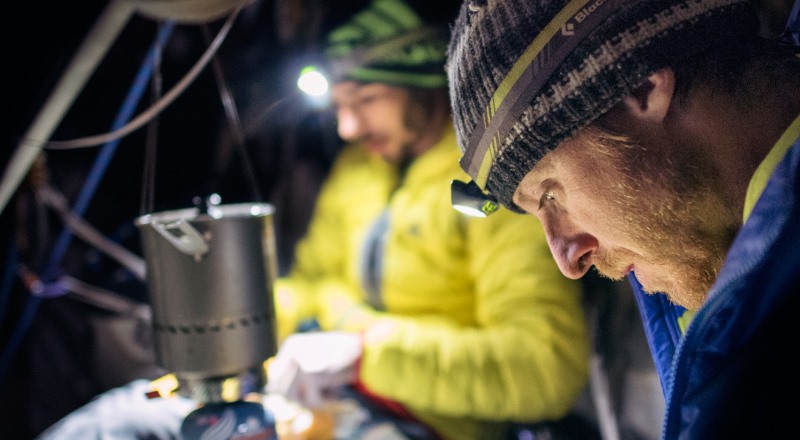 There may be a theme developing here – Yosemite. Nothing in the climbing world quite captures the imagination like huge "big wall" climbs do. Tommy Caldwell made history when along with Kevin Jorgeson, he topped out the Dawn Wall. A previously unclimbed route that goes down as by far the hardest big wall in Yosemite, containing a huge amount of very stiff grades over 3,000ft of climbing.
The climb had taken Tommy seven years of route-finding out on the wall alone, then finding partners and friends to belay and help. Climbing a big wall takes huge amount of effort in rigging, carrying food and water, jugging up and down with gear, and requires actually living on the wall.
When it came to the actual big push, it seemed like every climber we know was talking about it – with live updates and videos from Kevin and Tommy daily. By the time they got stuck at Pitch 15 the world's media were covering the attempt. The New York Times reported on the event, Obama tweeted his congratulations, and the pair even went on Ellen.
Even as a younger climber Tommy was one of the best rock climbers in the USA. He made the first ascents of the first 5.14d / 9a and 5.15a / 9a+ graded routes in America – "Kyrptonite" and "Flex Luthor" respectively. He also made many historic free ascents in Yosemite and did many link-ups of two big wall routes in a day.
It was actually previous to the Dawn Wall that Tommy became one of the most famous rock climbers in the world, when he was also in a climbing group that was taken hostage on an expedition in Kyrgyzstan. He helped his friends escape by pushing one of their captors over a mountain – and for years believed he had killed him. Later he would find the captor survived and had spent time in prison.
Tommy wrote a book "The Push" about the experience as well as greatly illuminating his climbing career, personal life, and famous marriage. He's since gone on to do the Fitzroy traverse and push speed climbing records on the Nose with Alex Honnold.
Catherine Destivelle – Most Famous Rock Climber Of The 80's?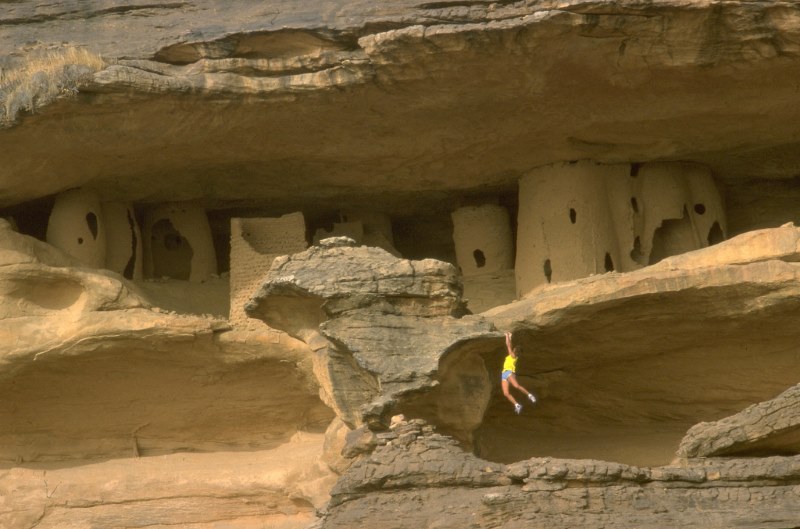 Catherine Destivelle was one of the most famous climbers of the 80's and her posters would grace many an aspiring climber's bedroom wall. Catherine started climbing at age 12, learning in the bouldering playground of Fontainebleau just outside of Paris. At 13 she started to sneak out to go roped climbing in the Alps with an instructor she'd met.
At a young age she was doing ascents and climbing grades that older and more experienced climbers would balk at. Her early experience in the Alps and then the world famous Verdon Gorge would push her to doing many daring climbs in her life. As well as pushing the danger level on bigger routes, she would also push grades in the newer "sport climbing" methods of the time.
In 1985 she won the first sport climbing competitions Sportroccia and had started to be featured in films. Her signature pink leotard became a part of her identity as she became one of the first professional climbers. Sponsorships and televised competitions would push Destivelle into the limelight as well as popularize climbing as a sport. Later, Catherine would become disillusioned and move away from competitions and go back to larger mountains.
Climbing alone – either fixing her own gear with ropes or "free solo" style without ropes – would become a big part of her life. She climbed the Bonatti Pillar on the Aigulle du Dru in four hours, completely alone. She then returned and forged a new route by herself over a grueling 11 days in terrible weather. Her book "Rock Queen" covers these routes and her long climbing career.
Catherine would do many hard ice and mixed climbing routes as well as surviving multiple accidents that nearly took her life. In 1992 she made the first female ascent of the North Face of the Eiger in one day, a face that has claimed over 60 lives. Many of Destivelle's solo climbs were filmed including Mali, Devil's Tower, and the Old Man of Hoy.
Adam Ondra – Contender For Greatest Sport Climber Of All Time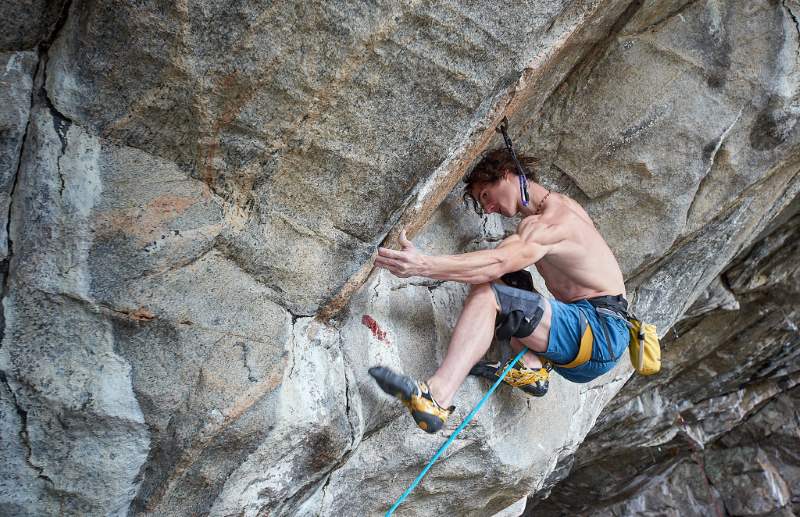 Adam Ondra is the reason we have to wear headphones while watching climbing videos on YouTube. He may be as famous for his hard climbing as he is for his signature demonic screams. He started climbing at just 6 years old and traveled with his family to climb – trying many styles and types of rock.
From a very early age he was an absolute phenomenon – onsighting 7b+ at eight years old! As he grew he continued bouldering and climbing indoors and out at a very high level. As a young teen he was winning climbing World Cups and World Championship events back to back, all while breaking boundaries outdoors.
In 2012 the climbing world really took notice when he climbed the world's first 9b+ / 5.15c "Change" in Hanshelleren Cave in Norway. At the time Chris Sharma had been working on his own 9b+ "La Dura Dura" and hadn't been able to complete it. Adam was invited by Chris to take a look at the route, and they ended up working together on beta for it. Ondra managed to make the first ascent in 2013, shortly followed by Sharma himself.
A few years later Adam had been working again on another next level project in the Hanshelleren Cave. On September 3rd, 2017 Adam announced he had completed what he initially called "Project Hard". The route would later be named "Silence" and Adam tentatively graded it as the world's first 9c / 5.15d sport climb. It was a huge leap forward and no-one else has been able to complete the route since. Three years later Alex Megos completed the world's second 9c.
Since then Ondra has managed to win an invite to the first Olympics Climbing event. In a single trip to Yosemite he climbed the Nose, bagged the Salathé Wall in a day, then managed to climb the legendary Dawn Wall in just eight days. He has his own gym, the Hangar in Brno. He has flashed 9a+ / 5.15a route, onsighted 9a / 5.14d, and still has the record for the most 9b+ sport routes climbed.
Read our full article – Who Is Adam Ondra?
Sasha DiGiulian – World Famous Rock Climber + Adventurer
Sasha DiGiulian is probably the most famous climber in America currently, and is for many the face of the sport. As a young climber she was one of the strongest competitors in the USA National Championships. While initially learning to climb and competing indoors, DiGiulian also climbed very hard outdoors.
2011 was a huge year for Sasha when she won the IFSC World Championships in Arco, then climbed "Pure Imagination" in the Red River Gorge. The route is rated 9a / 5.14d, and this made Sasha the first Woman from the USA – and the third Woman worldwide – to climb the grade.
In recent years Sasha has climbed some huge walls in remote places, including battling terrible conditions on São Tomé. She made the first free ascent of the Misty Wall in Yosemite – forever etching her name into America's climbing history. Her film "The Trilogy" on her second ascent of three 5.14 big walls in the Rocky Mountains of Canada won the People's Choice at the Banff film festival.
Sasha has used her position as a world class climber to also give voice to many big topics. She has lobbied for action on climate change in Washington and fought for equal pay and opportunities for Women. She has also talked openly about body image and the acceptance of femininity in what has been a very masculine and male dominated sport.
Sasha has also entered popular culture by working with the creators of the first climbing emoji ?‍♀️ As famous rock climbers go, Sasha probably takes the top with this alone!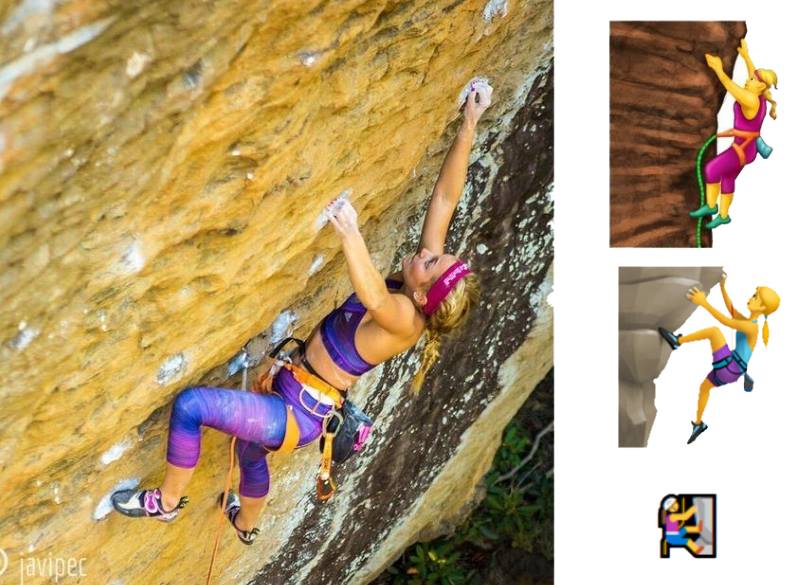 Chris Sharma – Modern Grade Pusher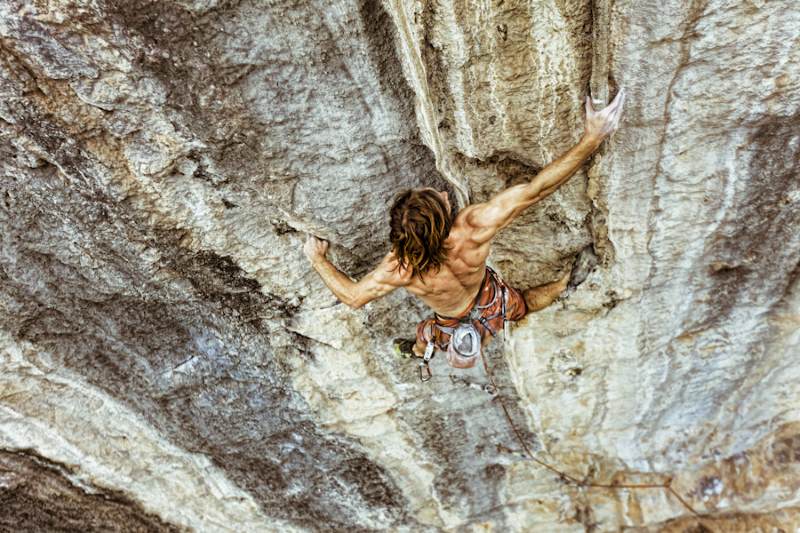 Chris Sharma was one of the first of a new wave of climbers that would push the sport to a new level – the gym kids. Climbing from the age of 12, Sharma went all in on the climbing lifestyle. To this day, whatever type of climbing he's doing, he still seems to be the person having the most fun.
In his earlier years he mainly climbed and trained indoors. He won his first US Bouldering National at the age of 14, and would go on to win many competitions – including the X Games Bouldering Gold in 1999.
In 1997 he climbed the hardest climbing route in the USA at that time "Necessary Evil" graded 8c+ / 5.14c at just 14 years old. From this point out Sharma would become the best climber in the world, first by climbing various 9a's, then by pushing Sports Climbing two full grades higher.
In 2001 Chris Sharma became the most famous climber in the sport with the first 9a+ / 5.15a route "Biographie". Originally the route was divided in to two parts, and Arnaud Petit climbed the first in 1996 with grade of 8c+. Sharma spent three years linking the whole 40 meter route and initially called it "Realization". He didn't initially grade it – as he very often chose to with his routes – but people have repeated and confirmed the grade.
Seven years later in 2008 Chris would again push the grade with "Jumbo Love" becoming the world's first 9b / 5.15c. Sharma had also been working on a route called "La Dura Dura" in Oliana which he graded at 9b+ / 5.15c but had not sent, saying at one point "I never saw myself being able to climb it". At this point he invited Adam Ondra to come and try the route. Ondra had just recently put up the first 9b+ "Change" and was eager to see what Sharma's new route was like.
With the world's greatest climbers Chris Sharma and Adam Ondra working together it was only a matter of time, and eventually Ondra took the first ascent of "La Dura Dura" in February of 2013. A month later Sharma would also top out. Sharma's legacy and contribution to sport climbing cannot be understated and he may well be the most famous climber of his time.
Sharma has set many new 9a+ and 9b routes including "First Ley", "El Bon Combat", "Papichulo", "Pachamama", "Fight or Flight", and more. These are all test pieces for world class climbers looking to prove themselves, and a testament to Chris Sharma's passion for climbing. He has put up many incredible boulders problems, traverses, and incredible Deep Water Solo's as well as owning two world class climbing gyms in Spain. He's also bolted and worked on multiple possible 9c projects that could become the hardest climbs in the world.
Janja Garnbret – Competition Crusher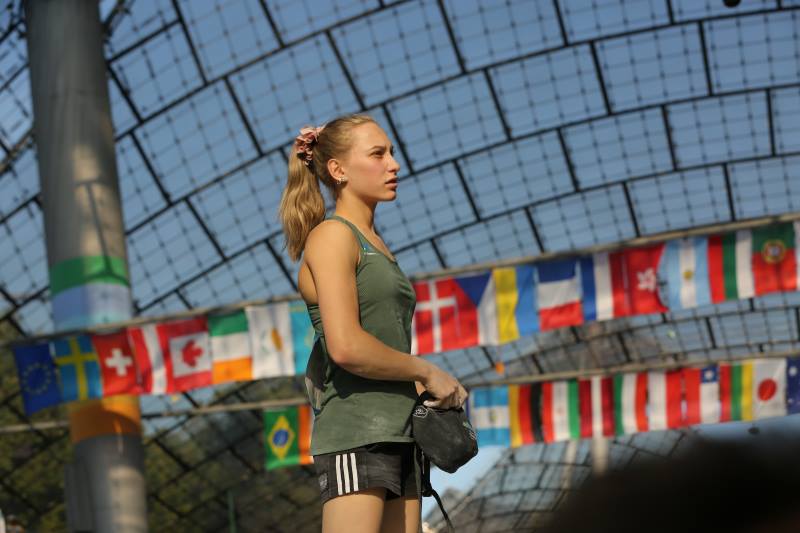 Without a doubt, Janja Garnbret is the best indoor climber in the world right now. From as young as 8 years old she has competed on the world stage, placing high and learning fast. Currently she is the favorite to make history by taking Gold at the first Olympics to feature Sport Climbing.
Her competition achievements are incredible! In the last four years she has won first place in two of the three events in the Climbing World Cup, won World Championships gold in six events, and – marking the first time it had been done – won every single event in the 2019 Bouldering World Cup. Of the 78 boulder problems set over the year, she topped all but four.
Her biggest achievement came recently in the 2019 IFSC Climbing World Championships in Hachioji, Japan. In a stunning competition she won the Bouldering and Lead Gold, as well as Gold in the Combined event. This event was massively important as it got her a place at the first Olympics Climbing event in 2020 (now 2021).
Outside, she has climbed as hard as 9a / 5.15d on "Seleccio Natural" at Santa Linya. However, she is very much focused on indoors climbing. During lockdown many competitors were taking the time to climb hard routes outdoors. Janja instead opted to build her own gym. If she chose to dedicate time to climbing outdoors we could very well see the grade barrier pushed for Women.
Wolfgang Güllich – Power In Action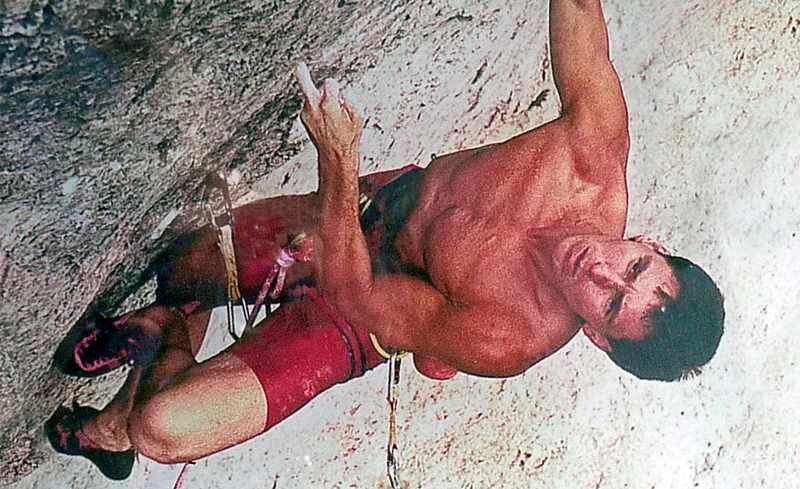 In the 80's Wolfgang Güllich took sport climbing to a new level. Wolfgang brought a new ethic of strength and dedication, summing up much of his ethos with the famous quote -"There's no such thing as too much power!".
As a young man he was part of the wave of free climbing routes that had previously only been climbed with the aid of pulling on gear. This is where "redpointing" comes from – leaving a red dot to indicate the route had been free climbed (and implying that was the way it should be done from now on). He would hang on routes and practice moves, focusing on getting the technique and strength rather than strict ethics.
His athleticism and dedication to training was legendary. He could do one armed up pull ups, invented the campus board system, and wowed mainstream audiences by doing one finger pull ups on TV. Climbing gyms were often plastered with posters of his ascents of "La Rose Et Le Vampire", free soling Yosemite, the "Predator" handshake, and more.
If you've seen the infamous "Cliffhanger" with Sylvester Stallone – you've seen Wolfgang climb. He was Sly's stunt double for many of the death defying free climbing scenes.
Güllich was an inspiration to many by showing how far the difficulty could still be pushed in climbing. He completed the first 8b "Kanal im Rücken", first 8b+ "Punks in the Gym", first 8c "Wallstreet", and the first 9a "Action Directe" (5.13d, 5.14a, 5.14b, 5.14d respectively). This four grade push (only interrupted by Ben Moon on Hubble 8c+ / 5.14c) has yet to be completed by another climber.
The famous shot of him on "Action Directe" is possibly the most famous climbing image of all time. The huge legs flying dynamic move from a single finger pocket to a two finger gaston was astoundingly hard and a brilliant sports shot. His legacy in climbing isn't limited just to sport and he will always be remembered as a legend. Without a doubt the most famous German rock climber.
Ashima Shiraishi – Child Prodigy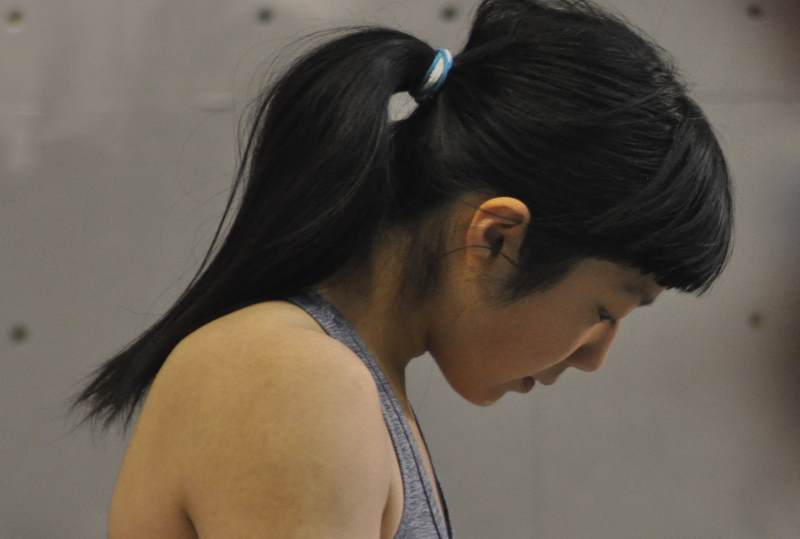 Ashima Shiraishi is the kid that warms up on your project. The young prodigy manages to be a top boulderer, world class indoor competitor, a fashion icon, appear on billboards for The North Face, and do her schoolwork.
Starting at just 6 years old on indoor bouldering walls and she took to it like a fish to water. Ashima was competing at 7, and climbing 7C+ / V10 boulders outside at just 8. Videos of the tiny Ashima crushing hard boulders in the US and Japan became huge on social media.
As Ashima grew into her teens she didn't slow down, and would continue pushing her bouldering and sport grades outdoors. At the same time she competed in the Climbing World Championships, taking the 1st in Lead and Bouldering in her category three years in a row.
When she was 11 she became the youngest person to climb an 8c+ / 5.14c sports route, breaking a huge boundary. In the next two years she climbed two V14 boulder problems and was the second Woman to climb the grade (or first, as one of the problems may be a V13 on consensus). Then she became the first Woman to climb a V15 boulder with "Horizon" in Mount Hiei.
Is Your Kid Interested In Climbing?
Read our guide to getting the right climbing gear for kids and toddlers
– Who Is Ashima Shiraishi?
– Best Climbing Harness For Kids
– Best Climbing Shoes For Kids
Also at the age of 13 she climbed two routes that are either 9a or 9a+ "Open Your Mind Direct R1" and "Ciudad de Dios". Essentially she was the youngest person to climb a 9a/9a+ route at just 13. Unfortunately Ashima missed out on qualification for the Olympics but is still competing – and may have her sights set on Paris 2024.
In addition to her climbing achievements she is also big into fashion and been featured in the New York Times, New Yorker and Vogue. She has just worked with Evolv and Brain Dead to create her own signature version of the Zenist shoe.
Dean Potter – Pushed The Limits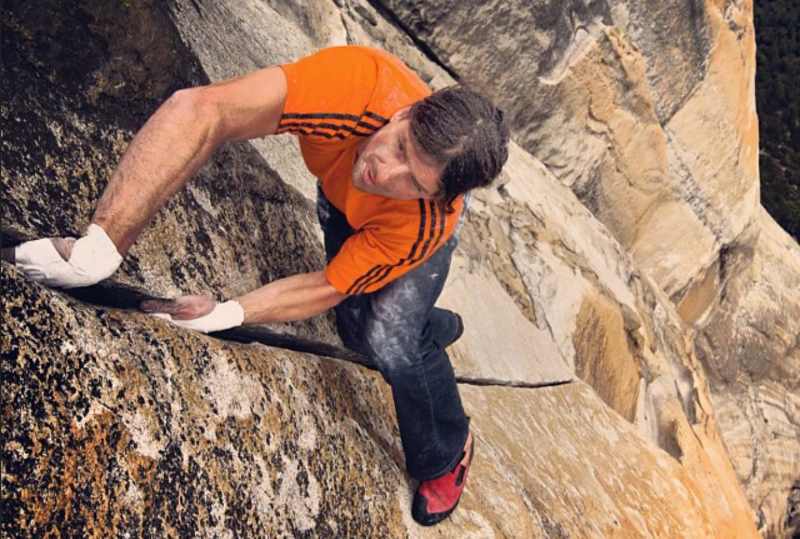 Yosemite National Park in California is undoubtedly the most well known climbing area in the world and we've featured many of the famous climbers who defined it's different eras. In the 90's, Dean was the cheeky face of Yosemite rebellion.
While many outsiders would see much of climbing as coming with a risk of death, the reality is that – apart from the odd sprained ankle – 99% of climbing is pretty safe. For Dean Potter it was all about that 1%.
Dean started at a young age by using a clothesline for a rope along with other things he found in his Dad's garage. As a teen he'd soon move on to free soloing large formations in New Hampshire – for the simple fun of climbing. He was so enamored by climbing that he fully embraced the "dirtbag" lifestyle and would sofa surf, or pitch his tent wherever the climbing was – legal or otherwise.
Dean became famous for free soloing a route called "Easy Rider", a mix of two famous routes on El Cap. Climbing the full face of the iconic granite wall sans rope put him on the map for many. He was also captivated by speed climbing The Nose, Half Dome, and other routes in Yosemite – often setting and retaking records in a back and forth challenge with other teams.
As well as climbing without a rope Dean was hugely into slack lining. He'd take this to huge heights too – highlining across huge gaps without a safety tether. He would do this all over the world, crossing a huge canyon in China as well as his spiritual home in Yosemite.
Probably the scariest things Dean would do involved parachutes. He was one of the first wave of BASE jumpers bringing the sport to Yosemite. He would also climb or highline with a parachute in case he fell, calling the climbing style "freebasing".
Pushing the limits of what a person could do at heights, Dean would discover wingsuiting. Much of what he did in Yosemite and outside would create controversy and his activities in the park were seldom legal. A video of Dean flying with his dog became world famous. Unfortunately he would die in a wingsuiting accident aged 43.
No-one can say Dean didn't do what he loved. He pushed himself and lived life exactly the way he wanted. Becoming one of the most famous rock climbers in the world was just a side effect of this, and he shunned the fame and attention brought by it.
Most Famous Rock Climbers – Quick Questions
Who Is The Best Rock Climber In The World?
Who Is The Most Famous Climber In The World?
Alex Honnold with a doubt. In the rock climbing world he's featured on every other magazine cover and interviewed for any climbing event even vaguely related to him. Ask anyone you know to name a rock climber and you'll hear his name. That or "that crazy guy that climbed El Cap without any ropes".
Who Is The Best Boulderer In The World?
For Women this is probably Ashima Shiraishi based on the amount of top level boulders she has climbed, as well as being one of only a handful to have climbed 8C / V15. However, she isn't focused on outdoor bouldering as much right now. Oriane Bertone, Mishka Ishi, Kathrin Lehmanns, and Alex Puccio are all in the running.
For Men this is also hard to answer but likely to be Nalle Nukkataival, James Webb, or Daniel Woods. Nalle has climbed the world's only 9A / V17 boulder (that's been confirmed by others trying it). Between the three they've all climbed multiple 8C / V15 and 8C+ / V16 boulders this year.
Why Differentiate Between Boulderers And Sport Climbers?
The two are very similar – though there is definitely a head game involved in the scariness of sports climbing. Bouldering can be very intensive in terms of sheer attempts on single moves and a single boulder.
There are a huge amount of cases where a specialist who focuses on the other does amazingly. For instance Adam Ondra can boulder 8C+ / V16 and Ashima Shiraishi has climbed 9a/9a+. The "best climber" really is more about choice of time in these cases.
Best Yosemite Rock Climber?
Probably Tommy Caldwell. He spent years establishing the Dawn Wall, holds a tonne of speed records, and has linked up basically very route in the park. Just on the passion Tommy shows for that Yosemite granite, he's the best rock climber there.
Want To Try Climbing Out?
Read some great articles for new climbers and boulderers
– Best Climbing Shoes For Beginners
– Best Climbing Harness For Beginners
– Best Beginner Climbing Rope
– Climbing Face Masks Guide