Who Is Adam Ondra?
Adam Ondra is probably the best climber in the world. He's widely known for pushing up the hardest grade of Sport Climbing not once but twice. He also climbed "The Dawn Wall" – the most famous big wall climb after the film – in just eight days.
A real anomaly in climbing he has done equally well in indoor competitions as on outdoor routes. Once Olympic Climbing was announced in 2016 he immediately decided he wanted to compete to win and has trained for it ever since.
Though he was thought to be a dead cert for qualifying in the first event he was penalized for apparently stepping on a bolt and didn't make the cut. However, in the next event in Toulouse he managed to take a spot.
If you've ever seen a video of a climber screaming like a demon – that's Ondra. He's well known for his power screams and celebrations on topping out at comps.
Adam Ondra is sponsored by La Sportiva, Black Diamond, VW, Montura, Mazagrande, and Trentino. He also owns his own climbing gym – the Hangar in Brno.
How Old Is Adam Ondra?
Adam Ondra is 28 years old. He was born on February 5th, 1993.
Adam Ondra Height
Adam Ondra is 6 foot 1 inch tall, or 186cm.
Adam Ondra Ape Index
Adam Ondra has a +1cm ape index. That means his fingertip to fingertip wingspan is 1 centimeter more than his height.
When Did Adam Ondra Start Climbing?
Adam started climbing at just six years old. His parents were both avid climbers who would travel, camp, and climb all around Europe while taking their son and daughter Kristyna along. She would go on to be the first Czech woman to climb 8b+ / 5.14a.
As a result he did the vast majority of his climbing outdoors and found that's where he really enjoyed himself the most. At eight years old he onsighted (climbed first time without seeing it before) 7b+ / 5.12c routes, by nine onsighting 7c / 5.12d, and at ten he was onsighting 8a / 5.13b!
Is Adam Ondra In The Olympics?
Yes, Adam Ondra is competing at the 2021 Olympics in Tokyo. He qualified at the second event, the Toulouse IFSC Combined Qualifier, where he was first in the qualifying round. He was ill on the day and was clearly suffering but still pulled through.
He had hoped to qualify and get through in the first qualifier at the IFSC Combined World Champs in 2019. However, in the qualifying round an appeal was made by another team that he had stepped on a bolt. It was a hard call but the video can be argued to show he did.
Unfortunately due to this he was given a null score and didn't qualify for the finals – though he would have if the appeal against him wasn't accepted. He was incredibly frustrated by this as in most Lead comps he is the clear winner if not in the top 3.
Having to compete again with all the extra training, preparation, and travel was not something he had wanted to go through. It all worked out in the end but it was heartbreaking to see it on the day.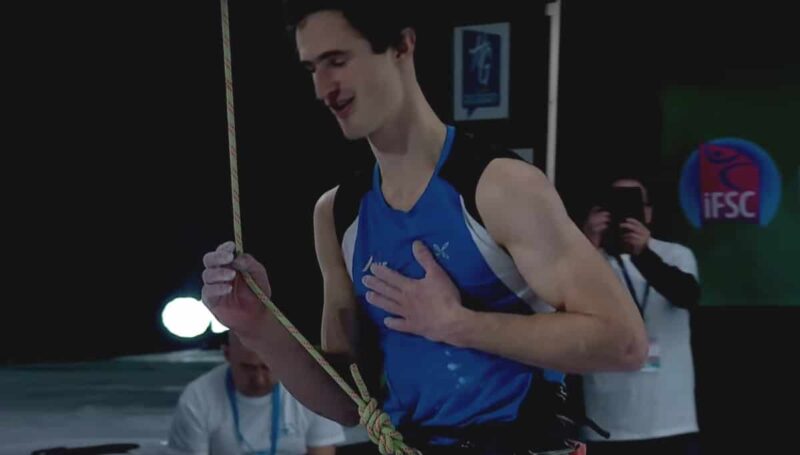 Will Adam Ondra Win The Olympics?
Adam Ondra is definitely the one to watch to win in Tokyo 2021 and for many he is the absolute favorite. While Tomoa Narasaki is also up there because of his win in Hachioji, Ondra has the more consistent winning streak in Lead and Bouldering.
His competition is mainly from others who are specialists in either Lead or Bouldering. Ondra is a rarity in that he nearly always wins Lead and basically always makes top 3 in Bouldering. Tomoa Narasaki of Japan is top pick for Bouldering, and Jakob Schubert of Austria for Lead.
If he takes first in both Lead Climbing and Bouldering he's almost certain to take Gold. However, that's a lot of climbing at max power in some very tense conditions. He also strongly prefers cold, crisp conditions and Tokyo in summer is hot and muggy.
Speed is going to be a problem as he clearly doesn't enjoy the training. If he manages a decent run and doesn't fall or lose early, ending up in the top 6 – he has a very strong chance even if he isn't first in the others.
Read our full article on Sport Climbing At The Tokyo 2021 Olympics
What Is Lead Climbing / Speed Climbing / Bouldering
Adam Ondra Training Program, Diet + Nutrition
Adam Ondra trains almost non-stop. Most of that training is simply climbing as hard as he can, all the time. He rarely takes full rest days but does tend to have "active" rest days where he does some running or other exercises to rest his fingers.
He works closely with his coach and personal trainer Patxi Usobiaga who is himself a world class climber. Training days are four to five hours and are split into morning and afternoon for rest.
This is mostly working on hard routes and often using a spray wall for bouldering practice. A spray wall is a large wall full of holds where you make up problems to do, or use an app or paper to jot down the route.
He tries to push himself to try as many different types of moves as possible in order to prepare himself for whatever comes up in competition. Bouldering practice leads on to Lead strength but he does work on his stamina too by doing power endurance training. This can be done by climbing for 5 or 10 minutes without rest.
He also works with personal trainers for general strength and does a lot of campus board work. Ondra is very flexible and it's key to his climbing strength. He stretches nearly every day and incorporates that into the workouts.
There is a slightly old Training Beta podcast you can listen to here. He was studying full time back then but now is dedicated entirely to climbing.
Adam Ondra Competition Results
Ondra started competing in IFSC competitions in 2007 when he was 14. In his first comp he took 10th in Lead but then started a run of 1st places that lasted 12 different competitions.
As he advanced from the Youth categories to Adult he would then rarely ever finish outside of the top 3 in Bouldering and Lead. In Speed he doesn't do well but in Combined categories he generally does brilliantly because of his strength in the other two.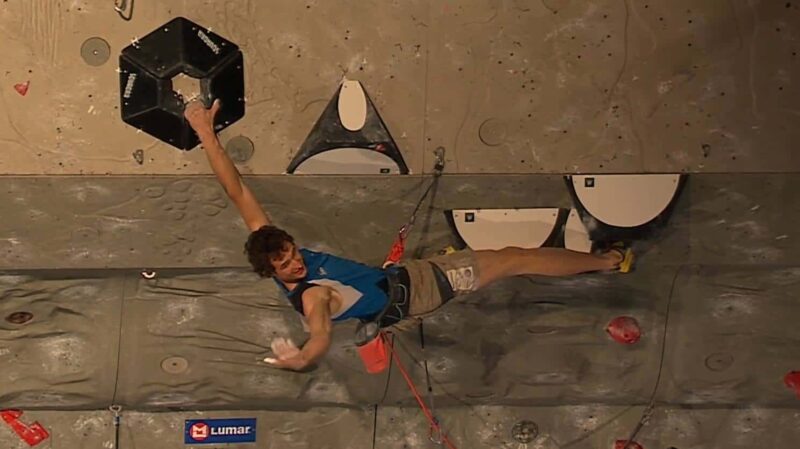 Adam Ondra Lead Climbing
Since starting to compete in Lead from the Youth to Adult category at the IFSC Climbing World Championships Adam has literally never finished outside of third place. That's ten straight years with three Golds in Adult, three in Youth (where he never place worst than 1st) and a couple each of Silver and Bronze.
Lead is where Ondra is at home. His stamina, insane grip strength, and world class flexibility he is able to pull of moves that no other competitor can. He just doesn't let go and will contort himself into whatever shape it takes to reach the next hold.
Adam Ondra Bouldering
Lead is definitely Adam Ondra's forte – in fact it's easy to argue that he's the best Lead climber to ever exist in Sport Climbing. However, in Bouldering he's still very strong and up there with the best . In the Climbing World Championships he won in 2019 and took Silver twice.
Ondra has won the IFSC Climbing World Cup for Bouldering once and taken Silver and Gold once each. Because he prefers climbing outside he doesn't attend as many of the events as others but still has 14 medals overall.
Adam Ondra Speed Climbing
Speed Climbing isn't Ondra's thing. For a climber so dedicated to the movement of climbing, climbing the same route over and over doesn't appeal. He does train and he doesn't often give terrible results but he's mainly doing it so he doesn't lose in Combined competitions.
His personal best is under eight seconds but he will need to reduce that drastically to stand a good chance in Tokyo. We haven't seen him Speed Climb for a while so he could well have improved that time. Really the consistency is going to be the main issue as a fall is an instant loss.
Adam Ondra Outdoor Climbing
Since coming on to the scene Adam Ondra has consistently pushed the Climbing world to new heights. He is most famous for being the first person to climb a 9b+ sport climb, then just five years later in the same cave sending the hardest rock climb in the world "Silence" at 9c.
He also managed to climb "The Dawn Wall". The climbing documentary and the subsequent film made headlines around the world. Two climbers spend years trying to climb an almost blank section of Yosemite. Adam did it in just eight days.
Read the full article – Who Has Climbed The Dawn Wall?
World's First 9b+ "Change"
In the Hanshelleren cave in Flatanger, Norway is an incredible set of huge roof climbs. In 2012 Ondra went to bolt a few routes as potential 9b or higher. The first he sent was "Change" and ended up being a 9b+ / 5.14d – the first climb of this grade.
It's a huge route of 55 meters that involves dropping and re-clipping the rope (while still safe!) to avoid the huge amount of rope drag that would happen otherwise. It was only just repeated in 2020 by Stefano Ghisolfi.
World's First 9c "Silence"
In that same cave is another harder route! Adam had bolted it and considered working it for a while but for years had found it just too much. Eventually after figuring the multiple cruxes and the middle crack section he managed to send it in 2017.
He gave it the grade 9c / 5.15d and again it was the first grade of this difficulty in the world. It hasn't been repeated but since then another route has been given a grade of 9c / 5.15d "Bibliographie" by Alex Megos.
World's First 9a+ Flash
A flash in climbing is when you climb a route first time without falling or resting on the rope. You can get some information on the beta and the holds but you must do it first time. Flashing and onsighting are real tests of just how adaptable a climber you are.
Ondra again made history by being the first (and still only) person to flash a 9a+ / 5.15a route when he climbed "Supercrackinette" in St Leger, France. The feat is something that requires an insane level of skill and on-the-day performance.
What Climbing Shoes Does Adam Ondra Wear?
Ondra has worn a wide range of climbing shoes over the years. He always tends to stick to La Sportiva because he is sponsored by them but they also produce a huge range of very good high end shoes.
Recently he uses the La Sportiva Solutions for a lot of his climbing. Generally he uses the Low Volume/Women's versions for the slimmer mid foot and heel. The Solutions are probably the most popular shoes worn by pro climbers.
Adam Ondra Injury
Over the years Adam has suffered from some injuries related to climbing but nothing massive. The biggest recent one was in 2019 when he suffered a wrist injury then continued to climb on it.
He took a few weeks off and was fairly strict about not climbing. He kept up his form by stretching and running as well as doing some light climbing exercise. However, he made a full recovery and it doesn't seem that he's had issues with it since.
Adam Ondra YouTube
Ondra started a YouTube channel a few years back after he starting working on his "Project Hard" that turned out to be "Silence", the world's first 9c.
Since then he's worked with a professional team and put out some really good videos of his climbing, touring the world, plus his recent "Road To Tokyo" series about the training and planning for the Olympic Games debut of Sport Climbing.
Adam Ondra Instagram + Social Media
Adam Ondra has over 700 thousand followers on Instagram, 171k on his Facebook athlete page, plus his own website.