Around the world, there are kids warming up on your project. We've compiled what we think is the definitive list of the world's best young climbers. Some are the youngest to climb a grade, while others have completed lifelong ambitions before graduating.
Okay, so we lied when we said every grade. Below a certain level, there are hundreds, if not thousands, of kids climbing routes harder than most people will ever climb in a lifetime! These are some of the biggest names and the brightest stars of this generation and the next.
We will try to keep this article up to date as records are inevitably broken. You can help by commenting or tagging us about new sends at @climbernews on Instagram
Youngest Sport Climbers
Youngest To Climb 9a / 5.14d
Théo Blass is the youngest climber to have climbed a 9a / 5.14d sport climb. At 12 years (and nine months) old he climbed "Trip Tip Tonik" at Gorges du Loup in Nice, France. Surprisingly it only took him around 10 sessions on the route.
That just beats out the two-month-older-at-the-time Gianluca Vighetti who climbed "TCT " 9a /5.14d in Gravere, Italy. This route has an unfortunate history for another young climber…
"TCT" – Tito Claudio Traversa's Climbing Achievements & Death
The route has some history and was put up by Stefano Ghisolfi in 2014 and named after Tito Claudio Traversa. Tito was a young prodigy from Italy who was really involved in his local climbing community. He had climbed 8a at just eight years old and by ten had climbed up to 8b+.
Tito died at the age of 14 when he took a 50-foot ground fall after reaching the top of a route. He was given a set of quickdraws that had been bought as separate parts and assembled incorrectly.
The rubber stopper piece that keeps the top carabiner from rotating was used to connect the biner and the dogbone incorrectly. The dogbone wasn't attached to the quickdraw. When Tito completed the route he clipped to quickdraws into bolts and rested, at which point both failed, as did multiple below him.
He died of his injuries as a result of the fall. The quickdraws were apparently assembled by the "non-climbing mother of another child on the climbing team"[1]. Later, the Italian court tried three men (not the mother). One was the manufacturer of the individual parts, another the owner of the climbing gym whose club Tito attended, and the third an unofficial instructor who was out with the group that day[2].
Only the instructor was charged and given two years for manslaughter – which he didn't serve because it was a first offense. This terrible tragedy serves as a warning that climbing can be dangerous if non-climbers are involved and assume gear safety without knowing the dangers.
It also serves as a warning to instructors or other experienced climbers who go out with youth groups or teams casually. You may be held responsible for others' mistakes if you are deemed to be the most knowledgeable person in the area.
Youngest To Climb 8c+ / 5.14c
The youngest person to climb 8c+ is Bayes Wilder who was just ten years old when he achieved the lofty goal. The route was "Southern Smoke" at the Bob Marley crag in the Red River Gorge. The wild route took a fair bit of beta breaking and some hands-off campusing from the young American.
Youngest To Climb 8c / 5.14b
In 2020 Théo Blass climbed "Souvenirs du Pic" in Saint Guilhem le Desertin, in southern France. That makes him the youngest person to climb 8c when he was only 10 years old. Climbing is just one of his hobbies that include mountain biking which he "finds much more fun than climbing", according to his dad.
Brooke Rabatou – who took fifth place at the 2020 Olympics – was previously the youngest climber in the world to send 8c. She climbed "Welcome to Tijuana" in Rodellar, Spain back in 2012 and it took a while for the record to be broken.
Ashima Shiraishi and Illya Bakhmet-Smolensky have also both climbed the grade at the same age.
Youngest To Climb 8b+ / 5.14a
Ziheng Qiu is a relatively unknown climber in the western world, but made history in January of 2022. At just nine years old climbed "China Climb", an 8b+ / 5.14a route in the White Mountain crag in Yangshuo, China. That makes her the youngest person to climb 8b+.
It's worth noting that the route used to be grade 8c but over time at least one hold has broken and the consensus is that it's an 8b+. Meini Li is another Chinese climber who also sent the same route when she was just ten.
Youngest Boulderers
Youngest To Climb V15 / 8C
Mishka Ishi is the youngest person to climb a V15 / 8C boulder at age 13. She climbed "Byaku-dou" at Mount Horai, Japan in 2018. Standing at just 4ft 9, the young Japanese climber had to find entirely new beta for key parts.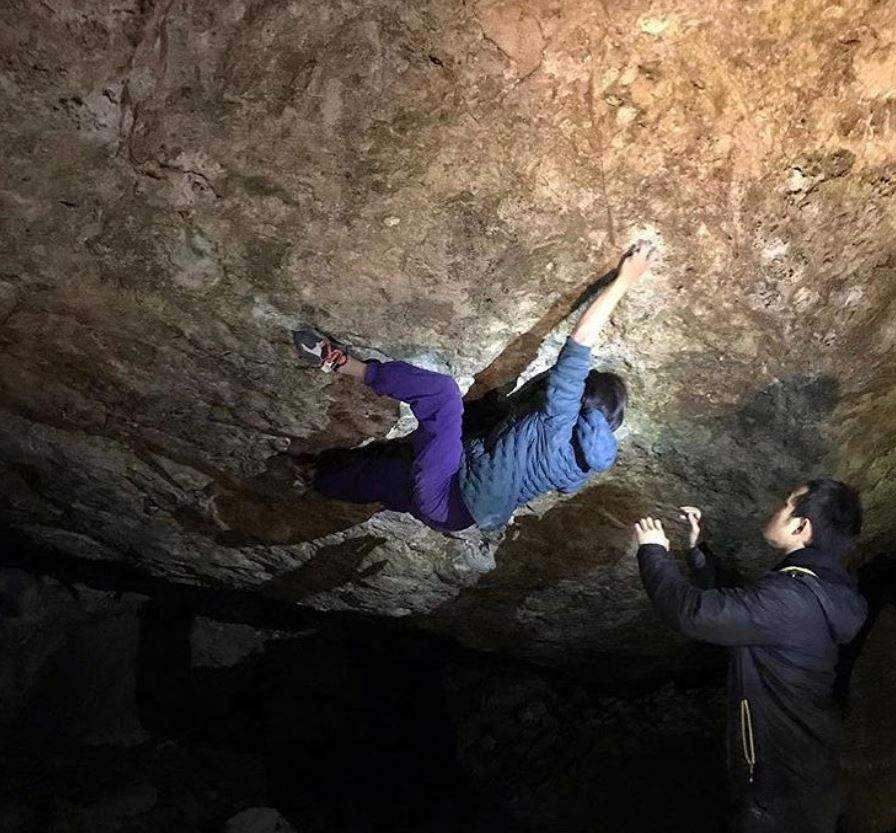 To climb such a high grade is an incredible achievement. It's especially so because only a handful of Women who have ever topped a boulder at this level. The legendary Ashima Shiraishi was the first woman to climb V15 and she was 15 at the time. Oriane Bertone matched the age and grade a few years later.
Youngest To Climb V14 / 8B+
Oriane Bertone is one of today's top competition climbers and has pushed her outdoor grade recently. However, back in January of 2018, she climbed "Golden Shadow" V14 / 8B+ in Rocklands, South Africa. That made her the youngest person to climb V14 at just 12 years old.
It's also worth saying that she climbed V15 / 8C on the route "Satane i Helvete (Low)" when she was 15, becoming the fourth female to climb that grade. At 11 Oriane had climbed V13 / 8B on "Fragile Steps", also in South Africa.
Youngest To Climb V13 / 8B
Ashima Shiraishi has already been mentioned and will be again. However, this record of hers has stood for ten years now. Back in 2012 Ashima became the youngest person in the world to climb V13 with "Crown of Aragorn" in Hueco Tanks. She was just ten years old!
Youngest Olympic Climber
Colin Duffy made history when he qualified to compete in the 2020 Olympics. It was the first appearance of Sport Climbing in the historic competition, and he got his ticket to represent USA when he was just 16. By the time the competition rolled around in 2021 he was 17.
He competed brilliantly in the first round, making it through to the top eight. However, here competition was incredibly tough and he came in 7th. Just competing on its own is still an achievement of a lifetime and Colin has gone on to compete and win medals at World Championships.
Youngest Person To Free Climb "The Nose" on El Capitan
"The Nose" is the most prominent prow on the El Capitan, which is the most famous bit of rock in Yosemite National Park. It has its own storied history. The first ascent took 45 days and was done as an aid climb, using pitons and even bits of cut-off wooden stove legs hammered into cracks in the rock.
The first person to free climb it in its entirety was Lynn Hill in 1993, taking four days. Some people doubted her so she did it again next year in 23 hours. Since then it's seen less than ten other people free climb it successfully.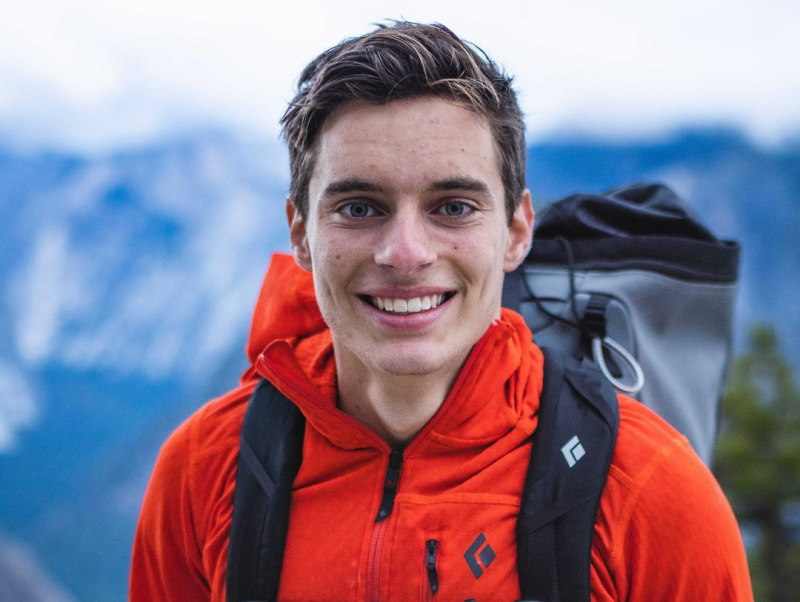 In 2018 Connor Herson was just 15 years old when he free climbed "The Nose", with his dad as his belay partner. They'd been working the route for a while, driving straight from school to the valley every weekend, getting homework done at Camp 4 or at a nearby van spot, then driving back after.
He recently climbed a 9a+ / 5.15a route "Empath" at Lake Tahoe, then went back and did it on gear as a trad route. He recently picked up a Black Diamond sponsorship aged 18 and is studying at Stanford. Connor's dad and the rest of the family are all avid climbers and love getting out on family weekends at the crag.
Youngest Person to Climb Mount Everest
Jordan Romero is the youngest person to have summited Mount Everest when he was just 13 years old! The young American made the peak from the Tibetan side with his dad and three Sherpa guides back in 2010. He went on to complete all of the "Seven Summits" of the highest peaks on each continent when he was just 15.
Stunningly he's not the only person that age to have done it, Malavath Purna of India also achieved the feat in 2014 but Jordan was younger by a month.
Notable Young Climbers
Ashima Shiraishi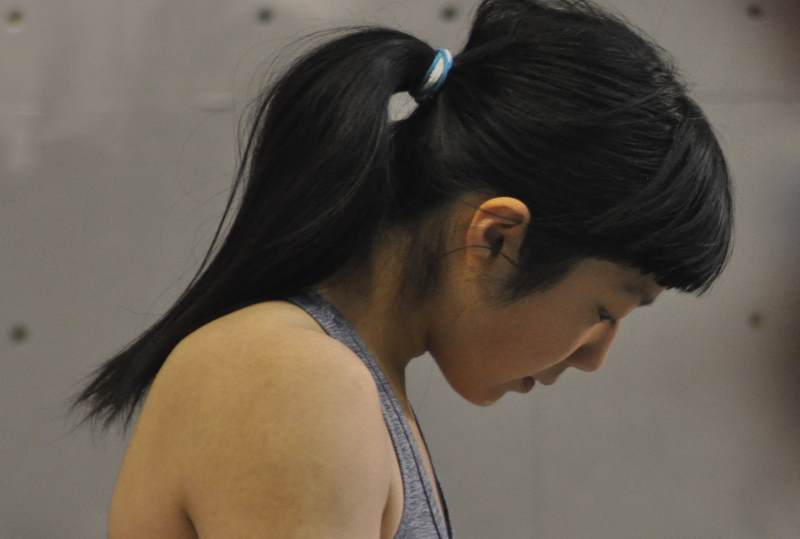 For a while, Ashima Shiraishi was the name to watch in young climbing. She's broken numerous records, especially in the world of bouldering where she's always been the happiest. She started climbing when she was just six, playing around on the giant "Rat Rock" in Central Park.
Since then she's gone on to compete in World Cups and Championships, as well as hit up hard outdoor boulders, plus got more into sport climbing. She's also published a book, worked with North Face and Arc'teryx and helped found All Rise.
Ashima was the first woman to climb V15 with the outer "Horizon". She was the first Woman to climb V15, and was just 14 years old. She went on to another V15 "Sleepy Rave" a few months later when she was 15. The grade on that might be a V14 on consensus.
Some Of Ashima's Achievements
8 – V10 / 7C+ Boulder
9 – V11 / 8A Boulder
10 – V13 / 8A+ Boulder
11 – 5.14c / 8c+ Sport Climb
12 – V13/14 / 8B/8B+ Boulder
13 – 5.14c/d / 9a/9a+ Sport Climb
14 – V15 / 8C Boulder
Ashima's career has had a few downgrading or regrading problems – not of her own making. It's common for climbers to propose a grade, then other climbs suggest a different one. Climbers are better at different things and have different reach and body types, so this happens all the time.
See Alex Megos proposing a 9c (second in the world at the time) and it getting downgraded to 9b+ as an example.
Ashima could well have been the first Woman to climb a 9a+ sport route. At 13 years old she climbed "Open Your Mind Direct", a 9a/9a+ in Sant Linya, Spain. Other climbers have said the route is a 9a, and some believe it was harder but holds have since broken to make it harder or easier. At the moment most say hard 9a+.
The same goes for "Horizon", the V15 she climbed at 14 years old. Some say the route is actually harder and could be a V16. At the high end of routes, it can be hard to establish a clear boundary of what is a hard grade, and what pushes over into the next grade.
Regardless, Ashima Shiraishi is an incredible climber and her achievements speak for themselves. At the same time, the amount of pressure put on her at that young age was immense. Nowadays she doesn't compete, spending much of her time enjoying climbing outdoors and working on other projects.
Adam Ondra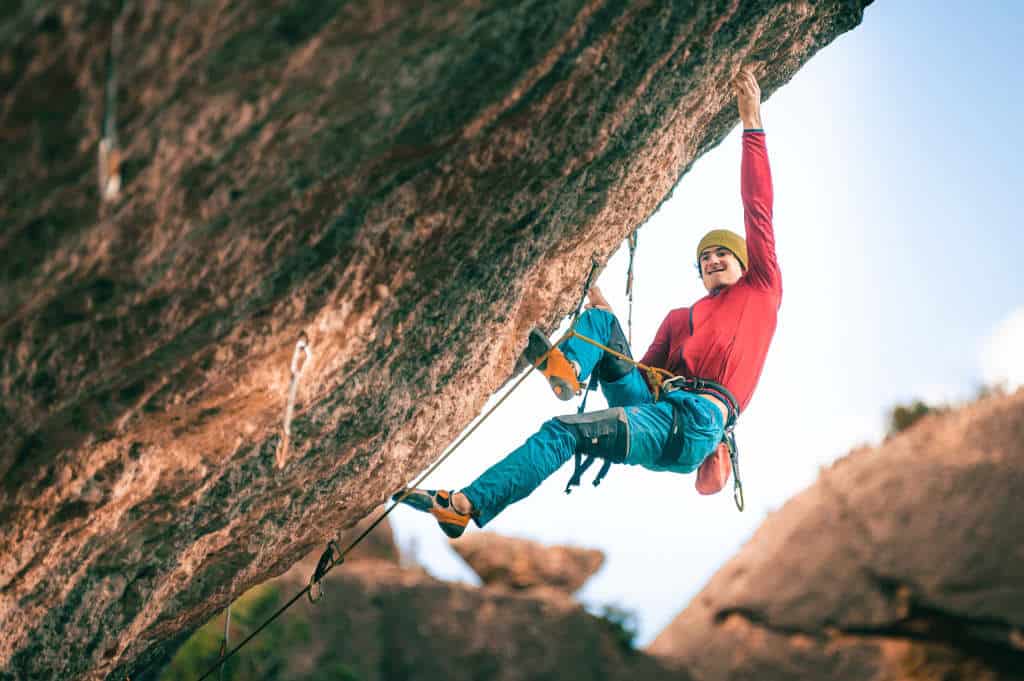 It's hard to make a list of the "youngest climber to…" without mentioning Adam Ondra. Though he's an adult and a father now, his history is worth bringing back up.
Adam is known now for climbing probably the hardest route in the world – "Silence" 9c – as well as having completed the most 9b+ routes, and flashed and onsighted the hardest sports routes.
However, back in the day when he toured with his parents, he regularly broke records for the youngest ascents. He was the youngest person to climb 8c when he was 11 – though that was back in 2005! He onsighted 8b at age twelve and has gone on to onsight three 9a's as an adult.
He was only 13 when he climbed 9a in 2006 and since then has climbed over 100 of the grade. He climbs such high grades at such a frequency that in most charts he is clearly the best climber in the world. To not mention Ondra in the best young climbers would be a travesty.