The first set of Olympic Climbing medals have been given and the Men's Finals showed anything can happen. In the last day for climbers in Tokyo everything is to play for. Read the full report for the Women's Olympic Climbing results in today's Final.
Again it was very hot with a 65% humidity which definitely affected some of the climbers. The overall favorite Janja Garnbret was expected to do the same today but there could always have been an upset. Chaehyun Seo performed incredibly in the qualifier and was expected to do well in Lead again. Everything was on the line…
Janja Garnbret Wins Gold In Olympic Climbing
Janja Garnbret of Slovenia takes Gold medal at the first Olympic Climbing competition in history! With an incredible Bouldering performance for 1st plus another 1st in Lead and a good result in Speed she is guaranteed the Gold!
Miho Nonaka takes Silver with a brilliant all round performance of 3rd in both Speed and Bouldering then 5th in Lead. Akiyo Noguchi in her very last competition before retiring will take Bronze by taking 4th in all three disciplines. Japan takes two Olympic medals in Sport Climbing.
Read our full profiles – Janja Garnbret – Miho Nonaka – Akiyo Noguchi
Olympic Sports Climbing Final Results – Women's
Olympic Sports Climbing Results – Speed Finals
In the Finals round the climbers compete head to head in heats instead of using the best time overall. That means a slip or a fall can be devastating as the best in the world could lose in a flash against someone who just makes it up.
The winner of the pair goes on to the next round then the losers face off for the higher placing. There are quarterfinals, semis, then a final four matches. Every round is important but a 1st place here is a huge boon for the Combined scoring system and vice versa a low placing is a massive blow even with 1st in the other categories.
Remember that the Gold medal yesterday in the Men's Olympic Climbing Finals went to Alberto Ginés Lopéz who took a surprise 1st in Speed and then did just OK in Bouldering and Lead.
Speed Quarterfinals
Up first was Aleksandra Miroslaw – the fastest in both heats of the qualifier to days ago – and Chaehyun Seo – the highest overall qualifier. Miroslaw easily took first with 7.49 while Chaehyun stumbled for a slow 10.64 and a loss. She'd only be able to get 5th at highest now with two matches to go.
Veteran Akiyo Noguchi then just beat out Jessica Pilz with a decent 8.55 to 8.69. This would be Akiyo Noguchi's final competition after nearly 14 years of competing and would mean a lot to her and teammates in her home country.
Janja Garnbret as favorite coming in needs to try to get anything but last here. She's predicted to win Bouldering and get top three in Lead. However, a 7th or 8th place in Speed could see her just miss out on a medal. In the first match here she lost against Anouck Jaubert and will face Brooke Raboutou next.
Miho Nonaka and Brooke Raboutou in the last quarter were both young strong climbers that could well take medals from the favorites today. Miho is climbing with a taped up knee after an injury just a couple of months ago that seems to still pose an issue. Brooke for the USA slipped to fall, giving Nonaka an easy win with a good 8.19.
Speed Semifinals
Chaehyun Seo then faced Jessica Pilz and slipped, not falling but not recovering in time. Pilz would go through with a slow time of 8.77.
Raboutou now had to face Garnbret, this would surely be competition defining for the both of them. Garnbret hit an early lead but slipped. Incredibly she just held on and recovered to beat out Raboutou by 0.03 seconds and move in to finals for 5th or 6th.
Again the speed specialist Aleksandra Miroslaw hit a very good time of 7.03 and against Noguchi. That would leave both the Japanese climbers to face off in finals for 3rd and 4th.
Anouck Jaubert then just beat Miho Nonaka to make the finals against Miroslaw. With 7.51 against Miho's 7.76 it was still fairly tight.
Speed Finals
Jessica Pilz would face Janja Garnbret for 5th and 6th and Janja really pulled out all the stops, getting a 7.81 for a personal best in competition – taking 5th. This would put Jessica Pilz in a very bad place going forward but leave Janja in decent position for a Gold.
Chaehyun Seo then lost to Brooke Raboutou though got under 10 seconds, which is a firdt for her in competition. Chaehyun in 8th was still smiling though her hopes almost entirely rest on a 1st in Lead and a good Bouldering final. Brooke would need to do very well in both Bouldering and Lead for a chance at a medal.
Now teammates Miho Nonaka and Akiyo Noguchi – who have trained together for years for this day – would face off. Miho with her power pushed through to beat Noguchi with a good 7.99 seconds against 8.42. They left the stage with a hug.
New Speed Climbing World Record
The final saw Aleksandra Miroslaw in incredible form against Anouck Jaubert. At full power Miroslaw won by breaking the speed climbing world record with 6.84 seconds. This is a full 0.12 less than Iuliia Kaplina's previous speed world record of 6.96.
Previous record holder Iuliia Kaplina was on form two days ago and was set to beat her own world record before a last second slip saw her losing – dashing her hopes of getting through to the finals.
An amazing result for Miroslaw who may still get a medal though she got dead last in Bouldering and second to last in Lead in Qualifiers. Assuming she loses in both of the next rounds she'd finish with 64 points. This may just get her Bronze but it wasn't likely.
Olympic Sports Climbing Results Table – Speed Finals
Placing
Climber
Country
Best Time
(This does not decide winner)
1
Aleksandra Miroslaw
Poland
6.84
2
Anouck Jaubert
France
7.40
3
Miho Nonaka
Japan
7.76
4
Akiyo Noguchi
Japan
8.42
5
Janja Garnbret
Slovenia
7.81
6
Jessica Pilz
Austria
8.43
7
Brooke Raboutou
USA
8.77
8
Chaehyun Seo
Korea
9.85
Olympic Sports Climbing Results – Bouldering Finals
Today's Finals have just three boulders instead of the four from Qualifiers. This means a little more uncertainty as there is less chance to perform well and more variance. It caused some frustration yesterday in the Men's Finals but it does allow more of the wall to be used for longer, dynamic routes.
Janja Garnbret is poised to take 1st here after flashing every single boulder in Qualifiers though she could be challenged by Akiyo Noguchi, Miho Nonaka, Chaehyun Seo, or Brooke Raboutou. A high result in Bouldering for Miho at this point would put her in the medal list.
Boulder 1
B1 is a slab that starts with a jump up to a double thumb catch, then either a sideways co-ordination move or a high step up to a small zone. From there it's another sideways catch and side pull finish that could be barn-doored off of (swinging out of control sideways like a barn door). The Olympics route setters thought this was the hardest going in.
Aleksandra Miroslaw wasn't expected to make any tops and she didn't make any zone in Qualifers. On B1 she didn't get the zone. Anouck Jaubert managed a zone after two good attempts but found the rest very difficult with some scary foot slips. She was the only one to step up statically for the first move, and it seemed to work very well.
Jessica Pilz also managed the zone but took a lot of tries to get there in the co-ordination style, seven in total before running out of times.
Miho Nonaka tried B1 as a co-ordination move but couldn't stick the zone after many attempts. She'd had a slight sprain of her wrist in Qualifiers and this move really relied on the wrist into a straight leg drop down on to her already injured right knee. Bouldering is normally Miho's favorite so a bad result could be the end of her medal run.
B1 continued to stump some of the world's finest. Chaehyun Seo took many tries to get the first move in the co-ordination style but no zone. Akiyo Noguchi attempted the co-ordination move and took a few awkward falls and slips but did hold it for the zone after five tries.
Brooke Raboutou was expected to do well in Bouldering and has been training a lot of modern moves with Team USA in Saly Lake City. She tried the co-ord a few times and attempted a bit of different beta but just couldn't figure anything out properly.
Eventually she nailed the co-ordination cross and got all the way to the final hold with both holds gripping the pinch for a second but slipped, losing the top and running out of time. With only 15 seconds she tried again but ran out after the zone.
Janja Garnbret to this point had literally not wasted a single attempt without a top in this competition. Now on B1 which has proved so hard she instantly got a zone with a good catch of the co-ord move. Moving up she fell with a foot slip, followed by another couple of failed attempts.
Eventually she found her confidence and got a very tenuous top – just managing to keep her feet stuck the volumes, sticking a controlled finish and taking an early lead.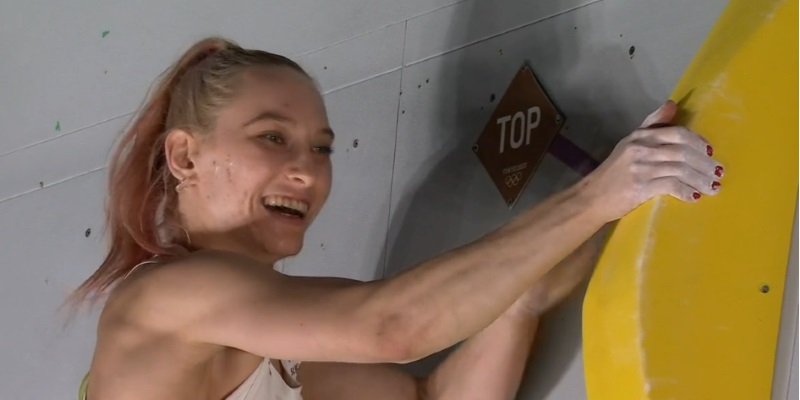 Boulder 2
B2 was a very modern technical problem. Strained moves required a lot of pushing with at least three limbs at a time, with a lot of shuffling and micro-adjustments. The start was supposed to be easier starting face out but no-one seemed to figure that out in the viewing period.
Aleksandra Miroslaw up first again seemed outmatched by the start and could barely make the first move, not coming near the zone. Anouck Jaubert put up a good fight but this time didn't manage the zone at all.
Jessica Pilz worked out the front-facing start and managed to secure the zone with a high hand overhead, slipping just after being awarded it. The right foot on the volume here was so bad that it would require a lot of shuffling to find the perfect spot.
Miho Nonaka seemed to really struggle at the start and couldn't move up from the start for nearly four attempts. Eventually she made the zone on the fourth and moved upwards slowly, creeping up to the final hold just in sight. Unfortunately she couldn't hold the second-to-last position and didn't make a top but was the highest so far.
Chaehyun Seo again struggled and didn't make the zone of B2. At this point her medal hopes were almost done. She could still scrape in with 1st place in Lead which would most likely need a top.
Akiyo Noguchi calmly managed to get the zone now in just two attempts. It was good for this Boulder but with Brooke and Janja yet to go this lack of tops could be a problem. Brooke Raboutou really struggled pushing up from the starting position but did just get her hand up and got the zone.
Brooke pushed on and was incredibly close to the top but was running out of time. She clearly wasn't in the right position for it but still leapt for a dyno catch, not catching the hold properly and also running out the clock to fall. With just a few a seconds more she might have made it.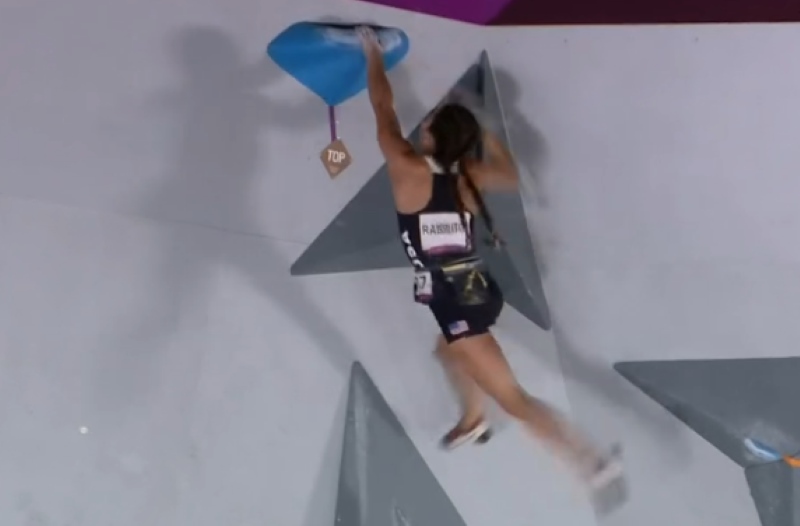 Janja Garnbret was the first person to cut her legs while pushing out with her arms to rearrange her lower body. On her first attempt she managed the zone though was struggling. Here though she had the time to figure out the rest and skipped the second-to-last volume for a massive dyno and a top.
With two tops here and no-one else to have a go on B2 she was guaranteed a 1st in Bouldering and could save some energy for the third if she wanted to. Competitors don't get confirmation of the others scores until the end of each round but can normally tell a top by the crowds reaction.
Calculating the rest of the comp Janja would take at most 40 points if she placed last in Lead. However, it was very likely she'd be in the top three. It's fairly certain now she will get a medal and really not just about if it's Gold or not.
Boulder 3
B3 on the overhang is a sheer power problem. Massive holds with huge pinches throughout with a fun meter-long crack in the middle. It needed some interesting beta with a dropping swing into a toe-hook, all requiring a lot of power.
Aleksandra Miroslaw left the Bouldering wall with no zones at all. Leaving early on all three and hopefully proving the need for Speed and Bouldering/Lead to be split forever. Paris 2024 will separate the disciplines so it will be fairer on everyone.
Anouck Jaubert couldn't get past the start to the middle crack section and left without a zone. Jessica Pilz managed to get to the crack but didn't stick the toe hook after a few attempts.
Miho Nonaka made an excellent start, getting the zone on her first try. She continued on to try a big swing up to the next move which was probably the hardest move after the first section. She took a big fall but seemed fine, taking some time before the next attempt.
In two more attempts she struggled to get back to the crack before leaving. This last boulder was a test for everyone, already all drained from two hard problems and the earlier Speed round.
Chaehyun Seo really couldn't summon the power needed for this boulder. As the shortest of the field today the swings were always going to be hard. Akiyo Noguchi also struggled for the full time period, not finding a zone and jeopardizing her medal chances.
If Brooke could make a zone shed be up into 2nd and if not would stay in 4th behind Miho Nonaka. This single Boulder would make all the difference for a handful of climbers going into Lead. With excellent form she managed the zone with perfect beta, two toe-hooks into another huge throw dyno but wouldn't get a top.
Janja Garnbret came out to give everyone a show and immediately got the zone. She got the big throw but didn't hold it, taking a big fall flat on her back. After a couple more big tries and falls she called it a day with her only failure to top since starting the Olympic games.
Going into finals Janja Garnbret had the lowest combined score of 5, Aleksandra Miroslaw had 8 but was expected another 8th place in Lead for 64, then Miho Nonaka with 9 closely followed by Anouck Jaubert with 12.
Olympic Sports Climbing Results Table – Bouldering Finals
Placing
Climber
Country
Tops
Zones
Attempts
To Top
Attempts
To Zone
1
Janja Garnbret
Slovenia
2
3
5
3
2
Brooke Raboutou
USA
0
3
0
10
3
Miho Nonaka
Japan
0
2
0
5
4
Akiyo Noguchi
Japan
0
2
0
7
5
Jessica Pilz
Austria
0
2
0
10
6
Anouck Jaubert
France
0
1
0
2
7
Chaehyun Seo
Korea
0
0
0
0
8
Aleksandra Miroslaw
Poland
0
0
0
0
Olympic Sports Climbing Results – Lead Finals
Here there were three climbers that could guarantee a Gold medal with a 1st place. Aleksandra Miroslaw with 8 points was incredibly unlikely to get anywhere near the top. However, Janja Garnbret with 5 points could take 1st and could even make 2nd to guarantee Gold.
If Miho Nonaka could pull it out of the bag with a 1st she could turn the 9 points into a Gold, but otherwise could take a medal. In qualifiers she took 3rd and this result again may just get her a medal depending on others. Other outside chances for medals with decent results in Lead are American Brooke Raboutou and Anouck Jaubert from France.
The favorites for Lead from the Qualifier results were Chaehyun Seo and Jessica Pilz who may just earn themselves a medal with a 1st place in Lead. Really everything was up in the air. We'll probably find the climbers that have saved their energy properly do the best.
The Lead Route
The setting was again the key part of the day. It features a massively snaking line up a wall filled with big volumes and large multi-textured holds. At 15 meters it wasn't the longest route these climbers have ever topped but as we've seen, the routes have been throwing people off at many sections so far in this Olympic games.
Midway through at the 15+ section there are hard sideways pulls into a sideways drop into a hard section of pockets and pinches at the steepest section of the lower part. From here the wall was unrelenting
Scoring is done by the number of the hold reached, starting at 1 and getting to around 45. Any attempts to make the next hold like a jump or throw would give a + score which is slightly higher. Any ties are decided by time. Everything matters today and competitors look like they're really feeling the pressure.
Lead Finals Attempts
Aleksandra Miroslaw came off the wall after 9 holds, almost certainly getting 8th. Anouck Jaubert needed something decent here to be in the chances for a medal but unfortunately came off very early at 12+.
Brooke Raboutou was initially not looking very confident but started to power through. In a real disappointment Brooke fell moving to 21, misjudging the body positioning slightly and taking 20+. Time would tell if this was good enough.
Akiyo faced her last Lead wall in competition ever and now was the time to give it her all. She pushed herself through the lower hard section and seemed in decent form. She managed to push through it and got to a burly section higher up.
It got to a point where it looked like she was coming off at every hold. She continued with conviction for hold after hold, going to clip finally but realizing she wouldn't make it, then going for a final jump. She'd fall with an incredible 29+ and an early lead.
All eyes were on Janja Garnbret. A top would be an incredible finish and an amazing way to showcase Climbing and the competition scene's favorite to the world. She started strong, rocketing up to the lower hard section. She pulled through each move confidently and didn't struggle on any of the dynamic moves.
With strength, technique, and experience Janja kept pulling up through past the 30 section and managed a couple of short high leg rests – however never getting a straight arm rest as the holds weren't good enough. Getting past Akiyo's high point Janja kept going until eventually she lost the fight and fell with a very impressive 37+.
Miho Nonaka had to get higher than Akiyo to be in for a chance at medal. She seemed to do excellently lower down but in a shock slipped on a small hold, falling just above Brooke at 21.
Jessica Pilz could guarantee a medal with a 1st place in Lead but this would be her only chance. She'd need to pass Akiyo and Janja and was looking in the form of her life, making plenty of rests. However past the 30 section she started to struggle and fell at 34+, meaning her medal hopes were dashed.
Where Chaehyun finished would determine everything. If she passed Janja it would be a Bronze, with other results above Miho or Akiyo she would affect everyone else. On the wall she seemed very much in control with measured moves on each hold.
Passing Akiyo's fall she started to seem like she might pop off. She did continue though and made it up to just past Jessica Pilz with 35+ before falling, unfortunately losing her chance at a Bronze.
Olympic Sports Climbing Results Table – Lead Finals
| | | | | |
| --- | --- | --- | --- | --- |
| Placing | Climber | Country | Hold | Time |
| 1 | Janja Garnbret | Slovenia | 37+ | |
| 2 | Chaehyun Seo | Korea | 35+ | |
| 3 | Jessica Pilz | Austria | 34+ | |
| 4 | Akiyo Noguchi | Japan | 29+ | |
| 5 | Miho Nonaka | Japan | 21 | |
| 6 | Brooke Raboutou | USA | 20+ | |
| 7 | Anouck Jaubert | France | 13+ | |
| 8 | Aleksandra Miroslaw | Poland | 9+ | |