After a stunning qualifier round the final eight faced off today for the first Olympic Climbing medals in history. All eyes were on them and the pressure ramped up once again. Read on for the full Olympic Climbing results and report.
Alberto Ginés López Wins Olympic Gold In Sport Climbing
Alberto Ginés López of Spain has taken the first Olympic Gold in Sport Climbing history with an incredible performance. He took an early 1st place in Speed up against Tomoa, 7th in Bouldering, then a great 4th in Lead for a combined total of 28 points. Congratulations!
Nathaniel Coleman for the USA takes Silver with a dominant 1st in Bouldering, 5th in Lead and 6th in Speed for 30 points.
Jakob Schubert of Austria takes Bronze with the only top out of the Lead wall and a 1st, 5th in Bouldering, and 7th in Speed for 35 overall.
Read climber profiles – Alberto Gines Lopez – Nathaniel Coleman – Jakob Schubert
Olympic Sports Climbing Final Results – Men's
This article is being updated live – please bear with us through small changes.
In the Women's qualifier yesterday Chaehyun Seo pulled out an excellent performance, with Janja Garnbret showing why she's known as the Queen of Climbing. The Men's qualifiers headlines were all about the Mawem brothers Mickael and Bassa who performed better than we've ever seen.
Today the favorites were Adam Ondra, Tomoa Narasaki, and Mickael Mawem. All three could have taken at least one 1st each in the three disciplines but as we know from qualifiers nothing in written in stone. Colin Duffy had been incredibly strong and really we couldn't write off any of the eight from taking a medal.
The heat and humidity were still high and the competitors have been dealing with it in different ways. 80% humidity even in the evening is a massive problem for climbers. We'd seen ice vests, massive fans, and some climbers clearly getting frustrated with their grip and power.
Check the Olympic Climbing Schedule + Where To Watch
See our Complete Guide To Olympic Climbing with rules, format + teams
Find out all about the Olympic Climbers of 2020
Olympic Sports Climbing Results – Speed Finals
In this Finals round the climbers compete head to head in heats. Only qualifiers used the best time, today there is a lot more pressure.
The winner of the pair goes on to the next round with losers facing off for the higher placing. There are quarterfinals, semis, then a final four matches. Every round counts but a 1st place here is a huge boon for the Combined scoring system and vice versa a low placing is a massive blow even with 1st in the other categories.
Speed Quarterfinals
Adam Ondra and Bassa Mawem were to be the first up as expected last and first placings. As Bassa Mawem's injury has taken him out of the running Ondra was automatically advanced in his first round. He will be marked as Did Not Start (DNS) for all matches but is still in the stands cheering on his brother.
This is really significant as he will take 4th in Speed as a minimum and it could entirely change his Olympic run. Without this he was predicted to lose all of his match-ups and take 8th. How fair this is was up for debate but this is how the format works.
Colin Duffy false started in his quarters match again Alberto Gines Lopez meaning he automatically lost his match with no chance for a restart. Tomoa Narasaki really showed up with a stunning 6.11 against Jakob Schubert. Narasaki has been hammering Speed practice in the past year. His consistency is incredible and it's thought he could set a new Olympic Record today.
Mickael Mawem was the favorite for Speed going in but against Nathaniel Coleman he slipped midway. With his experience and power he somehow managed to recover and get an incredible 6.36, just squeaking past Coleman's 6.46 to get into quarterfinals. How he pulled this back from the brink of defeat really speaks to his skill.
Speed Semifinals
Another DNS from Bassa put Duffy through to Finals. Jakob Schubert put in a very effort against Nathaniel Coleman but couldn't keep up the pace with 6.76 against Coleman's 6.21.
Alberto Gines Lopez was again looking strong with a 6.56 against Ondra's 7.03, putting the young Spaniard in to finals with a minimum 2nd place and a chance in Finals – the winner of Tomoa and Mickael. In the semi with these two Speed favorites Narasaki was on fine form taking 6.02, Mickael came hot out of the gate but slipped twice to lose – still managing 7.03.
Speed Finals
The two teammates for the USA faced off in Finals and Nathaniel Coleman took an early lead before a slip led to a fall leaving Colin Duffy to win with 6.35 for 5th place.
Mickael Mawem beat Adam Ondra to take a 3rd with 6.47 but Adam Ondra was overjoyed to get under 7 seconds with 6.86. It didn't make a difference as he takes 4th but it's a personal record in competition. Jakob Schubert automatically took 7th against injured Bassa.
In the final Speed match Tomoa Narasaki was all set to take first but slipped low down and wasn't able to recover against a very fast Alberto Gines Lopez who clinched an all important 1st in Speed with 6.47 seconds.
Olympic Sports Climbing Results Table – Speed Finals
Olympic Sports Climbing Results – Bouldering Finals
There are just three boulders today instead of the four in qualifiers. Huge dynamic moves and powerful strength will need to combine with serious perseverance for all three of these routes.
The setting was a real mixed bag. It showed Climbing at it's most impressive, modern form in B2 as well as it's most frustrating. B1 was a little too easy and maybe B3 a little hard – or possible placed too late for climbers to use their max strength.
Nathaniel Coleman unexpectedly took 1st in Bouldering with a hard fought two tops, the only person to top B2. Mickael Mawem again impressed the world with a top and two zones to take 2nd, taking two less attempts to zone than Narasaki. Tomoa Narasaki came 3rd by taking the same amount of tops, zones, and attempts as Colin Duffy but by having placed higher than Colin in Qualifiers.
Boulder 1
B1 has a tricky start that could be either a very delicate walk or a sideways running dyno. Everyone went for the slow version. The top half is all about precise footwork to a reachy top. Attempts taken will probably be the main differentiator between the top few.
Alberto Gines Lopez immediately turned B1 into a static walk across and made the Zone but couldn't make the top, deciding to leave a little early and save his attempts and strength. Nathaniel Coleman really took his time and gracefully topped out first time for a flash.
Jakob Schubert then came straight out for another flash! Going back into isolation and hearing the crowd, the next few up would probably know they had to send the problem and probably do it first time for a chance at a high placing in Bouldering. Colin Duffy lived up to the pressure and aced B2 with another flash, dynoing to the top.
As Adam Ondra came out everyone knew he would have to get a flash. He was looking good past the Zone but decided on a left hook to try to move statically up to the top but it slipped and he fell. On his second attempt he was a little more steady and topped out.
Mickael Mawem was looking confident after an excellent qualifier and again come out with a flash. With all climbers having topped out and five having flashed it, the setters will probably be disappointed. Ideally not everyone should top and only maybe the top one or two climbers should get it first time. This meant way more pressure going in to the next problems as attempts really counted
Boulder 2
B2 is a massive sideways jumping dyno. Even then the Zone isn't guaranteed after making the dyno as it needs a powerful upwards push to hold. This time it's less subtle and more about sheer power. Moving back to the left to finish is a scary dyno to a small hold and a big fall. Each attempt drains a lot of energy.
Alberto Gines Lopez out first struggled to hold the dyno and the zone, taking a lot of attempts to get there. He did get one chance to top but couldn't hold it.
Nathaniel Coleman nailed the first dyno but took a couple of tries to hold the zone. He did get up to the top hold, falling on his first jump. On his second try he used with a knee bar rest, then used his right toe to help hold the big top move. Excellent toe-hook beta from the American gave him just three attempts to top, moving into an early 1st place.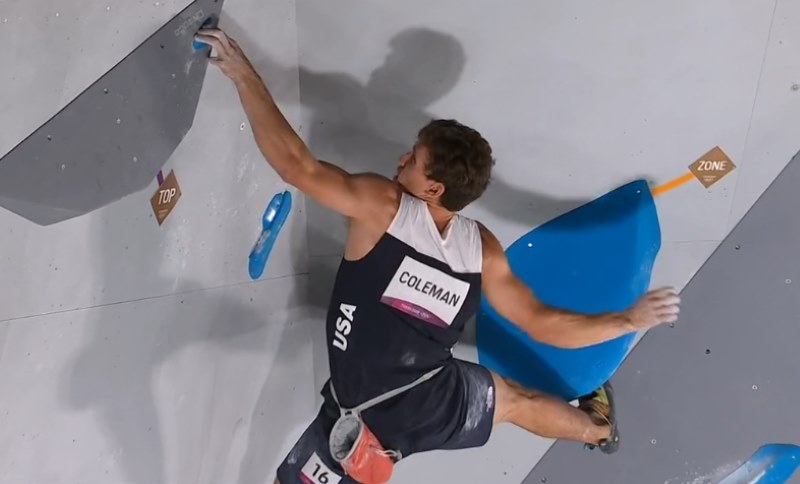 Jakob Schubert struggled with the initial dyno as he's mainly a Lead climber but got a couple of tries up to the top – both times not holding it before running out of time.
Colin Duffy is a strong boulderer and there were high hopes for him this round. He nailed the dyno and got a zone after three attempts but just couldn't hold the top. He did find the same knee bar but needed to step on his own foot to hold it!
Adam Ondra was just not getting the palm up Zone from the dyno, taking multiple attempts and seemingly losing power towards the end – not even getting the dyno the last couple of times and leaving without a zone.
Tomoa Narasaki is all about powerful moves so very quickly held the dyno into the zone. On his first attempt to the top he did make the hold but just couldn't stay on. After more energy-sapping tries he called it a day and left with just a zone.
Mickael Mawem on his first try instantly hit the zone in excellent form and then used the toe-hook beta to make the top but couldn't quite hold it. On his further attempts he again failed but left with less attempts to the zone than others.
Boulder 3
B3 is the most technical of the three. It was made up of a full ring of triangle volumes with sparse screw-on holds. It looked beautiful but required a massive amount of movement, body positioning, and sheer power in the hands. Even the start was technical and the beta for this is more complicated than most routes.
Alberto came out first and managed to get to the zone on his first attempt but was eventually stumped by the hard route. Nathanial Coleman spent a lot of time trying to work through the beta in his head before the attempt. He did get the zone first try but didn't waste any more attempts, saving his strength for Lead.
Jakob Schubert also managed a zone on his first attempt, powering through the hard moves and coming off in a couple of spectacular spins. Colin Duffy seemed frustrated but did manage the zone on his first attempt. In trying to get to the top he fell at the same spot most did, taking a big tumble but seeming unharmed.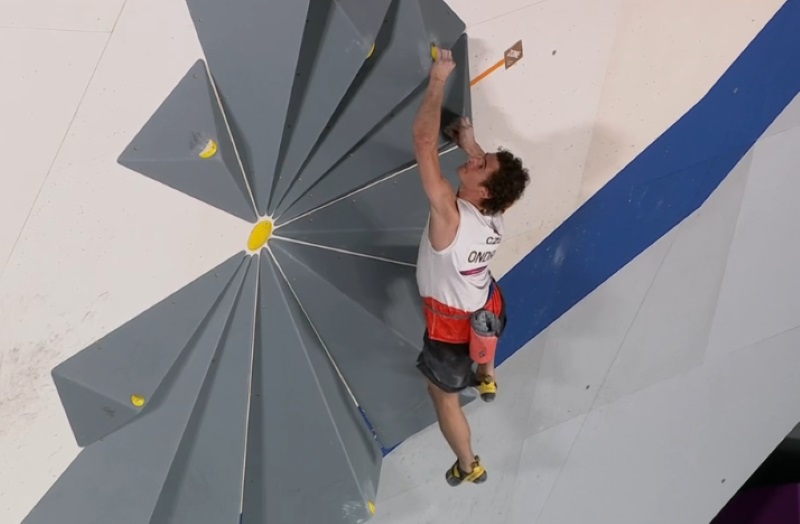 Adam Ondra did manage the zone on his first attempt but really needed a top to be in good position for a medal. He made the hard middle hold but just couldn't make the next move. This problem really was the killer route of the day.
Tomoa Narasaki had a chance to take the lead with a top. He made the zone but wasn't looking as strong as his earlier attempts. He tried a couple of times but decided to bow out with 25 seconds on the clock. A win in Lead could be his only Gold chance now.
Mickael Mawem coming out last made the zone on his first go. At this point Bouldering was his last real chance to ensure a medal as every other climber was normally stronger in Lead. The top eluded him in the end.
Olympic Bouldering scoring is decided by most tops first, ties decided by most zones, then least attempts to top, then least attempts to zone.
Placing
Climber
Country
Tops
Zones
Attempts
To Top
Attempts
To Zone
1
Nathaniel Coleman
USA
2
3
4
4
2
Mickael Mawem
France
1
3
1
3
3
Tomoa Narasaki
Japan
1
3
1
5
4
Colin Duffy
USA
1
3
1
5
5
Jakob Schubert
Austria
1
3
1
7
6
Adam Ondra
Czech Republic
1
2
2
2
7
Alberto Gines Lopez
Spain
1
2
2
2
8
Bassa Mawem
France
DNS
DNS
DNS
DNS
Read What Is Bouldering?
Olympic Sports Climbing Results – Lead Finals
Going in to the finals there were three climbers with a combined score of 6. Mawem, Narasaki, and Coleman would all guarantee Gold for themselves with a 1st place in Lead. Alberto Gines Lopez with 7 points so far could also do the same.
Colinf Duffy had 24 points which could see him with a medal in the top 3, Adam Ondra had 24 which meant he almost certainly needed to get 1st to take any medal, Jakob Schubert with 35 could upset things with a 1st place and still scrape by with a medal. Things were tense and anything could happen based on qualifiers.
The Lead Route
The lead route had to perfect today. With only 15 meters of wall available it wasn't going to be possible to tire out competitors as easy as with a taller one. It needed hard moves in just the right amount in order to create difficulty without hot-spots that multiple climbers might fall on.
It was a very up and down route with pockets, huge volumes and lots of tiny screw-on holds. There were couple of tenous sideways drops that needed absolute concentration to hold. After finishing climbers could sit together and watch the rest make their attempts, meaning it would be fairly easy for them to figure out placings before everyone had finished.
Lead Finals Attempts
Tomoa Narasaki was out first. It was clear tod see he was tired but also that the route was very hard. He made it to 33+ meaning he hitting 33 and made a positive move up to the next but didn't hold it. It seemed good but it wasn't the guarantee that a top would be.
Mickael Mawem at this point needed to get a 33+ to get gold. It isn't his favorite category but he's done brilliantly up until this point. With a strong performance he made it up with a couple of near-falls. Eventually he came off with 23+ which is a decent showing.
Nathaniel Coleman was the man of the hour after a stunning bouldering round. He found an awkward rest with his feet above his head at the halfway point. In a show of strength he got into the 30 range where tiny crimps required intense power. He struggled at the edge of falling and managed to just pass Tomoa's highest with a stunning 34+.
Up next Adam Ondra brought the crowd to silence as he absolutely needed a top to get a medal. As a previous favorite he was expected to win when Sport Climbing was first announced. With a not so great showing so far and a bad Bouldering round the pressure was on. Luckily Ondra is known as the best roped climber in the world, having established the hardest climb in the world twice.
Immediately he looked confident and strong – though flushed from the heat. Heading up to 20 he didn't seem to have any issues and was moving with speed. Into the 30+ range he was on perfect form, moving swiftly into hold 34 and continuing past Coleman's high. From here he didn't slow down and kept pulling through again and again.
As he climbed higher the crowd started cheering and Ondra was clearly not going to stop. In short time he reached very close to the top chains. Using the very last of his strength Ondra pulled up from hold 42 jumping for the next and taking a fall – hitting 42+. Anyone passing this would deserve a medal and Ondra was clearly happy with his chances of top 3.
Alberto Gines Lopez was always a Lead Specialist but no-one pegged him for finals or a real chance at a medal. Right now was his big chance and you could tell he was finally ready. He made his way up fairly well without any slips or problems.
Coming into the hard middle range he managed to push past Coleman's 34+ and was hot on Ondra's heels. He made a great effort and fell at 38+. That meant if no-one passed him he would take Gold and was still in with a very high chance of a medal.
Colin Duffy as the youngest climber of all 40 athletes was always the one to watch. At this point the points were so well known that it was either a 1st in Lead for Gold or he wouldn't get a medal. He climbed in fine form and got up to a staggering 40 before falling. This meant we wouldn't take a medal but did shake up the possible results for everyone else.
Jakob Schubert had won the Lead round in Qualifiers but was coming into this part with 35 points, the lowest of the seven climbing. For Schubert he would have to win to get a medal. If he got second after Ondra, he would guarantee Ondra the first place and get himself a medal but 1st would push Ondra out of the medals.
The crowd were as loud as we've heard the entire event as Schubert powered up the wall. He didn't look confident but he just did not let go. At first he passed Alberto's place, then Colin's, finally pushing past Ondra and then taking the top in triumphant fashion.
At this point he didn't know he'd made a medal until one of his team shouted it to him and you could see the shock and happiness hit the Austrian.
| | | | | |
| --- | --- | --- | --- | --- |
| Placing | Climber | Country | Hold | Time |
| 1 | Jakob Schubert | Austria | Top | |
| 2 | Adam Ondra | Czech Republic | 42+ | |
| 3 | Colin Duffy | USA | 40 | |
| 4 | Alberto Ginés Lopéz | Spain | 38+ | |
| 5 | Nathaniel Coleman | France | 34+ | |
| 6 | Tomoa Narasaki | Japan | 33+ | |
| 7 | Mickael Mawem | France | 23+ | |
| 8 | Bassa Mawem | France | DNS | |