Who The Mawem Brothers?
The Mawem brothers Mickaël and Bassa are two super strong French brothers competing at Tokyo 2020. They are the only siblings competing in Sport Climbing. They train together and are each other's coaches, as well as business partners.
They both live in France for the most part. Bassa lives in the south while Mickaël lives between Paris and New Caledonia – an overseas French territory off of the east coast of Australia. Apparently there's no rivalry and it seems like the brothers make a brilliant team. They manage to keep each other motivated and on course for training. They're now looking to open their own climbing gym and even start a chain of them!
They've starred on the Ultimate Beastmaker – a TV obstacle course show in the vein of Ninja Warrior. Both brothers are sponsored by Mad Rock climbing shoes, NutriMuscle, Panda Tea, Respire, and Asphalte skateboards.
Mickaël Mawem Age + Height
Mickaël is 31 years old and was born on the 3rd of August 1990. He turned 31 on the first day of Sport Climbing at the Olympics!
Bassa Mawem Age + Height
Bassa is 36 years old and was born on the 9th of November 1940.
Find out more about Olympic Climbing – Rules, Climbers + More
When To Watch Olympic Climbing Schedule
Bassa Mawem Injury
When Did Mickaël And Bassa Start Climbing?
Compared to other climbers the brothers started climbing fairly late. They only took up the sport at 15 years old when the older of the two Bassa tried it at school. Mickaël picked it up six months later and it became their main interest.
They've always been into different sports and still practice a bit of Parkour and skateboarding!
Are The Mawem Brothers In The Olympics?
Yes, amazingly both Mickaël and Bassa managed to qualify for the 2020 Tokyo Olympics. They took both of the two spots for France as only two were available per country.
Mickaël was the first brother to qualify when he placed fifth in the qualification round of the 2019 IFSC Combined World Cup. Bassa then qualified just a few months later at the Toulouse IFSC Combined Qualifier by taking fifth in the qualification round. Bassa managed an incredible 5.687 seconds at Toulouse, getting close to the Speed Climbing world record.
Will Mickaël Or Bassa Mawem Win The Olympics?
The Mawem brothers are really a wild card, as they are Speed specialists who also perform pretty well in Bouldering – but not Lead. Mickaël is more of an all rounder and Bassa is the faster Speed climber. Most climbers tend to be just Boulder/Lead focused, or Speed specialists.
Bassa Mawem could absolutely take first place in Speed Climbing. If he manages that there's a good chance he will also take a medal if he can keep his other results above last place. Interestingly, in the very last IFSC Speed competition before the Olympics Bassa took second place. In quals he took 5.56 seconds and in the finals 5.41 – both within .06 seconds of the winner Vladislaw Deulin who isn't at Tokyo 2020.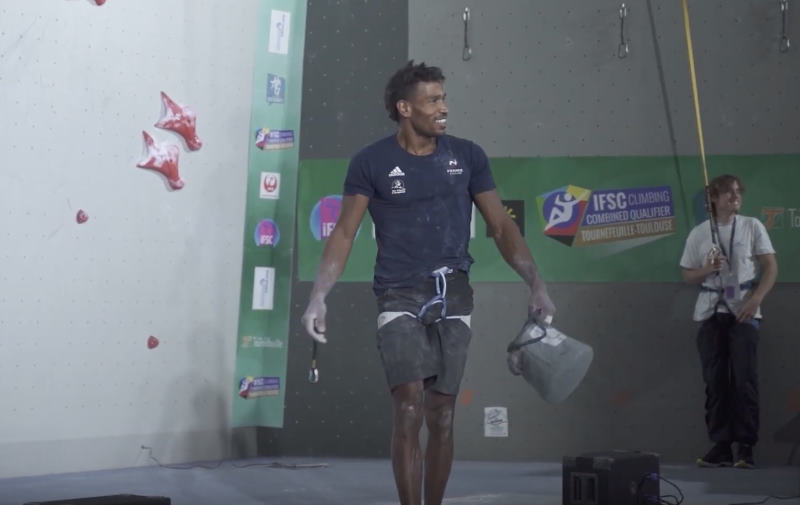 He knows how to compete under pressure and pull out fast numbers when he needs. With the ultimate spotlight of the Olympics we could see Bassa placing above Olympic favorite and excellent all-rounder Tomoa Narasaki, and even Speed specialist Rishat Khaibullin.
For Mickaël he's more of an all-rounder but probably won't see any high results. This isn't to say he's not a strong climber but up against Speed or Lead/Boulder athletes he's most likely place in the lower half. If he's managed to use his time training in the last year well it would be a welcome surprise to see him get into the finals.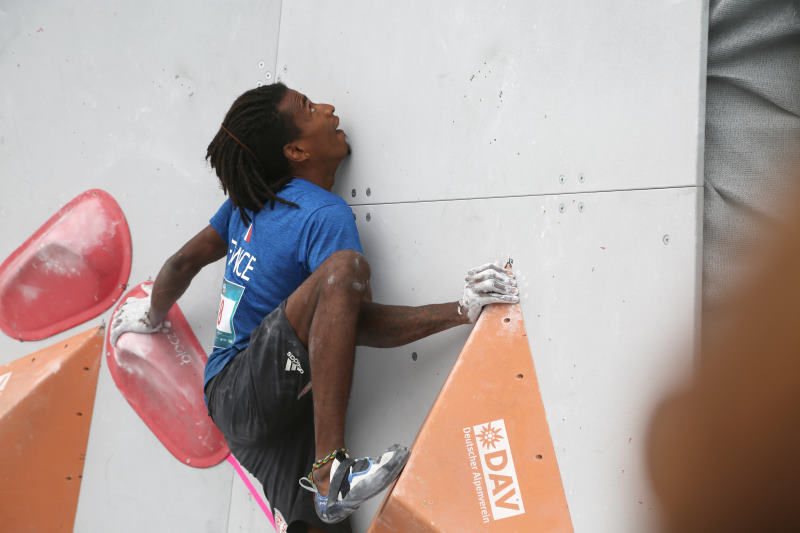 The big problem for both of them is their lack of Lead climbing results. This combined with a hard set of technical boulders could be their downfall. They are still planning to compete at Paris in 2024 and a repeat appearance would be something to see.
Training Program, Diet + Nutrition
When they were younger the brothers joined a local climbing club and would spent hours training. They'd originally done different sports, including gymnastics. Any good climbing coach will tell you that kids coming from gymnastics are normally the ones that stand out on their first climbing session.
They also built a little home wall that didn't have foot holds – so they just campused (hands only, no feet!) everything. Nowadays they train with the French team at their gyms and compete in mock competitions. Training involves a lot of power work using campus boards and wooden hangboards to save skin and focus on grip strength.
Both brothers also train the "Williams Bellle" method, which is a parkour-based training system from one of the founders of the original Parkour group Yamakasi. Balance, agility, and adaptability are key to this training and help hugely with modern Boulder problems and Speed climbing.
Mawem Brothers Competition Results
In 2018 Bassa took Silver in Speed at the World Climbing Championships – just under the then world record holder Reza Alipour. He also took first place in both 2018 and 2019 in the Climbing World Cup series. Of all of the Olympic climbers he has the most medals in Speed with eleven from different World Cup and Championship events.
Mickael's results are more grounded but recently he took 11st at the Salt Lake City Speed event. He tok 7th at the 2019 Combined World Championships where he got his Olympic invite. He's a rare climber that tends to do well in all-round Combined events that have become more popular due to the Tokyo 2020 format.
What Climbing Shoes Do The Mawem Brothers Wear?
Both Mawem brothers are sponsored by Mad Rock and both wear the Remora for their Speed Climbing. The Remora is a slim, light, and comfortable slip on climbing shoe that's perfect for the flex of Speed Climbing and indoors bouldering. There is also a cool looking Tokyo edition just in time for the games!
Mawem Brothers Instagram + Social Media
Check out the Mawem brothers popular instagram here where they're adding regular Tokyo insider info and pics.