The 2021 Olympics are fast approaching and history will be made as Climbing features for the first time. Learn all about Slovenia's hope for Olympic Gold as we profile Janja Garnbret.
Who Is Janja Garnbret?
Janja Garnbret is probably the best competition climber in the world and is the person most likely to take Gold in Olympic Climbing in 2021. Over the past few years she's dominated the competition scene, taking Gold in nearly every World Cup or Championship she's entered.
In 2018 Garnbret was awarded the "Slovenian Sportswoman of the Year" award. She was award Athlete of the Month by the World Games Association at 19 years old in September 2018. In 2017 she won the Bloudek Award, a Slovenian national sporting award named after Stanko Bloudek.
Her home town is Šmartno pri Slovenj Gradcu in Slovenia. Sponsorships include Red Bull, Five Ten (who are now part of Adidas and the Terrex hiking/walking sub brand), and Camp.
When Did Janja Garnbret Start Climbing?
Janja has been climbing since seven years old and competing since eight. She was introduced to climbing indoors after her parents found her climbing trees all the time.
Shortly after she was introduced to a more serious climbing gym and started working seriously with the Slovenian team coach Gorazd Hren on the national team. Since then she has gone on to almost world domination in the competition climbing scene.
How Old Is Janja Garnbret?
Janja is 22 years old and was born 12th March 1999
Janja Garnbret Height
Janja is 164 cm or 5 foot 5 inches tall
Janja Garnbret Ape Index
Unknown
Is Janja Garnbret In The Olympics?
Yes, Janja will be at the 2021 Tokyo Olympics after qualifying in first place at the IFSC Combined event in 2019. This also won her the first seed placing aka the "most likely to win".
Will Janja Garnbret Win The Olympics?
Janja Garnbret is the top pick to win Sport Climbing at the Olympics in 2021. It's likely she'll take first place in the Lead event – where she dominates – and possibly Bouldering, with a decent placing in Speed.
Based on recent form, lack of injury, and her complete dedication to indoor training – it's very likely Janja will take home the Gold for Slovenia. Her teammate Mia Krampl is also competing after securing the second per country slot. Competitors at this high level include Akiyo Noguchi and Miho Nonaka of Japan, as well as seasoned veteran Shauna Coxsey and young Brooke Raboutou of the USA.
Janja Garnbret Competition Results
Since a young age Janja Garnbret has shown incredible talent. Early results include Gold in her age range for the Climbing European Championships Youth in 2013, 2014, and 2015 for both Lead and Bouldering.
She also took Gold in Lead for 2014, 2015, and 2016 in the Climbing World Championships Youth. In the same Championships she took Gold for Bouldering in 2015 and 2016, leading to an overall Silver for the combined in those years.
Janja has taken the Gold at the Climbing World Cup in 2016, 2017, and 2018 for the combined category which includes Lead, Speed, and Bouldering. She achieved these last three combined wins by taking Gold in each Lead category as well as strong results in the Bouldering as well.
2019 was Janja's year and it started very well indeed. The IFSC World Cup started in March with a Gold for Janja in Bouldering at Meiringen, followed with Gold in all six Bouldering events. This was the first time a competitor had won every Bouldering event.
Straight off the back of this achievement Janja went on to compete in the IFSC World Climbing Championships 2019 held in Hachioji, Japan. Taking Gold in her first main event – Bouldering – showed how strong Garnbret was. In Lead she again shone through the competition and took the win for her second Gold.
When it came to the main event – the Combined Lead, Speed, and Bouldering – she again took the Gold. That earned Janja her ticket to the 2021 Olympics.
Janja Garnbret Bouldering
Janja set an unprecedented record when she won every single Bouldering World Cup event in 2019. She took her fourth Climbing World Cup Gold in the combined category, as well as Gold in the Bouldering – though came second in Lead to Chaehyun Seo of South Korea.
In the Studio Bloc Masters 2019 Janja managed to top all four boulders in the finals – the only person in the Women's category to manage more than two tops. She was 2nd in the 2018 event with the same amount of tops but fewer attempts than long term rival Miho Nonaka. In 2017 again she took 2nd but this time just losing out to Fanny Gibert.
Janja Garnbret Lead Climbing
While Janja is a great boulderer she is completely unmatched in Lead Climbing. Her consistency started immediately from coming into the comp scene and
Janja took Gold in the Lead World Championships in 2016 and 2019, with Silver in 2018. In the World Cup she's entered nearly every event since 2015. In 32 Lead events she has finished in the top 3 podium for all but four of them – taking Gold overall for three years in a row from 2016 to 2018.
Janja Garnbret Speed Climbing
Until 2018 Janja had never competed in a speed event. As Speed climbing was announced for the 2020 Olympics, the IFSC made a new rule where climbers in the World Cup had to compete in at least two events for all three disciplines (Speed, Lead, and Bouldering) whereas previously they could just stick with two disciplines with only one event minimum for each.
As a result of these new rules and as preparation for the Olympic Climbing, Janja has started training for the Speed event. In World Cup events Garnbret in 2019 didn't advance past qualification stages for Speed. However, her training seems to have worked well as her Speed results in the Combined World Championships really helped to secure the 1st place.
Janja Garnbret Program, Diet + Nutrition
The Slovenian youth climbing coach is Gorazd Hren. Janja has been training with him for about ten years now in Velenje bouldering gym. OnBouldering has a great video interview we've included below. Gorazd Hren has a website for his training here.
Climbing training for Garnbret is about 5 days a week on and involves strict rest days. She mainly trains with the Slovenian national coaching team but also does one on one coaching. Because of the better facilities they also travel to Austria and Germany to use larger gyms.
Training always involves a warmup including cardio, stretching, and includes resistance bands. From here she climbs around three hours in one session. Starting with easier routes to warm up, then quickly moving onto harder routes and specifically set comp-style problems.
Janja has admitted to never even climbing the Speed route up until two years before the Olympics, just as the decision was made to include the sport.
Janja Garnbret's diet seems to be a fairly healthy one in that it isn't strict, "I don't follow a special diet, I just try to eat healthy". Janja describes herself as being a "good listener, I learn quickly".
Janja has an insane gym to train in locally called "The Ranch". Her partner Domen Škofic and his Dad build the unique gym which features a full bouldering wall, spray walls, training area, a regulation speed wall, a decent lead wall, and massive lead wall that's only just been set. The monster wall is 20 meters high and because of the overhang it features 26 meters of climbing!
Janja Garnbret Outdoor Climbing
While primarily an indoor gym climber Janja has climbed very hard on outside sports routes and does tour Europe occasionally. Her hardest outdoors route was the 9a (5.14d) Seleccio Natural in Santa Linya, Spain at only 18 years old. In the next two weeks at the same crag she then went on to climb another 9a (5.14d) La Fabela pa la Enmienda. She had previously been working the Sharma classic 9a+ (5.15a) Biographie in Céüse only falling at the last hard move.
The hardest onsight sport climb Janja Garnbret has done was just recently with two 8c onsights, also the first confirmed female 8c onsight.
What Climbing Shoes Does Janja Garnbret Wear?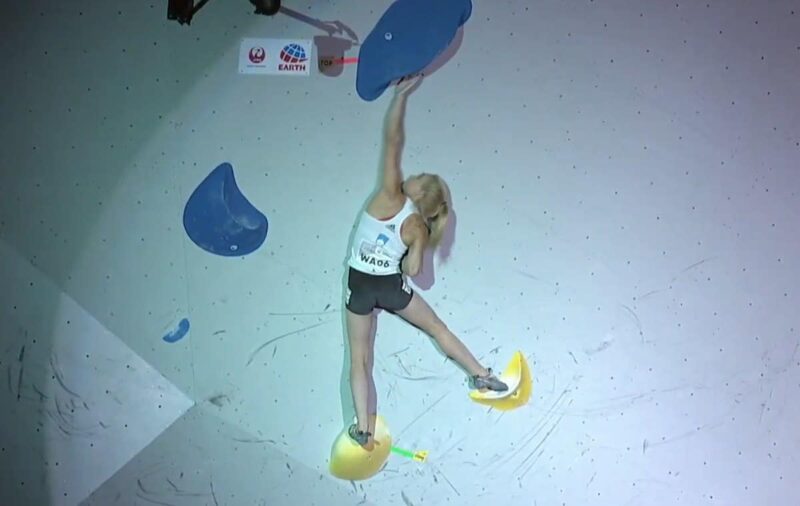 Janja's Garnbret's climbing shoes of choice for both the Championships and Cup in 2019 have been the Five Ten Women's Hiangle. Interestingly she used these for all three categories – often climbers will change shoes for Speed climbing. These are an aggressively down turned performance shoe perfect for indoors bouldering and roped climbing. The Women's version of the Hiangle has a smaller heel and slightly slimmer fit in general than the Men's.
She used to be sponsored by La Sportiva and has used the Women's Solutions in the past. These are also a very aggressively down turned shoe favored by pro climbers and boulderers.
Janja uses the Camp Flash harness as a light, focused, sport sending harness. For belaying she uses the Camp Matik, which is a premium assisted braking device that works in a similar way to the Petzl Gri Gri.
Janja Garnbret's Boyfriend
Janja is in a long term relationship with fellow Slovenian Climbing team mate Domen Škofic who was the 2016 Lead World Cup Champion and placed 10th in Lead in the IFSC World Championships. Janja's boyfriend is also sponsored by Red Bull, Five Ten, and Adidas.
Janja Garnbret Instagram + Social Media
Janja keeps an up to date Instagram here, a Facebook athlete page here plus her own official website here.
More Janja Garnbret Articles
Janja Garnbret IFSC Combined Climbing World Championships 2019 Winner
Janja Garnbret wins Lead Climbing World Championships
Janja Garnbret wins Gold in IFSC Climbing World Championships Bouldering
Janja Takes Gold in Wujiang
Gold in Russia and Switzerland
First Place for Janja Garnbret in IFSC World Cup 2019
Remember to bookmark us or follow on facebook, instagram or twitter to keep up to date as we continue to profile the 2021 Olympic Climbing hopefuls.