Who Is Miho Nonaka?
Miho Nonaka is one of Team Japan's new generation of strong, dynamic climbers. She's been climbing and competing from a young age and her powerful style is amazing to watch. She's also the face of many advertising campaigns as well as publicity for the upcoming Olympic Game in Tokyo.
From years of competing she's racked up medals in Japan and internationally though IFSC World Cups though in the last season was held back by injury. She still qualified for the 2021 Olympics and seems to have recovered well in recent competitions. There is a strong possibility that she'll do well and bring in a medal for Japan on home turf.
She has a lot of sponsors in the climbing world and out. Big names include Adidas, FiveTen, Red Bull, Beats by Dre, Tokyo Powder and more. She's been featured in adverts for TAG Heuer and Oikos yogurt too. She's likely one of the most well recognised climbers in Japan.
Miho is her first name, Nonaka her family name. You might see her name written as Nonaka Miho or Nonaka Mihou as in Japan the family name goes first. She lives in Tokyo near all of the main training gyms.
How Old Is Miho Nonaka?
Miho is 24 years old and was born May 21st 1997
Miho Nonaka Height
Miho is 163 cm or 5 foot 4 inches tall
When Did Miho Nonaka Start Climbing?
Miho has been climbing since the age of 9 when her Dad started taking her to the local climbing gym. He interested in mountain climbing and her sisters had already started climbing at the gym before Miho so this was very much a family thing.
Shortly after starting she saw how far head her sisters were and dedicated herself to improving. As a result she rapidly grew stronger, eventually getting to the point where she was competing locally. As she grew older she moved into private schooling in order to focus entirely on climbing. When she got to 16 she was accepted into the Japanese national team and started competing on the world stage in 2013.
Is Miho Nonaka In The Olympics?
Yes, Miho qualified for the 2021 Olympics in Tokyo at the first event possible. Both Miho and her legendary team mate Akiyo Noguchi placed in the top 8 for qualifiers and the finals at IFSC Combined Climbing World Championships 2019.
The invite was a confusing one. From our results in the original event Akiyo Noguchi (2nd), Ai Mori (5th), Futaba Ito (6th), and Miho Nonaka (7th) all placed in the top of the qualifiers. There are only two places per Country given so you might think the top two (Akiyo Noguchi and Ai Mori) would gain the places.
Originally it was stated that the highest qualifying placements – not the final results – would deem the invites. However it seems that countries were also able to pick and choose who they would invite from any athletes able to qualify over all the events.
In the final both Miho and Ai Mori got 80 points for 5th tied. Akiyo came second again. Japan decided to choose Miho as their second Olympian after Akiyo instead of the higher placers from the qualifiers.
They had planned to choose invitees from the Combined Climbing Japan Cup in 2020. However, the Japanese Climbing association (JMSCA) instead ended up choosing before then after rule confusion, some IFSC changes, and taking legal action against the IFSC. Both Akiyo Noguchi and Miho Nonaka were confirmed as Japan's Olmypic invites.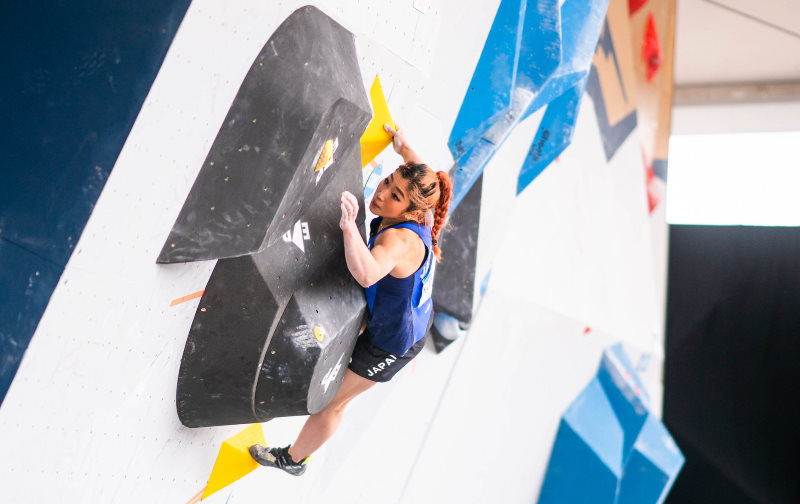 Will Miho Nonaka Win The Olympics?
Though she isn't the favorite Miho has a very strong chance of gaining a medal at the first Olympics climbing event. She has the 5th seed meaning 5th is her expected place but she has the advantage of competing in her own country. The humidity of Tokyo in Summer is something she is used to.
Janja Garnbret is the current favorite but the Olympics in 2021 is also limited to only local spectators and crowd support is definitely a factor for some climbers. The lead climbing and bouldering wall are both outside and have been up in Tokyo for over a year. Getting to take a good look at the contours and being able to train specifically for those angles may be a key point.
Meet More Olympic Climbers From Japan
– Who Is Tomoa Narasaki?
– Who Is Sohta Amagasa?
Miho Nonaka Competition Results
In her first competitions in the World Cup Miho didn't get top results but gained valuable experience, competing mainly in Lead. In just one year her results jumped up to consistent top 10 placings. Bouldering was clearly her preferred discipline and in 2014 she placed 5th overall in the World Cup.
In years to come her results would continue to improve. In 2015 she took Bronze overall in the Bouldering World Cup, then Silver in 2016. In 2018 she finally took first place for the Gold by winning nearly ever single event – cementing herself as a world class competitor.
In the latest Climbing World Cup events Miho did surprisingly well after a year off because of lockdowns and injury. She regularly competes at the Adidas Rockstars events, taking first place in 2018 and third place in the 2019 event.
Miho Nonaka Bouldering
Bouldering is Miho Nonaka's strongest suit. Basically every Boulder World Cup she's been in, she was in the finals or got a medal. In recent events her lowest placing was 7th and even that low is an outlier. It's almost expected that Miho will be on the winner's podium for every event.
Her strength lies in her power and dynamism which are well suited to modern bouldering. It's a contrast to team mate Akiyo Noguchi who tends be slower and more controlled. It's going to be really interesting seeing the difference in their approaches at the Olympics
Miho Nonaka Lead Climbing
While Bouldering is her main thing, Miho's Lead results have improved as she's got more experience. Though most of the time she won't finish in the top 12, she has had a few top 5 placings. Her last event in Inzai 2019 she took 5th in the IFSC Lead World Cup.
Miho Nonaka Speed Climbing
For a Bouldering specialist Miho has had some great Speed results. Her powerful upper body and dynamic movement skills have massively helped. In the recent Salt Lake City event she took 3rd overall and managed 8.2 seconds as her lowest time.
If Miho can do well in Bouldering and manage to pull out a good result in Speed she has a very good chance of getting a medal in the 2021 Olympics.
Miho Nonaka Training Program, Diet + Nutrition
The Japanese climbing team's training revolves around doing as much climbing as possible. Their gyms tend to be set up with holds covering every available space and use a lot of big modern hold shapes. Outside of climbing Miho does a lot of stretching as well as varied physical training with a personal trainer.
"Spray walls" where a bunch of holds occupy nearly every surface are very popular in Asian gyms. They allow climbers to make up problems by marking a route with tape, or with printouts of the wall where holds can be colored in and graded. You can sit around with friends and point to holds as you go, working a particular move set. Japanese national team climbers use them a lot.
The world famous B-Pump Ogikubo is the center of Team Japan's climbing training. It's a stiffly graded bouldering gym that attracts world class athletes and climbing enthusiasts alike. They set new problems very regularly for Miho and the rest of the team to get a lot of variety in their training.
Miho's diet is similar to a lot of climbers in that's it just focused on eating good foods and avoiding junk. High quality meals start with having a good protein source, along with veg and healthy carbohydrates. Miho likes to eat meat a lot as well as after comps.
Miho Nonaka Outdoor Climbing
Miho really isn't much of an outdoor climber. Living in the city and focusing on competitions means that journeys to project routes take away from valuable practice time. That doesn't mean she isn't good at it – take a look at this video of Miho taking down a couple of V8's including "Kumite", a committing highball.
What Climbing Shoes Does Miho Nonaka Wear?
Miho previously used to wear the Tenaya Oasi or the La Sportiva Solution Women's. However, recently she's been wearing some custom Adidas / FiveTen shoes that look like an Aleon or Dragon VCS with a custom split velcro or sometimes a hook and loop system.
Find out What Climbing Shoes Pros Wear?
or for newbies check out the Best Climbing Shoes for Beginners
Miho Nonaka Injury
Unfortunately Miho has struggled with a couple of shoulder injures. In March 2019 she did something to her left shoulder in the North Face Cup and as a result skipped a couple of World Cup dates. It has definitely set her back in training and competing.
However, given the extra year of training from the lock down and Japan's relatively fast and efficient dealings with Covid the year off of competing could be really good for her. Initial results for 2021 seem pretty good for Miho and it could be that she's back at 100% already.
In the 2021 Innsbruck event of IFSC Bouldering World Cup Miho sustained a small injury on the last boulder of the qualifications round. From her instagram – "I heard a popping sound from my knee when I put heel high on the volume, and immediately stopped climbing. The injured part is the ligaments, I'm so glad that it's not severe injury, but I was shocked and it's such a disappointment".
She stopped climbing and didn't take part in the finals. Hopefully this will be just a small thing that won't affect her Olympic performance.
Miho Nonaka YouTube
Miho has a really good YouTube account where she posts Q&A's, training and travel vlogs, with some really good insight into how she and the Japanese climbing team train. Take a look here. Most videos are in Japanese but have some English subtitles.
Miho Nonaka Instagram + Social Media
Miho has a well updated instagram and facebook page you can check out.