Who Is Sohta Amagasa?
Sohta Amagasa is a young Japanese climber on the national team. He's a regular competitor in IFSC competitions worldwide as well as in National comps. The Japanese team all climb to an insanely high standard so he's on possibly the best National team in the world.
He seems like a very strong contender to qualify for Paris 2024, where Bouldering, Lead, and Speed climbing will all have separate medals. Learn more about the first Olympics Climbing event in Tokyo 2021.
Sohta Amagasa Bio
Sohta Amagasa is from Kanagawa, a Japanese prefecture just south of Tokyo. As with most of the Japanese team he's climbed from a young age. He is sponsored by Friction Labs chalk, Mudhand chalk bags, Up Athlete supplements, and Unparallel climbing shoes.
How Old Is Sohta Amagasa?
Sohta is just 20 years old!
Sohta Amagasa Height
Sohta is 186cm tall or 6 foot 1 inches tall.
Is Sohta Amagasa In The Olympics ?
No, Sohta isn't competing at the Tokyo 2021 Olympics but may well be going for the 2024 Paris Olympics. He wasn't at any of the qualifying events as Japan have had a very large, strong team for a while. It's likely he'll be in the team for 2024 if his results continue to improve as they have been.
Sohta Amagasa Competition Results
He has a huge amount of competitions under his belt, mostly in the youth category but now moving into the adult section. Notably he got medals in the Bouldering (Gold), Lead (Silver), and Combined (Gold again) categories in the IFSC Youth World Championships in 2019. This was his first international competition!
Sohta Amagasa Bouldering
Bouldering is generally Sohta's strongest category as it is for many Japanese athletes. He has strong results from his Youth competitions. Lately in the Salt Lake City Bouldering World Cup in 2021 he placed 14th. He performed strongly in qualification round with four tops, going into semi's in fifth place but then failed to top any problems.
However, this result was higher than many who had qualified for the 2020 Tokyo Olympics. Later in the Boulder and Speed event he placed 13th in Bouldering. In Meiringen he placed 6th which is really good for his first adult IFSC comp.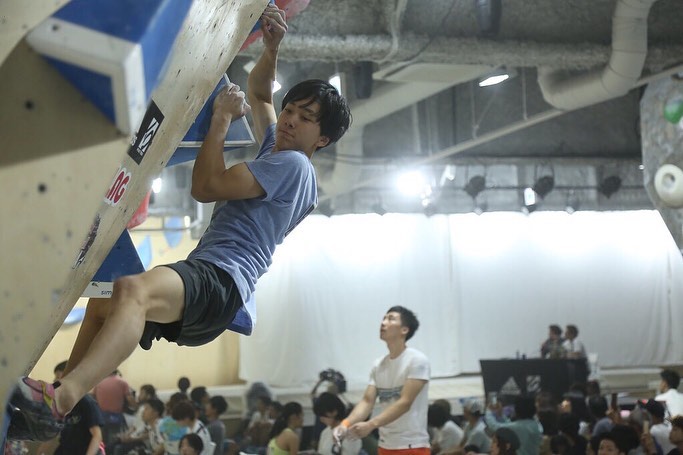 Sohta Amagasa Lead Climbing
Lead is another of Sohta's strong suits. He took first at the Asian Youth Championships for Lead in Bengaluru in 2019. However, since then he hasn't taken any notable placements in Lead.
Sohta Amagasa Speed Climbing
In competition Sohta's lowest time in Speed Climbing is 7.29. He's definitely not a speed specialist but neither are many. Though he's seen poor results in adult comps he has taken a few combined IFSC medals as well as placing second in the Asian Youth Championships in Bengaluru in 2019.
Sohta Amagasa Outdoor Climbs
He isn't much of an outdoor climber but has done a few outdoors trips. He recently got "One voice one team" 8a+ in Gozeniwa, as well as "Ganja Extension" 8b+.
What Climbing Shoes Does Sohta Amagasa Wear?
Sohta wears the unparallel flagship. They're a downturned, competion and indoor focused slip-on shoe that fasten with a single velcro strap. They're pretty hard to get in the US as there isn't much distribution but many athletes are wearing them.
The company was formed by ex Five Ten designers after Adidas bought the brand. They also sponsor teammate Tomoa Narasaki who seems to love their shoes.
Sohta Amagasa Instagram, Facebook + Social Media
You can check out Sohta Amagasa on his instagram page here.