From the 22nd to 31st of August, the IFSC Youth World Championships 2019 were held in the Rock Master Climbing Stadium in Arco, Italy. The Rock Master competition is one of the first international climbing competitions – originally held on the rock in the town. Now held on an awesome open air wall with an outdoor bouldering area and speed wall to boot, the IFSC Youth Champs are part of a larger Rock Master festival.
Over 1,000 athletes were in attendance this year, all with high hopes for the festival. The categories include Bouldering, Lead, and Speed Climbing. There is currently no separate Combined competition for the Youths but the qualification results are added together to come up with a Combined winner. That may change for the next event based on the Olympics format.
The Youth categories are Youth B (14-15 year olds), Youth A, (16-17 year olds), and the oldest Junior (18-19 years old) . You can see a list of all the competitors in each category, country, and age range on the IFSC event page. The event was hard fought and saw some world firsts and record bests from many.
Previous Winner Talks and Rock Master Duel
On the last few days a talk from previous Youth competitors and current champions was held. Adam Ondra, Jakob Schubert, Mina Markovič, and Stefano Ghisolfi gave talks about their experiences coming up through the Youth Championships.
Wrapping up the last day we got to see the Rock Master Duel. A head to head where both climbers face off at the same time with the same setting on both sides of the wall. Adam Ondra had won the last four events but this year just lost out to veteran Jakob Schubert of Austria. Mia Krampl of Slovenia took 1st this year over Great Britain's Molly Thompson-Smith.
The full list of results is lower down in the article
Team Japan Wins Big
With a full 22 medals, including all three medals in Male Youth B Lead, Japan are showing that their strength. After their very strong results in the Adult World Championships, with Tomoa Narasaki's double, Japan look fully committed to their future in competition climbing.
Natsumi Hirano took medals in Bouldering, Lead and Combined as did Sohta Amagasa.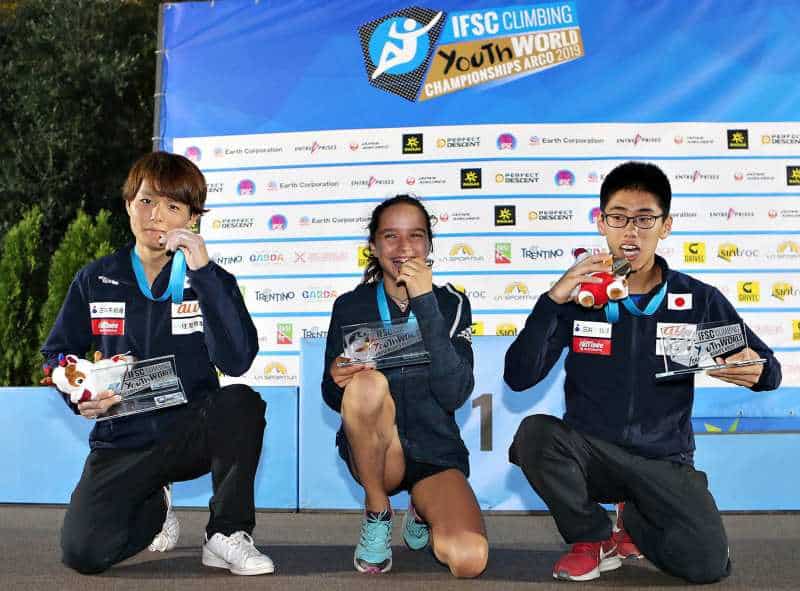 Italian Prodigy Laura Rogora
Laura Rogora of Italy first took the Gold in Juniors Lead, then won Juniors Bouldering which secured her a Combined Gold medal too. After the triple she then competed in the Rock Masters Duel where she took third for Bronze. An incredible few days for Laura Rogora in her homeland Italy.
Laura took Bouldering Gold in 2018 while in Youth A, and Bronze in Youth B Lead and Combined in both 2015 and 2016. She has also redpointed 9a which is incredible for an 18 year old. Laura could well be the next big thing from Italy in outdoors climbing and world competitions.
Oriane Bertone Lead and Bouldering Gold
Competing for France – though of Italian and French heritage – Oriane Bertone took Gold in the Lead and Bouldering Youth B IFSC Youth World Championships 2019 categories. The former French National Champion hails from a small island, "La Réunion", a French island in the Indian Ocean off the east coast of Africa. At only 14 years old she has climbed V14, with her first V11 at age 9 and V13 at 11. Update: Oriane's brother Max Bertone just lead an 8c at only 12 years old.
Read our full article – Who Is Oriane Bertone?
Thailand's First World Championships Gold
Nichol Tomas took Gold in the Male Youth B in Bouldering for Thailand's first IFSC World Championships Gold. He also managed Bronze in the Combined IFSC Youth World Championships 2019 category. Thailand has some incredible climbing that is mostly used a sunny holiday retreat for worldwide travelers, so it's good to see that investing in their youth has paid off.
Great British Bias
This site is run from the UK, so Team Great Britain are getting some love here. Hamish McArthur took Silver in Male Youth A Bouldering managing to top one more boulder than Hajime Takeda in third while Ao Yurikusa looked unstoppable – topping all four boulders for first place.
Emily Philips of Cardiff also took a medal with Bronze in Combined. This makes her first World Championships medal at only 16.
Full IFSC Youth World Championships 2019 Results
Lead
Female Junior
1 – Laura Rogora, Italy
2 – Nolwenn Arc, France
3 – Brooke Rabatou, USA
Female Youth A
1 – Nika Potapova, Ukraine
2 – Natsumi Hirano, Japan
3 – Luce Douady, France
Female Youth B
1 – Oriane Bertone, France
2 – Hana Koike, Japan
3 – Aleksandra Totkova, Bulgaria
Male Junior
1 – Shuta Tanaka, Japan
2 – Sohta Amagasa, Japan
3 – Alistair Duval, France
Male Youth A
1 – Hidemasa Nishida, Japan
2 – Colin Duffy, USA
3 – Alberto Ginés López, Spain
Male Youth B
1 – Junta Sekiguchi, Japan
2 – Haruki Uemara, Japan
3 – Satone Yoshida, Japan
Bouldering
Female Junior
1 – Laura Rogora, Italy
2 – Natalia Grossman, USA
3 – Lucia Dörffel, Germany
Female Youth A
1 – Luce Douady, France
2 – Natsumi Hirano, Japan
3 – Saki Kikuchi, Japan
Female Youth B
1 – Oriane Bertone, France
2 – Ryu Nakagawa, Japan
3 – Hana Koike, Japan
Male Junior
1 – Sohta Amagasa, Japan
2 – Léo Favot, France
3 – Nathan Martin, France
Male Youth A
1 – Ao Yurikusa, Japan
2 – Hamish McArthur, Great Britain
3 – Hajime Takeda, Japan
Male Youth B
1 – Nichol Tomas, Thailand
2 – Junta Sekiguchi, Japan
3 – Edvards Gruzitis, Latvia
Speed
Female Junior
1 – Elena Remizova, Russia
2 – Alejandra Contreras, China
3 – Aleksandra Kalucka, Poland
Female Youth A
1 – Emma Hunt, USA
2 – Kiara Pellicane-Hart, USA
3 – Anna Calanca, Italy
Female Youth B
1 – Callie Close, USA
2 – Nuria Brockfield, Germany
3 – Manon Lebon, France
Male Junior
1 – Sergey Rukin, Russia
2 – Almaz Nagaev, Russia
3 – Rahmad Adi Mulyono, Indonesia
Male Youth A
1 – Iaroslav Pashkov, Russia
2 – Jordan Fishman, USA
3 – Yongjun Jung, Korea
Male Youth B
1 – Hryhoriii Ilchyshyn, Ukraine
2 – Oliver Kuang, USA
3 – Dylan Le, Canada
Combined
Female Junior
1 – Laura Rogora, Italy
2 – Natalia Grossman, USA
3 – Lucia Dörffel, Germany
Female Youth A
1 – Natsumi Hirano, Japan
2 – Julia Lotz, Austria
3 – Emily Philips, Great Britain
Female Youth B
1 – Sara Copar, Slovenia
2 – Aleksandra Totkova, Bulgaria
3 – Heeju No, Korea
Male Junior
1 – Sohta Amagasa, Japan
2 – Shuta Tanaka, Japan
3 – Nicolai Uznik, Austria
Male Youth A
1 – Ao Yurikusa, Japan
2 – Hajime Takeda, Japan
3 – Alberto Ginés López, Spain
Male Youth B
1 – Junta Sekiguchi, Japan
2 – Oliver Kuang, USA
3 – Nichol Tomas, Thailand