On Sunday, Elnaz Rekabi competed in the final of the latest IFSC Combined event held in Seoul, Korea. She placed fourth, doing it without wearing a hijab. While this seemed nothing out of the ordinary for most, for others this was seen as revolutionary action.
Since 1983 it has been mandatory in law for Women in Iran to wear a hijab, or head covering, in public. Women are also bound to cover their hair when competing internationally while representing Iran. Elnaz has competed internationally for years, always wearing a hijab.
In the semi-final events, she had been wearing a hijab that fully covered her hair. In the finals, she chose a simple black headband and wore a ponytail.
Since Sunday evening, there have been concerns for her welfare after she was uncontactable since the event ended. Now, it seems that Rekabi may have been coerced into flying back to Iran early, her passport and phone confiscated, and may now be sent to a prison known for torture.
33-year-old Elnaz Rekabi is part of the Iranian team and she competes around the world. All Women on the Iranian team wear headscarves while competing, though it isn't unknown for her and others to wear a smaller headband while training or climbing outdoors.
Background – Mahsa Amini's Death + 2022 Iran Protests
Such a small detail might seem insignificant, but a similar incident just a month ago was the spark that ignited Iran in a wave of protests. On September 16th, Mahsa Amini was visiting the capital to see friends and family when she was arrested by the country's morality police for not fully covering her hair.
Just a few hours later she was dead, with the police saying she had suffered a heart attack and brain seizure at the police station. Eyewitnesses with her at the time of the arrest contradict this, saying they were pepper sprayed and she was forcibly taken. In the van used to transport her say she was severely beaten, tortured and insulted.
Mahsa – only 22 years old and with no history of medical problems – later died without immediate access to medical care. While doctors say she died of a severe brain injury, evidenced by scans showing skull fractures and brain oedema, the state brought out professionals who claimed the death was natural.
Since then the country has seen widespread unrest. Protests have been as simple as hijabless Women walking down the street, all the way up to large-scale demonstrations. The government has responded harshly, with violence, beatings, imprisonment of protestors, and shutting down the internet and spread of information.
Elnaz Rekabi's Disappearance
There were concerns for Rekabi's safety after the competition, as punishment for not wearing a head covering can be harsh. The team were due to fly back to Iran on Wednesday 19th but apparently, officials and teammates weren't able to contact her.
It is alleged that Reza Zarei, the head of Iran's Climbing Federation, asked Rekabi to go to the Iranian embassy in Seoul. Sources quoted in the BBC and IranWire said her phone and passport were confiscated and she was put on a plane back to Imam Khomeini international airport early to avoid reporters or a crowd intervening.
The embassy denied this in a tweet, saying "Ms. Elnaz REKABI, departed from Seoul to Iran, early morning of October 18, 2022, along with the other members of the Team. The Embassy of the Islamic Republic of Iran in South Korea strongly denies all the fake, false news and disinformation regarding Ms. Elnaz REKABI".
On Monday evening, BBC journalists (who are barred from entering or reporting in Iran) reported that Rekabi was on a plane heading to Tehran.
IranWire reported she would be immediately transferred to Evin prison upon arriving at the airport. Evin is notorious as a place where hundreds of arrested protestors have been taken. It has long been known for solitary confinement, harsh conditions, and regular reports of torture.
In recent days an unexplained fire broke out in the prison, with at least eight deaths reported.
Instagram Story + Coercion
In a recent Instagram story from Rekabi's account, a message was posted that read: "I firstly apologise for all the concerns I have caused. Due to the timing and sudden call to begin the climb my hijab unintentionally became problematic. I am currently on my way back to Iran alongside the team based on the pre-scheduled timetable".
This goes contrary to their previous travel plans, and to sources who saw the order for her to return came directly from Iran's Olympic Committee chairman Mohammad Khosravivafa. The BBC also found the Iranian team had left their hotel early.
Another source said: "Elnaz made her decision to appear without a hijab around a month ago and knew that she was going to compete without the mandatory hijab. She did not seek asylum either because her husband is in Iran, and she wanted to return after the competition".
In an article by Climbing, an anonymous source said: "Unfortunately some news agencies like BBC and IranWire are spreading fake news about her and her brother being arrested. They just changed the hotel to run away from all the interviewers in front of the hotel. She is on her flight back with others and her brother is also OK at home in Zanjan."
Her brother Davoud Rekabi is also a competitive climber who has won Asian Championship medals. He was quoted as saying, "[She] was wearing a headband and was not trying to defy the hijab rules. We shall have a press conference after she arrives when she can explain more about what had happened".
Asylum Hopes
While there are contradicting statements, it's clear that there are harsh punishments for not wearing a hijab. It's also widely reported that Iran uses coerced statements from victims and families to control the narrative and to prosecute individuals.
Many were expecting Rekabi to claim asylum in Korea after the event. It wouldn't be the first time an Iranian athlete had done similar.
In 2019, Iranian boxer Sadaf Khadem flew to France to compete in her first boxing match – which she won. She fought without a covering, in the standard shorts and vest, in a sport that she wasn't allowed to practice.
For this, officials said she would face arrest if she returned to Iran. She has since stayed in France, finding a new home and allowing her to compete in a sport like any man would have the right to.
It is thought that around 30 Iranian athletes have claimed asylum while competing abroad in recent years. That includes Shaqayeq Bapiri of the Women's handball team in Spain and Yekta Jamali after the World Junior Weightlifting Championship in Greece.
Athletes leaving the country can be forced to leave a "bond" the equivalent of nearly $50,000 in order to guarantee their return. Their families may also suffer consequences if they do not return.
IFSC Statement
The IFSC has made an official statement on their website, saying "…we have been trying to establish the facts. We have also been in contact with Ms Rekabi and the Iranian Climbing Federation."
"Our understanding is that she is returning to Iran, and we will continue to monitor the situation as it develops on her arrival. The IFSC fully support the rights of athletes, their choices, and expression of free speech".
Elnaz Rekabi's Achievements
Rekabi is an incredible climber, both indoors and out. She is likely the best female climber in Iran, despite not being able to train with men or use facilities while men are in the building.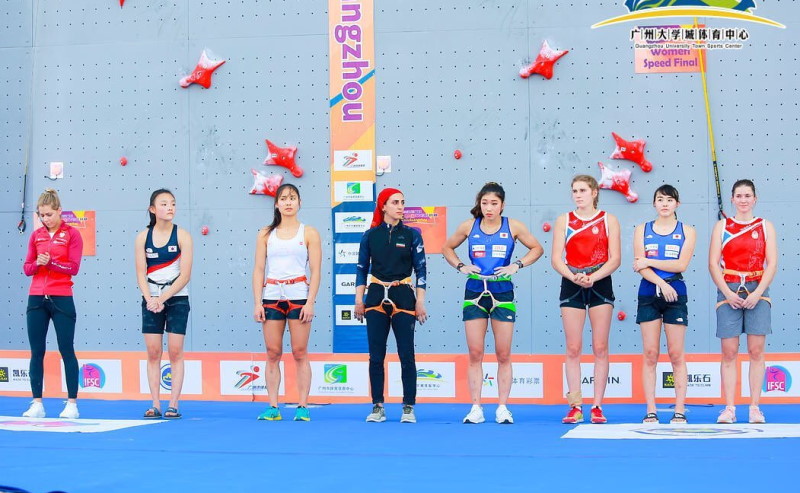 She was the first Iranian woman to win a medal at an IFSC event, at the World Championships in Moscow in 2021. There she took Bronze in the combined event.
She has also taken Gold at the Boulder Asia Cup in Wanxianshan, China in October 2017. Elnaz regularly competes at IFSC events in Boulder, Speed, and Lead. She's taken over 80 medals in different local and international climbing competitions.