Who Is Chaehyun Seo?
Chaehyun Seo is South Korea's strongest young climbers and is the last Lead Climbing World Cup Champion. In 2019 she managed to take 1st over four-time champion and Olympic favorite Janja Garnbret – in her first season as an adult. Chaehyun is the only South Korean woman competing at the Tokyo 2020 Olympics as well as one of the youngest.
Chaehyun Seo is from Seoul, South Korea. She is sponsored by Black Diamond and The North Face. Also known Seo Chaehyun or Seo Chae-Hyun as in Korea the family name comes first.
How Old Is Chaehyun Seo?
Chaehyun Seo is just 17 years old and was born on the 1st of November 2003.
Chaehyun Seo Height
Chaehyun Seo is 5 foot 3 inches tall or 162 cm. She's one of the shortest of the female climbers at the Olympics.
Chaehyun Seo Ape Index
Unknown
When Did Chaehyun Seo Start Climbing?
Chaehyun Seo started climbing when she was five after her parents introduced her. She started taking it more seriously when she was seven, getting involved in training groups and local competitions.
Chaehyun Seo Parents
Both of Chaehyun's parents are climbers, her father Jongkuk Seo having climbed 5.14 and her mother 5.13. Chaehyun's father owns a climbing gym and she's described it as her second home. Obviously that's where she spends most of her training time.
Her Dad has also competed for Korea in Ice Climbing World Cups. Chaehyun herself also ice climbs in competition though seems to prefer indoor climbing comps. It's possible to compete indoors for ice climbing, though most courses are wooden and use holds instead of real ice.
Is Chaehyun Seo In The Olympics?
Yes, Chaehyun is competing at the Tokyo 2020 Olympics. She qualified in a round about way and it wasn't clear she was going to be invited until the last minute.
At the 2019 World Championships she placed 13 in qualifiers, just outside of the invite spaces. The next big qualifier was the IFSC Combined Qualifier in Toulouse but because Chaehyun hadn't competed in the Bouldering World Cups in 2019 she couldn't sign up. The last event would be the Asian Championships where climbers from the Asian continent would compete for the last few slots.
Unfortunately those games (along with many of the other Continental qualifiers) were cancelled or postponed. Initially it was advised that the highest placing athletes from the 2019 World Champs who where due to compete at the Asian Champs would be invited – which led to Chaehyun being given an invite.
Initially there was celebration, however a few months later the Asian Champs were announced to go ahead at a later date and the invites were withdrawn. Just months later the game were again cancelled and the invite was confirmed to Chaehyun and her teammate Jongwon Chon.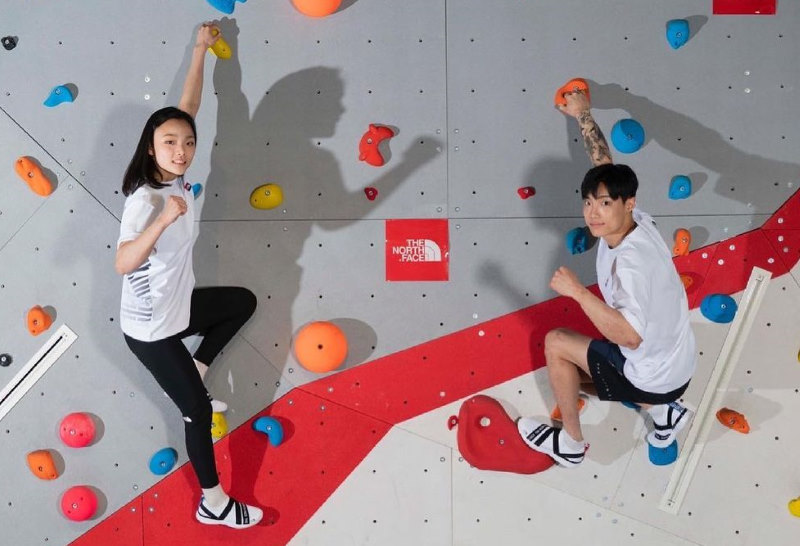 Will Chaehyun Seo Win The Olympics?
There is an outside chance that Chaehyun could take a medal. She is a very strong Lead climber and a top 2 or 3 place could lead to her getting a medal later on. A first in Lead is almost guaranteed a medal and Chaehyun has beaten the other competitors before. Unfortunately she lags behind in Speed compared to other all-rounders as she isn't a big fan of the event and doesn't train it as much.
In Bouldering she is the strongest in Korea right now, but against the world she faces very tough competition from the likes of Miho Nonaka, Shauna Coxsey, and Akiyo Noguchi. It's likely she'll finish middle of the pack or higher for Bouldering but a strong performance could see her placing in the medals and she will probably be in the top 8 for finals.
Climbing at the Olympics for the first time will combine all of the events into one set of medals. In Paris 2024 the events will be split so Bouldering and Lead will be together, and Speed a separate event. It's likely that Chaehyun will be able to qualify then and would have a much better chance of getting a medal – especially after dealing with Olympic pressure already.
Chaehyun Seo Training Program, Diet + Nutrition
Her Dad owning a climbing gym means she's always got a place to train that feels like home. She spends up to seven hours a day training four to five days a week. She does two days on followed by one full rest day. Working with the Korean national team she focuses on Bouldering which carries well over to Lead climbing training.
Mock competitions are common in her training in the run up to the Olympics to make sure she's ready for the timings and format. When she is focused on Lead competitions she does a lot of endurance and power-endurance drills. These can be done with long bouldering circuits or by climbing a set of routes back to back without rest.
Chaehyun's training also has to come second to her schooling. As a result she'll finish school at three then head straight to her Dad's gym or the national training centre after. In Speed Climbing she's managed to get her times in training down to just under 8 seconds but it's yet to be seen if this will happen under the stress of the Olympics.
Chaehyun Seo Competition Results
From a young age Chaehyun has been competing. In her very local competition she actually came dead last but wasn't deterred. In international competition she started on the IFSC Youth circuit with some great results. A 5th in Bouldering and 4th in Lead at the Asian Youth championships was followed by a 1st in Lead the next year.
In her first adult competitions as one of the youngest climbers she took 2nd in her first Lead World Cup event in Villars, then 1st at Chamonix and then Briançon. Jumping up this far in the leader board at such a young age is massively impressive. After getting four 1st places in the season she took 1st overall for the Gold at the 2019 Lead World Cup.
Chaehyun Seo Outdoor Climbing
Outdoors Chaehyun has some impressive ascents for her age. At just 14 years old she sent a 5.14d / 9a route "Bad Girls Club" in Rifle, Colorada back in 2018. She's also flashed 5.13c!
What Climbing Shoes Does Chaehyun Seo Wear?
Chaehyun wears a variety of different climbing shoes. She's worn La Sportiva Skwama's but mainly uses the Black Diamond Shadow now in competition. They're BD's first pro shoe with a down-turned profile and very contoured "hook" like toe box for great contact on tiny footholds.
Chaehyun Seo Instagram + Social Media
Chaehyun has a popular Instagram where she posts to over 25k followers