Today marks the first time in history that Climbers have competed at the Olympics. After a hot and humid day only the top eight will make it through to Finals which will take place in two days time. See full Men's Olympic Climbing Qualifier results and placing tables below.
With a humidity of 75% and 32°C/89°F the conditions aren't ideal for climbing. The pressure was on and you could see the anxiety in the eyes of the climbers and the teams. Climbing has brought a lot of attention from the press and there seems to be a buzz and a surprising amount of people in the arena.
Olympic Sports Climbing Qualifier Results
Adam Ondra, Tomoa Narasaki, Colin Duffy, Nathaniel Coleman, Mickael Mawem, Bassa Mawem, Alberto Gines Lopez, and Jakob Schubert have made the Olympic Sport Climbing finals!
| | | | |
| --- | --- | --- | --- |
| Placing | Climber | Country | Combined Score |
| 1 | Mickael Mawem | France | 33 |
| 2 | Tomoa Narasaki | Japan | 56 |
| 3 | Colin Duffy | USA | 60 |
| 4 | Jakob Schubert | Austria | 84 |
| 5 | Adam Ondra | Czech Republic | 216 |
| 6 | Alberto Gines Lopez | Spain | 294 |
| 7 | Bassa Mawem | France | 360 |
| 8 | Nathaniel Coleman | USA | 550 |
See the full results for each stage of the competition lower down and the full final results at the bottom of the page.
Mawem Brothers Both Qualify!
In Speed Bassa Mawem shot to the top of the leaderboard with 5.45 seconds on his first run and no-one else would come near him. He's set the very first Olympic record for Speed Climbing and may very well break it tomorrow. His results in Bouldering and Lead have put him through to Finals despite injury.
In a literally once in a lifetime performance Mickael Mawem also qualified. This is largely due to his breakthrough Bouldering placing of 1st with three tops, well above other Bouldering specialists. His Speed placing of 3rd was excellent and at that point Lead hardly mattered.
Most pundits (including us) originally put Mickael in the bottom five before now and believed Bassa might just scrape in with Speed alone. To have both brothers make finals is a huge result for France and these two who have worked so hard in the past few years.
Read our full profile of the Mawem Brothers – Mickael and Bassa
Bassa Mawem Injury
After taking first in Speed and almost guaranteeing his finals round, Bassa Mawem picked up a nasty bicep injury on the Lead wall. He fell early clutching his arm and saw a doctor immediately after coming down. He is now guaranteed a place in Finals but may not compete if the injury is too bad.
It looked liked the muscle of the bicep recoiled as if the head connecting it to the bone had snapped. If so this is a very serious injury requiring surgery and a lengthy recovery. It's not something you could even try to climb on and could be career ending. We really hope it's not what it looked like. Read more – Bassa Mawem Injury
Alex Megos Misses Finals
In a massive upset Alex Megos finished in 9th place just outside of the Finals place. It was thought that if Bassa pulled out Megos might get a place but that isn't the case. Megos won't get to go to Finals this Olympics.
Alex Megos is known as possibly the best climber in world. He's one of only two people to have climbed a 9c route. The other being Adam Ondra who didn't perform at his best today but still qualified in a tough competition.
Read more
Alex Megos Climbs World's Second 9c "Bibliographie"
Who Is Adam Ondra?
More Olympic Climbers
Olympic Sports Climbing Qualifier Results – Speed
In the qualifier stage of the competition Speed climbers aren't competing against the other climber, just at the same time. Over two heats climbers get two chances to get the best times, swapping sides of the wall (lanes) after everyone has climbed once. Only the top speed score of their two runs count towards their placing – apart from in tie-breakers.
Bassa Mawem managed an incredible personal best of 5.45 on his first attempt. This put him in 1st and set the first Speed Climbing Olympic Record in history. This ended up being nearly half a second faster than any other climbers attempts and bodes well for him possibly getting a medal in the finals!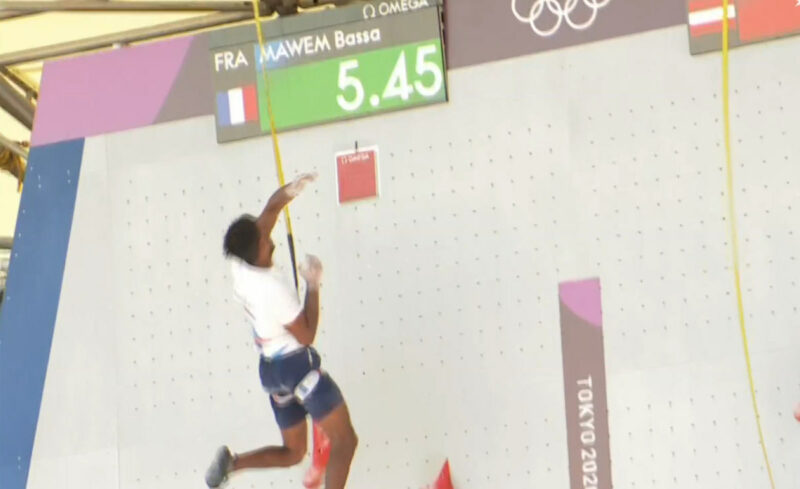 Tomoa Narasaki took a convincing 2nd place in Speed with 5.94 in his first round. Mickael Mawem came back from a disappointing slip in the first round to get 5.95 in his second, placing 3rd overall in Speed. Speed specialist Rishat Khaibullin took 4th place which could see him not get into the Finals.
See the full scoring system, rules, teams for each country and more in our full guide to Olympic Climbing in 2020.
Find out when to watch in your timezone, what channel, where to stream, and more – Olympic Climbing Schedule + Streaming
Christopher Cosser and Jongwon Chon opened up the game with the first run on the Speed wall with Chon taking an early fall. Tomoa Narasaki and Adam Ondra were up together for added drama between the two favorites.
Despite the pressure nearly every climber was putting up times that were their lifetime best in competition and we saw a lot of times under 6.5 seconds. We did see a few stumbles including Mickael Mawem who managed to recover in the first heat then take a much better time in the second.
Interestingly Tomoa Narasaki decided not to climb in the second heat. He was the last to go out with Adam and at that point already had second in the bag. In the end it just saved him some energy and was probably a good call.
Olympic Sports Climbing Qualifier Results Table – Men's Speed
Olympic Sports Climbing Qualifier Results – Bouldering
Bouldering saw four problems of very different styles. Climbers were out up to four at a time each on one route each. B1 was a balance slab using slippery volumes and about two actual holds. B2 was an interesting vertical route that took a lot of thinking and didn't see many tops.
B3 was all about strength with a massive two part dyno to a whole hand pocket Zone and a top out that required two hands pushing upwards. B4 was probably the most fascinating to onlookers as a lot of the climbers went for a full invert, foot-first beta with a delicate bat hang that was very hard to pull off. Straight after that was a crack that really showed who had jammed outdoors before and knew the technique vs indoor climbers trying to hold the sides.
In a huge surprise Mickael Mawem managed to top B1 then flash both B2 and B3, with the added plus of a zone on B4. For a climber who normally places outside of most finals he was on the form of a lifetime today and took 1st place! The Mawem brothers ending up taking lead in one event each.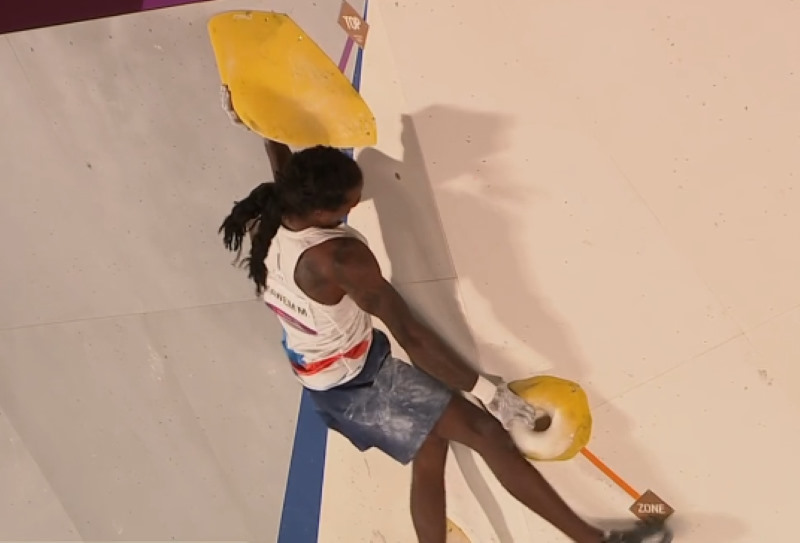 Tomoa Narasaki came out and instantly got a zone on B1 then a top on his second attempt. In B2 he managed another top but only the zone on B3 and B4. He left 40 seconds on the clock on the last attempt of B4 to save energy for later and that was still enough for 2nd place in the Bouldering.
When Adam Ondra came out everyone had eyes on him. After a few initial problems getting onto the start holds he quickly took a top on B1. On B2 he changed his shoes twice and was the closest to the Zone but ran out of time. On B3 he got a Zone but just couldn't hold the top and you could hear his disappointment. Finally he pulled it out of the bag with a top of B4 which in the end got him 3rd.
At this point the climbers were clearly struggling with the heat, some with sweat dripping off them. B3 was a big drain of power and many spent quite a few attempts making the dyno then getting really pumped just holding the second-to-last hold. As evening came the heat dropped slightly but not the humidity.
Aleksey Rubtsov pulled out a strong performance with 4th. Alex Megos managed to push himself up the board by getting one top and four zones, placing fairly low in 6th. Jakob Schubert had real difficulty to start with and only managed three zones – though finally got a last top on B4 to take 7th.
Colin Duffy took an early lead with tops of B1 and B3 – though quite a few attempts and visible frustration put him down to 5th with two more zones. Nathaniel Coleman also did well with a top of B3, a Zone on B1, and a hard fought Zone on B4 for 11th.
Olympic Bouldering scoring is decided by most tops first, ties decided by most zones, then least attempts to top, then least attempts to zone.
Olympic Sports Climbing Qualifier Results Table – Men's Bouldering
Placing
Climber
Country
Tops
Zones
Attempts
To Top
Attempts
To Zone
1
Mickael Mawem
France
3
4
4
5
2
Tomoa Narasaki
Japan
3
4
6
7
3
Adam Ondra
Czech Republic
2
3
7
11
4
Aleksey Rubtsov
Russia
2
2
7
4
5
Colin Duffy
USA
2
2
17
12
6
Alex Megos
Germany
1
4
2
15
7
Jakob Schubert
Austria
1
3
2
13
8
Yufei Pan
China
1
3
2
15
9
Jan Hojer
Germany
1
3
3
8
10
Jongwon Chon
Korea
1
3
3
10
11
Nathaniel Coleman
USA
1
3
4
6
12
Kai Harada
Japan
1
2
4
8
13
Michael Piccolruaz
Italy
1
2
5
7
14
Alberto Gines Lopez
Spain
1
1
12
4
15
Sean McColl
Canada
0
2
0
3
16
Christopher Cosser
South Africa
0
2
0
15
17
Rishat Khaibullin
Kazakhstan
0
1
0
3
18
Bassa Mawem
France
0
1
0
4
19
Ludovico Fossali
Italy
0
0
0
0
19
Rishat Khaibullin
Kazakhstan
0
0
0
0
Olympic Sports Climbing Qualifier Results – Lead
So far, before the lead started we had Mickael Mawem in 1st with 3 points overall, Tomoa Narasaki 2nd with 4 points, and Bassa Mawem 3rd with 18. Bear in mind that scores in each event are multiplied together and the lowest score wins in the end. These were just the first two event scores combined together.
Climbers simply need to get as high as possible on this one route. Holds are counted as they climb from 1 to 45. A good attempt to make the next hold will count as a + and be higher than just falling on the hold alone. Ties are decided by time on the wall.
The route was very well set on the comparatively short 15 meter wall. Tiring out competitors lower down without spitting them off early is always a problem. A longer route means it's generally easier to tire people out and give a more even run.
Shorter routes lead to more dynamic and impressive single moves but generally more falls at the same spot or too many tops. Ideally you just want one or two people to top out to make a good spectating experience. Setting is a very hard job and a perceived "bad" route can be a bad experience for the setters and competitors.
Colin Duffy came out of the gate hot with a fast run up to a heel hook rest. In an amazing performance he managed to get incredibly close to the top with a 42+. His early run set the bar for the others that would follow. Nathaniel Coleman also of the USA managed a really good run with 39, falling just below his teammate.
Alberto Gines Lopez finally got his time to shine after disappointing Bouldering and Speed runs. Getting just one hold before Duffy he managed a 41+ score. Yufei Pan managed a 39 but almost instantly could tell it wasn't going to be enough to make the Final.
In a massive blow Bassa Mawem seems to have picked up a severe bicep injury low down. Hopefully it's just a strain and not a tear as this would see him out of the Finals. Mickael could literally have taken last but still made finals. However, he performed pretty well with 28+ even though he normally hardly competes in Lead.
Adam Ondra was looking very strong and very fast starting out the route. He cruised through the bottom half of the route with perfect form but didn't use any rests. At just 39+ he fell in a real shock to the crowd.
The pressure was on for Alex Megos as his 19th place in Speed meant he really needed top 3 in Lead to guarantee a Finals place. However he fell at 36+ which saw him just on the edge of finals.
Olympic Sports Climbing Qualifier Results Table – Men's Lead
| | | | | |
| --- | --- | --- | --- | --- |
| Placing | Climber | Country | Hold | Time |
| 1 | Jakob Schubert | Austria | 42+ | 4:02 |
| 2 | Colin Duffy | USA | 42+ | 4:44 |
| 3 | Alberto Gines Lopez | Spain | 41+ | |
| 4 | Adam Ondra | Czech Republic | 39+ | |
| 5 | Nathaniel Coleman | USA | 39 | |
| 6 | Alex Megos | Germany | 36+ | |
| 7 | Yufei Pan | China | 36 | |
| 8 | Sean McColl | Canada | 35+ | |
| 9 | Jan Hojer | Germany | 29+ | |
| 10 | Christopher Cosser | South Africa | 29 | |
| 11 | Mickael Mawem | France | 28+ | 2:24 |
| 12 | Michael Piccolruaz | Italy | 28+ | 2:33 |
| 13 | Rishat Khaibullin | Kazakhstan | 28+ | 3:09 |
| 14 | Tomoa Narasaki | Japan | 26+ | 2:11 |
| 15 | Aleksey Rubtsov | Russia | 26+ | 2:29 |
| 16 | Jongwon Chon | Korea | 26+ | 2:24 |
| 17 | Kai Harada | Japan | 25+ | |
| 18 | Ludovico Fossali | Italy | 25 | 2:48 |
| 19 | Tom O'Hallaran | Australia | 25 | 3:58 |
| 20 | Bassa Mawem | France | 7 | |
Olympic Sports Climbing Qualifier Results Table – Men's Combined Overall
| | | | |
| --- | --- | --- | --- |
| Placing | Climber | Country | Combined Score |
| 1 | Mickael Mawem | France | 33 |
| 2 | Tomoa Narasaki | Japan | 56 |
| 3 | Colin Duffy | USA | 60 |
| 4 | Jakob Schubert | Austria | 84 |
| 5 | Adam Ondra | Czech Republic | 216 |
| 6 | Alberto Gines Lopez | Spain | 294 |
| 7 | Bassa Mawem | France | 360 |
| 8 | Nathaniel Coleman | USA | 550 |
| 9 | Alex Megos | Germany | 684 |
| 10 | Jongwon Chon | Korea | 800 |
| 11 | Rishat Khaibullin | Kazakhstan | 884 |
| 12 | Jan Hojer | Germany | 891 |
| 13 | Aleksey Rubtsov | Russia | 960 |
| 14 | Yufei Pan | China | 1120 |
| 15 | Michael Piccolruaz | Italy | 1248 |
| 16 | Christopher Cosser | South Africa | 1440 |
| 17 | Sean McColl | Canada | 1680 |
| 18 | Kai Harada | Japan | 3060 |
| 19 | Ludovico Fossali | Italy | 4563 |
| 20 | Tom O'Hallaran | Australia | 6298.5 |