Who Is Christopher Cosser?
Chris is one of South Africa's best competition climbers and will be representing his country in the upcoming Tokyo 2021 Olympics. He'll be there alongside team mate Erin Sterkenburg. Though there isn't much in the way of climbing competition and training on the African continent Chris was very active in the youth IFSC tours.
As a result he has many of the skills and resilience needed for dealing with the high pressure of world class Climbing comps. He also has a big background in outdoor climbing. Chris lives in the capital of South Africa, Johannesburg where he has access to the best training facilities in the country. Chris is sponsored by the North Face SA and La Sportiva SA.
How Old Is Christopher Cosser?
Chris is just 20 years old.
Christopher Cosser Height
He is 178 cm or 5 foot 10 inches tall.
When Did Christopher Cosser Start Climbing?
Chris started climbing on the wall in his school when he was just 12. Since then he has progressed rapidly and started competing internationally at 14.
Is Christopher Cosser In The Olympics?
Yes, Chris will be at the first Olympic Climbing event in history at Tokyo 2021. He earned his spot in the IFSC African Continental Championships in 2020, just beating out team mate David Naude.
It's not likely he'll get a medal or place high – but for such a young climber working with the limited training available for South African climbing he's going to bring a lot of publicity to the sport.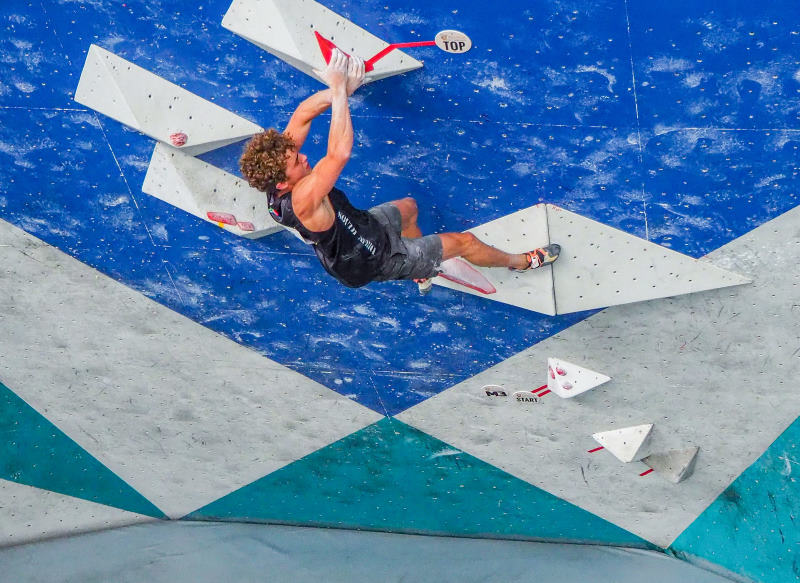 Christopher Cosser Competition Results
His competition results are varied but Chris does have a good history of IFSC competition behind him. He's attended many of the IFSC World Youth champs events and started in the adult divisions in 2019.
His best result was at the IFSC African Continental Championships in Cape Town, 2019 where he took 1st place overall. His best international result was a respectable 14th at the IFSC Youth World Championships at Arco in 2019.
Christopher Cosser Bouldering
Bouldering is probably Chris's strongest point. With the facilities available to him he's able to do more Bouldering and training than other categories. With the world class Rocklands being only a couple of hours flight away he's been able to get out and push himself.
Christopher Cosser Lead Climbing
Chris himself says he prefers Lead climbing. Outdoors he's got some great ascents but in indoor comp climbing he hasn't had many big results. Lead is where much of the competition (especially for European climbers and the IFSC tours) is so it's not surprising.
Christopher Cosser Speed Climbing
Though he's not a speed specialist his personal best of 6.87 seconds is the African speed record. That's really good compared to some of the other Olympic competitors. A good speed climbing result on the same track could get Chris higher up on the Olympic scoreboard than expected.
Recently at Salt Lake City for the Bouldering and Speed world cup he came 22nd in Speed, just outside of the 1/8th finals. However, his time placed him above many well known names like Nathaniel Coleman, Michael Piccolruaz, Sean McColl, and Kai Harada.
Christopher Cosser Outdoor Climbing
Cosser does most of his climbing outdoors and that's really where a lot of his strengths lie. It wouldn't surprise us if he continues like this and travels to tick some of the classic hard sport routes in Europe after the Olympics.
Some of his hardest routes include "Godzilla" 8b, "Jabberwocky" 8b, and "Return of the Overlord" 8b+. He's also sent hard boulders like "Ready Player One" 8B, and "Month Of Sundays" 8B.
What Climbing Shoes Does Christopher Cosser Wear?
Chris tends to wear the high end sport climber's choice – the La Sportiva Solutions. He sometimes wears the slimmer La Sportiva Solutions Women.
Christopher Cosser Injury
Chris is clear of injury right now did once break a part of his finger, then another one. This took him away from international competing for half a year.
Christopher Cosser Social Media
You can find Chris on instagram here and check his sends on 8a.nu here.