Who Is Erin Sterkenburg?
Erin Sterkenburg is a young climber from South Africa who is competing at the 2021 Olympics in Tokyo. She lives in Durban, a city on the East Coast of South Africa. Even though she's qualified for the Olympics just four years after starting climbing, she still also plays Hockey and Basketball on the side.
Once the Olympics and this year of her schooling are over she plans to move to America to study and get better access to climbing gyms for training. Erin Sterkenburg is sponsored by Black Diamond, IAM360, and the Edge ZA.
How Old Is Erin Sterkenburg?
Erin is 18 years old.
Erin Sterkenburg Height
She is 163cm or 5 foor 4 inches tall.
When Did Erin Sterkenburg Start Climbing?
Surprisingly Erin has only been climbing for four years – starting as a school activity. Hitting 8a and getting to represent her country are very impressive for that amount of climbing time.
Is Erin Sterkenburg In The Olympics?
Yes, Erin Sterkenburg will be at the Tokyo Olympics in 2021. She gained her spot by taking first at the IFSC African Championships event. Incredibly she took first place in the Lead, Speed, and Bouldering categories – getting a perfect combined 1.0 score!
She'll be heading off to Toyko shortly with her national team mate Christopher Cosser who took 1st in the Men's category in the IFSC African Championships.
Will Erin Sterkenburg Win The Olympics?
It's not likely that Erin will get a medal in the Olympics. This is mainly to do with the programs (and money) that some other countries have for training. However, the chance to compete at the highest level in the sport along with the dedicated training and focus will definitely help her for the future and possibly Paris 2024.
Erin Sterkenburg Competition Results
In South African national competitions Erin has had some great results. The last was taking First in Lead and Bouldering, and second in Speed in Cape Town in 2019. Her first international comp was in 2018, the year after she started climbing!
Erin Sterkenburg Bouldering
Most of Erin's training is done at her local bouldering wall so she has more experience indoors than with the other two categories. In recent IFSC competitions she hasn't placed very well but with the dedicated indoor practice in the past year she may see some big improvements.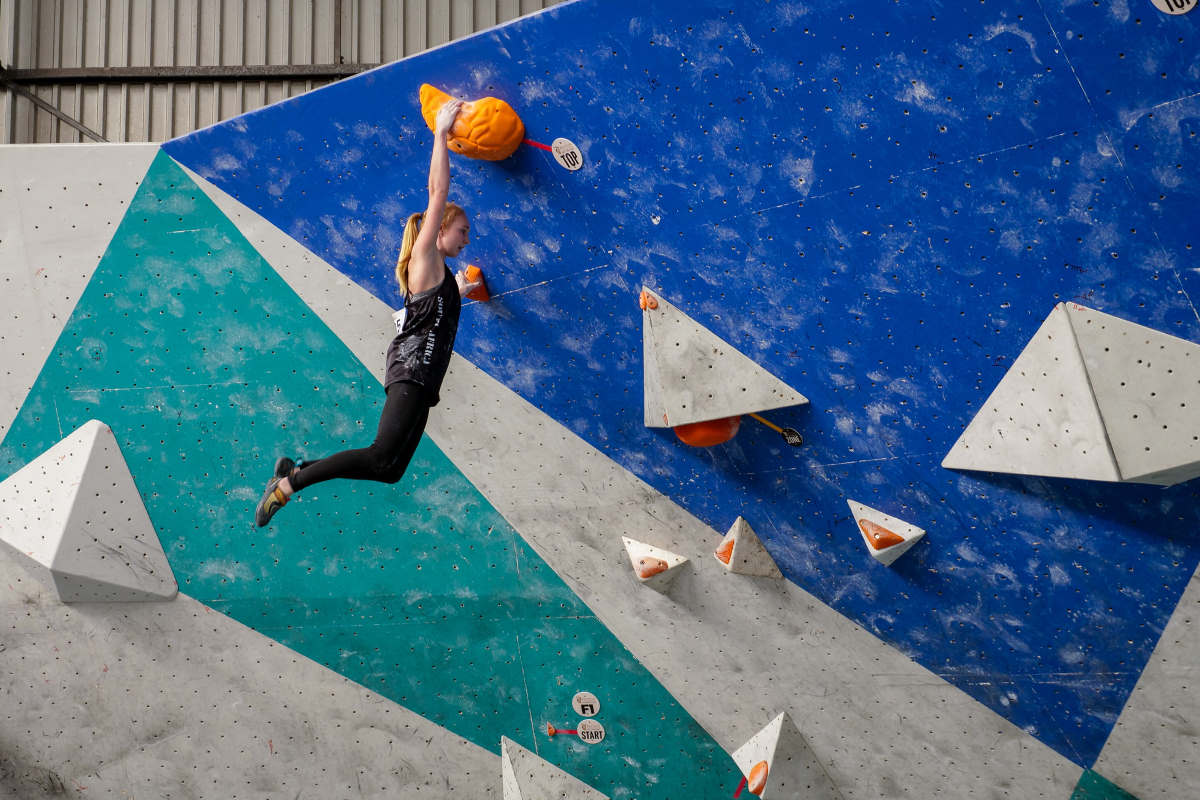 Erin Sterkenburg Lead Climbing
Erin says that Lead is her favorite of the three and with her outdoor climbing background that makes sense. Lead is also where Erin has seen her best placings in IFSC international competition too. The competition for Lead is going to be very tough in Tokyo though.
Erin Sterkenburg Speed Climbing
There isn't a dedicated Speed Climbing training wall in Durban so Erin travels to Johannesburg monthly to a larger gym. As a result speed isn't her specialty – though her times are respectable.
Erin Sterkenburg Outdoor Climbing
Because of the dearth of great rock climbing near where she lives, Erin tends to do a lot of climbing outdoors. Most other Olympic competitors are either older with a lot of mixed indoor/outdoor experience, or were nearly raised at the gym.
Some of her recent sends include "Blue Planet", "Stone Haven" 8a. Watch her on her redpoint of "Blue Planet" below.
What Climbing Shoes Does Erin Sterkenburg Wear?
Scarpa Drago's seem to be Erin's choice of climbing shoe. They're very poplar among a lot of pro climbers and indoor enthusiasts like.
Erin Sterkenburg Social Media
Check Erin's latest sends and Olympic stories on her instagram.