The qualification round for Olympic Sports Climbing was today and the pressure was on with only the top eight places going through to Finals. See full Women's Olympic Climbing Qualifier results and placing tables below.
It's was another hot and humid day in Tokyo and the 20 climbers had a huge amount of work ahead of them. We saw the toll that the heat took on climbers yesterday and many today were suffering, using massive box fans to cool down between attempts.
Check out the live Women's Olympic Climbing Finals Results being updated now.
Olympic Sports Climbing Qualifier Results
Janja Garnbret, Chaehyun Seo, Miho Nonaka, Akiyo Noguchi, Brooke Raboutou, Jessica Pilz, Aleksandra Miroslaw and Anouck Jaubert have made finals. These are the eight that will compete in two days time at the Finals for the world's first medals in Olympics Sport Climbing!
The big story is how well Chaehyun Seo has performed. As the youngest of the Women's side at just 17 she's a very well rounded competitor for this style of event. Lead has always been her strong suit and with the last year of climbing and growing it she's confirmed her younger results weren't just beginner's luck.
Interestingly her decision to really plan out the Boulder round, standing back and not taking more attempts than needed did pay off. If she performs this well on Friday for the Finals she could well take a medal!
Read our full profile on Chaehyun Seo
Olympic Sports Climbing Qualifier Results – Speed
In the Speed round up first there was always going to be a lot of variation. With only a couple of speed specialists the rest of the board would really need to put out perfect performances to ensure a slip wouldn't affect the entire competition for them.
In the qualifiers two climbers climbed at a time but were not racing against each other, that happens in finals only. Today they get two chances for their own best time. After all climbers have one go they switch lanes and everyone gets a second attempt. The highest score of the two is then ranked alongside others.
Aleksandra Miroslaw of Poland took 1st place with 6.97 seconds, setting the very first Olympic Record for Sport Climbing with a very hot time. In 2nd came Anouck Jaubert of France with an excellent 7.12. Yiling Song of China gets 3rd with 7.46 seconds, just ahead of Miho Nonaka and Speed specialist Iullia Kaplina in 4th and 5th respectively.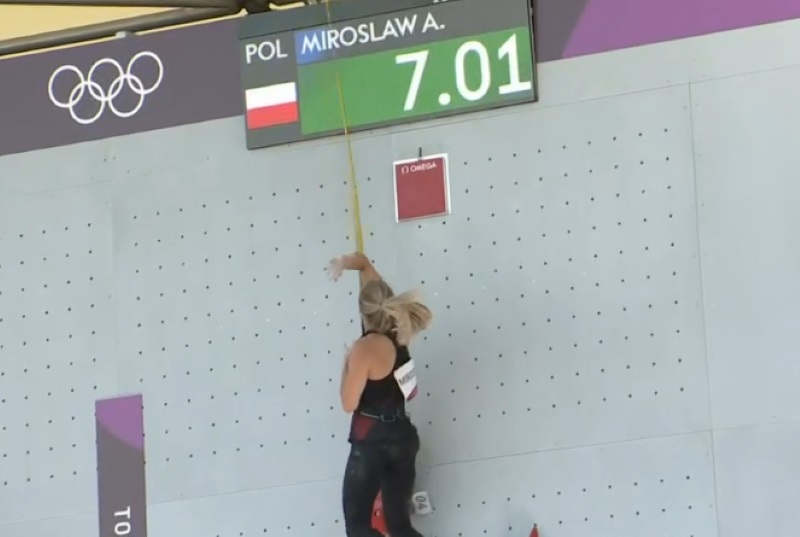 Find out when to watch in your timezone, what channel, where to stream, and more – Olympic Climbing Schedule + Streaming
The pressure was on for Shauna Coxsey of Team GB in her sprints as she was paired with Iuliia Kaplina – the Russian speed climber who has set ten speed climbing world records! Iuliia was on form with 7.65 straight out of the gate but took a fall in lane B. This almost definitely sees her not getting into finals as Boulder and Lead are her weaker disciplines.
The lowest speed of the first round went to Aleksandra Mirosław with a very good time of 7.01, then following up with a near world record speed of 6.97 seconds! Kyra Condie for the USA got an excellent 8.12 in the first round and as mainly a Boulderer getting a high score in Speed is a really good sign for the final calculation.
Possibly the greatest competition climber of all time Janja Garnbret had two slips in her runs but didn't fall in either. With a best time of 9.44 seconds she only managed to scrape into 14th place. This could be a bad omen for the favorite but it's not impossible that she might win both Bouldering and Lead.
The Japanese team are again showing that their work and dedication over the past few years of training is paying off. Miho Nonaka managed two times under 8 seconds with her second run at 7.55 seconds, Akiyo Noguchi managing a decent 8.23.
See the full scoring system, rules, teams for each country and more in our full guide to Olympic Climbing in 2020.
Find out when to watch in your timezone, what channel, where to stream, and more – Olympic Climbing Schedule + Streaming
Olympic Sports Climbing Qualifier Results Table – Women's Speed
Olympic Sports Climbing Qualifier Results – Bouldering
Bouldering is a pivotal part of the qualifiers and there are a handful of very strong climbers that looked likely to do well. There were four problems of very different style, similar to yesterday.
B1 is delicate move upwards to the tiny zone hold, followed by a big side swing dyno to the right and a step up top. B2 is technical yet powerful route that needed body tension and a lot of planning.
B3 is the power problem that seemed to have been set for Janja Garnbret and Miho Nonaka to battle it out on. Big pulling and pushing moves at full strength dogged every climber here. B4 was causing almost every climber huge problems with it's severe overhang and minimal holds.
In a completely dominant 1st was of course Janja Garnbret with a masterclass in power and control, taking four straight flashes in a row! Brooke Raboutou came in 2nd with a great showing, just edging past Akiyo Noguchi in 3rd by one attempt. Shauna Coxsey just pushed past Chaehyun Seo for 4th and 5th respectively.
Chaehyun Seo as one of the youngest of the entire competition was on fire in Bouldering. With two tops and four zones in relatively few attempts she even left the last problem a little early to save energy for her favorite category Lead Climbing later on. She took an early lead before the heavy hitters came out.
Brooke Raboutou was looking incredibly strong and became the first to top B4. At this point with three tops, one zone, and only four attempts to top and zone she then took first at the time and put herself in a strong position. She dropped down a little only as Janja was up next.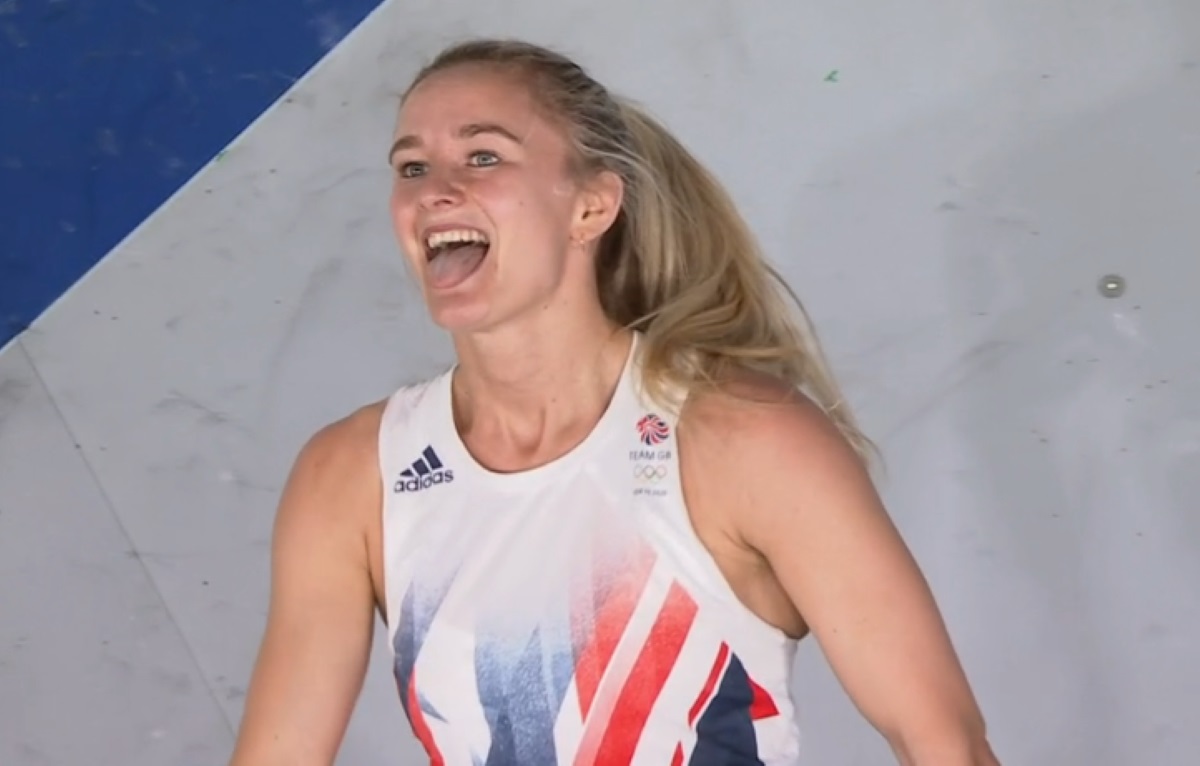 Shauna Coxsey starting on B1 immediately broke the accepted beta by making the big dyno a static move and needing just two attempts. A flash of B2 put her into the top bunch followed by a zone B3. With a version of "Always look on the bright side of Life" playing on the speakers Shauna was clearly loving it and got the crowd clapping before leaving with one more zone.
Miho Nonaka was looking strong with a top on B1 and was super close on B2, literally getting one hand to it before a fall and time running out. Unfortunately she seemed to run out of power and didn't top B3 or B4. Akiyo Noguchi gave an incredible performance in her final competition, managing to edge into third place with three tops and just one more attempt to top than Brooke Raboutou.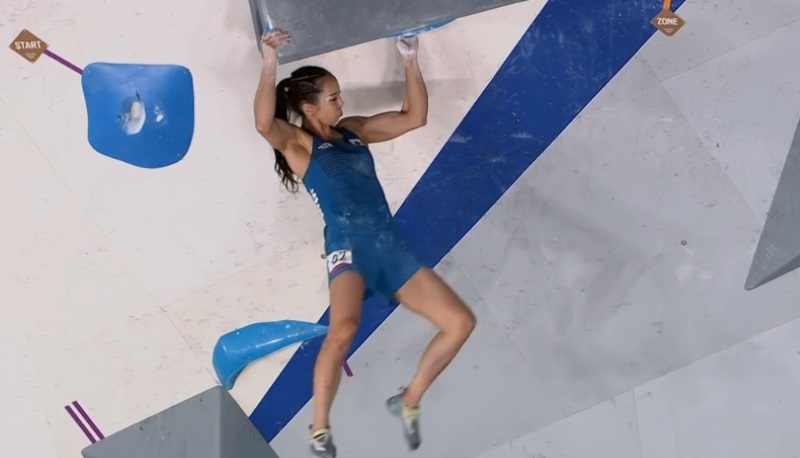 Janja just flashed every single boulder. She was the only climber to flash B1 and had plenty of time to rest between attempts. What more can we say about the Queen of climbing apart from how much we look forward to Lead.
Olympic Bouldering scoring is decided by most tops first, ties decided by most zones, then least attempts to top, then least attempts to zone.
Olympic Sports Climbing Qualifier Results Table – Women's Bouldering
Placing
Climber
Country
Tops
Zones
Attempts
To Top
Attempts
To Zone
1
Janja Garnbret
Slovenia
4
4
4
4
2
Brooke Raboutou
USA
3
4
4
5
3
Akiyo Noguchi
Japan
3
4
5
4
4
Shauna Coxsey
Great Britain
2
4
3
4
5
Chaehyun Seo
Korea
2
4
5
5
6
Viktoriia Meshkova
Russia
2
4
8
5
7
Laura Rogora
Italy
1
4
1
5
8
Miho Nonaka
Japan
1
3
2
3
9
Jessica Pilz
Austria
1
3
3
5
10
Petra Klingler
Switzerland
1
3
3
8
11
Kyra Condie
USA
1
3
4
5
12
Oceania Mackenzie
Australia
1
2
3
2
13
Anouck Jaubert
France
1
1
4
1
14
Mia Krampl
Slovenia
0
4
0
5
15
Julia Chanourdie
France
0
3
0
9
16
Allanah Yip
Canada
0
2
0
2
17
Erin Sterkenburg
South Africa
0
1
0
1
18
Iuliia Kaplina
Russia
0
1
0
2
19
Yiling Song
China
0
1
0
5
20
Aleksandra Miroslaw
Poland
0
0
0
0
Olympic Sports Climbing Qualifier Results – Lead
Climbers simply need to get as high as possible on this one route. Holds are counted as they climb from 1 to 45. A good attempt to make the next hold will count as a + and be higher than just falling on the hold alone. Ties are decided by time on the wall.
The route setting again seems to be really well done with an even set of hard moves. Bad route setting can lead to many falls at the same place or too many tops which make placing hard. At 15 meters the wall is tall but not as big as some of World Cup routes which can reach up to 25 meters.
Going into the final Janja was in 1st place with the lowest points, Aleksandra Miroslaw in 2nd and Brooke Raboutou in 3rd. Of those two Janja and Brooke both had a good chance getting in the top 3 in Lead to move onto Finals in a high placing.
Setting for a short wall is much harder because there is less opportunity to tire climbers out. The killer section came at around midway from hold 22 onwards. The angle was steep and complicated, using massive slopers in a long and complicated sequence.
Viktoriia Meshkova took an early high of 29+ in a fairly unexpected finish, which led her to 390 overall and a probable finish (now confirmed). Laura Rogora as only the second Woman to have climbed 9b managed a good 25, but not quite good enough.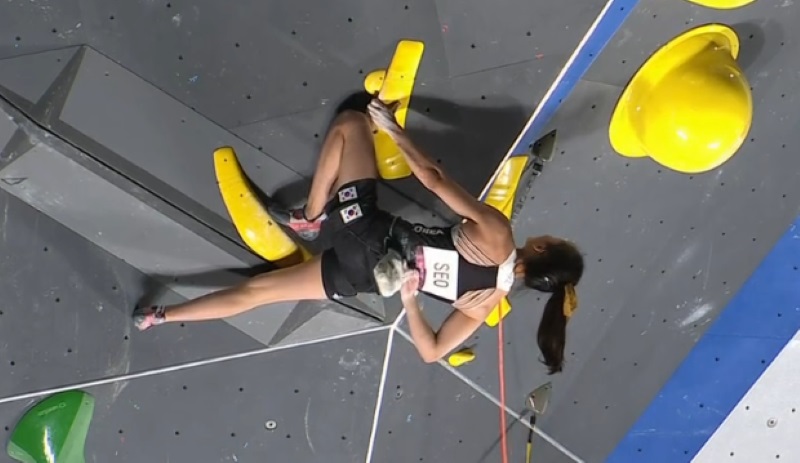 Seo Chaehyun pushed to the top of the leader board with a really amazing run up to past 40, falling at a seriously hard section. This guaranteed her Finals place with an excellent multiplied score of 85. Jessica Pilz of Austria had also come through in her favored category with a decent 33+, leading to an early confirmation of a place in Finals.
Brooke managed a good run to 26+, just one hold past Julia Chanourdie which saw Brooke getting a guaranteed Finals place. Miho Nonaka seemed strong and hit 30+ on the lead route, getting pulled off just at the end of the hard middle section – still guaranteeing she'd see the Final.
Jessica Pilz really pulled out a strong show and took 2nd in Lead with 33+. Any lower and she probably would not have made finals. It's great to see after a bad injury in Salt Lake City could have entirely ruled her out.
Shauna Coxsey sadly bowed out at 21+ which wasn't good enough to see the finals. An bad result in Speed was the early nail in the coffin but overall she did well for her final competition.
Janja Garnbret didn't win Lead. With a solid 30 she took 4th but with a possible slip at around 24 she held on but lost some energy. Near the fall she was obviously having trouble trying to rest and not finding a good position. Shocking but not bad enough that she won't see finals.
Olympic Sports Climbing Qualifier Results Table – Women's Lead
| | | | | |
| --- | --- | --- | --- | --- |
| Placing | Climber | Country | Hold | Time |
| 1 | Chaehyun Seo | Korea | 40+ | |
| 2 | Jessica Pilz | Austria | 33+ | |
| 3 | Miho Nonaka | Miho Nonaka | 30+ | |
| 4 | Janja Garnbret | Slovenia | 30 | |
| 5 | Viktoriia Meshkova | Russia | 29+ | |
| 6 | Akiyo Noguchi | Japan | 27+ | |
| 7 | Mia Krampl | Slovenia | 26+ | 3:16 |
| 8 | Brooke Raboutou | USA | 26+ | 3:40 |
| 9 | Julia Chanourdie | France | 25+ | |
| 10 | Laura Rogora | Italy | 25 | |
| 11 | Kyra Condie | USA | 22+ | |
| 12 | Alannah Yip | Canada | 21+ | 2:14 |
| 13 | Shauna Coxsey | Great Britain | 21+ | 2:23 |
| 14 | Petra Klingler | Switzerland | 16+ | 1:49 |
| 15 | Anouck Jaubert | France | 16+ | 2:14 |
| 16 | Oceania Mackenzie | Australia | 15+ | |
| 17 | Iuliia Kaplina | Russia | 14+ | |
| 18 | Yiling Song | China | 13+ | |
| 19 | Aleksandra Miroslaw | Poland | 12 | |
| 20 | Erin Sterkenburg | South Africa | 7+ | |