Alannah Yip of Canada has won the IFSC Pan-American Championships – gaining an invite to the Tokyo 2020 Olympics! This was the last chance for anyone from the American continent to get an invite. Congratulations to Alannah on her hard fought win.
We've been covering the IFSC Pan-American Championships in full and this hasn't been an easy competition for her. In the pre-qualifying round Alannah only came 9th out of the 26 starters, managing to go forward into the next round. Qualifications narrowed the climbers down to just eight and she managed sixth.
Alannah Yip was always a strong contender but in Qualifiers she was lagging behind three very strong American climbers in Emma Hunt, Lauren Bair, and Norah Chi.
Coming into the finals it seems she got that "competition focus" that some athletes talk about. For some, when the pressure is on is when they perform the best. In Speed she took fifth – not great but not the worst. However, in Bouldering Alannah was the only climber to get three tops. This put her in a great position going into Lead and was pivotal,
In Lead the other climbers with low (good) combined scores didn't manage to get past hold 52. Alejandra Contreras with 52 at that point would only need to stay above Alannah to win – but Yip managed that extra hold and a half to get in front. Lauren Bair did manage an amazing top for 1st but because of poor placings previously didn't manage an overall win.
As Alannah came to the floor she was told by teammate Rebecca Frangos that she was guaranteed the invite. She later posted on instagram "I still can't believe it. I'm going to the Olympics! So thankful for everyone's support, near and far. Much love to @becca_frangos who is the best, most supportive, and most selfless teammate ever. Wish we could both be going to Tokyo ??"
IFSC Pan-American Championships Final Results
The final scoring is as below. An incredible performance from Alejandra Contreras and Lauren Bair who were both very close to an invite. Ties in placing were decided by Qualifiers placing for 2nd/3rd and 5th/6th.
1st – Alannah Yip – Canada – 15
2nd – Alejandra Contreras – 36
3rd – Lauren Bair – USA – 36
4th Andrea Rojas – Ecuador – 56
5th – Rebecca Frangos – Canada – 80
6th – Norah Chi – USA – 80
7th – Valentina Aguado – 84
8th – Emma Hunt – USA – 112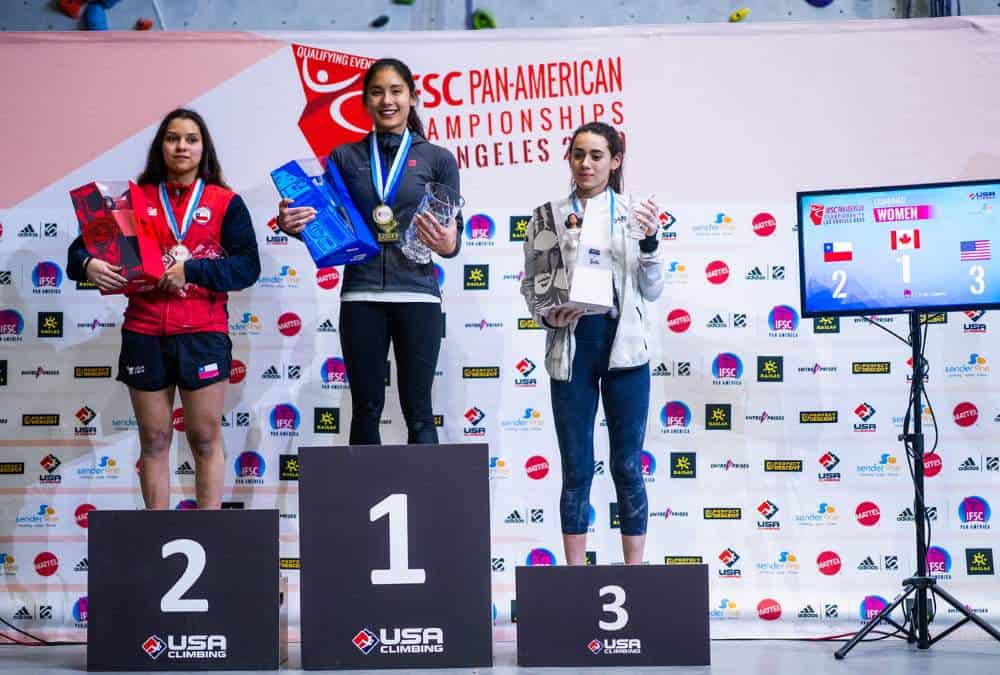 You can see read our full coverage of the IFSC Pan-American Championships for more info on pre-qualifiers, qualifiers, and the men's results. It could be that the Tokyo 2020 Olympics are cancelled because of the Coronavirus and no-one gets an invite. Find out what other climbers qualified for the Olympics.