More sporadic climber news for a lazy Friday afternoon pretending to work. Alex Honnold hardest sport climb up first, double 9a's for Gonzalo Larrocha, hard bouldering in Switzerland from Linda Sjödin, an 8B Flash FA (?) and adidas Rockstars news all below.
Alex Honnold's Hardest Climb Yet – First 9a / 5.14d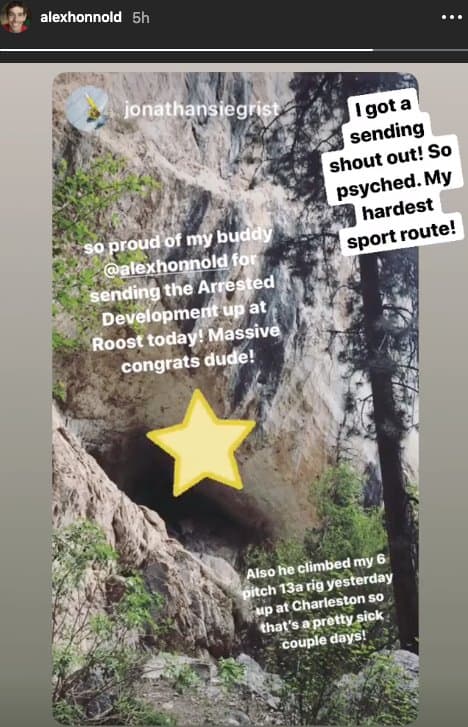 Alex Honnold got a shout out today from Jonathan Siegrist via an instagram story, which Honnold reposted on his story. It looks like it was the 5.14d / 9a problem "Arrested Development" at Robber's Roost in Mount Charleston, Nevada. Yes he used a rope.
An 80 foot overhung roof problem that starts on the floor of a wide cave near the back, climbing up through the center and out to the top of the entrance. It looks like an awesome pockety problem with long reaches. It was first put up and climbed by Ethan Pringle in 2012. We've added a video of Siegrist's second ascent below but you can watch Pringle's first ascent on vimeo here.
While we normally might not publish reports of just one 9a ascent, it's Alex Honnold. He's been trying to push his sports grade for a while now and this is notable because he free solos at a higher level that most others – often soloing right at the limit that he normally onsights with a rope. Now Alex Honnold's hardest grade in single pitch sport has been pushed up could lead on to even hard free soloing for Alex, though he doesn't seem to be soloing much, if at all, recently.
Gonzalo Larrocha Climbs Two 9a's In One Day
Spanish climber Gonzalo Larrocha has been in Rodellar working on some incredibly hard routes. He took six days of working out "Cosi Se Arete" at the Piscineta crag, then swiftly moved to El Museo and completed "La Gioconda" to make two 9a's (5.14d) in one day. He has an impressive history of sends with 12 9a and 2 9a+ routes on his ticklist.
Linda Sjödin First V14 / 8B+ Boulder – "New Base Line" Video
Still relatively unknown, Linda Sjödin is a Swedish climber who has competed in the IFSC Climbing World Cup without notable results. This may well be to do with her time also being occupied by being a medical student on top of climbing. Either way take a look at the video below of Linda taking down her hardest boulder to date.
"New Base Line" is a V14 in the world class Magic Wood in Switzerland. This makes Linda Sjödin the 11th woman to climb V14 and is an incredible achievement.
The video was done and release on Eric Karlsson's popular Youtube channel on climbing. It also features Matt Groom from the Climbing Daily channel and he was about recently doing a collab with Bouldering Bobat and the Dab Rats – two other Youtube climbing channels. Meaning people knew about this but have kept it under wraps for a while! Either way this is an awesome send and the video covering it is very good and worth a watch.
Giuliano Cameroni FLASHES A First Ascent 8B / V13?
This is an interesting one for sure. Giuliano Cameroni just last week flashed an 8B / V13 "House Of The Rising Sun" in Topside, Cape Town. This boulder had been tried before by Daniel Woods on top rope while working out moves – but not completed. Giuliano had seen Daniel trying it but managed to reach the top on his first try.
Completing a bouldering route while knowing some beta beforehand is a flash, and this is also the first ascent – so this is the first flash first ascent of an 8B! Giuliano also flashed "Microline", an 8A+ / V12 in Rocklands the same week and has been on a spree this season. He has climbed "Monkey Wedding" 8C / V15, "Spray of Light" 8C / V15, and opened "Raised By Wolves" 8B / V13 all this month.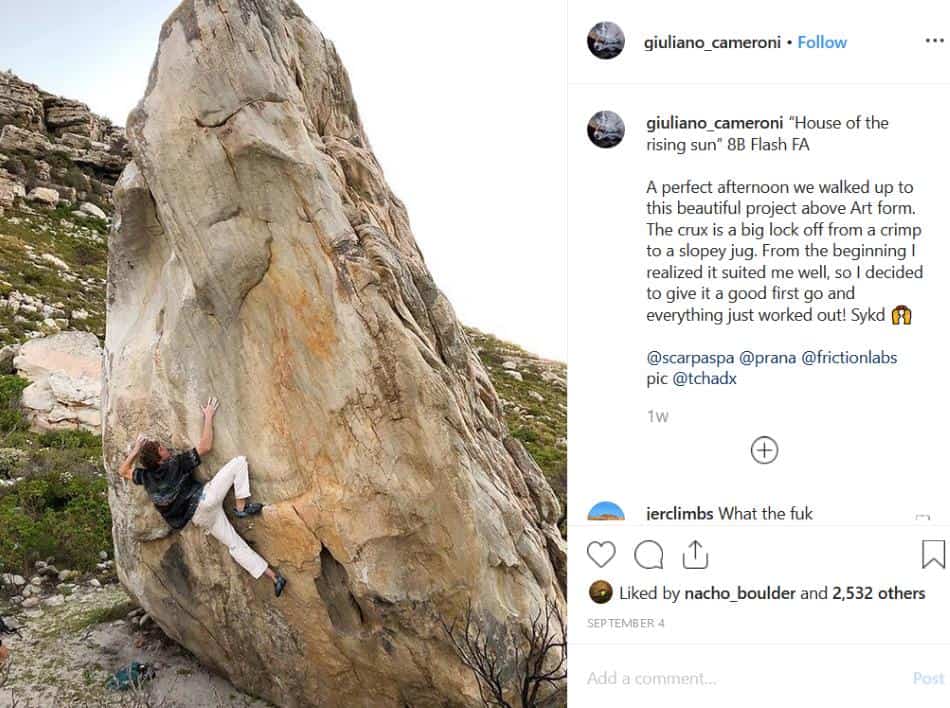 Watch adidas Rockstars 2019 On Climber News Tomorrow!
The adidas Rockstars 2019 event will be opening on Saturday with the semifinals, with finals on Sunday. The annual bouldering competition is like no other. Featuring live music and DJ's and a head-to-head competition style where climbers face off against each other, this is the most fun bouldering event of the year.
Watch the trailer for this year's event below or click to watch the adidas Rockstars 2019 live stream.