Kid's climbing harnesses are really important for a sense of security for you and your kids. Check out our article from a climbing instructor for great options that can last years of fun and learning.
We've seen a variety of full body and kid's size harnesses used indoors and out. Based on the normal use, common complaints, and size problems we've seen in use – these are our favorites for the best climbing harnesses for kids.
Just Want Our Top Picks?
– Best Full Body Kid's Harness – Edelrid Fraggle
-- Best Waist + Chest Combo – Petzl Macchu + Petzl Body
– Best Climbing Harness For Older Kids – Edelrid Finn
– Popular Kids Harness – Black Diamond Momentum
Best Climbing Shoes For Kids
Fit isn't based on age but we've put the waist and leg fits for each harness. Get the tape measure out and see what's right.
Best Full Body Climbing Harness For Kids
The Fraggle is a brightly colored, full body harness that is really straightforward to get in and out of. There is a simple strap system with one closure at the front. It has two adjustable buckles at front so can grow with your kid. As they get bigger, the tie-in point will also start to lower to work more like a standard waist harness.
The padding on the Fraggle is really generous and can feel more "secure" than a cheaper strappy harness. The straps at the front also tuck away neatly so they aren't distracting. The harness is also fully bluesign certified which means it's eco-friendly and the production is safer for the environment.
The back also has a tagline loop, but it is also rated and can be used as a full tie-in point. However – you must secure the front tie-in points together with a locking carabiner if you do this. Read page 9 of the manual for a diagram.
Overall this is a great climbing harness for younger kids, probably the best climbing harness for toddlers and will help both you and the climber feel safe. The only real niggle is that it doesn't have gear loops. But unless you're getting your 6 year old to practice their 5 point SERENE anchors this probably doesn't matter at all.
The Fraggle is for up to 40kg (88lb) kids, and comes in two sizes – XXS and XS. The XXS is for a waist of 30-40cm, and the leg loops up to 36cm. The XS is for a waist of 50-60cm, and leg loops up to 48cm. Comes with a handy drawstring carry bag.
Best Climbing Harness For Kids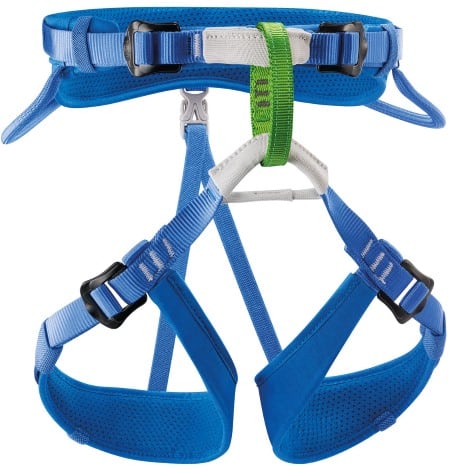 Petzl Macchu – Waist
Petzl Body – Chest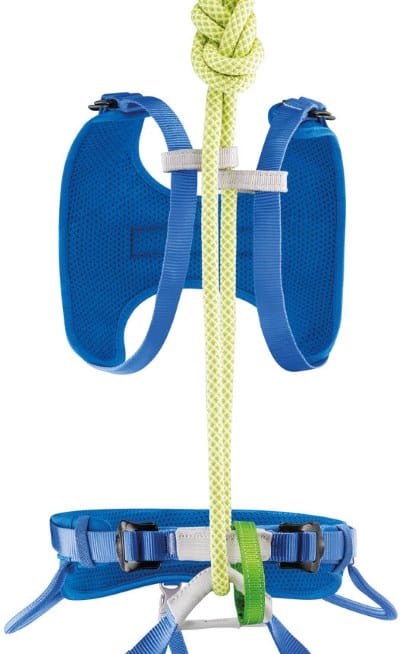 We think the Petzl Macchu is the best climbing harness for kids for a few reasons. First off as a standard sit/waist harness it ticks all the boxes. Then, you can also get the Petzl Body that sits around the torso to make up a full body harness.
As a standalone harness the Macchu has two adjustable waist loops so you can get the perfected fit and a centered tie-in point. Both legs have adjustable buckles and the harness has soft padding in all of the right places. This is essentially a mini version of the popular adult Corax harness.
Straps all tuck away neatly and the two gear loops on the sides are a decent size and are molded to stick out for easy clipping. The leg loops also un-clip at the back for emergency toilet breaks at the crag.
We think this harness is probably the best bet used in conjunction with the Petzl Body. You tie the two together using a standard figure out eight that's looped through all three tie-in points as in the picture here – then you've got the best of both worlds. You can also combine the Body with other kid's waist harnesses in the same way.
You can use this as the introduction harness for younger children and as they get more confident, move to just the waist harness. The only difference to the Fraggle and other full body harnesses is that there is no rated tie-in point at the back. You still can just tie a rope to the back of the Body for a quick kiddie leash on approaches but not as an attachment point for climbing.
Comes in two colors, one size, and suitable for kids up to 40kg (88lbs). The waist belt fits from 56-64 cm and the leg loops are 34-44cm. The Body fits from 45-80cm chest.
Best Climbing Harness For Older Kids
Edelrid Finn
We love the Edelrid Finn as a climbing harness for kids who are a little older but not quite big enough for an adult harness. It's functionality is great and should take them all the way through to harder climbing.
The Finn has a shaped waist padding to fit comfortably at the right pressure points. There is one buckle at the front but the webbing strap freely moves for the right placement. Both legs are also adjustable. It's padded at the waist and legs and has leg elastics that unclip.
This harness has a neat little feature most would skip over – the little elastic loop connecting the legs. It's helpful for stopping the leg loops flipping and the harness being put on incorrectly. From an instructor's viewpoint we see it regularly and this harness helps to stop it happening.
Edelrid have also had the Finn bluesign certified to prove it's made in a sustainable and eco-friendly way.
The Finn comes in either XXS or XS. The XXS is for a 40-60cm waist and 30-40cm legs, and the XS for a 50-70cm waist and 35-45cm legs. Also comes with a drawstring carry bag.
Popular Kids Climbing Harness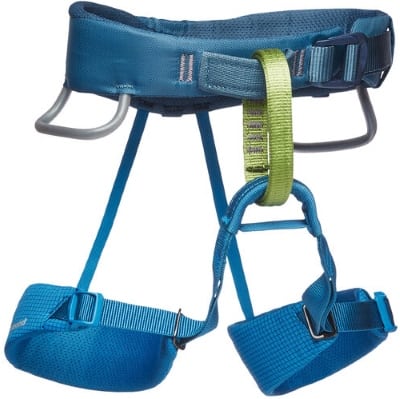 Black Diamond Momentum
We've seen a tonne of kids in classes wearing the Momentum as their first harness. It's a straightforward and popular choice and covers a waist and leg size a little larger than the Macchu. It's just a mini version of the Adult's Momentum which is a popular beginner harness.
The waist secures with one buckle, and the legs with a simple "speed adjust" system. The waist is contoured to fit better at hotpots, and there's plenty of padding on the waist and legs. The gear loops are molded to push out for easy clipping, though the leg loops don't unclip at the back. This is a simple and easy to use intro climbing harness for kids starting the learn climbing and belaying skills and comes at a great price point.
The harness is designed to be simple to use – but for us that can actually detract from it's use. We like having two buckles on the waist for a kids climbing harness as it makes it easier to centre the tie-in point so the harness isn't askew. The padding at the front sometimes sees kids pulling the buckle until it stops – but it isn't actually tight enough as the foam is in the way. The legs can be hard to double check as a kid.
For some this harness is brilliant, fast to put on, and really comfy to use. It's tempting to just get harness that'll work for a long time so this can be a great buy. However we'd point you to either the Petzl Macchu or the Edelrid Finn as slightly better options.
Comes in one size in a couple of colors. The waist fits from 56-69cm and the legs from 41-51cm.
More Great Climbing Gear Articles
– Best Climbing Shoes For Kids
– Best Beginner Climbing Rope
– Best Climbing Shoes For Beginners
– Best Climbing Pants
Safety + Training
If you don't really climb and want to get your kid into it – please don't just buy a harness and gear and give it a go. Please get professional instruction. Most climbing gyms run intro classes for adults to learn how to belay (hold the rope and lower the climber) safely for a reasonable price. We can also tell you how to put the child's harness on and what to check for.
Read the instructions that come with the harness. They are actually helpful and might tell you something about the product you wouldn't expect. For instance, the gear loops are not rated for any weight. Never tie in to a gear loop or anything that isn't the tie-in point.
Feel free to ask instructors or other climbers to double check your set up or technique at any point. Don't assume things are good unless you are absolutely sure. We're a friendly bunch and will talk all day about little things that really make a difference to safety.
What To Look For In A Kids Climbing Harness
The best climbing harness for kids depends on their age, size, and maturity. If you have a smaller or less confident kid we'd always recommend a full body harness – or a waist and chest harness combo. Having the rope attach at the chest feels more secure and you have more control over any swing.
A waist harness is perfectly fine to use and should be the first choice for an older child. Really though the Petzl Macchu and Body combination is perfect to see how the child responds. If they're fine without a chest strap you don't need to buy a whole new harness and can use the chest strap for younger kids too.
Best Kid's Climbing Harness Features
There are a few common issues that kids tend to have when putting on their own harness. While there should always be an adult ready to double check and solve those issues – there are a little things that can help stop them up front.
Having a harness which only looks right one way up is helpful. If it looks weird, it's wrong, and they can try again. Having molded gear loops that should always point down is good, as is a large and bright logo of picture.
Bright colors or fun logos are great so they associate climbing with fun instead of OSHA regulations. Having detachable leg loops give them a quick way to drop trou at the crag when urgently needed.
Kids tend to just put the harness on in whatever way ticks the boxes. Round the waist and legs? Pulled a buckle? Good to go! This leads to the harness going on upside down, the leg loops being twisted, or the whole thing being too loose.
Price / Weight / Gear Loops
We're not really thinking much about price for kids climbing harnesses here. Really there aren't any budget options available and most products are actually all at the same price point anyway.
If you think they'll be climbing a while we'll go back to our recommendation of getting the Macchu plus the Body so you can have a full body harness and eventually just the waist harness. The initial outlay is $10-20 more than a full body but might well last longer.
Weight and gear loops aren't really an issue here either. Unless you are raising the next Brooke Raboutou then don't worry too much about these bits. If you actually are raising the next Olympian then we'd suggest trying on Small or Extra Small (available on some models) in store to check the fit is perfect.
We hope you've enjoyed our guide to the best climbing harness for kids. If you did – that we've got a bunch more that could be helpful