One of the most common questions from beginners is "Do you wear socks with climbing shoes?". The answer is simple: Sure, if you want to. But why don't people wear socks in climbing shoes?
It used to be that wearing socks in rock climbing shoes was the norm. Before specialized climbing shoes, mountaineers wore boots with nails in the toes and thick woolen socks. Eventually sneakers and plimsolls with rubber higher up the sides got more popular for technical rock climbing. In the 70's the first climbing shoes with sticky rubber became available. All the while – people were still wearing climbing shoes with socks.
Only in the 80's did climbers start to lose the socks and go bareback. Nowadays climbing shoes are designed for bare feet and 95% of climbers don't wear socks with their shoes. Why?
Looking For The Best Climbing Shoes? Here are some of our newest favorites
– Beginner – La Sportiva Tarantulace
– Women's – Scarpa Vapor V
– Gym Climbing – Scarpa Veloce
– Need a face mask for the gym? – Outdoor Research Mask + Filters
Feel + Sensitivity
Climbing shoes are meant to be worn tight. Not necessarily uncomfortable or painful – but still tight. Having your toes closer to the rock will give more "feel" as there is less material in the way. This feel and sensitivity does generally come with a little more discomfort. Wearing a sock can also mean your foot is more likely to slip around in the shoe – especially if you start to sweat.
When you push down onto a small hold you'll want the best foot placement. If you can feel your toe in the right place – like pushed right back into the tiny little crevice you saw – you'll feel more confident and probably stay on better. If you need to slightly re-arrange on that foothold you'll have more tactile feedback.
Some would argue that you don't get more feel without socks. We'd simply disagree. If you have a well-fitted pair of climbing shoes in the right size (those are two separate things) then your toes should be in the right place to get the most feel. Read our picks for the most comfortable climbing shoes.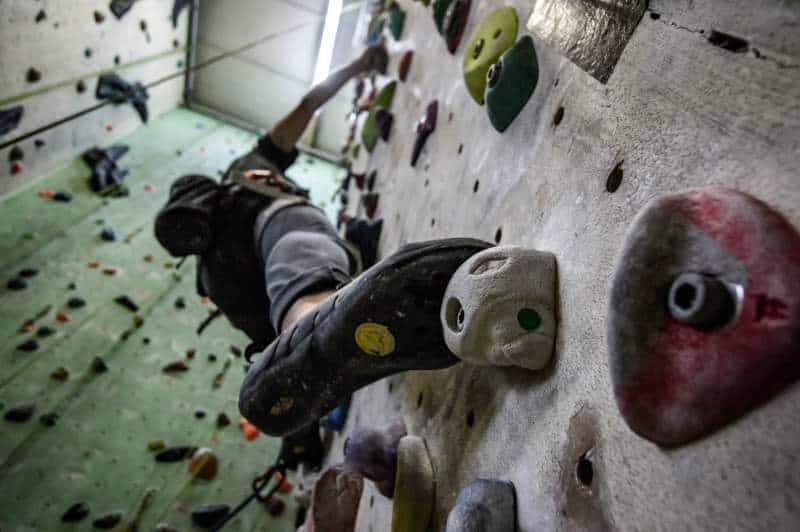 Fit + Comfort
Most people wear socks because that's what they are used to OR because their shoes don't feel comfortable or that they fit right without them. If your climbing shoes are fitted right then you won't need to wear socks to fit into them without discomfort.
Feet are all shaped differently and you should try on a bunch of different models in different sizes to see what works for you. If you don't want to try in store, read our guide to the best climbing shoes or our beginner's climbing shoe article for detailed fitting advice.
If you just prefer to wear socks in your climbing shoes for comfort – that's totally fine. Certain shoes can rub in areas where there are bumps or stitching isn't hidden. Often your feet are forced into weird positions without much flex – wearing socks gives that extra bit of space.
Get The Right Shoes As A Beginner
As a beginner it will take time to get used to the fit and feel of climbing shoes. Don't feel pressured to get down turned, aggressive shoes for the extra performance. As you start out we'd suggest getting some good beginners shoes that fit just right without socks. They'll be designed with a flat profile and aim to be comfortable as a priority.
Don't worry – you'll stick get the same sticky rubber and modern design. As your feet get stronger you'll be able to keep the toe down position longer. Some of the hardest climbs in history were done with what we'd now call "beginners" shoes.
When Is It A Good Idea to Wear Socks In Climbing Shoes
Rental Shoes
If you don't have your own pair you can hire climbing shoes from most gyms. Though they'll be sprayed with disinfectant spray after each use we still wouldn't go barefoot. For hygiene's sake bring a pair of antimicrobial sports ankle socks. They'll give a little bit of comfort without losing much feel.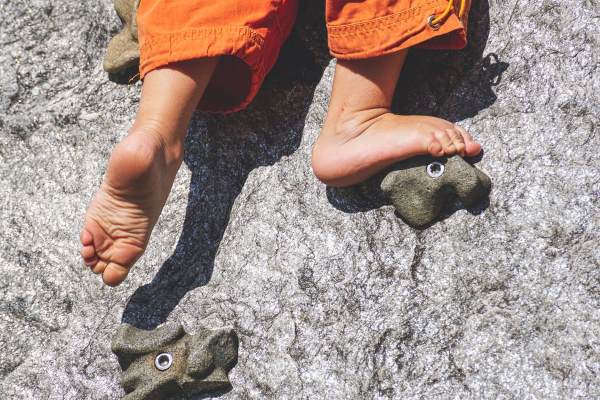 Old Shoes
If you have a pair of shoes that you bought too big, or an older pair that have stretched out – try wearing socks in them. The socks will fill out the empty space and add comfort. It's quite common for people to have an old "comfort" pair they'll use either for gym sessions where footwork doesn't have to be as precise as outdoors. Socks can make shoes smell a bit worse though so read up on how to keep your climbing shoes smelling good.
Big Walls + Multi-pitches
It's also a great idea to have an old pair about for longer, easier climbs. Doing an all-day multi-pitch is often more about the experience that the technique. Having a comfy pair of climbing shoes with some nice breathable socks can make big days way more fun. Stop suffering for the sake of suffering when you don't need total precision.
Socks For Crack Climbing
It's really common for people to wear slightly larger shoes with socks in crack climbing. This is especially true when the crack is large enough to jam your foot and calf in. Having a thick sock protects your ankle from grinding against the rock. Having a slightly larger shoe means you get a bit more flex out of it for wedging it just right into the crack.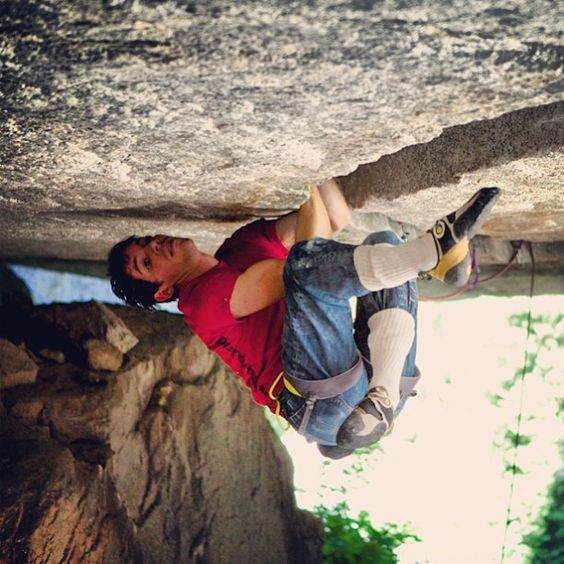 Can you wear socks with climbing shoes is an ongoing topic in places likes reddit, hopefully we've covered the question to death here. Feel free to follow us on instagram or facebook for more over the top lock down articles.