Climbing Shoes can be pretty nasty at the best of times. With hot weather and air-tight closures – even more so.
Some people naturally sweat a lot more than others – regardless of fitness or weight. There is also evidence that fitter people sweat more and faster in response to physical load. Hyperhidrosis is a condition where you sweat more than you normally would, can can be quite hard on people trying to enjoy climbing.
The best climbing shoes for sweaty feet are generally the most breathable. Having a tight shoe that doesn't breathe well can result in sweat getting trapped. Then that horrible squelchy, slippery fit doesn't do your footwork any favors. What can be done?
Climbing Shoes For Sweaty Feet – Fit + Socks
You absolutely have to have the right fit for your climbing shoes. The wrong shape can be uncomfortable and lead to you buying shoes that are too large. The shoe then slips about and rubs. This hurts and causes friction and heat, leading to dead skin and sweat. Not all shoes are made equal and you aren't just supposed to size down until they're tight.
Wearing socks with climbing shoes can make them feel more comfortable – but adds more issues. The right socks can help and the wrong ones can make sweating worse. Synthetic materials like polyester increase sweating by repelling water and natural fibers like cotton absorb water. Both have good and bad properties.
We'd suggest if you are going to wear socks with climbing shoes, get an anti-microbial blend. Something made of merino wool, with coolmax technology, or with anti-microbial blends.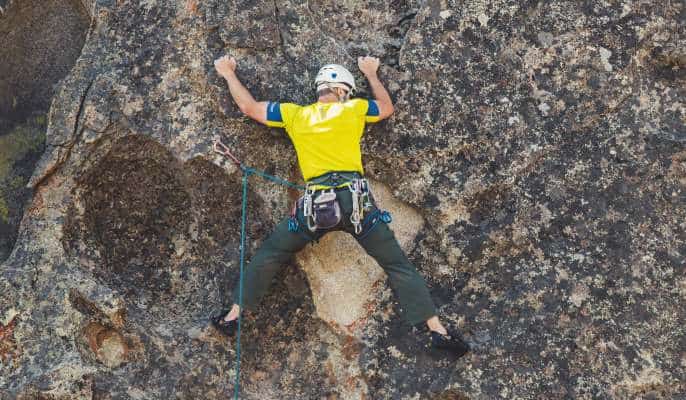 Climbing Shoes For Sweaty Feet – Fabric
Most climbing shoes used to be made of a leather or suede material. In general leather shoes smell better than sythetic as they are more porous and breathable. Synthetic inner linings are used with leather shoes to help retain the shape and now some shoes are completely synthetic.
Synthetic climbing shoes have long had a reputation for smelling bad. However, modern synthetic shoes have the advantage in that they stretch less and can be infused with anti-odour properties. There are also modern synthetic materials with perforation for literal breathing holes.
A New Breathable Material
The latest tech to hit climbing shoes is having a woven synthetic-blend upper. The Egineered Knit fabric from Black Diamond was the first of the pack. A few of our recommended shoes are from BD. This is a woven polyester-propylene fabric that is incredibly breathable but still has a little stretch similar to traditional synthetics. It's like the Nike FlyKnit and other similar running shoes.
To keep the shape of the shoe some extra work has to be done with the rubber. Shoes with woven synthetic material don't tend to be very stiff. Other brands like Butora, Mad Rock, Boreal, and others are now using a similar woven fabric to help the breathability.
Tips For Reducing Sweating While Climbing
Avoid caffeine and hot drinks before climbing – Both increase heart rate and perspiration
Avoid sugar too – If you absolutely need the kick, try sugar free energy drinks
No booze – Same thing, leave alcohol for after you've sent the proj
Less Salt – Processed foods and sodium increase sweat levels
More magnesium – Nuts, fruit, and veg all help
Wear loose, breathable clothing – Reducing overall body heat will help
Tips For Stopping Smelly Shoes
If the problem is more about the smell of climbing shoes than the sweat then read on. Climbing shoes smell because bacteria thrives in warm, damp conditions. Bacteria that lives on the skin transfers to our shoes. The bacteria then break down proteins – which causes the stank. This is a problem all climbers face but excess sweat can make it worse.
Use shoe deodorizers – Buy something like the Boot Bananas below as soon as you get new shoes! They absorb moisture, stop bacterial growth, and smell like lavender
Take Your Shoes Off – In between climbs let your feet breathe a little
Don't Leave Your Shoes Wet – Leaving damp shoes in a gym bag in between sessions can kill shoes and relationships. Wear flip flops or slip on trainers for belaying
Hang Them Up – Leave shoes hung up in a breezy place out of the sun
Use Foot Antiperspirant – Made especially for feet – don't use regular deodorant
Don't Put Chalk In Your Shoes – It gunks up and turns into a paste. Not good
Boot Bananas – Amazing at stopping new climbing shoes smelling
Read our full article on what do to about smelly climbing shoes
More gift ideas for climbers
Best Beginner Climbing Shoes For Sweaty Feet
| | |
| --- | --- |
| Rubber: 4.3mm NeoFriction | Downturn: None – Flat |
| Shape: Straight | Closure: Two velcro straps |
| Stiffness: Soft | Sizing: Buy your street shoe size |
The Black Diamond Momentum isn't just a great entry level shoe – it's also the most breathable climbing shoe on the market. The reason it's probably the best climbing shoe for sweaty feet is the Engineered Knit upper. All over the top and at the heel this synthetic "wool" style knit is very open and allows a tonne of air flow.
They're quite a soft shoe with a flat sole. This means they're comfy and won't force your foot into an awkward shape. The double velcro straps mean you can take these off in seconds. If you've found that you're feet sweat in gym hires or your first pair you might love these shoes.
Can be found for less than $70. You can get a slimmer Women's version, a laced version, a vegan version, and different colors direct from Black Diamond's online store.
Best Intermediate Climbing Shoes For Sweaty Feet
| | |
| --- | --- |
| Rubber: 4.3mm Fuse | Downturn: Medium |
| Shape: Medium asymettry | Closure: Two velcro straps |
| Stiffness: Medium | Sizing: Half a size up from street shoe size |
The Zone from BD features the Engineer Knit upper like the Momentum so has that same awesome breathability. Again has velcro for easy off breaks. Where they differ is the Zone jump up a notch in downturn and performance. If your climbing is moving much more into overhung sport climbs or short, hard boulders – these will be more suitable.
The toe box will curl up your toes and the downturn will aid in getting more power into the big toe. It's quite a stiff shoe and won't stretch much due to the synthetic material and large amount of rubber. This means it's brilliant at tiny edges on overhangs – though won't do as well smearing on slabs.
These won't stretch much so get the right size first time – around a half a size up should be OK. If you have a slimmer heel at all then get Low Volume (LV) version of the shoe.
Best Bouldering Shoes For Sweaty Feet
| | |
| --- | --- |
| Rubber: Science Friction 3.0 molded | Downturn: Medium |
| Shape: Moderate asymmetry | Closure: Single velcro strap |
| Stiffness: Very soft | Sizing: Around one full size down from street shoe |
The Haywire is an excellent performance shoe that uses FloKnit technology for a really breathable upper. It's a down turned, aggressive, very soft and sensitive shoe. This is really suited to hard bouldering and sport climbing.
The concave sole and pointed toe mean a lot of power goes into the front. The knit is very soft and breathable but the power comes from the injection molded front which is all one piece. Because of this it will do especially well indoors climbing on volumes and is similar to a No-Edge style of shoe.
It also has a great suction heel and tensioned strap around the middle and heel to keep the shape. This performs well and looks awesome. Comes in at a great price, often under $100 on sale – plus it's vegan.
Best Trad Climbing Shoe For Sweaty Feet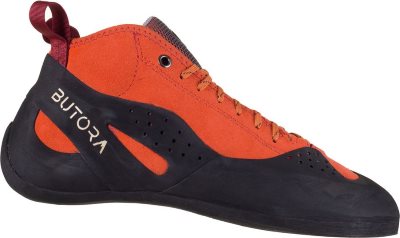 | | |
| --- | --- |
| Rubber: NEO Fuse | Downturn: Flat |
| Shape: Slightly asymmetric | Closure: Laces |
| Stiffness: Very stiff | Sizing: Size up one half to one full size from street |
Available in both wide and narrow fit. A mid top shoe in a similar vein to the popular TC Pro. The 100% Organic Hemp lining used means a natural, breathable fabric that has anti-odor properties but still holds like leather. No liquid adhesives are used in the upper for more breathability.
These are the most stiff of all the shoes in this article. They're tuned to long days on tiny granite edges and being twisted about in cracks. The rubber up the sides of the leather will take a beating too. Don't size down aggressively as these have a long break in because of the material. Comes in a tight fit version for slimmer feet too. The Mantra is a similar trad style shoe without the higher top.
Great Climbing Shoe For Sweaty Feet
| | |
| --- | --- |
| Rubber: NEO Fuse | Downturn: Slight |
| Shape: Slightly asymmetric | Closure: Two velcro straps |
| Stiffness: Medium | Sizing: Around street size |
Both Butora shoes here have an 100% Organic Hemp lining. It is similar to cotton in that it is natural and breathable, is stiff but stretches like leather, and doesn't hold odor. Hemp has been around for centuries and was well known as a brilliant – and in some cases better – alternative to cotton. Now that CBD products have become widely legalised, many areas can now use the full hemp plant again.
Comes with a padded and porous tongue for comfort. This is a great alternative to the Black Diamond Momentum if you still want a flat or beginner shoe – but prefer it to be stiffer. Comes in a wide or narrow fit.
---
We hope this article on the best climbing shoes for sweaty feet helps. It probably doubles well as a good guide to the best climbing shoes for smelly feet too as the main problem is the air flow. Follow us on instagram or facebook for more great articles.