The Black Diamond Circuit is one of Black Diamond's new approach shoe range with a modern, crag-to-gym approach. It's lightweight, stylish, and ready for everyday use as well as for rocky approaches.
It's in BD's "performance lifestyle" range as it's the type of shoe you can wear to the office, belay in, and for straightforward dry approaches. Basically a lightweight, good looking shoe that is meant to be worn all day long.
It's not a technical approach shoe so isn't best suited for climbing in. However, if you're the type that basically wears approach shoes all the time – these are stylish enough to look decent at the pub or office, while also being functional for climbing situations. For instructors especially, these are excellent.
Black Diamond Circuit Approach Shoe
Black Diamond Circuit Build
The Circuit is a very light shoe made with Black Diamond's own "BlackLabel Street" rubber in a waffle or dot style pattern on the bottom. The rubber around the toes is generous and made of the same material. The upper is a fly knit style breathable polyester and the inside is lightly padded.
The mid sole is a flat EVA material that is like a medium-stiff foam. It supports and cushions your foot without adding much weight at all. The laces run further down the foot that street shoes but not right down to the toes as in technical approach shoes.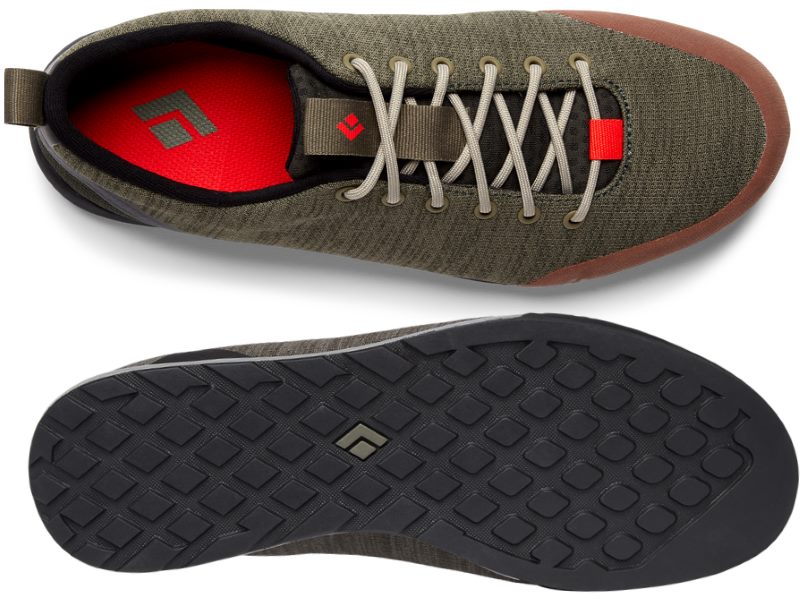 There are two clippable loops on the heel and the tongue which are great for clipping to a harness for a big day out, as well as making getting them on and off easy as can be. The heel also collapses flat for a slipper look that works brilliantly for belaying without getting foot gunk on the mats.
They're also surprisingly durable for such a light offering. We've been wearing these most days for about five months and have seen no stitching failures, de-lamination of the rubber or toe-box, or anything apart from light wear. Normally we destroy most shoes – approach, climbing, or street – pretty much within the same time period, so this is very impressive.
Black Diamond Circuit Performance
Essentially this is a really light and breathable shoe that is very comfortable and breezy for all day use. If you work as a guide/instructor these are excellent for long days of belaying and small demos of techniques. They're also great for comfy belay shoes that don't weight much on your harness or take up much space in a pack.
The Circuit approach shoe is not a technical shoe though. That means it's not meant for long days of easy climbing, or testing routes like the Black Diamond Technician or the La Sportiva TX range. This isn't a demerit though, as these shoes are clearly marketed as the gym-to-crag approach shoe.
The fairly flat lugs on the bottom means they're best suited to street wear in cities on concrete and asphalt, and as a result are very comfy like a standard street shoe would be. On approaches, they won't fare well in muddy, wet conditions but do excellently when you're walking miles on rock.
They also hold up very decently on granite and grit-stone especially. For long slabby approaches they excel. If you boulder or climb where long, dry approaches are common – these are super comfy and breathe well. For places like Fontainebleau, Colorado, California, Las Vegas they will be perfect.
Black Diamond Circuit Fit + Sizing
We went for the same size as our normal street shoes – UK 11 – and found them to fit as you'd expect a normal shoe would. We also tried a half size down for a while to test the difference. In our normal size they were comfy with plenty of wiggle room but it's possible to lace them tighter for a better fit on more technical, steeper approaches and scrambles.
If you will use these as daily wears go for the same size you use in your everyday shoes and adjust the lacing when needed. If you want them for slightly more technical use then a half size down will give you a little more of a snug fit while still being comfy.
Black Diamond Circuit Review – Summary
Overall the Black Diamond Circuit is an excellent shoe that fits more modern climbers needs well. It's stylish, comfy, durable, and you can wear them literally all day. If you climb a few times a week at the gym, then hit up the crag on weekends these will do it all.
Design wise, we personally love the look compared to a lot of climbing and outdoor styling. It's not garish and over the top and it's not boring either. As a decent looking shoe we got a few compliments and they're still looking almost brand new.
We also really recommend these for instructors or setters who want a comfy working shoe. We'd recommend going down just a half size if you want to do more demoing and testing. You can get these in a range of colors.
Black Diamond Circuit Alternatives
The Session from BD is very similar but with a "sock-like bootie fit" and a sturdier but still collapsible feel. The Prime is a very similar design to both of these but with a suede upper that will last longer and fare better in worse weather.
For a good approach shoe that is more technical but still comfortable try to La Sportiva TX Guide or for an in between the Five Ten Five Tennie is very fashion forward while still performing at a mid level.